LAN-TAM merger: Two local leaders become global LATAM September 2010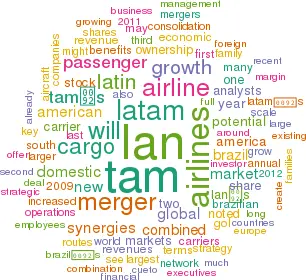 Chile's LAN and Brazil's TAM, Latin America's two largest airlines, made a surprise announcement in August that they had agreed to merge to create LATAM Airlines, the region's first "world–class global airline group". What are the potential benefits, risks and industry implications?
LAN and TAM signed a non–binding MoU on August 13 to work towards what would essentially be a European (AF–KLM, BA–Iberia) style merger, though Avianca–TACA also used that model last year. The all–stock transaction would consolidate the economic interests of LAN and TAM under a single parent entity, allow LAN and TAM to continue to operate as distinct airlines with independent brands, and keep the voting stock of the carriers in the hands of nationals to satisfy foreign ownership rules.
The new parent entity, LATAM Airlines Group, would include Lan Airlines and its affiliates in Peru, Argentina and Ecuador; Lan Cargo and its affiliates; TAM Lineas Aereas and TAM Mercosur; and all other holdings of LAN and TAM. The combination would have pro–forma combined revenues of $8.5bn (2009) and rank as the world's 11th largest airline in terms of passenger traffic.
It would work as follows: The parent company would coordinate and align activities for all group holdings, so that the combination could integrate, capture full synergies and offer "seamless passenger and cargo service across the continent and around the world". But the CEOs of the airline units would also have "real autonomy to run the business". LAN and TAM would maintain their existing operating certificates, headquarters, governance structures, values and culture.
The deal has been structured to comply with the existing foreign ownership regulations, namely Brazil's laws that limit foreign ownership in airlines to 20% of the voting shares (which may be raised to 49% as early as 2011). There will not be a change of control at either airline as a result of the merger. The Amaro family of Brazil would retain 80% of TAM's voting stock.
The relations between the two companies and the controlling shareholders would be governed by shareholder agreements. The LATAM documents explained that "the controlling shareholders of LAN and TAM have agreed to a governance model to jointly manage all strategic decisions" relating to the alignment of LATAM activity.
The airline executives called it a merger of equals but, in essence, LAN will be acquiring TAM. The Chilean carrier would be the holding vehicle of the combined operations; it would change its name to LATAM and retain its listings on the Santiago stock exchange and on the NYSE, whereas TAM's stock would be de–listed in Sao Paulo and New York. TAM shareholders would be offered 0.90 shares of LATAM common stock for each share of TAM they own. This would be in the form of newly issued Brazilian Depositary Receipts (BDRs), following LATAM's listing on the Bovespa.
Also, LATAM would be headed by LAN's current CEO, Enrique Cueto, as CEO. TAM's current vice–chairman Mauricio Rolim Amaro would serve as the new entity's chairman. Furthermore, the Cueto family, which control LAN, would have a larger stake in LATAM (24.1%) than the Amaro family (13.5%).
The combination is expected to generate annual synergies to the tune of $400m, which the airlines say is in line with other recent industry transactions (around 4% of combined annual revenues).
Contrary to initial speculation, there has not been much political opposition to the deal in Brazil, even though it would involve giving up economic ownership of TAM, a key domestic player and the country's only flag carrier on intercontinental routes. In early September Brazil's finance minister confirmed that the deal satisfies the country's foreign ownership rules.
If a definitive agreement is signed — which the airlines hope to accomplish within 2–3 months — and shareholder and regulatory approvals are obtained, LAN and TAM envisage completing their merger in 6–9 months, i.e. sometime during the first half of 2011.
One of the key questions about this merger is how the unusual backdrop (two sovereign nations, both airlines being family–controlled) and the resulting complicated ownership structure might affect the ability to reach a binding agreement, smoothly execute the merger and determine the group's strategy in the future. If there are disagreements between the controlling families, which side has final say? Would LATAM actually not have control?
Another important question is what impact the merger will have on other Latin American carriers, especially GOL and Copa. How might GOL respond?
Why the merger?
And then there is the thorny question of which global alliance LATAM would join. With LAN being in oneworld and TAM in Star, the battle lines are being drawn for a mighty clash between the three global alliances. LAN and TAM are both very successful companies with good growth prospects. They already are the leading carriers in Latin America. Why merge now?
First of all, LATAM is a response to the many large airline mergers and immunised alliances that have been completed recently or are under development around the world (BA–Iberia, United–Continental, Delta's transatlantic anti–trust immunity, etc.), as well as the Avianca–TACA merger closer to home. The LATAM documents noted that "these airlines are looking at Latin America for growth" and that "regional consolidation creates the opportunity for a Latin American carrier to enter on an equal footing with the world leaders". The airlines did not mention this, but there is also growing competition from discount carriers within the region (particularly affecting TAM).
Second, LAN and TAM feel that a merger right now would enable them to take full advantage of the strong economic recovery that is taking place in many Latin American countries, which has led to surging disposable incomes and swelling ranks of middle classes (and hence rapid growth of air travel).
Enrique Cueto noted at the LATAM investor call: "We are at a critical time. Airline consolidation is happening across the globe and our industry is better for it. Emerging markets, particularly the Latin America region, are seeing increasing demand at a rapid pace. Now is our time to capitalise on this trend."
Third — and this may be the key reason for LAN, the merger enables the Chilean carrier to realise its long–held dream of gaining entry into the vast and rapidly growing Brazilian market.
Fourth, the airlines consider it important that they can combine from positions of strength. Both are in great financial shape, with healthy balance sheets. LAN is one of the few airlines in the world with an investment–grade credit rating. A recent research note from Raymond James noted that LAN has an "excellent track record of relatively high profitability" and has had "consistently strong growth in both revenue and earnings", although TAM (having long been profitable) has incurred losses in six of the last seven quarters.
Fifth, LAN and TAM are very compatible in many respects. They have a long history of collaboration, in code–sharing, maintenance and aircraft purchasing. They share the same values and strategic vision. LAN executives noted that the two share a passion for service and integrity and "belief in the great potential of the Latin American market".
Both are aggressive growth companies. Over the past decade, LAN has used a unique multi–hub, multi–airline strategy to grow much larger than would have been possible had it just focused on the relatively small Chilean market, which had only 5m international passengers in 2008. Because it already had passenger airline units in place in Chile, Peru, Argentina and Ecuador and cargo airlines in Chile, Brazil and Mexico, it was even able to find profitable growth opportunities in the depths of the recession (see Aviation Strategy briefing, December 2009). In a letter to employees last month, Cueto mentioned that one of LAN's aims was to become "one among the top ten [airlines] in the world".
TAM, in turn, has taken full advantage of the extraordinary, profitable long–haul expansion opportunity that resulted from Varig's downfall. In just a few years TAM has built a sizeable network to Europe and the US, while retaining a 42% share (same as GOL's) of Brazil's domestic market (TAM's rapid rise to prominence was discussed in the December 2008 issue of Aviation Strategy).
TAM's leadership sees the proposed merger with LAN as the "completion of the vision of our founder", Captain Rolim, who bought TAM in 1972 when it was a small cargo operator and over three decades turned it into a major airline, and who was killed in a helicopter crash in 2001. Mauricio Rolim Amaro noted in the investor call that his father "believed that the only way to compete was through the creation of a large Latin American airline".
Of course, LAN and TAM are different where it matters: their networks are highly complementary, with little overlap. LAN has a strong presence in a number of South American countries and a formidable cargo operation. TAM offers the prime European routes and a solid position in the large Brazilian domestic market. The airlines are a reasonable fit in terms of their fleets: both operate the A320 and A340 family aircraft, in addition to the 767.
LATAM's size and market reach
The combined airline will provide passenger services to some 115 destinations in 23 countries and cargo service throughout Latin America and around the world. It would have a fleet of 220–plus aircraft and some 40,000 employees. In 2009 LAN and TAM had combined revenues of $8.5bn and carried 45m passengers and 832,000 tonnes of cargo.
These statistics would make LATAM the first Latin American carrier to reach the world's "top 15" rankings, to rival in size leading airlines in Europe, the US and Asia. According to LATAM's investor presentation, the combine would rank as the world's 15th largest airline in terms of 2009 revenues, similar in size to SIA, Cathay and Air Canada.
WORLD'S TOP 15 AIRLINES IN 2009
By passenger (m)
By revenue (US$bn)
Delta
161
Lufthansa Group
31
United-CO
102
AF-KLM Group
30
Southwest
86
UAL-CO
29
American
86
Delta
28
AF-KLM
71
AMR
20
Lufthansa
70
BA-Iberia
19
China S
66
JAL
16
Ryanair
65
ANA Group
13
BA-Iberia
52
Qantas
11
US Airways
51
US Airways
10
LATAM
46
Southwest
10
China E
44
SIA Group
9
JAL
41
Cathay
9
Air China
40
Air Canada
9
Qantas
38
LATAM
9
Source: LAN/TAM investor presentation
In the Latin American context, the merger would certainly create a dominant player. In terms of 2009 revenues, LATAM would be more than twice as large as the second ranked GOL. In terms of both revenues and passenger numbers, LATAM would be slightly larger than GOL, Avianca–TACA and Copa combined (see table, right).
LATAM would have about 45% of the current (July 2010) seat capacity on intra–South America international nonstop segments. On South America–US/Canada routes it would have the second–largest capacity share – about 18%, compared to American's 32%. On South America–Europe routes it would be the fourth largest player with about 14% of the seats (after BA–Iberia's 22%, Air France–KLM's 18% and TAP's 15%).
One of the key benefits would be that both LAN and TAM are leaders in their respective markets. On the passenger side, between them and their subsidiaries, they have effectively conquered most of the key domestic markets in South America. According to Routesonline.com, LAN has 69% and 67% seat shares of the Chilean and Peruvian domestic markets, while TAM has 41% and 60% of the Brazilian and Paraguayan domestic markets. LAN also has a growing presence in Ecuador and Argentina (23% and 21% seat shares, respectively).
On the cargo side, LAN will bring to the union the extensive and lucrative cargo business that sets it apart from most of its global peers. LATAM will have "the most comprehensive cargo network in Latin America". Combining LAN's global network and expertise with TAM's Brazilian market presence (Brazil is the largest domestic cargo market on the continent) should mean some very attractive growth opportunities.
The airlines expect the solid domestic market positions to lead to real growth opportunities in the passenger segment, in terms of increased frequencies, connecting the dots and new destinations. In particular, the combine will strive to offer more appealing options for business travellers.
LATAM has identified four initial primary growth areas. First, there will be new services to Europe and Africa from Brazil, supported by increased feed from the Southern cone. Second, there will be new services to the US and Mexico from Lima (Peru), supported by increased feed from Brazil. Third, the airlines see potential for new hubs that could connect to Europe and the US. Fourth, there will be cargo growth.
While much of the detail is yet to be worked out, LAN and TAM have indicated that their subsidiaries should benefit significantly, because intra–regional flying is expected to grow substantially. Existing projects such as LAN's cooperation with AeroOasis in Colombia and TAM's efforts to expand its regional unit Pantanal would not be impacted by the merger transaction.
AeroOasis, a Colombian start–up that hopes to launch operations later this year with A320s, is a potential future addition to the LATAM family. LAN is currently helping it with the certification and start–up process. In a recent letter to employees, LAN said that if regulatory approval were granted, it would like to acquire AeroOasis and make it part of the company. LAN has long sought a passenger airline in Colombia, where it already has a cargo subsidiary. The acquisition would fill a gap in the northern part of South America where LATAM would be relatively weak.
Projected synergies
Given all these plans and the fact that the airlines have promised to maintain all of their existing routes, this merger would undoubtedly be a growth vehicle. It seems likely that LAN and TAM would have to start placing additional aircraft orders to supplement the 200–plus aircraft they currently have scheduled for future delivery. Like other airline mergers, the proposed LAN–TAM union is portrayed as a win–win for all parties. The scale and diversity would provide more stability and greater financial strength, benefiting customers, employees and all other stakeholders.
From the financial perspective, LAN and TAM see three main benefits. First, there would be faster revenue growth (ability to launch new flights, market share gains resulting from being able to offer more alternatives for passengers and cargo customers). Second, cost competitiveness would improve (leveraging economies of scale, "best practice" sharing, aligning operations in international markets). Third, there would be benefits from enhanced strategic positioning (leading Latin American carrier, improved ability to compete with other global carriers).
The projected $400m in annual synergies are expected to come broadly in equal proportion from alignment of the passenger networks, growth in the cargo network (both internationally and in Brazil) and reduced costs (see chart, below).
LATAM - PROJECTED ANNUAL SYNERGIES OF US$400m *
Cargo revenue
US$110m
• New service
• Sharing of best practices
Pax Revenue
US$170m
• Network relevance $50m
• New/increased connectivity $40m
• New flights $35m
• Partner airlines, increased utilisation $35m
• FFPs $10m
Cost savings
US$120m
• Airports $25m
• Procurement $25m
• Corporate $20m
• IT $20m
• Maintenance $15m
• Sales $15m
Note: * = One third to be realised within one year; remainder by the end of third year
The $170m annual passenger revenue synergies would come from the following: Improved access to joint hubs and combined network appeal – especially to high–yield customers ($50m); new and increased connectivity ($40m); new flights ($35m); other passenger revenue, including consolidation of partner airline contracts and increased utilisation ($35m); and FFPs – consolidation of the programmes and sharing of best practices ($10m).
Regarding the FFPs, combining Multiplus Fidelidade and LANPASS, which had seven million and four million members, respectively, at year–end 2009, would create a powerful FFP. The airlines noted that it would provide a "strong starting position to gain further scale in the region", but at this point they were not able to offer any thoughts on how the programmes might be consolidated. BofA Merrill Lynch analysts said in a research note that they saw a positive bias for Fidelidade, which is so much larger and has actually been a listed company in Brazil since TAM spun it off last year.
The $120m annual cost savings, which the airlines believe is a conservative estimate, would come from the following: consolidation of functions in overlapping stations ($25m); leveraging economies of scale in contracts ($25m); streamlining of corporate overhead and some functions ($20m); efficiencies of common IT platforms ($20m); leveraging economies and efficiencies of scale in maintenance ($15m); and efficiency of combined sales efforts ($15m).
The airlines noted that the synergy figures do not include other potential benefits, such as expansion of domestic cargo and the sharing of best practices in domestic passenger business units. As a result, as some analysts have pointed out, there may be upside potential in the $400m figure. The airlines are confident that a third of the synergies will be captured within year one, largely offsetting one–time costs, and that all of the synergies will be realised by the end of the third year.
The deal has been generally well–received in the financial community. Raymond James analysts, noting that "LAN, we believe, will make TAM a more competitive airline by lowering its costs and improving its revenue generation", forecast LAN's (or LATAM's) EPS to grow by 24% in 2011 and by another 32% in 2012. And these projections assume a slower build–up of the synergies (25% in 2011 and 75% in 2012) because "it usually takes airlines longer to achieve synergies than anticipated".
BofA Merrill Lynch forecasts LATAM's total revenue to grow from $10.8bn this year (pre–synergies) to $13.8bn in 2012. In the same period, its operating margin would rise from 9.8% to 12.1% and net margin from 3.8% to 6.1%. If the 2012 results were "normalised" to include full synergies, ML calculates that the operating margin would be 14.7% and the net margin 8.2%.
Integration risks?
The LAN management takeover is widely regarded as a big positive – not because there is anything wrong with TAM's management (which very successfully guided the airline through an unprecedented growth phase) but simply because LAN's management team is considered so outstanding, the very best in the industry. These types of mergers pose generally minimal integration risk because the companies are not integrating contentious areas such as workforces. In LATAM's case, there would be no changes to union contracts or representation, and pilots and flight attendants would continue to be based in their respective countries. LAN and TAM might end up combining functions such as operations control, reservations, flight training and some maintenance facilities, but such integrations have not posed too many problems in other mergers. LAN and TAM executives argued that potential integration risks should be further mitigated by the complementary nature of the networks and the fact that the companies and the two families know each other well.
But some analysts have been concerned about potential execution risk arising from the unusual ownership structure, which would mean LATAM holding substantially all of TAM's total stock (economic interest) and the Amaros holding 80% of TAM's voting stock. The latter is sufficient to comply with Brazilian law, but will it facilitate smooth decision–making and governance?
Many analysts asked about this at the investor call. The airline executives said that the agreement on a partnership between the families "to create a global champion" would mean that "all the economic benefits from all the airlines will flow through LATAM". In other words, shareholder agreements might keep the peace and, in any case, the economic interests of the two families would be aligned. But the latter may only be true in a growth environment; what if there is a recession and a need for painful measures?
Industry implications
This may turn out to be a non–issue, but it was enough to prompt Morgan Stanley analysts to warn, in an August 16 note to clients, that "a management structure requiring close cooperation may experience growing pains on the path to realising strategic success". Like other mergers, a LAN–TAM combination would have both positive and negative impact on competitors. A reduction in the number of players could ease price competition, benefiting everybody. But the creation of a larger and stronger carrier could result in market share losses for competitors.
The worst–affected airline would clearly be GOL, TAM's closest competitor. BofA Merrill Lynch analysts observed that GOL could lose business traffic shares and find it tougher to grow its cargo operations in Brazil. Raymond James suggested that since LAN would probably make TAM more competitive, "GOL will have to pick up the pace and lower its Brazil–leading low costs even further".
But the consensus is that Copa would not suffer many ill–effects because of its niche strategy, focus on lower–density Latin American markets and because its Panama hub is located some 3,000 miles north of Sao Paulo and Santiago.
In the near term, LAN's and TAM's competitors in other parts of the world will probably mainly ponder the upheaval that the merger would cause on the global alliance scene. LAN and TAM are a long way from being able to focus on it, though they recognise that it will be an important issue at some point if the merger is consummated.
LAN is a longtime member of oneworld, while TAM joined Star this year (and ratified its membership earlier this month). A combined airline would probably have to choose one or the other, or defect to SkyTeam. This is a very worrying development for oneworld, which has already been weakened by Mexicana's recent bankruptcy. LAN and TAM are currently the only carriers in South America that belong to global alliances, so their merger should ensure a fight as fierce as the one for JAL last year.
LATAM AIRLINES IN THE REGIONAL CONTEXT
LATAM AIRLINES IN THE REGIONAL CONTEXT
LAN-TAM
GOL
Avianaca
/Taca
Copa
2009 Revenue (US$bn)
8.5
3.5
2.6
1.3
2009 EBITDAR (US$m)
1,505
690
400
320
2009 Passengers (m)
45.8
28.4
11.3
5.6
Destinations (today)
116
62
58
51