Lessors tread water waiting for market recovery September 2009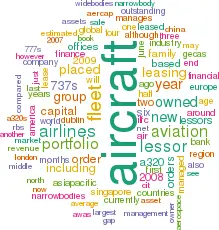 In the midst of the deepest–ever aviation recession, the global leasing industry is coping as best it can as lease rates tumble and marginal airlines return aircraft or go bankrupt. In many respects the leasing industry is treading water – few assets (whether aircraft or leasing companies themselves) are changing hands as lessors preserve cash and wait for the market to improve.
The situation, however, is not uniformly bad for all lessors. Many of those who have been through downturns before are coping relatively well, and a handful of well–backed lessors are using the opportunity to snap up cheap assets. And while some in the leasing industry talk about a W shaped recession — with a second dip coming in the latter half of 2009 — most observers cautiously forecast that the industry will start recovering in the first half of 2010 (or the second half at latest) as the global economy improves.
Of course the reality is that with around 2,500 parked narrowbodies and widebodies, there is plenty of choice for airlines needing capacity. In 18 months lease rates have dropped by between 10% and 50% on almost all models, with older narrowbodies and widebodies suffering the largest falls and new narrowbodies the smallest.
The funding gap
Finding finance for new aircraft — the "funding gap" — is perhaps the greatest challenge the current downturn presents for airlines and thus lessors. Some companies (GECAS for example) believe this trend (which has arisen primarily because banks are now reluctant to provide debt) has been much exaggerated, and that manufacturers and export credit agencies are filling in much of the funding gap. Others argue that manufacturers are reluctant to provide much funding for new aircraft, and that there is a limit to the extra backing that export credit agencies such as the US's Ex–Im Bank can provide.
Whatever the truth, most lessors certainly won't step forward and provide funding to airlines themselves – first, because they can't afford to and second, because they would prefer manufacturers to cut back production instead, by anything up to 30%.
However, an investor presentation given by Aircastle in June emphasised that, while the short–term prospects for the industry are dire, the "long–term trends remain favourable" thanks to the underlying need for major European and North American airlines to upgrade their fleets. Aircastle estimates that more than 1,000 mainline aircraft in Europe and North America are more than 20 years old, while a third of the global freighter fleet will need to be retired by 2011.
The other positive is that the fall in global interest rates has helped lessors considerably; although headline lease rates have fallen, net margins have not dropped by anything near the same proportion.
How individual lessors are faring at present varies tremendously. The greatest pressure is on lessors with lots of debt and/or a less than "blue–chip" list of lessees. Some in the industry are not exactly upset by the troubles at ILFC, with one lessor commenting that both ILFC and GECAS prospered only because of access to cheap funds from their parents. Others — like BOC Aviation (backed by the deep pockets of the Bank of China) — see the downturn as an opportunity to buy cheap assets, and BOC has acquired close to 50 aircraft in the last eight months in what is an unprecedented buyers' market.
Curiously for a downturn, there is relatively little consolidation going on in the leasing industry – largely because of a scarcity of debt finance and a nervousness among the (few) potential buyers that are around. Indeed those lessors that have come onto the market have had trouble finding buyers, and those fabled white knights — the sovereign wealth funds — that were tipped by many to acquire lessors have (so far) stayed out of the fray.
Aviation Strategy's annual survey of the leasing industry (see table) reveals that the overall fleet has remained virtually static year–on–year at 6,877 aircraft, but — most interestingly — lessors have 1,142 outstanding orders now compared with 1,277 12 months ago (see Aviation Strategy, September 2008), and the only lessor orders this year have been for a couple of Boeing aircraft and 13 Airbuses.
The "Big Two" – GECAS and ILFC – continue to dominate the lessor fleet, with a combined total of 2,825 aircraft, but again continue to have an increasingly smaller share of the outstanding order book; this year they have 23.6% of the total lessor order book, compared with 27.6% a year ago and 47.3% in September 2007.
GECAS
Based in Connecticut, GECAS is by far the world's largest lessor and, while its key rival has been struggling to find a new owner, GECAS has remained focussed on protecting its market and profitability (see Aviation Strategy, June 2009). From July that focus has been led by Norman Liu, who took over as CEO and president from Henry Hubschman, who moved over to become chairman at the same date. Liu insists that the lessor aims to maintain its record of never having to cancel or defer an aircraft order.
In the first six months of 2009 GECAS reported a 3.7% fall in revenue, to $2.4bn, with "segment profit" dropping 17.2% to $555m – but that's still a good result given the market environment. GECAS's assets are valued at $50.3bn (compared with $48.4bn 12 months earlier) and the fleet has increased slightly year–on–year, with 1,500 owned aircraft and another 325 aircraft managed on behalf of others (compared with 1,475 owned aircraft and 300 managed as of September 2008). GECAS's fleet has an average age of under eight years, and 55% are narrowbodies (of which 83% are A320 family aircraft and 737NGs), while 20% are widebodies (of which 90% are 767s, 777s or A330s), 16% are RJs and 9% are cargo aircraft.
The fleet is placed with approximately 250 airlines in 70 countries around the world, with just two aircraft not placed with clients as at the end of June. 34% of the fleet is placed with airlines in the US, with the next most important markets being Europe (20% of the fleet), the Asia/Pacific region (19%), Middle East/ Africa/CIS/Russia (15%), Latin America (7%) and Canada (5%).
GECAS's huge sales effort is co–ordinated via 480 employees in 24 global offices (of which the majority have been opened since 2001), and the lessor is particularly keen on building up orders in the Asia/Pacific region, where it has a presence in Tokyo, Shanghai, Hong Kong, Beijing, Singapore, Delhi and Mumbai.
All orders through to the end of 2010 have already been placed with clients, and GECAS's current order book stands at 97 Boeing aircraft (79 737s and 18 777s) and 48 Airbus aircraft (11 A319s and 37 A320s). That's significantly less than the 196 orders outstanding as of a year ago, since GECAS hasn't placed any new orders recently.
ILFC
The continuing circus regarding ILFC's sale shows no sign of ending, and as a result the world's second–largest lessor still faces an uncertain future. A subsidiary of troubled US financial services giant AIG, California–based ILFC was put up for sale late last year but the sale process has been slow and painful (see Aviation Strategy, May 2009). Little information is being released by ILFC or its parent, and although AIG continues to sell off other assets left, right and centre, the sale of the lessor appears elusive.
Essentially the three bidders for ILFC appear reluctant to make firm commitments without support from the US government/the Federal Reserve Bank of New York (which own 80% of AIG). The preferred bidder is a consortium led by two private equity houses: New York–based Greenbriar Equity Group and Toronto–based Onex Corp (the other two consortia are led by Terra Firma and the Carlyle Group/Thomas H. Lee Partners). But Greenbriar and Onex are believed to have bid no more than $3bn-$4bn between them, and this is also conditional on getting extra guarantees from the New York Fed on top of the $5bn of ILFC debt it has already guaranteed. ILFC has a book value of $7.5bn, but that is after $32bn of debt, $6bn of which is maturing in 2009 (including $2bn due in October), which will be very difficult to refinance and so is the biggest obstacle to finding a new owner. The situation was not helped at the end of July when Moody's downgraded ILFC's rating yet again, and placed the company on review for another potential downgrade.
What kind of owner the Greenbriar/Onex consortium would be is hard to tell at present. Onex led an unsuccessful attempt to buy Air Canada back in 1999, but neither it nor Greenbriar have revealed plans for the lessor publicly (and are no doubt concentrating first on wringing as many guarantees out of the Fed as possible).
However, AIG is now reported to have frozen the sale process as the price offered by Greenbriar/Onex is too low, and Steven Udvar–Hazy, ILFC's CEO, is rumoured to be putting together a bid to buy part of the lessor's portfolio.
The first operational decision the new owners (whoever they turn out to be) will have to make is on orders. ILFC's current order book stands at 125 aircraft, but the outstanding total has steadily fallen since a high of 360 back in 2004. Thus the most pressing problem for ILFC is that the uncertainty over its new owner means that it can't buy aircraft at the bottom of the cycle, as it traditionally does, in order to cater for the expected demand from airlines that have to retire older models over the next 12–18 months. The ILFC fleet currently stands at approximately 1,000 (compared with 947 owned and 108 managed as of a year ago), and orders for up to 50 aircraft may be placed pretty quickly once the ownership question is sorted out – although naturally that will depend on the wishes (and the finances) of those owners.
These new orders are likely to be given a boost by the capex savings from an anticipated cancellation of some or all of ILFC's order for 10 A380s. ILFC is the only lessor to have ordered A380s, but the tapering of new orders for the type combined with the high costs of converting the spec of each aircraft from one airline's requirements to another's may cause the lessor to cancel. ILFC apparently has an option to cancel the order before June 2010 without having to pay a penalty.
Boeing Capital Corporation
BCC, regarded as a financer of last resort for Boeing aircraft, currently has a portfolio of 280 owned and 49 part–owned aircraft worth some $6.4bn. BCC's operation has been steadily trimmed over the last few years, and now 160 staff operate out of four offices in the US, as well as Moscow and Hong Kong (a Brussels office was closed in the last year). In the first half of 2009 BCC reported $330m of revenue – 8.2% down on January–June 2008 – and net profit of $42m (42.5% down year–on–year).
Unsurprisingly, Renton–based BCC has "received a number of requests from both domestic and foreign airlines to reduce lease payments or to otherwise restructure obligations", and one example came in May when BCC restructured leases for nine 717s placed with Midwest Airlines, under which all the aircraft will return to BCC by the end of 2009. BCC is most heavily exposed to the 717, and particularly customers for this model in the US. Just five airlines – AirTran, American, Hawaiian, Delta and Continental – account for 52.5% of the aircraft in BCC's portfolio, with Air Tran alone accounting for a substantial 24.1% of BCC's aircraft.
Altogether 76% of BCC's portfolio by value is placed with US airlines, with 14% in Europe and the remaining 10% scattered around the rest of the world. Just over 37% of the fleet by value are 717s, with the next largest categories being 757s (15%) and 737s (9%). The reliance on 717s skews the age profile of the fleet, with just 19.6% of aircraft being less than five years old, and almost a quarter of aircraft being more than 16 years old.
CIT Aerospace
CIT Aerospace is part of the CIT Group, a NYSE–quoted commercial and consumer finance group, and has a mixed portfolio of 302 narrowbody and widebody aircraft – slightly up on a year ago.
CIT has six offices around the globe, and opened an office in Singapore in May; currently 25% of the lessor's fleet is placed in the Asia/Pacific region, and it is a target area for further orders. CIT has more than 100 aircraft on order, including 10 787s, 15 737s, 61 A320 family aircraft, 10 A330s and seven A350s.
New York–based CIT Aerospace's future is slightly uncertain given that the CIT Group has been in talks with the US government about financial support to help it avoid bankruptcy – although in July, after the government declined to provide support, the group raised $3bn in new financing. However, CIT Aerospace's assets were used as collateral for the new funding, which means that the providers of that $3bn will have to approve any new owner if it is to be sold (which has not been confirmed by the CIT Group yet).
AerCap
Thanks to the sale of older models, the portfolio of Dutch–based AerCap continues to shrink, coming down from 340 owned and managed aircraft two years ago to 314 aircraft 12 months ago and 290 at present. The fleet is placed with 95 airlines in 45 countries, the majority of which are in Europe (36 customers), followed by North and South America (18) and the Asia/Pacific region (19).
In the first six months of 2009 AerCap leased 11 aircraft and signed letters of intent for another 21, and all but two of these 33 aircraft were contracted in the second quarter of 2009, indicating that business is picking up for the lessor after a very slow start to the year. Among the second quarter activity was a deal to lease four A330–200s to Virgin Atlantic as well as the purchase and leaseback to the same airline of another six A330–300s that Virgin Atlantic has on order with Airbus.
AerCap has 15 A330–200s and 10 A330–300s on order, and all aircraft being delivered through to the end of 2011 have been placed with customers. The lessor is listed on the NYSE, and in the first half of 2008 recorded a 20% fall in revenue to $503m, with net income falling by 28% to $86.6m.
Babcock & Brown AM
BBAM has a fleet of 280 aircraft and outstanding orders for 20 737s. BBAM was part of the operating lease division of Babcock & Brown, the Australian investment bank and asset management group that went into bankruptcy in March this year. With 280 aircraft, placed with more than 70 customers in 31 countries, San Francisco–based BBAM is still looking for a new owner.
Aviation Capital Group
Aviation Capital Group (ACG) is largely a narrowbody specialist and has a portfolio of 233 owned or managed aircraft, most of which are 737s or A320 family aircraft. These are placed with 93 airlines in 40 countries around the world.
Based in Newport Beach, California, ACG is owned by insurance giant Pacific LifeCorp, and has offices in London, Santiago, Seattle, Shanghai, Singapore and Stamford. Last year ACG reported operating revenue of $609m, 2.5% up on 2007, and its portfolio was valued at $5.4bn as at the end of 2008.
The order book stands at 142 aircraft (69 737s, five 787s, 68 A320 family aircraft), compared with outstanding orders of 145 as of 12 months ago, and while 12 new aircraft arrived at the lessor in 2008 13 aircraft were disposed of, so the fleet is remaining stable in terms of numbers.
In June ACG launched a joint venture leasing company called Civil Aviation Finance and Operating Leases Co (known as CIAF–Leasing) in partnership with Civil Aviation Finance Holding, an Egyptian–based company, and Egypt's Civil Aviation Support and Development Fund. The Egyptian partners have taken a 90% equity stake in the venture, with ACG holding 10% and signing an initial five–year contract to manage the company's portfolio. The new lessor will specialise in serving airlines in the Middle East and North Africa with narrowbody equipment.
AWAS
AWAS has a portfolio of 214 aircraft, which are currently leased to 95 airlines in 49 countries around the world. The average age of the fleet is more than eight years, and having incorporated Pegasus Aviation, the AWAS fleet has what it calls a "highly distinctive strategy" with a fleet that is diversified, whether by type, age or "lessor quality". According to owner Terra Firma that diversification has made the lessor "more defensive ahead of the downward cyclical adjustment that the industry is currently experiencing".
In the 12 month period ending November 30th 2008 AWAS recorded revenue of US$781m, 32% up on 2007, with earnings before deprecation and tax rising from $283m in 2007 to $411m in 2008. Terra Firma admits that AWAS had "a very challenging year" in 2008, but that this year it sees "a number of opportunities to take advantage of the soft market to grow the business through accretive acquisitions which will develop the business strategically".
AWAS has around 100 employees and a head office in Dublin, with other offices in New York, Singapore and Miami. The lessor received three A330–300s in the first half of the year, which are now leased to Singapore Airlines, while two A330–200s are being delivered in the second half, with Oman Air contracted to take the aircraft. AWAS has 122 aircraft on order — exactly the same as a year ago.
RBS Aviation Capital
RBS Aviation Capital owns or manages 205 aircraft (with an average age of four years) that are currently placed with 53 airlines, including 18 in Europe, 17 in the Asia/Pacific region, 10 in North America, four in Latin America, two in Africa and two in the Middle East.
The lessor has 90 staff and is based in Dublin, with other offices located in London, Connecticut, Hong Kong, Shanghai, Toulouse, Dubai, Tokyo and Singapore.
After RBS turned in an operating loss of £41bn ($58bn) in 2008 and its emergency takeover by the UK government (which is now a 70% shareholder), RBS has been disposing of non–core assets, and the aircraft leasing arm was formally put into this category after a review carried out in February this year. In May RBS cancelled its order for 20 787s, which RBS admits was part of the drive to limit exposure to non–core investment. Some analysts expressed surprise at the cancellation, which one said would make it less attractive to potential buyers.
A behind–the–scenes look for a buyer has been going on for some time it is believed, but although it is formally not up for sale yet, it's clear to everyone in the industry that it is available. Chinese banks have been touted as potential buyers, (with Bank of China reportedly holding talks with RBS) and they may be one of the few sectors that might be willing to invest at present. As has happened with ILFC, however, there is likely to be a significant gap between what RBS/the government would like to receive and what buyers are prepared to pay.
Aircastle
In the first half of 2009 Aircastle recorded revenue of $269m, compared with $280m in the January–June 2008 period, and net income of $46m ($67m in H1 2008). Aircastle's portfolio has eased from 135 a year ago to 131 aircraft today, which are placed with 60 airlines in 35 countries. Almost half of the fleet (46%) is placed with European airlines, with the next largest markets being the Asia/Pacific region (23%) and North America (12%).
Connecticut–based Aircastle also has offices in Dublin and Singapore and its strategy is to concentrate on owned aircraft only and what it calls a "conservative capital structure", with a net debt to book value of 62%. The fleet has an average age of just under 11 years, with 55 new generation narrowbodies, 22 classic narrowbodies and 19 freighters. Aircastle has 11 A330s on order, and has 23 aircraft so far unplaced with clients through 2010 and 2011.
Macquarie AirFinance
Macquarie AirFinance has a fleet of 82 owned and 43 managed aircraft, placed with 55 airlines in 30 countries — predominantly in Europe, North America and the Asia/Pacific region. The majority of the owned aircraft are either 737s or A320 family aircraft, although it manages a much wider range of aircraft, including 747s, 757s, 767s, MD–80s, A330s and A340s.
It doesn't have any aircraft on order, although in April it bought two A321s (currently on lease to Thomas Cook Airlines Scandinavia) from AerCap, and in May bought and leased back a 737–800 from TUI Aviation. Macquarie AirFinance is based in Dublin, and also has offices in London and San Francisco.
BOC Aviation
BOC Aviation (formerly known as Singapore Aircraft Leasing Enterprise – SALE) has seen its fleet increase by almost 50% in the last 12 months, to 123 owned and managed aircraft. Owned 100% by the Bank of China, BOC is headquartered in Singapore and has offices in London, Washington DC, Seattle and San Diego.
The fleet is young, with an average age of four years, and the owned aircraft include 48 A320 family aircraft, 39 737NGs and 11 777s. In 2008 BOC's net profits rose by 32% to $107m, and the Bank of China has given the lessor a mandate to expand. There are 67 aircraft on order, including 29 737s, 33 A320 family aircraft and five A330–200Fs.
Interestingly, BOC sold aircraft through the first half of 2008 but became a "strategic buyer" of aircraft from the fourth quarter of the year "as competition reduced". This has continued through 2009, buying aircraft (and then leasing them back) from Air France (four 777s), Southwest Airlines (six 737–700s), Virgin Blue (three 737–800s) and Alaska Airlines (six 737–800s).
Airplanes Group
Delaware–based Airplanes Group has a portfolio of 116 aircraft worth an estimated $1bn. Most of these are Boeing narrowbodies, and the fleet includes 43 737s, 20 MD–80s and 12 A320s. 100 of the aircraft are placed with 41 airlines around the world, with most important markets being Latin America (accounting for 22% of the portfolio by value) and Europe excluding CIS countries (16%). The portfolio is relatively aged, with all aircraft being at least 16 years old.
The largest single customer for Airplanes Group is Click Mexicana, to which the lessor leases 16 aircraft. However in its report for the financial year ending March 31st 2009, Airplanes group said that Click Mexicana was "currently in arrears and is experiencing financial difficulties", and after March the existing contracts were restructured. In the 2008/09 financial year ending March 31st, Airplanes Group recorded revenue of US$242m, 1% up on the previous financial year.
ORIX Aviation
ORIX Aviation has a portfolio of 115 aircraft, worth around $3.4bn (including spare engines). Based in Dublin, the lessor is owned by the Japanese financial services group Orix Corporation. As of August it had placed all its aircraft other than a couple of 737s.
Pembroke
Pembroke has a fleet of 104 owned and managed aircraft (most of which are narrowbodies), substantially up from the 77 it had a year ago as it seeks to expand through the recession.
In April Pembroke (owned by Standard Chartered since 2007) bought 13 737–800s and an A320 from GECAS. The 14 aircraft have an average age of just over one year and are all on lease to airlines in either Africa or the Asia/Pacific region.
Aergo Capital
Aergo Capital is based in Dublin and has increased its portfolio to 103 aircraft after incorporating the fleet of South African lessor SAFAIR — which had 40 aircraft (of which 17 were 737s and five were A300–B4 freighters) — in September 2008. Aergo was previously an older model narrowbody specialist, and the most important types in its increased fleet remain MD–82s and 737–200s.
This fleet is currently leased to 23 airlines in 20 countries, including KLM, South African Airways, Jet Airways, Comair, US Airways and Transaero. Aergo also has offices in Johannesburg (where it has a large maintenance facility), Nairobi, Santiago (Chile) and Jakarta.
Dubai Aerospace Enterprise Capital
The UAE government–backed aerospace group Dubai Aerospace Enterprise (DAE) has been forging ahead with ambitious plans to build its aircraft portfolio, operated by its DAE Capital division.
The portfolio currently stands at 61 mixed narrowbodies and widebodies, but the fleet will grow rapidly once massive orders of almost US$30bn worth of aircraft (at list prices) start arriving from 2010 onwards, comprising 70 A320 family aircraft, 30 A350–900s, 70 737NGs, 15 747s, 16 777s, and 15 787s. The aircraft should arrive as the leasing industry begins a cyclical upturn, but it will be interesting to see just how lease rates to Middle Eastern airlines hold up once this new capacity starts flooding into the market.
Al Waha Capital
Abu Dhabi–based Al Waha Capital is a holding company for a variety of infrastructure and finance businesses, and its aircraft leasing operation has a portfolio of 53 aircraft valued at US$2bn, including 737 classics, A320 family aircraft, A340s and 777–200ERs. They are placed with airlines around the world, although the majority are Middle Eastern, including Etihad Airways, Emirates and Qatar Airways.
In June Al Waha Capital bought a 50% stake in lessor AerVentures from AerCap (see AerCap section below) for a reported equity commitment of US$135m.
Genesis Lease
Genesis Lease's portfolio has remained virtually static year–on–year at 55 aircraft, comprising 24 A320 family aircraft, 23 737s, one A330, two 747s, three 767s and two ERJs. The fleet has an average age of just over seven years and is placed with 34 airlines, the majority of which are in Europe (13 clients, including Air Berlin, Vueling and Norwegian Air Shuttle) and the Asia/Pacific region (11 customers, including Air China, China Southern and JAL).
The lessor is listed on the NYSE (with an 11% stake held by General Electric Company) and based in Shannon, Ireland, although all its aircraft are managed on its behalf by GECAS. In the first six months of 2009 revenue remained flat at $108m, with net profits falling 24% to $14.3m.
Global Aviation Asset Management
Australian lessor Global Aviation Asset Management (GAAM) operates out of Sydney, London and Dublin with a fleet of 50 aircraft — 23 A320 family aircraft, three A340s, six 717s and 18 737s. They are placed with 25 airlines including BA, Air France, Air China and Virgin Blue.
Guggenheim Aviation Partners
US lessor GAP opened an office in Singapore late last year and has a fleet of approximately 42 aircraft. GAP is owned by Guggenheim Partners, a diversified financial services company that has 15 offices around the world. GAP has 16 aircraft on order, including four 747s, six 777s and six A330s.
Alafco
Kuwait lessor Alafco is majority–owned by the Kuwait Finance House and for the first half of the 2008/09 financial year (the six months ending March 31st 2009) reported a net profit of US$22m. Its fleet consist of 29 owned and managed aircraft, including nine 737–800s, two 737- 900ERS, six A320 family aircraft and four 777s.
Alafco currently has 13 customers, most of which are in the Middle East and Asia/Pacific regions. Its largest single customer is Turkish Airlines, where five 737–800s have been placed. The lessor also manages 10 aircraft for Millennium Aircraft Leasing, an aviation fund launched by the Kuwait Finance House. Alafco has 59 outstanding orders (19 A320s, 12 A350- 800s, six 737s and 22 787s).
Other lessors
Tokyo–based MCAP — owned by the Mitsubishi Corp — has a portfolio of 60 aircraft worth an estimated $2bn, and manages another 60 aircraft. It ordered two 737–800s this June.
Sydney–based Allco Finance has a portfolio of 66 aircraft leased primarily with Asia/Pacific airlines, including Qantas and SIA, but went into administration at the end of 2008. It is still a going concern, and is provisionally being sold to HN Group and Bravia Capital, although this is subject to agreement by Allco's creditors.
Texan lessor Jetran International has an estimated fleet of 60 aircraft, all of which are 737s, DC–9s and MD80s, while Sumisho Aircraft Asset Management is a subsidiary of Japan's Sumitomo Corporation and operates out of Amsterdam with a fleet of 60 owned and managed aircraft, ranging from A320 family aircraft and 737NGs to A330s, A340s, and 767s. In June this year Shogo Ishimaru was appointed as the lessor's president and managing director with a mandate to grow the company's business and asset base.
Three San Francisco–based lessors are World Star Aviation, which manages 54 cargo and late–model narrowbody aircraft for 30 airlines in 20 countries; Compass Capital, an asset finance and management company with a portfolio of 45 owned or managed aircraft; and Vx Capital Partners, which has 20 aircraft, including 737s, 747s, DC–10s, and A320s.
Shannon–based Magellan Air manages a fleet of 40 aircraft, leased to airlines in Europe, South America and the Asia/Pacific region, and Chicago's RPK Capital Management has approximately 35 aircraft in its portfolio. Another Chicago–based lessor is BCI Aircraft Leasing, which has a 33–strong portfolio, the majority of which are 737 classics. The fleet is leased to 11 airlines around the world, with the single largest customer being US Airways, which operates 13 of BCI's 737s.
Illinois–based AAR is an aviation support group with seven owned and 26 part–owned aircraft, more than half of which are 737–400s. However, it now wants to "de–emphasise" its aircraft leasing business, and is looking to sell its aircraft as the opportunity arises.
Dublin–based VGS was formed in 2007 by combining the former aviation assets of Volito Aviation and Goldman Sachs Special Situations Group, and has a portfolio of 32 aircraft. Floridabased GA Telesis also has offices in Singapore and London and is an aerospace support and maintenance company with a portfolio of approximately 30 aircraft, including Boeing, Airbus, MD, Bombardier and Embraer types.
SkyWorks Leasing is based in Connecticut and manages 30 aircraft for clients, while Aircraft Leasing and Management is based at London's Gatwick airport and manages 27 air–craft for clients, including six A320 family aircraft, three 737s, two 747–400Fs and three 767s. Aircorp is based in Dallas and has a fleet of 27 727s and 737s, while Munich–based Goal — owned by Lufthansa (40%) and KG Allgemeine Leasing (60%) — has 26 jet aircraft, including seven 737s and four A310s.
Fort Lauderdale–based Jetscape was launched in 2000 and today owns or manages 26 aircraft, including eight 737s and six E190s, which are currently placed with 18 airlines in 13 countries. Amsterdam–based Sojitz Aircraft Leasing has 23 Boeing aircraft, while in June AerCap sold a 50% stake in Irish–based subsidiary AerVenture to Abu–Dhabi–based Al Waha Capital. AerVentures was launched in 2006 and specialises in A320 family aircraft, with a fleet of 23 aircraft and outstanding orders for another 36.
GMT Global Republic Aviation (GMT Global) is based in Dublin and also has offices in Denver and Virginia in the US. It has 22 aircraft (most of which are widebodies) that are leased to seven airlines, and in April it bought four A320–200s from ORIX Aviation.
Amsterdam lessor Aircraft Financing & Trading has an estimated fleet of 20 jets, and Bavaria International Aircraft Leasing, owned by German corporate group Schorghuber, is based in Munich and has a fleet of 20 narrowbody aircraft.
Novus Aviation is a Swiss–based lessor with an estimated 18–strong portfolio, having sold a couple of 767–200s at the end of 2008, while Orlando–based Automatic has 18 aircraft after selling a couple of 737–200s earlier this year.
The UK–based Skytech–AIC owns or manages a fleet of 18 aircraft, and New York–based Deutsche Bank Equipment Leasing has approximately 16 older model 737 and A320 aircraft in its portfolio, compared with 30 aircraft a year ago.
Global Aviation Leasing is a Gibraltarian lessor that has a fleet of 15 DC–9/10s and MD- 80s, leased out to airlines in Europe, Africa and the Middle East.
US lessor First Greenwich Kahala has an estimated 15 aircraft while Texan lessor Q Aviation also has a fleet of 15 aircraft (down from 23 a year ago). Though based in Seattle, Itochu Airlease is owned by Japan's Itochu Corporation and has 14 aircraft, and among a wave of new Chinese lessors is ICBC Leasing (with 14 aircraft), which is known to be actively increasing its portfolio.
Frankfurt–based Doric Asset Finance also has offices in London and New York, and has a portfolio of 14 aircraft, most of which are widebodies, while Tombo Aviation is based in California and is owned by Japan's Matsui & Co. It has a portfolio of 14 narrowbody and widebody aircraft, 11 of which are 737s.
Airbus Asset Management has an estimated 10 aircraft in its portfolio, as has Mauritius–based Veling, Singapore's Phoenix Aircraft Leasing and Frankfurt–based Deutsche Structured Finance, which is owned by Aareal Bank. China's CDB Financial Leasing has an estimated portfolio of nine 737s, all placed with Chinese airlines.
Earlier this year Dubai–based LCAL (Low–Cost Aircraft Leasing) cancelled 16 of 21 787–8s and 787–9s it had previously ordered, thanks to the global recession. But so far this has been the only cancellation of orders by other existing or new lessors — US freighter leasing specialist Intrepid Aviation has outstanding orders for 20 A330–200 freighters, with delivery from 2010 onwards, while Shannon–based AerDragon Aviation Partners (a joint venture company owned 50% by the China Aviation Supplies Import & Export Group Corporation, 25% by AerCap and 25% by Calyon AirFinance) has received three aircraft from an order for 13 A320s.
Deucalion Capital, part of Germany's DVB Bank group, has ordered eight 777Fs, of which two have been delivered to date, while two US private equity companies – MatlinPatterson and Oak Hill Capital Partners – have respectively six A330–200Fs and six 777s on order.
At the Paris air show it was announced that a new lessor called Greenstone Aviation was being set up by John Slattery, who previously worked at RBS Aviation Capital until 2007. Based in Dublin, Greenstone aims to raise $0.5bn in equity funding, to be spent on securing 737s and A320s at the bottom of the cycle. Slattery says he wants to open offices in New York, Beijing, Singapore and Dubai, with 30 employees.
Not included in the table is Aircraft Purchase Fleet Limited (APFL), a new Ireland–based lessor started at the end of 2008 by Italy's Toto Group, which formerly owned Air One. APFL has taken on the aircraft previously on order for Air One, which includes 48 A320s, 12 A330–200s and 12 A350–800s.
---
THE LESSOR FLEET
| | | Managed/ | | Boeing | Airbus | Total |
| --- | --- | --- | --- | --- | --- | --- |
| Company | Owned* | part-owned* | Total | orders | orders | orders |
| GECAS | 1,500 | 325 | 1,825 | 97 | 48 | 145 |
| ILFC | | | 1,000 | 84 | 41 | 125 |
| BCC | 280 | 49 | 329 | | | |
| CIT | | | 302 | 25 | 78 | 103 |
| AerCap | | | 290 | | 25 | 25 |
| BBAM | | | 280 | 20 | | 20 |
| ACG | | | 233 | 74 | 68 | 142 |
| AWAS | | | 214 | 39 | 83 | 122 |
| RBS | | | 205 | | | |
| Aircastle | 131 | | 131 | | 11 | 11 |
| Macquarie AirFinance | 82 | 43 | 125 | | | |
| BOC Aviation | 100 | 23 | 123 | 29 | 38 | 67 |
| MCAP | 60 | 60 | 120 | 2 | | 2 |
| Airplanes Group | | | 116 | | | |
| ORIX | | | 115 | | | |
| Pembroke | | | 104 | | | |
| Aergo Capital | | | 103 | | | |
| Allco Finance | | | 66 | | | |
| Dubai Aerospace Enterprise | | | 61 | 116 | 100 | 216 |
| Jetran | | | 60 | | | |
| Sumisho | | | 60 | | | |
| Genesis | | | 55 | | | |
| World Star Aviation | | | 54 | | | |
| Al Waha Capital | | | 53 | | | |
| GAAM | | | 50 | | | |
| Compass Capital | | | 45 | | | |
| Guggenheim | | | 42 | 10 | 6 | 16 |
| Magellan Air | | 40 | 40 | | | |
| RPK Capital Management | | | 35 | | | |
| BCI Aircraft Leasing | | | 33 | | | |
| AAR | 7 | 26 | 33 | | | |
| VGS | | | 32 | | | |
| GA Telesis | | | 30 | | | |
| SkyWorks Leasing | | | 30 | | | |
| Alafco | 19 | 10 | 29 | 28 | 31 | 59 |
| Aircraft Leasing and Management | | 27 | 27 | | | |
| Aircorp | | | 27 | | | |
| Goal | | | 26 | | | |
| Jetscape | | | 26 | | | |
| Sojitz Aircraft Leasing | | | 23 | | | |
| AerVenture | 23 | | 23 | | 36 | 36 |
| GMT Global | | | 22 | | | |
| Vx Capital Partners | | | 20 | | | |
| Aircraft Financing & Trading | | | 20 | | | |
| Bavaria | | | 20 | | | |
| Novus Aviation | | | 18 | | | |
| Automatic | | | 18 | | | |
| Skytech-AIC | | | 18 | | | |
| Deutsche Bank Equipment Leasing | | | 16 | | | |
| Global Aviation Leasing | | | 15 | | | |
| First Greenwich Kahala | | | 15 | | | |
| Q Aviation | | | 15 | | | |
| Itochu Airlease | | | 14 | | | |
| ICBC Leasing | | | 14 | | | |
| Doric Asset Finance | | | 14 | | | |
| Tombo Aviation | | | 14 | | | |
| Airbus Asset Management | | | 10 | | | |
| Phoenix Aircraft Leasing | | | 10 | | | |
| Deutsche Structured Finance | | | 10 | | | |
| Veling | | | 10 | | | |
| CDB Financial Leasing | | | 9 | | | |
| Intrepid Aviation | | | | | 20 | 20 |
| AerDragon Aviation Partners | | | | | 10 | 10 |
| Deucalion Capital | | | | 6 | | 6 |
| MatlinPatterson | | | | | 6 | 6 |
| Oak Hill Capital Partners | | | | 6 | | 6 |
| LCAL | | | | 5 | | 5 |
| Total | 2,202 | 603 | 6,877 | 541 | 601 | 1,142 |
Notes: This table includes jet lessors with at least nine owned or managed aircraft.
We exclude entities set up solely to manage the
leasing activities of a specific airline.
*Where known.