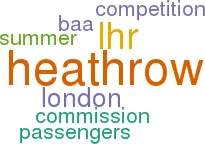 London's Heathrow Airport (LHR) has been firmly in the cross–hairs of the world's media over the past few months. The majority of the coverage has been negative, with headlines such as "Heathrow Hell", "A nightmare — the unacceptable face of monopoly capitalism" and "shaming London" highlighting the vitriol spewing out of the press. The service level deficiencies at Heathrow (nothing newsworthy in and of itself) combined with the ongoing UK Competition Commission review into monopolistic/anti–competitive behaviour on the part of Ferrovial–owned BAA are the main catalysts for the coverage.
On the topic of service levels, Heathrow has been operating at over 150% of its terminal capacity for several years following the recovery of traffic post–September 11. Passengers have long been complaining about Heathrow and the other London airports. The fever pitch witnessed this summer was aggravated by baggage handling problems experienced at LHR. During an 11–day stretch in June, the baggage tunnel between T1 and T4 at LHR failed on nine days. British Airways is so desperate to have things fixed that it is contemplating 'giving' Ferrovial £25m to address these immediate weak links. However, things could have been worse this summer. Industrial action has not reared its ugly head, a departure from the usual strike–induced chaos that has become a summer ritual in London.
The proverbial light at the end of the tunnel is getting brighter regarding improvements at LHR. T5 opens next March and promises to provide an outstanding experience for passengers, with BA set to reap the rewards. BA's move into T5 and the realignment of the other carriers will instantly relieve the pressure on terminals 1 and 3 (T2 is set to be demolished in October 2008, to be replaced by Heathrow East). Once Heathrow East is complete in 2012, LHR will have capacity for around 90m passengers.
The Competition Commission has issued its 'Statement of Issues', which spells out the scope of its continuing investigation into monopolistic behaviour on the part of BAA. In this document, it identified the key item of BAA's culpability: namely, that BAA has been insufficiently proactive in attempting to overcome development restrictions and that it has tended to await the outcome of government policy rather than trying to shape it. This negligence is the primary cause of the myriad problems Heathrow (and to a lesser extent Stansted and Gatwick) face currently. On balance, the language that the Competition Commission used in the Statement of Issues would appear to be leaning towards a break–up. Ferrovial might ultimately favour such an outcome if five separately owned London airports mean an end to CAA price regulation, thereby allowing LHR to both raise charges to market levels but also to increase the use of pricing as a tool to control demand and thereby overcrowding.