Mexico: hotbed of LCC activity September 2006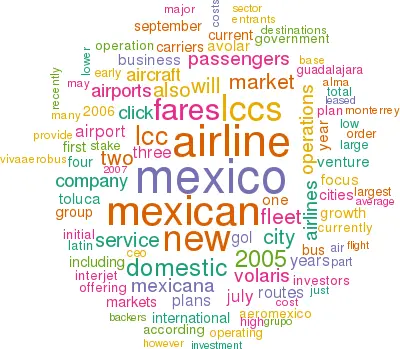 Mexico has been a hotbed of start–up low–cost airline activity since July 2005, when then–state owned Mexicana kicked off the process with its low–fare subsidiary Click. So far, three stand–alone LCCs — Avolar, Interjet and Volaris — and one new regional jet operator (ALMA) have taken to the air, and at least one other LCC, VivaAeroBus, is gearing up for launch this autumn.
These airlines have announced aggressive expansion plans. Last year Interjet placed an order for up to 20 A320s worth $1.2bn. In January Volaris ordered 16 A319s plus 40 options. And Avolar has just announced plans to invest $700m in a new fleet of 737–700s.
Why this sudden surge of LCCs in Mexico? How do they compare with their counterparts in other regions? Is there room for all of them? The past year's flood of new entrants reflects essentially two things: the LCC phenomenon was overdue in Mexico, and the regulatory environment suddenly became favourable.
Before 2005 there were no true LCCs in Mexico (as are potentially defined by Southwest/JetBlue/Ryanair/Gol–style operations). Three older–established carriers offering lower fares — Aerocalifornia and Aviacsa since the early 1990s and Aztec since 2001 — had gradually broken the Aeromexico- Mexicana monopoly; in 2005 they uplifted about one third of the total domestic scheduled passengers. However, although those airlines had reasonably competitive cost structures, with unit costs some 10–20% below the flag carriers', they had more legacy than LCC characteristics and their fares were not low enough to stimulate the market.
The earlier–generation discounters also had serious safety issues and not a good image. One such airline, Taesa, disappeared following a fatal crash in 1999 and a subsequent grounding for safety violations. In April this year the Mexican authorities grounded Aerocalifornia due to safety concerns, though the airline was allowed to resume limited operations in July. Aerocalifornia and Aviacsa have older fleets — until this year they even operated DC–9s.
Having been forced to rescue Aeromexico and Mexicana in the mid–1990s, the Mexican government was until recently totally preoccupied with trying to get the flag carriers on a sounder financial footing and sold off to the private sector. While the rest of the world was promoting competition and facilitating the growth of LCCs, in Mexico the debate for a whole decade was about whether the two flag carriers should be sold together or separately. Government policy did not encourage LCCs, and there were special challenges such as high taxes and airport charges that added about $100 to the cost of an average domestic return ticket.
It all changed in 2005, when Aeromexico and Mexicana posted modest profits for 2004. The turnarounds, in combination with improved economic conditions and the bright idea of giving Mexicana an LCC unit, facilitated the sale of Mexicana to hotel operator Grupo Posadas in December 2005. Aeromexico, which failed to attract sufficiently high bids, is currently expected to go on the block in 2007.
The separation of the two airlines and the government's new pro–competition stance — which has not changed despite the fact that Aeromexico's sale failed probably largely because of the flood of new entrants — helped stir investor interest in the undeveloped LCC sector.
Mexico was ripe for LCCs because the domestic market has stagnated over the past decade. According to statistics compiled by the Ministry of Transport and Communications (SCT), total scheduled passengers in non–regional domestic operations saw no growth in the 11–year period from 1994 to 2005 (up by just 0.8% from 16.8m to 16.9m). By contrast, international scheduled traffic to and from Mexico in that period more than doubled from 10.7m to 22.3m passengers (though the bulk of the growth was on foreign airlines). The total Mexican air travel market (including also a small charter segment) was 46.1m passengers in 2005, having exhibited 5.8% annual average growth in 1989–2005.
The reason for the stagnation was high domestic fares — often twice as expensive as US domestic fares for similar distances and higher than the fares on international flights from Mexico to Miami and other US cities. With ticket prices typically exceeding $150 for a one–hour domestic flight, air travel was out of reach for much of the population.
Mexico is Latin America's second largest domestic aviation market (after Brazil), with 19.8m scheduled domestic passengers (including regional operations) in 2005. Like Brazil, it has extensive geographic distances and large under–served cities. The numerous major population and leisure centres scattered around the country provide lots of potential niches for LCCs.
Similar to the situation in Brazil, Mexico's longer–haul passenger transportation market is dominated by surface modes, particularly buses. Only about 5% of the population of 105m (2005) has flown, suggesting significant pent–up demand. Add to that strong real GDP growth projections and it becomes very clear that the Mexican domestic aviation market has enormous growth potential.
In the past year the Mexican government has moved at full speed to encourage and support new airlines. In addition to expanding airport capacity, improving facilities and providing ground access, the government is offering temporary economic incentives that can reduce airlines' cash operating costs by 10–25%. The incentives include subsidies on fuel delivery charges (until November 2006) and steep discounts on airport and passenger charges at secondary airports for the first two years of operation.
The government hopes that the LCCs will not only provide a significant economic boost but help utilise airport capacity more efficiently. The incentives are aimed at developing four airports — Toluca, Puebla, Cuernavaca and Queretaro — as alternatives to Mexico City's congested main gateway, Benito Juarez International. Elsewhere in Mexico, private airport groups have matched the incentives at their secondary airports.
According to the government, more than half of Mexico City Airport's user base (24m passengers in 2005) would rather use the alternative airports, located at 50–150 kilometres' distance from the city centre. The small airports have received "high value group transportation services", including bus runs coordinated with flight times, low fares and city–centre check–in. Plans include providing 50% toll discounts or toll–free access to cars and taxis. The government is also using the privatisation process to help fund airport improvements — this past summer, a 49% stake in Toluca Airport was sold to Spain's OHL.
The SCT has estimated that, of the 2.3bn annual bus passengers in Mexico, 56.4m could potentially switch to air travel when the connections and low fares are available. That would be almost three times the current domestic passenger volume. Of the 56.4m, 7–8m could switch immediately, while another 1–2m could materialise through market stimulation (based on the "Southwest effect" experience in other countries). In SCT's estimates, the total immediate increase in passenger numbers could therefore be 8–10m, expanding the size of the domestic market from about 20m to 30m passengers.
Latin American aviation experts such as Bob Booth of AvMan have predicted that the Mexican domestic market will double to 40- 50m passengers in just a few years.
It is tough to predict what kind of a market share the LCCs might capture, because both Mexicana and Aeromexico look reasonably strong, can be expected to continue matching the lower domestic fares and now have more incentive than ever to get their cost structures in line.
Aeromexico, which has achieved some cost reductions and been marginally profitable in recent quarters, is fortunate in being able to focus on long–haul expansion to Asia. The airline is in the middle of a fleet renewal programme that includes taking 737- 700/800s and 777–200s, as well as three 787 Dreamliners in 2010. Domestically, Aeromexico has added 50–seat and 90–seat RJs to its regional subsidiary Aerolitoral's fleet to compete better with LCCs.
Mexicana's situation is more challenging because of its shorter–haul focus, though having the LCC subsidiary Click has helped and some savings have also been achieved through non–union staff cuts, executive salary reductions and the sale of the company's Mexico City headquarters. Mexicana is in the middle of difficult negotiations with its unions about concessions — part of efforts to reduce total operating costs by 25%, which the company believes it needs in order to be competitive. On an encouraging note, a deal with the ground workers was reached in early September that cut costs by 26%, while talks with pilots and flight attendants continue.
If the targeted labour cost savings are achieved, Mexicana plans to spend $2.4bn to expand its fleet. The airline is looking to order up to 40 A320–family aircraft, including an initial firm order for 14, to fend off competition from LCCs. In the meantime, Mexicana has continued to strengthen its leading position on the Mexico–US routes by adding new service to Florida, Texas and California.
Mexican LCC characteristics
The Mexican new entrants have the key characteristics of LCCs: new fleets, low cost structures, high levels of efficiency and productivity and extensive reliance on new technology. However, there seems to be more diversity in business models than in other regions, with US, European and Brazilian influences all in evidence. There is Ryanair/easyJet–style no–frills service (Avolar), JetBlue–style up–market service (Interjet and Volaris) and much copied from Gol.
The Mexican LCCs' special characteristics include the following:
Prestigious backers
The fact that nearly all of the LCCs are getting off the ground reflects not just the enormous pent–up demand but the solid financial backing enjoyed by the start–ups. All are adequately capitalised. The line–up of investors reads like a Who's Who in Mexican politics, Latin American business and finance and global aviation. The backers include some of Mexico's wealthiest businessmen, the son and grandson of a late president, Latin America's largest mass media conglomerate, a major bus company, the founder of Irish low–cost carrier Ryanair and two successful Latin American airlines. (Little wonder that there is diversity in business models).
Outside airline know–how is a particularly important part of the package in a region where traditional and/or incompetent airline managements still predominate. AvMan's Bob Booth said recently that the main reason he is optimistic about the Mexican LCCs is the involvement of partners such as Tony Ryan, Taca and Gol, in addition to the fact that all of the airlines are well capitalised.
Low but not rock-bottom fares
The Mexican LCCs typically offer 30–50% lower fares, which the established airlines have matched in competitive markets. When the aim is to pull passengers from the buses, the LCCs' fares start lower than premium bus fares. For example, Interjet entered the Toluca–Cancun market in December 2005 with one–way fares starting at 1,205 pesos ($110) including taxes for the two–hour flight, compared to the premium bus fare of 1,284 pesos (a 23.5–hour trip by bus).
As a result, fares in the largest markets, such as those connecting Mexico City, Monterrey, Guadalajara and Cancun, have fallen significantly and now appear in line with fares in the most competitive US domestic markets. For example, Interjet's fares for the two–hour Mexico City–Cancun flight in early December 2006 are currently in the 820–1034 peso ($75-$95) range; by comparison, JetBlue is offering $99-$199 fares on the three–hour New York–Ft. Lauderdale sector in the same period (all one–way and excluding taxes).
Low frequencies, small size
In light of the large number of new entrants — contrasting with the situation in Brazil, where Gol had a free run for many years — the Mexican LCCs are likely to remain relatively small (unless there are some failures). All are low–frequency operations, rarely offering even daily service.
Use of secondary airports
The Mexican LCCs are taking advantage of the economic incentives to use secondary airports. In the Mexico City area, two of the LCCs that have emerged so far have hubs at Toluca, a third is making Puebla a focus city and a fourth has added service to Cuernavaca.
Only for Spanish speakers?
With only one exception (the venture backed by Ryanair's founders), the Mexican LCCs' websites are in Spanish only. This is surprising given that the airline industry is so international in nature and the fact that the LCCs take bookings through their websites. The situation will obviously change when the airlines go international.
Early international operations
Like the older–established discounters and many Mexican regionals, the LCCs hope to introduce service to the US at an early stage. This should be facilitated by the recent amendments to the US/Mexico ASA, which permit additional carriers and new markets. Among other things, Monterrey and Guadalajara — the country's two largest business centres after Mexico City and a focus for many of the new LCCs — will become gateways from October 2007, with three airlines allowed from both countries. With international services, the LCCs will help develop tourism and may help Mexico recapture some of the market share lost to foreign carriers. According to the SCT statistics, between 1989 and 2005 non–Mexican carriers increased their share of the traffic to and from Mexico from 58% to 68%. Several US LCCs, including Spirit and Frontier, have started serving Mexico, and JetBlue will follow suit on November 30 with a daily New York (JFK)-Cancun service.
Click Mexicana
Click, which began operations in July 2005 on eight domestic routes from Mexico City, was the key factor behind the successful sale of Mexicana to Grupo Posadas late last year. With the help of Landor Associates, Mexicana rebranded its Aerocaribe unit, which had focused on southern Mexico and operated DC- 9s and relatively new Fokker 100s, into a lower–cost carrier utilising an all–Fokker 100 fleet and offering 30% lower fares.
The venture had a useful head–start over the other LCCs. It has been able to grow quickly (and at relatively low risk) by taking over Mexicana's routes to the Caribbean and other leisure destinations. This strategy enabled Click to capture a 6% domestic market share in its first quarter of operation; the share is currently 7% and the airline is aiming for 10%.
Click currently serves 19 cities — more than any other Mexican LCC — in Mexico, as well as Havana (Cuba) from several Mexican cities. The plan is to grow by increasing frequencies in existing markets and taking over more Mexicana routes in the northeast and southeast of Mexico. In the coming months, Click also expects to take over Mexicana's three–per–week Cancun- Miami operation (subject to US government approval).
As of July, the fleet included 11 Fokker 100s, with an average age of nine years. By year–end Click expects to have integrated four additional Fokker 100s, to bring the fleet to 15 aircraft.
Click is the only LCC to be based at Mexico City's main and most centrally located airport, and through its parent it has a significant number of slots there. This gives Click an advantage in terms of attracting traffic, but it also means higher operating costs at the congested hub. Click has tried operating some services out of Toluca but decided that it made more sense to focus on its hub.
Click is more up–market than some of the other LCCs, as indicated by its comfortable 35–inch seat pitch and leather seats. The airline participates in Mexicana's FFP and has 100% online sales, mostly channelled through its parent.
Click reportedly broke even already in its first quarter of operation. The airline appears to have continued to perform reasonably well, as indicated by an average load factor or 65% in the initial 12 months. CEO Isaac Volin recently estimated that 2006 revenues would exceed $180m.
Avolar Aerolineas
Avolar, the first stand–alone LCC in Mexico, began operations in September 2005 out of the northern border city of Tijuana, utilising a single 737–500 and offering 30% lower fares. The company, which was in the works for three years, was founded by its chairman Jorge Nehme, a venture capitalist who had previously invested in real estate. There are believed to be other investors. The current CEO is Fabricio Cojuc.
The airline got off to a slow start but had a major growth spurt in April–May. Currently 17 cities are served (just two fewer than Click) along the length of Mexico's Pacific coast, as well as some inland points. Current plans call for service to the US to be introduced in 2008, with the focus being on destinations with large Mexican populations such as New York, Chicago, California, Arizona and Nevada.
As of August, Avolar operated a leased fleet of seven aircraft — a mix of 136–seat 737–300s and 120–seat 737–500s. In early September the airline announced plans to spend $700m on a fleet of 20 new 737–700s (though at that time it had evidently not yet placed an order).
According to its website, the company expects to utilise 10 aircraft and serve 32 cities by year–end. The addition of so many new cities is possible, evidently, because Avolar is also interested in thinner markets, where it offers low–frequency service; for example, the Tihuana–Durango route introduced in May has only three flights per week.
Avolar is a point–to–point carrier. In addition to serving the key existing markets out of Tihuana, it aims to develop new destinations that were previously only accessible via ground transport. It is counting on generating new traffic by attract passengers from the buses. The airline is also focusing on secondary airports that have received poor service from established carriers.
According to the web site, within four years Avolar hopes to operate 40 aircraft and carry 6m passengers. Although this assumes strong overall demand growth, it may be an ambitious target in light of the large number of LCC entrants.
Then again, Avolar may be just the type of LCC that the Mexican market needs — no–frills, with all of the focus on efficiency and maintaining low CASM. It is more down–market than some of the other Mexican LCCs, resembling Ryanair or Easyjet (more than JetBlue) with its simple product and "cheap and cheerful" orange/white colour scheme.
Avolar does not have the prominent international backers that many of the other LCCs enjoy, but it does appear to have a solid low–cost business model. It is a one–class, point–to–point, ticket–less operation with a new fleet, motivated workforce, streamlined processes, extensive use of automation and technology and a high percentage of Internet sales. It claims to have a 65% average load factor and aircraft utilisation in the 13–14 hours a day range.
The airline's parent, Avolar Group, has opened as a joint venture with the US company Hamilton Aerospace Technologies (HAT) in Tijuana one of Latin America's largest aircraft maintenance facilities, capable of housing up to four 747s. The airline has signed a five–year contract with this venture to provide all of its line and heavy maintenance.
Interjet
Mexico's second stand–alone LCC, Interjet, began low–fare A320 operations in December 2005 after two years of planning, becoming the first new entrant to make Toluca its home base. Interjet, the operating name of a company called ABC Aerolineas, is backed by a powerful political family descended from the late Mexican president Miguel Aleman Valdes. The main investors are the grandson, Miguel Aleman Magnani, and his father, a former Veracruz governor. The current CEO, Jose Luis Garza, was CFO of Aeromexico in the late 1980s.
The investors put down $60m in equity capital and spent $230m to buy an initial fleet of seven relatively new A320–200s from bankrupt Italian airline Volare. In June 2005 InterJet also placed a $1.2bn order with Airbus for ten A320s plus ten options, for delivery between the second quarter of 2007 and 2011.
After initially focusing on Mexico's northeastern states and the Caribbean coast, Interjet's current 13–point domestic network also includes leisure destinations on the Pacific coast in the south. The focus is on major domestic markets. The original plan envisaged 24 routes throughout Mexico, with most of the flights operated out of Toluca, and 3m annual passengers by 2008.
Interjet's lowest fares are up to 50% below previous fare levels, but the airline also tried to attract business traffic by maintaining high service standards. The airline tries to maximise yield by maintaining a five–tier pricing structure that features a 50- peso difference between the classes.
When Interjet was launched its executives said that the airline would break even in a year if it maintained its current fare structure and achieved a 65% load factor. According to AvNews, CEO Garza indicated recently that the company was on target to meet that forecast.
Volaris
Another Toluca–based LCC with prestigious backers, Volaris, began low–fare A319 operations in March 2006. The venture, a unit of holding company Vuela, is an equal partnership between Grupo Financiero Inbursa (a Mexican bank controlled by billionaire Carlos Slim), Grupo Televisa (the world's largest Spanish–language mass media conglomerate controlled by Emilio Azcarraga), Grupo Taca (the El Salvador–based airline) and Protego Discovery Fund (a Mexican investment fund led by Pedro Aspe Armelia, a former finance minister and current Televisa board member). The four partners invested a total of $100m for Volaris' initial phase, each holding a 25% stake and sharing control of the airline. Taca is in charge of operating the airline; it appointed the CEO (Enrique Beltranena) and Taca's own CEO, COO and CFO sit on Volaris' board.
While Volaris' initial fleet consisted of four leased A319s, in January 2006 the airline finalised an order with Airbus for 16 A319s, configured to 144 seats in single class, plus 40 options for A320–family aircraft. The first two of the purchased aircraft were delivered in May, bringing the fleet to six A319s.
Volaris currently operates a seven–point network that includes the key business and leisure centres (Mexico City, Cancun, Monterrey, Hermosillo, Tijuana, Guadalajara and Leon). Half of the ten routes currently operated do not involve the Mexico City — Toluca hub. Many of the routes have several daily frequencies. The airline has indicated that eventually it would like to serve the US.
The airline considers the Toluca base a major advantage since the airport is less congested than the main Mexico City airport and provides excellent customer service. Volaris provides a free shuttle service between its "virtual terminal" in downtown Mexico City and the airport.
Like JetBlue and Gol, Volaris appears to be targeting a variety of segments. It aims to compete with buses with fares that are 40% below the current levels, but it also wants to attract the more discerning traveller by offering a high–class service and product featuring leather seats and a 32- inch pitch. As an interesting twist reflecting the ownership, part–owner Televisa said earlier that it would provide specially produced in–flight entertainment for the airline.
Volaris received an important vote of confidence in July when IFC, the private sector arm of the World Bank, agreed to provide the company a $40m credit line, consisting of a $10m working capital loan and a $30m revolver for pre–delivery payments on the A320s. The IFC cited the airline's "strong business plan" and its "solid financial background". This was IFC's first incursion into the Mexican airline sector — Volaris became part of a prestigious group that in Latin America has so far included Taca, TAM, Gol, LAN and Copa.
Aerolineas Mesoamericanas
Aerolineas Mesoamericanas (ALMA), which took to the air from its Guadalajara base in mid–June 2006, is strictly speaking a full–service regional airline operating 50- seat CRJ200s. However, ALMA is part of the current LCC/new entrant phenomenon in Mexico in that it has initiated point–to point service on routes that previously lacked air service, is helping to develop one of Mexico City's four alternative airports (Pueblo) and is offering LCC–level fares at least in competitive markets.
ALMA is well–capitalised to the tune of $38m, with the investment coming primarily from its chairman Carlos Peralta Quintero, a Mexican entrepreneur. The airline is headed by CEO and co–founder Guillermo Heredia.
Operations began with two leased CRJ200s on the Guadalajara–Pueblo route, with fares 60% below competitors' fares to the other Mexico City airports. Since then the airline has added four more CRJ200s. Four of the initial fleet of six are leased from GECAS and two from Canadian leasing vehicle CRAFT. The plan is to add two additional CRJ200s in the first year of operation and grow the fleet to 35 aircraft within five years.
The airline focuses on medium–density routes mostly between cities in central Mexico. In early September ALMA served a six–point network that included Guadalajara, Puebla, Tijuana, Chihuahua, La Paz and Los Mochis. Puerto Vallarta and Ciudad Juarez will be added this month and in October, and the airline will also add new connections between the cities already served.
In addition to indirect competition on routes to and from the various Mexico City airports, ALMA competes head–to–head with LCC Volaris on the Guadalajara- Tijuana route and offers similar fares.
VivaAeroBus
The next Mexican LCC to take to the air is likely to be VivaAeroBus, the long–awaited joint venture between Ryanair's founder Tony Ryan and Mexican bus company Inversionistas en Autotransportes Mexicanos SA (IAMSA). In its latest communiqué dated July 19, VivaAeroBus said that it would begin operations in September, that it would be based in Monterrey and that it would disclose the routes "within eight weeks" as discussions with the state governments were completed. In the absence of any announcement to date (September 13), start–up before October is unlikely. One Mexican web site is reporting October 25 as the date.
The backers of Aeroenlaces SA, VivaAeroBus's holding company, disclosed earlier that they were making an initial investment of $50m. Up to half of that is provided by the Ryan family, which teamed up with Maurice Mason of Kite Investments (who has participated in several of their ventures, including Tiger Airways of Singapore) to establish RyanMex as a holding vehicle for their 49% stake in Aeroenlaces. IAMSA will hold 51%, and its chairman Roberto Alcantara will head the new group.
According to Aeroenlaces, the new airline will benefit from the experience and synergies of IAMSA in mass transportation — the group carries 260m–plus bus passengers annually — and the worldwide aviation expertise of the investor group. The bus company part copies a page from the Gol book. However, Ryanair has made it clear that, in contrast with Taca's hands–on role at Volaris, it will have no involvement in VivaAeroBus. Ryanair said that it has long had a policy of not getting involved in other LCCs because it needs to stay focused on its own aggressive growth plan.
According to the earlier plans, VivaAeroBus will start operations with two leased 737–300s. As of July, the airline had signed lease or purchase agreements on five 737–300s for August–December delivery and taken options on three more for 2007 delivery. The plan is to operate ten aircraft by the end of 2007.
The airline has talked about serving 25 destinations in Mexico, including 15 from the hub in Monterrey, which is a major business centre in the northern part of the country. At a later stage VivaAeroBus also hopes to serve "a handful" of US cities that have large Mexican populations.
The airline will be a "true low–cost, point to- point operation" with fares that would undercut the established carriers by up to 50%. The web site shows an attractive vivid green and pink logo on the 737–300s.
Gol's planned Mexican LCC
Brazilian LCC Gol's plans to create a Mexican LCC as a joint venture with Mexican partners, announced with great fanfare in July 2005, appear to be still awaiting regulatory approval. In the company's second–quarter earnings call in July, Gol executives blamed the delay on the political uncertainty surrounding the Mexican elections.
In July 2005 Gol signed an MoU with Mexican group Inversiones y Technicas Aeroportuarias (ITA), businessman Fernando Chico Pardo and Copenhagen Airports (CPH) on a new airline that would begin operations in the second quarter of 2006. Pardo and CPH jointly own ITA, which holds a 15% stake in ASUR, an airport operator in southeastern Mexico. Gol was to provide the know–how to the new airline.
The investors submitted a preliminary business plan to the Mexican authorities in September 2005. That plan envisaged an initial investment of at least $40m, a base probably at Toluca and a second–quarter 2006 start with seven aircraft. However, by year end the venture was seeking additional Mexican investors, in part because Pardo, as president of ASUR, needed to limit his voting stake to 5% and total stake to 35% to avoid a conflict of interest. Gol has to limit its stake to the 25% maximum permitted for foreigners. In March there were reports of additional investors joining the group, but the venture was still unnamed (as it is today, at least publicly).
Over the past year two aggressive new entrant LCCs have already made Toluca their base. Merrill Lynch analyst Mike Linenberg suggested in July that Gol's regulatory delays may not be bad news given the large number of new entrants in Mexico as "the market could be saturated at this juncture".
One would also expect Gol's management attention to be currently more focused on developments at home (Varig's restructuring) and its own international growth. In late September Gol is launching service to Santiago (Chile) — its seventh international destination — and Lima (Peru), for which it recently received authorisation, is likely to follow in the near future.
Aladia
Interestingly, Chile's LAN, one of Latin America's largest airlines, reportedly stated recently that it has no plans to move into Mexico; rather, it will focus on growing in Peru, Ecuador and Argentina. AvNews reported in early September that LAN is planning to launch its own LCC by year–end; while no details were available, those plans were believed to be in response to Gol's Chile expansion. Another prospective new entrant in Mexico, Aladia, is looking to focus on the charter market, though the airline has not specified a start–up date after missing its original target of July 2006.
A group of mostly Mexican investors, including investment funds and financial firms and led by lawyer Alberto Morales, is planning to invest $50m over three years in a new Monterrey–based tour company with its own charter carrier that operates 757–200s. Aladia will not be an LCC but it expects to operate at very low costs.
The airline plans to initially operate domestic services, linking the large population centres of Mexico City, Monterrey and Guadalajara with the tourist destinations of Cancun, Puerto Vallarta and Los Cabos. The next stage would be Mexico–Caribbean flights, and after that there would be charters to North and South America. Aladia expects to have a fleet of three 757–200s by the end of its first year of operation and 5–7 aircraft within three years.
MEXICAN LCCS AT A GLANCE
| | | | | | | |
| --- | --- | --- | --- | --- | --- | --- |
| | | START | | | | CITIES |
| AIRLINE | OWNERSHIP | DATE | CURRENT FLEET | ORDERS/PLANS | BASE | SERVED |
| Click Mexicana | Mexicana 100% | Jul-05 | 11 x Fokker 100s | 15-strong fleet | Mexico City | 19 |
| | | | | by year-end 06 | | |
| Avolar | Jorge Nehme/ | Sep-05 | 7 x 737-300/500s | 10-strong fleet | Tijuana | 17 |
| | Other investors? | | | by year-end; | | |
| | | | | Plan to acquire | | |
| | | | | 20 x 737-700s | | |
| Interjet/ | Miguel Aleman | Dec-05 | 7 x A320-200s | On order | Toluca | 13 |
| ABC Aerolineas | descendants | | | 10 x A320s | | |
| | | | | & 10 options | | |
| | | | | (del 2007-2011) | | |
| Volaris/ | Grupo Financiero Inbursa | Mar-06 | 6 x A319s | On order | Toluca | 7 |
| Vuela | Grupo Televisa | | | 14 x A319s | | |
| | Grupo Taca | | | & 40 options on | | |
| | Protego Discovery Fund | | | A320-family | | |
| | (25% each) | | | | | |
| VivaAeroBus | Tony Ryan & | Possibly | 2 x 737-300s | 3 more this year; | Monterrey | na |
| | Kite Investments 49% | Oct-06 | | 3 in 2007 | | |
| | IAMSA 51% | | | | | |
TOP 20 DOMESTIC CITY PAIRS 2005
| | | | |
| --- | --- | --- | --- |
| | 2005 Pax | | % change |
| City pair | ('000s) | % of total | 05 vs 04 |
| Mexico City-Monterrey | 1,947 | 9.8% | 6.9% |
| Cancun-Mexico City | 1,499 | 7.6% | -7.3% |
| Guadalajara-Mexico City | 1,458 | 7.4% | 3.9% |
| Mexico City-Tijuana | 1,010 | 5.1% | 3.9% |
| Guadalajara-Tijuana | 695 | 3.5% | -2.1% |
| Mexico City-Merida | 672 | 3.4% | 2.9% |
| Mexico City-Villahermosa | 542 | 2.7% | 11.0% |
| Hermosillo-Mexico City | 510 | 2.6% | 5.7% |
| Acapulco-Mexico City | 451 | 2.3% | 0.4% |
| Mexico City-Puerto Vallarta | 419 | 2.1% | 9.5% |
| Mexico City-Tuxtla Gutierrez | 413 | 2.1% | 2.6% |
| Mexico City-Veracruz | 374 | 1.9% | -1.5% |
| Mexico City-Oaxaca | 351 | 1.8% | 0.5% |
| CD. Juarez-Mexico City | 327 | 1.7% | 11.9% |
| Chihuahua-Mexico City | 308 | 1.6% | 6.3% |
| Mexico City-Mexicali | 307 | 1.5% | 13.1% |
| Guadalajara-Monterrey | 303 | 1.5% | 1.8% |
| Mexico City-Zihuatanejo | 282 | 1.4% | -1.8% |
| Mexico City-Tampico | 262 | 1.3% | 13.8% |
| Del Bajio-Mexico City | 234 | 1.2% | 4.8% |