Austrian looking east as turnaround continues Aug/Sep 2004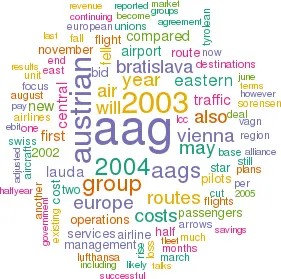 Austrian Airlines Group (AAG) still appears the most likely of Europe's medium–sized carriers to be able to retain its independence long–term, despite the fact that whenever it appears to survive one challenge, along comes another one.
After a successful turnaround in 2002 that saw an overhaul of costs and strategy (see Aviation Strategy, May 2003), 2003 was all about AAG resisting the crises of Gulf War II and SARS, while undergoing a revamping of brands and starting a tough round of negotiations with unions.
In response to the Gulf War and SARS, AAG grounded aircraft and cut capacity by 11% in April 2003 and 10% in May, saving the group a total of €20m, while other measures introduced during the crises chipped away an additional €40m in costs.
Although RPKs fell 15.5% in May 2003 compared with May 2002, traffic recovered steadily afterwards, and in November 2003 ASKs were higher than the corresponding month in 2002 for the first time since March. Recovery in the second–half of 2003 meant that for the full 2003 AAG reported operating profits of €63.3m — 53% up on 2002 despite a 6.9% fall in operating revenue to €2.2bn.
Net profit rose 6.5% to €46m. Rising traffic in the last half of the year didn't quite overcome the traffic decline of the first half, so overall in 2003 passengers flown at AAG fell 4% to 8.5m. Group ASKs rose by 0.1% in 2003 and RPKs fell 0.1%, leading to a 0.2 percentage drop in load factor to 72.4%.
The continued emphasis on cost cutting through the crises proved to be successful, with unit costs (€ cents/ASK) falling by 5.1% in 2003 compared with 2002. Within that overall fall, flight–related unit costs fell by 1% in 2003, passenger–related unit costs fell by 5.5% and fixed unit costs fell by 6.6%. But the importance of that continuing cost reduction was underlined when yields fell by 11.4% in 2003, much of that decline coming from AAG's slashing of fares on some routes in response to increasing competition from LCCs, particularly on services to/from Germany.
Cost question
With yields continuing to fall, AAG is trying to cut costs just as fast. The focus over the last 12 months has been on labour, but AAG's efforts to change terms and conditions among its 7,000 staff were not immediately successful. Managementwanted to reduce the salaries of new Austrian pilots to the same levels as Lauda Air pilots, but there was unexpectedly fierce resistance to the proposed changes. In 2003 AAG's plans led to an overwhelming vote by the group's pilots and flight attendants to instead pursue a group–wide collective agreement which would include a common seniority list for employees from Austrian, Lauda and Tyrolean. In return, the unions would agree that all new hirings would join on pay rates less than existing staff — a move that the unions estimated would save AAG €10m.
The workers' proposal was initially strongly opposed by management, which wanted to keep individual agreements for the three parts of the Group. AAG CEO Vagn Sorensen said: "A group–wise collective agreement would unavoidably set in train an upwards cost–spiral, which we simply cannot afford.
We have to solve our cost problem exactly where we have it — namely in the Austrian Airlines' flight operations — rather than exporting that problem to Tyrolean and Lauda Air." He added that cost savings of €10m as calculated by the union "turn out to be a complete fallacy upon closer inspection and a little more than an attempt to force savings upon others rather than personally accept that responsibility".
However, the workforce was not intimidated by AAG's reaction and in August 2003 members of the HVT union — which represents both pilots and flight attendants, at Austrian — walked out, followed by further stoppages over two days in October.
Subsequent talks between the two sides failed, with claims from the HVT that management was not willing to be flexible, though the group insisted that its own proposals did not include any lay–offs.
In November 2003 senior executives, including Vagn Sorensen, announced a voluntary 10% reduction in their salaries from the beginning of 2004, similar to a 15% reduction management took for 12 months after September 11.
After a deadline to solve the dispute by mid–November lapsed, pilots staged a lightning 15–minute strike on November 17.
The very next day a preliminary agreement between the two sides was reached, under which current Austrian and Lauda pilots would get a 3% pay rise but all new pilots hired into the group would earn up to 27% less than existing pay scales and have less valuable pensions than existing employees. At the heart of this deal was a merger of mainline and Lauda Air pilot operations.
Talks on the details of the outline agreement (including pay scales, pension entitlements and rest entitlements) were held earlier this year and a new labour contract was due to come into force in April, allowing Austrian and Lauda Air flight operations to be combined (though retaining their separate brands) from July 2004. However, as the implementation date passed, the two sides had still not managed to agree all the details, and negotiations continued into the summer. In mid–August the prospect of a complete breakdown became apparent, with unions accusing management of backing down from previously agreed terms.
Pilots and flight attendants walked out for two hours in August, and the prospect of further wildcat strikes led management to cancel flights. Finally, after 20 hours of talks on August 23, a deal was struck, and Austrian and Lauda Air flight operations are now expected to merge on October 1.
AAG's other current cost focus is the fleet. The group is still hampered by having many aircraft types (the Schmetterlingsammlung, or butterfly collection), although there has been progress in reducing the variety. In March 2004 the group announced it was buying nine Fokker 100s from American, with an option for another six aircraft.
Five have already been delivered, with the first F100 entering service in July after an overhaul. All the aircraft will join the group by the end of 2004 and will be used partly to replace MD–87s and partly for new routes in central and eastern Europe.
A side effect of this deal is that the Star alliance's plans for a joint member purchase of up to 200 regional jets may not now go ahead for several years.
The first A319 from an order for seven of the type arrived in February. The A319s will replace the MD–80s.
Another 737–800 was ordered in June, for delivery to Lauda Air in June 2005 as a replacement for 737–3/400s. In January, orders for two Bombardier Q400 turboprops were placed for Austrian Arrows, to be delivered in early 2005.
Improving results
Despite the ongoing dispute between management and unions, the improvement in financial results continued into the first half of 2004, when AAG reported an 11.3% rise in revenue to €1.1bn, based on a 15% rise in passengers carried to 4.4m. Much of this came from expansion of services in central and eastern Europe (see below), with scheduled ASKs up 18.5% in the half–year but RPKs up 28%, resulting in a 5.3 percentage rise in load factor to 71.2%.
In January–June 2004 the operating loss (EBIT) fell to €18.9m, compared with a €23.3m loss in 1H 2003. Adjusted EBIT, which ignores one–off effects such as asset sales and write–offs, was €8.5m in the red, compared with a €52.5m loss in 1H 2003. The adjusted net loss for the half–year was €11.4m, compared with a €59.4m net loss in January–June 2003.
AAG traditionally posts much stronger results in the second half of the year than the first.
Full year results may also be boosted by the benefits of the rebranding unveiled in September 2003, in which Tyrolean Airways was renamed Austrian Arrows and Austrian Airlines renamed Austrian. Both airlines are adopting a new livery, which will be completed across the fleet by 2005.
The renaming of Tyrolean will help the airline move away from a "regional" image as it now focuses on competing against the LCCs.
Lauda Air is to become a charter–only specialist, and in 2005 Lauda's 767s and 777s that operate scheduled services will be painted in Austrian livery.
In Austrian Arrows' first six months of operations — from November 2003 to May 2004 — passengers carried rose 16% compared with the previous half–year period at Tyrolean. Half of the passenger increase came from one route — Innsbruck- London — while 35% came from Innsbruck–Vienna and the rest from Innsbruck–Frankfurt. Altogether, these three routes earned €5m in revenue for Austrian Arrows, which will launch a route to Frankfurt in November and is also looking at new routes to Barcelona and Paris.
Focus East
AAG's major strategic effort in 2004 is 'Focus East', the group's ambitious plan to become the major aviation player in central and eastern Europe. The enlargement of the EU eastwards is boosting east–west European traffic flows — both business and leisure — and increasingly the region is developing from a "market of origin" into a "market of destination", to use AAG's terminology. The withdrawal of SWISS from certain routes also presents opportunities.
The goal of Focus East is to increase AAG's passenger traffic to the region by 50% by 2008 (to 2m passengers per year) by adding up five new routes each year. Presently AAG operates to 38 destinations in central and eastern Europe, accounting for more than 20% of all passengers flown by the group, but the airline believes that there are up to 100 potentially viable destinations in the region. For the summer 2004 schedule AAG increased flights to central and eastern Europe by a substantial 102 per week.
The group is now the airline with the largest number of destinations in the region (Lufthansa has the second largest number — 25) and the third largest in terms of weekly frequencies (with 464, behind CSA's 558 and LOT's 475). In terms of traffic transferring to/from flights to central and eastern Europe, in the first half of 2004 AAG had a 14.8% market share, second only to Lufthansa (with 22.6% of transfer traffic). Central to this expansion is AAG's Vienna hub, and frequencies will be boosted on key routes such as Moscow, Prague and Budapest. AAG is also developing feeder routes unto Vienna from smaller east European destinations, though there are plans for flights direct from key east European destinations into western European, thereby bypassing the Vienna hub.
But AAG's plans for eastern domination are facing competition, not only from the mainline carriers but increasingly from the LCCs, who are not only establishing routes directly into eastern Europe but also beginning to open mini–hubs there as well. Most worryingly for AAG, LCC operations are springing up at Bratislava, the capital of Slovakia and just 50 km from Vienna.
In 2002 AAG considered launching a LCC in Bratislava Stefanik airport to take advantage of lower labour and infrastructure costs, but instead it decided to base Austrian Arrows aircraft there. Daily services from Bratislava to Paris CDG, Brussels and London Heathrow began in May 2004, the same time as Latvia joined the EU, with one 737 based at the airport.
But these routes compete against Bratislavabased LCC SkyEurope Airlines, which has a fleet of seven 737–500s and six Emb–120ERs and operates to 18 destinations in Europe, 15 of them from Bratislava (including Amsterdam, Paris and Zurich).
Another LCC, Wizz Air, sandwiches AAG through Budapest and Katowice. Germanwings is also looking to establish a base at Bratislava, and is reported to be talking with Bratislava airport at present. And in May Lufthansa began daily flights between Bratislava and Munich. Most ominous of all, in August 2004 easyJet announced it would start operations out of Bratislava in November, initially to Berlin and then the following month to London Luton.
AAG is considering a joint bid with Austrian and Slovakian partners for Bratislava airport, which the Slovakian government intends to start privatising sometime this year. Although AAG's stake in a joint bid is likely to be small, its potential involvement in a bid for Bratislava is politically tricky, as AAG could transfer services from Vienna to its cheaper rival. Flughafen Wien, operator of Vienna International Airport, is itself likely to bid for Bratislava airport, while reports out of Austria claim that the Vienna city council — which owns 20% of Vienna airport — is putting pressure on AAG to withdraw from any bid for Bratislava.
Elsewhere in eastern Europe, in March AAG agreed a partnership deal with Serbia's Jat Airways, including code–sharing on the Vienna- Belgrade route. Austrian is also analysing a possible bid for a minority share in Bulgaria Air, the national airline that replaced the collapsed Balkan Bulgarian, and with whom Austrian code–shares on Vienna–Sofia. The government aims to privatise Bulgaria Air, which has just four 737–300s, by the end of 2004. AAG may also be considering a bid for Malev, which the Hungarian government aims to sell by the end of 2004, but the airline is heavily in debt.
After Latvia entered the EU in May, AAG relaunched a Vienna–Riga route. Austrian withdrew from the route in 2002 after refusing to comply with Latvian government demands to reduce frequencies in order to match those of Air Baltic. Under the EU aviation regime, however, traffic restrictions are no longer possible. AAG is also eyeing Russia and the former Soviet republics. It currently offers 15 routes there, but plans to add services to Astrakhan and Tyumen in Russia.
AAG became the first non–Russian airline to operate to Rostov when it launched a route with CRJs in 2003, and in March 2004 it launched a three–times–a-week route to Almaty, in the Kazakh republic. AAG is also keen to persuade Aeroflot to join the Star alliance, which would build on existing code–sharing between Aeroflot and Austrian on Vienna–Moscow.
Outside Europe, AAG is focusing on Asia, with capacity to the region increasing by 20% this year. Austrian relaunched a route to Shanghai in April (after a four year absence) and started a Vienna- Singapore–Melbourne service in June, the latter of which is picking up feed traffic from fellow Star member Singapore Airlines. AAG also added summer capacity on existing routes to Sydney, Melbourne, Tokyo and Beijing, while a code–share deal was signed with Air New Zealand at the end of 2003. Codesharing with domestic Japanese airline Fair (which is part–owned by ANA) also started in July.
The future
As AAG forges ahead in eastern and central Europe, its continuing challenge will be to keep cutting costs as yield falls. Vagn Sorensen warns that there is a steady migration of passengers from business to economy class, and the group forecasts that yield will fall by 7% in 2004, on top of the 10% fall in 2003.
Now that the long running saga with the unions is resolved, AAG is switching focus to other areas.
Rising oil prices are hitting AAG hard (fuel accounts for 10% of costs), and the group introduced a surcharge of €6 per scheduled flight in May. AAG hedges the cost of approximately 35% of its fuel needs, but that still leaves the group exposed to a large upside price risk.
AAG's unit costs fell by 6.4% in January–June 2004 compared with the previous half–year, and ATK per employee increased by 11.4% in the half year compared with 1H 2003. However, other areas left to cut costs in are diminishing. The integration of Austrian and Lauda operations should provide savings of tens of millions of Euros per year, and further cost savings will come from a gradual shift to internet sales, a switch in head office location, a cut in travel agent commission and continuing fleet overhaul.
Above those, the one remaining area of high cost is AAG's main hub — Vienna airport. AAG's waves of flights give the group a 60% market share at Vienna and the airport's landing charges, probably the highest in Europe, ensure that no LCC would base an operation there. But nearby Bratislava offers a much cheaper alternative base, and involvement of AAG in a successful bid for the Slovakian airport would open up a vital cost–saving option.
Another challenge to AAG may come from expansion of the Star alliance — membership of which is claimed to boost AAG's revenue by €350m a year (with €500m forecast for 2005). The latest arrivals — South African Airways, TAP and Finland's Blue I — offer little overlap with AAG, but the possibility of Swiss joining Star (which is more much likely following the breakdown in talks between Swiss and oneworld in June) is disconcerting to the Austrian group. Vagn Sorensen said:
"There are simply too many overlaps, and Swiss membership would affect AUA negatively at the moment." That may be true, but Star will examine whether Swiss's membership would benefit the alliance as a whole, rather than base its decision on the effects on any one individual member.
Specifically, AAG is worried that Swiss's Zurich hub would be a competitor to Vienna and become a focus for east–west traffic flows. Of course if Lufthansa ever bought Swiss, then AAG's objections to Swiss would become irrelevant.
Coincidentally, in March 2004 "Der Spiegel", a German magazine, reported that board chairman Vagn Sorensen would move to Lufthansa in the near future, a story that AAG refuted as "speculation".
And AAG is still facing complaints against the dominance of Star in the German and Austrian markets. In July 2003 Graz–based Styrian Spirit dropped its Linz–Dusseldorf and Linz–Frankfurt services — launched only a few months previously — after alleging that AAG had cut its prices on the routes in order to force Styrian out of business.
Styrian complained both to domestic courts and to the European Commission, claiming that AAG was not meeting the EC's conditions for approving the Lufthansa–Austrian alliance, which included specific measures against selective price dumping.
AAG forecasts that largely through the extra services and routes into central and Eastern Europe, and on long–haul to Asia, the group will see passengers carried rise by 14% this year.
Most importantly, AAG finance director Thomas Kleibl maintains the group is on target to record adjusted EBIT of €50m for full year 2004 (compared with €4.2m in 2003), rising to an adjusted EBIT of €100m in 2006.
AAG's shareholders would welcome that confidence.
CSFB sold its remaining 5% stake in AAG at the beginning of the year, placing them on the Vienna stock exchange and increasing the group's free float to 43.2%, which for the first time exceeds the 39.7% stake held by OIAG, the state holding company. The remaining shareholders include Air France (1.5%) and — after a series of investment roadshows were held to sell the group's turnaround story — UK–based Gartmore Investment Management (5.1%). AAG is also buying back 5% of the share base over an eighteen–month period starting in November 2004.
Longstanding shareholders, who watched AAG's price plunge from a high of €36 in 1998 to €5.4 in 2002, have seen a steady recovery in the last two years to just under €10 at the end of August. As long as costs and debt keep coming down (long–term debt has been reduced by almost €300m in the last 18 months) and AAG continues to forge ahead in eastern and central Europe, prospects for the group remain good.
AAG'S FLEET
AAG'S FLEET
Fleet
Order (Options)
Austrian Airlines
A319
3
5
A320
8
A321
6
A330
4
A340
4
737-800
3
MD-80
7
F70
3
Total
35
8
Lauda Air
737-3/400
3
737-6/7/800
7
1
767-300ER
4
777-200ER
3
Total
17
1
Austrian Arrows
Dash 8 Q3/400
20
2
CRJ100LR
4
CRJ200LR
13
F70
6
F100
3
8 (6)
Total
46
10 (6)
Group total
98
19 (6)