Air France/KLM Group: Dual hub challenge Aug/Sep 2004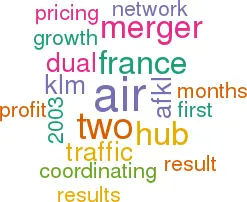 The Air France–KLM Group has revealed its first financial results since the merger was completed in May. It reported a net profit for the first quarter (April–June 2004) of €95m on revenues of €4.46bn.
The equivalent 2003 net profit was, according to AF–KL, €46m, so the result in theory shows a 106% improvement. However, comparing the new consolidated figures with previously reported individual Air France and KLM results (which showed a total loss of €53m for the equivalent period in 2003 and a total profit of €153m in 2002) is an accountancy nightmare.
The latest results contain just two months of KLM against three months of Air France, the Dutch figures have been restated in accordance with French accounting standards, the subsidiary Servair has been incorporated on a different basis, and negative goodwill arising from the merger has been amortised over two months.
What is clear is that the new airline has been expanding rapidly. Capacity (ASKs) was grown by 12.9% while traffic (RPKs) increased by 16.9% pushing the average load factor up by 2.7 points to 77.7%.
As well as expanding to capture as much connecting traffic as possible, AF–KL also seems to be relying on capacity growth to control unit costs. The group's cost per ASK fell 4.8% between 2003 and 2004 partly the result of growth, partly the result of KLM's restructuring plan which was put in place before the merger. Planned cost savings from the merger itself are very modest — about €200m a year up to 2007.
The focus now is on developing a dual hub system coordinating traffic flows over Paris CDG and Schiphol.
The European model for a successful dual hub system is already in place — Lufthansa organises its flight banks at Frankfurt and Munich in a complementary fashion (see chart above) so maximising connections and frequencies on all its city–pairs.
AF–KL is making moves along this strategic path. The Madrid–Shanghai example (chart on left) shows how complementary timings are being used to market a double daily KL–AF service.
AF–KL does, however, face significant obstacles in attempting to emulate the Lufthansa model. First, there are still two separate management structures at the two airlines, and, with the best will in the world, coordinating schedules and operations will be difficult.
Air France also has to tread carefully as the terms of the merger stated that growth at the two hubs has to be fully balanced for at least five years. Diverting traffic from Schiphol to the more profitable CDG hub would be the most logical commercial strategy, but one that is currently impossible.
Then there are pricing issues. For a number of reasons Air France's network is higher yielding than KLM's. To what extent can Air France impose its pricing policies on KLM at the same time as building the dual hub network?
Finally, there is the question of the two US partners. Anti–trust immunity allows Air France to talk to Delta about coordinating pricing and seat inventories, and KLM can do the same with Northwest, but Delta and Northwest cannot collude between each other. This may hamper the development of a fully coordinated Atlantic network.