Manufacturing aid: bluster and diplomacy Aug/Sep 2004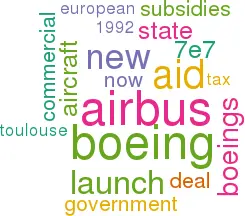 It seems like old times, with Boeing stomping around complaining about subsidies to Airbus just as it did in the late 1980s and early 1990s. That row calmed down when the Americans and Europeans signed a bilateral deal in 1992.
That settlement limited launch aid to 33% of the development cost of a new model (in practice, Airbus) and indirect government aid from defence research contracts (in effect, the Pentagon and NASA deal for Boeing) to 4% of the firm's turnover. Airbus went on to develop new models and grab more than half the civil jet market from Boeing.
Now the Americans have had enough. They now interpret the 1992 deal as committing both parties to steady reduction of subsidies.
They want a new, tougher deal than the 1992 bilateral, so that Airbus gets no more launch aid at all. Now all this at first sight looks rather odd in that Boeing itself is about to receive a big financial boost from the taxpayers of Washington state, Kansas and Japan.
The home state of Boeing Commercial Airplane Group frightened the state government with talk of building the 7E7 elsewhere, threatening thousands of jobs in the Seattle area. The outcome was a new tax law that gives Boeing $3.2bn of tax relief over the next 20 years.
Kansas also offered an interest–free interest bond for the company in a bid to hold on to some nose and fuselage fabrication work in Wichita.
But the most important injection of state aid could come via Boeing's partnership with Mitsubishi, Kawasaki and Fuji to build wings and fuselage assemblies. This should give the Japanese conglomerates about 35% of the 7E7 project for which they are in line to receive cheap loans and subsidies worth $1.5bn from the Japanese government.
From Toulouse this looks like the American pot calling the European kettle black. For Boeing, however, these subsidies are just part of the normal economic development aid any enterprise might expect. Thus, were Airbus to open a factory in Washington state, it would be eligible for the same softer tax treatment. Likewise, Airbus gets some support from local authorities where it operates.
Boeing is on stronger ground, however, attacking Airbus launch aid per se. Toulouse maintains that it repays at something more than government borrowing rates and that the royalty on aircraft sales goes on and on even after the principal and interest is paid off.
But Boeing's complaint is that Airbus has to pay nothing if the programme flops. What might have been defensible to get a new commercial aircraft industry started is no longer when that enterprise is the market leader against one other competitor which does not get such launch aid. Boeing's view is that it alone bears the business risk, whereas Airbus shares it with four European governments.
On September 16 the US trade representative Robert Zoellick meets his EU opposite number Pascal Lamy to try to work out a roadmap for a new aircraft agreement.
Lamy's successor, who takes office in November, is Peter Mandelson, an able former member of the British cabinet.
He is on record as saying that solving the issue is not going to be difficult. We may soon see how true or not that forecast is. Boeing is in a rush because it wants to block launch aid for an Airbus A350 (a longer range version of the A300–200) which Toulouse is mulling rushing out to spoil the launch of Boeing's 7E7.
One worrying sign for Boeing was Singapore Airlines refusal to commit to the 7E7 last month when it ordered 18 more 777–ERs.
Seattle had been hoping this flagship customer would give the new aircraft a boost with a launch order alongside Air New Zealand, ANA and a pair of European charter carriers.
SIA is waiting to see what Airbus can come up with, saying neither the existing A330–200 nor the 7E7 met its commercial criteria.
As Harry Stonecipher tries to steady Boeing nerves in the wake of the defence corruption scandals and the continuing delays with Pentagon orders for missiles and refuelling tankers, he has chosen to move forward aggressively on this commercial aircraft front. But the fact that Boeing's trade diplomacy is now led by Thomas Pickering, a former professional diplomat and US ambassador to the UN, who put together the first Gulf War coalition, could signal that this time there could be a role for patient peacemaking rather than the sort of bluster that comes more naturally Boeing's chief executive.