East Africa's aviation resurgence September 2003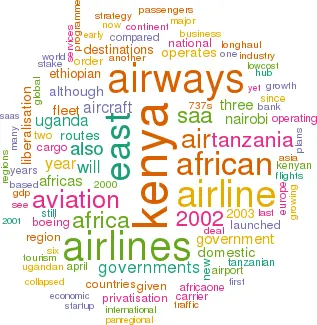 East Africa is experiencing an upsurge in start–up activity and a growing battle between Kenya Airways, the region's traditional aviation giant, and South African Airways (SAA), which wants to establish a East African hub. Why is a region that suffered terrorist attacks in 2002 becoming the focus of such aviation activity?
On the face of it the increased interest in East Africa is surprising given that Africa's economy slowed last year.
In 2002 Africa's GDP grew by 3.1%, compared with 4.3% in 2001, according to the OECD and the African Development Bank, but that general slowdown disguises wide regional variations across the continent. GDP growth was actually highest in East Africa, and the region's most important countries in terms of aviation — Kenya, Ethiopia, Tanzania and Uganda — saw respective GDP growth in 2002 of 1.6%, 5.0%, 5.7% and 5.7%, with forecast growth for 2003 of 2.8%, 6.0%, 5.9% and 6.3%.
Yet although East African GDP is growing fast, populations are large, and low income per capita does not translate into major domestic or intra–African aviation markets.
Additionally, says the World Bank, Africa's airlines face distinct disadvantages compared with carriers in the rest of the world.
Aviation fuel costs are up to 50% more expensive in Africa, while aircraft lease rates are some 15–30% higher.
What Kenya Airways, SAA and a host of start–ups see in the region is its potential not for intra–African passengers but for pan–continental traffic. For many years that has meant tourism, largely from Europe and Asia and attracted to game reserves such as the Masai Mara and the many beaches along the east coast. But now airlines see the possibility for more than just tourism — they aim to exploit East Africa's geographical position as well. Specifically, they see the region as an ideal hub to connect:
Africa with the Middle East and Asia on an east–west axis, and
Southern and Central Africa with Europe on a north–south axis.
The geographical advantages of East Africa have long been realised, but airlines have traditionally struggled to exploit them given the region's relative poverty in global terms and, more importantly, the regulated and immature aviation industry.
Until the 1990s liberalisation and deregulation was not an issue in Africa, but from the early 1990s global institutions such as the World Bank and IMF have "encouraged" liberalisation as the price of providing further loans and/or debt relief. As a result, privatisation and economic liberalisation programmes have started to have an impact in certain countries, and as a consequence selected governments have been more willing to reduce regulation of air fares, lessen the propensity for political appointees at state airlines, and move towards allowing national airlines to make wholly–commercial decisions.
Another impetus has been given by the Yamoussoukro Treaty, an agreement by African countries to liberalise aviation that was signed way back in 1988 but which was not formally ratified until 1999.
It is these two factors — economic reform pushed by global institutions and a political will to implement Yamoussoukro — that have been the impetus for the aviation gold rush in East Africa we are seeing today,
Yet it is not all good news for East Africa's aviation industry. As can be expected, the push for liberalisation varies widely across countries and issues, so while many governments have moved relatively fast to start the flag carrier privatisation process, other governments are moving slowly to remove competition restrictions on flights between important city pairs, or to even think about pan–regional interests rather than their own national aviation interests.
Importantly, there is stubborn and growing resistance to the way aviation deregulation and liberalisation is being carried out.
Some African politicians and economists argue strongly that the clamour for aviation liberalisation in the region is led by those western countries that benefited tremendously from protecting their own national airlines for many decades — yet they are the first to want East Africa's infant aviation industry to open up to full market forces, even if that has the consequence of seeing some of the region's airlines disappear.
In one sense whether that point of view is correct or not is irrelevant since, whatever its impact, aviation liberalisation is occurring regardless in East Africa.
Uganda
One of the most liberalising countries in East Africa is Uganda, and start–up airlines there are finding it relatively easy to launch operations.
This is partly due to the April 2000 collapse of flag carrier Uganda Airlines after 24 years of operation following the Ugandan government's failed attempt to sell the airline. SAA had been interested in acquiring Uganda Airlines, which flew to a range of destinations across Africa, but pulled out after months of negotiations.
Unconfirmed reports from the Ugandan side said that the deal collapsed following insistence from SAA that Uganda Airlines operated as a SAA franchisee, an unacceptable condition to the government.
The collapse of Uganda Airlines created a vacuum in the country that start–ups — encouraged by Uganda's moves towards economic liberalisation — attempted to exploit. Entebbe–based AfricaOne was launched in early 2002 by Tanzanian investors and UK–based African cargo specialist DAS Air Services, to serve Dubai and four African destinations with three DC–9s.
Apparently backed with around $35m of capital, it had ambitious plans for long–haul routes to Europe out of Uganda using A310s, A330s and 767–300ERs, to be followed by further operations based in western and southern Africa.
But the airline's long–haul plans were rather too ambitious, and AfricaOne ran into trouble closer to home. Plans for Lagos- Entebbe flights were delayed by problems with the existing Nigeria–Uganda bilateral — a delay that cost AfricaOne $4m, the airline claimed — and AfricaOne collapsed when two of its DC–9s were repossessed by the Boeing Capital Corporation in April 2003.
Another Ugandan start–up, East African Airlines (EAA), has been more successful.
Launched in December 2002, the airline operates a 737–200 and a 767–300ER out of Entebbe on three African destinations, including Johannesburg, and is trying to get permission to fly to other African airports.
EAA's strategy is to feed traffic into major airlines flying to/from East Africa, and although it had a partnership deal with the short–lived AfricaOne it also has a code–share agreement with Air Zimbabwe and with Kenya Airways on the trunk route between Nairobi and Entebbe. EAA is also planning to launch long–haul routes of its own, initially to India.
Tanzania
Air Tanzania was founded in 1977 and serves eight African destinations out of Dares- Salaam with three 737s. As part of Tanzania's privatisation programme encouraged by the World Bank, a minority stake in the airline was put up for sale in 2002.
In December 2002, SAA acquired a 49% stake for $10m, and is committing another $10m to revamping the airline. In reality, the airline has been virtually reformed since SAA took a stake, being legally reconstituted as Air Tanzania Corporation (ATCL).
It is still undergoing significant change — a number of lapsed routes have been restarted, SAA is transferring aircraft to Tanzania and SAA is also negotiating a deal for a 737- 800 for the Air Tanzania fleet. With SAA undergoing a major fleet replacement programme, with 38 Airbuses replacing Boeing aircraft, it is possible that Air Tanzania will convert to an all–Airbus fleet.
Essentially Air Tanzania was acquired to provide an East African hub for SAA as part of a new and aggressive strategy to expand SAA's operations in other parts of the continent.
SAA insists that Air Tanzania will retain its brand and identity, but the move is worrying other airlines in East Africa, some of which distrust SAA's long–term motives.
As Brian Presbury, the former CEO of Kenya Airways, says, "SAA has a poor track record in the region" — a none–too–subtle reference to SA Alliance Air, the collaboration between SAA and the Tanzanian and Ugandan governments that collapsed in October 2000 with losses of more than $40m.
The comment also indicates the growing rivalry between SAA and Kenya Airways. In response to SAA's investment in Air Tanzania, in March 2003 Kenya Airways bought 49% of Tanzania's Precision Air — 33% from the Tanzania Venture Capital Fund and 16% from the airline's founder, Michael Shirima, who retains 51%. Precision Air operates a fleet of six ATR 42s and Let 410s on domestic Tanzanian routes and to Mombasa and Nairobi in Kenya, a total of 15 destinations.
Precision Air focuses mostly on providing services for tourist passengers, although Kenya Airways' long–term strategy for the airline is unknown.
Kenya
Kenya Airways was launched in 1977 to fill the void left by the collapse of East African Airways, the pan–regional airline owned jointly by the governments of Kenya, Tanzania and Uganda.
In 1996 Kenya Airways became the first African airline to undergo privatisation, at the same time signing a strategic alliance with KLM.
Today the Dutch airline has a 26% stake in Kenya Airways, foreign institutional investors have 30%, local investors and employees 21% and the Kenyan government the remaining 23%.
Based at Nairobi, Kenya Airways operates to more than 20 destinations, though at present the only non–African routes are to Mumbai, Amsterdam, London Heathrow and Dubai. Flights to Bangkok and Hong Kong are planned to commence in early September.
The airline has been profitable for the last decade, although it reported US$7m pre–tax profits for the year to March 2003, a 48% reduction compared with 2001/02 despite a 9% increase in revenue to $352m. Operating profits fell a third in 2002/03, to $10.7m, as the airline's performance over the year was hit by the build–up to Gulf War II, the SARS crisis, weak global and local economies (Kenya has the weakest economy among the major East African nations) and the attempted missile attack on an Israeli Arkia Airlines' 757 that was taking off from Mombasa airport in November 2002. That terrorist attack cost Kenya Airways at least $1.4m, the airline estimates, (compared with the $7.7m cost of September 11).
The Mombasa incident, along with ongoing security concerns, led the UK government to suspend flights to Kenya during May–June 2003, with other governments warning against travelling to the country.
This particularly affected tourism, although Kenya Airways operated as normal through the period.
Since ditching the last of its A310s in April 2002, Kenya Airways has had an all–Boeing fleet, which now stands at 16 aircraft, 11 of which are 737s. Four 737–700s have been delivered over the last year and two more ageing 737–200s will have to be replaced sometime over the next two or three years.
Kenya Airways has considered replacing them with 70–seat turboprops, but has put off a decision for a while.
The new 737s are adding extra capacity on intra–East African routes, and total ASKs at the airline rose by 10% in 2002/03.
However, load factor fell by 2% during the year, as RPK growth did not keep up with capacity increases. International traffic rose during the year, but this was cancelled out by a 4% decrease in domestic passengers due to terrorism fears, a weak national economy and worries over possible violence before the 2002 Kenyan general election (in which the country's ruling party was voted out of government after 40 years' rule).
For long–haul, Kenya Airways operates five 767–300ERs, and in March 2002 it announced an order for three 777–200ERs — for delivery from 2004 onwards — replacing its earlier commitment to the proposed 767- 400ER. Kenya Airways had been the only airline to order the aircraft, and Boeing cancelled its development in 2001.Cargo aircraft may also be added to the fleet at some point as Kenya Airways is keen to develop Nairobi as a hub for cargo traffic.
Kenya Airways owns 60% of Kencargo Airlines International, a Nairobi–based airline that was launched in April 2001 in association with KLM and Martinair, which each have 20%. The airline only operates a single Antonov 12 at present and primarily is a sales and marketing entity for the three airlines' existing cargo capacity.
Looking ahead to 2003/04, the airline is confident that revenue and profits will improve as tourism, business travel and aid from the IMF returns to Kenya following the apparent end of terrorism threats and the election of a new government, although that hasn't stopped the airline from hiring McKinsey and launching a cost–cutting programme and other measures during the first half of the 2003/04 financial year.
As well as looking to improve its own performance, Kenya Airways has also been at the forefront of efforts to restructure the aviation industry in East Africa.
In 2002 it withdrew its interest in the privatisation of Air Tanzania (see above), instead proposing a new airline in East Africa that would involve the governments and airlines of Kenya, Tanzania and Uganda.
The Tanzanian government was not interested in Kenya Airways' proposal, and instead carried on with the part–privatisation of Air Tanzania.
Despite the Tanzanian government's decision, Brian Presbury, CEO of Kenya Airways at the time (he was replaced by Titus Naikuni in April 2003), argued that the need for a pan–East African airline was still necessary. He said that small national East African airlines were not viable economically, and that governments needed to think about more than just having their own national airline and protecting their domestic markets.
But some in the region are concerned about the relative dominance of Kenya Airways in East Africa, while other African aviation analysts point out that since pan–regional airline consolidation has not been feasible in Europe, why should East Africa be any different?
That viewpoint is refuted by Kenya's Airways' management, even more so given some of the local difficulties it is facing. Kenya Airways is known to want to set up a shuttle service between Kenya, Tanzania and Uganda, but has faced problems in getting permission from the respective governments.
Presbury said: "Kenya Airways is still struggling with some of these bilateral issues. There has to be a recognition that putting up the barriers is no good for anyone.
It's in everyone's interests that African carriers share resources, otherwise some carriers will fail."
Kenya Airways also wants Kenya's own aviation infrastructure to be improved. Currently, Nairobi is not an FAA Category One status airport, so services to the US are not allowed despite a partnership agreement with Northwest signed back in 1998.
However, the Kenyan government has now made the Kenya CAA more independent, so the airline is hopeful that improvements to Nairobi airport will be made.
This is doubly important now that Kenya Airways has its own domestic carrier, Kenya Flamingo Airlines. The airline operates Saab 340s and was launched in 2000 in order to replace domestic Kenya Airways services out of Nairobi. Kenya Flamingo Airlines switched to a low–cost operation in May 2002, at the same time reducing its fares by up to 30%.
However, this does not appear to be a success and there has been strong opposition from Kenyan travel agents to Flamingo's use of internet bookings. As a result Kenya Airways is re–examining the business strategy for Flamingo, although it insists it is still committed to a low–cost concept. Given Africa's high infrastructure costs, it is not certain whether the low–cost carrier (LCC) business model can be established in the continent. The most successful example so far appears to be South Africa's kulala.com — launched in July 2002 as a LCC subsidiary of Comair — although SAA claims that kulala.com "has not eroded our market at all".
At present, domestic rivals to Kenya Airways include privately–owned East African Safari Air which has begun a scheduled twice–weekly service between Parisand Nairobi, operating via Rome. The service is using a Boeing 767–300 leased from ILFC and it will offer direct connections to Kilimanjaro and Zanzibar.
Another domestic carrier, Airkenya- Aviation operates seven Bombardier and Shorts aircraft within the country.
Airkenya also has a regional subsidiary based in Nairobi called Regional Air, a British Airways franchise partner that uses four 737–200s on routes to 18 African destinations.
Ethiopia
In June 2003 Airkenya was bought by an unknown Kenyan consortium with a promise that the airline will undergo a restructuring programme. Operating since 1946, Ethiopian Airlines is still 100% owned by the government.
Based at Bole Airport, Addis Ababa, the airline operates to 50 African destinations: six in Asia, five in Europe, six in the Middle East and two in the US (Newark and Washington Dulles).
Ethiopian Airlines has a fleet of 22, mostly Boeing aircraft. In 2002 it placed orders for three 737–700s and three 767–300ERs to replace old aircraft, which will be delivered over 2003–05. The airline also announced it would lease up to a further six more 737s and 767s in a deal worth more than $500m in total. The order was secured against fierce competition from Airbus, which has been trying hard to break into the African market, which traditionally has given more than 70% of new aircraft orders to Boeing.
Ethiopian Airlines may also order up to three 777s in order to complete its fleet renewal plans. The airline has also implemented construction of a cargo terminal and maintenance hangar at Bole Airport, both due to be finished within two years.
In the year to 30 June 2002, the airline reported an operating profit of $16.9m and a net profit of $9.8m, in 2001 the figures were $8.3m and $6.6m respectively compared with a $19.2m operating loss and a $3.8m net loss in the 2000 financial year.
Ethiopian Airlines is aiming to build on the fact that it is one of the few East African airlines with an extensive route network outside the continent.
More than three–quarters of Ethiopian Airlines' passengers fly on its international routes and the airline believes there is room to expand its network on an east–west axis, particularly to India and East Asia.
The airline is being aided by a new terminal that has just opened at Addis Ababa, funded by the Kuwaiti government. Ethiopian Airlines is launching an internet booking capability and also hiring external consultants to advise on restructuring, with an aim of building a 15- year strategic plan.
Ethiopian Airlines will be under further pressure in future as Ethiopia has reviewed its air transport laws to allow private airlines into the cargo business. Parliament has recently amended the Privatisation of Air Transport (PAT) law, allowing private companies to engage in air cargo transport.