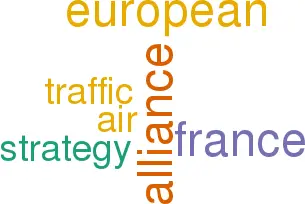 Some of the major carriers are again contemplating alliances as a means to industry rationalisation.
In the US, United and US Airways, which is in Chapter 11 bankruptcy, have proposed an alliance, currently being scrutinised by the DoT. In response, Northwest, Continental and Delta are planning a marketing alliance, in effect an expansion of the existing NW/CO cooperation agreement that has been in place since 1998.
Meanwhile, KLM has embarked on the latest stage of its search for a European partner, engaging in talks with Air France. This proposed combination of these five airlines (and also, by implication, Alitalia) will meet strong opposition from the regulators and be dismissed with a yawn by seasoned industry observers. But is there a commercial logic behind the vision? First of all, there would be two different types of alliances within this combination.
In the US domestic market, proponents of the code–share agreement argue that they offer a competitive alternative to online direct or online connecting on many city pairs. The same argument does not work for KLM and Air France in the intra–European market, simply because of the lack of connecting traffic in this sector.
On the Atlantic, the model would be KLM/Northwest, a fully integrated and immunised alliance with revenue/cost pooling, joint marketing and no duplication of facilities, etc. Air France and Delta are moving towards emulating this operation, with Delta's hub at Atlanta in the south of the US complementing Northwest's hubs at Minneapolis and Detroit in the north.
With transatlantic traffic still languishing (overall volumes this summer are about 15% down on a year ago), KLM/Air France cooperation should give them a competitive edge, in that their joint share of sixth freedom intercontinental traffic would be boosted to about 40% of the European hub total. This is more twice as much as Lufthansa or BA. The link–up might well act as a catalyst for restructuring of the second–tier European flag–carriers by squeezing them out of the intercontinental sector (and perhaps reinforcing BA's strategy of focusing on direct long–haul business).
Which brings us to the subject of the analysis that dominates this issue of Aviation Strategy — "What is the future of the European flag–carrier?" (see pages 2–15).
Based partly on his experiences at Sabena and Swissair, Hubert Horan has produced an original, rigorous and insightful critique of the outmoded flag–carrier model, and poses the key strategic questions for the future. Comments and questions to the author and/or Aviation Strategy are very welcome.