Embraer: new challenges for Brazil's success story September 2001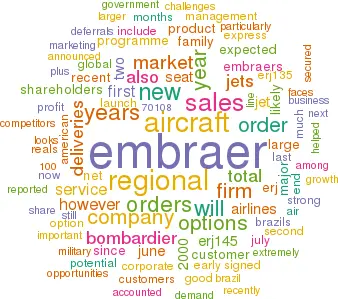 Embraer faces some tough new challenges. First, like its competitors, it has to cope with softening demand for regional jets resulting from the global economic slowdown. Second, it has to break into the extremely competitive 70–108 seat regional jet market with a new product line two years behind arch rival Bombardier. How does the company plan to tackle these challenges?
Since its privatisation in 1994, Embraer has transformed itself from a bureaucratic, loss–making state entity into a dynamic private- sector enterprise and Brazil's largest exporter. It is the world's fourth largest aircraft manufacturer based on 2000 net sales of commercial aircraft, very close to catching up in size with Bombardier.
After gaining experience with the Bandeirante and Brasilia turboprops, Embraer was early to anticipate potential demand for small regional jets and launch a new product line ahead of competitors. In recent years, it has become a strong competitor in the RJ market with its attractively priced and economical 50–seat ERJ–145 and 37–seat ERJ–135 models, which were launched in 1996 and 1999 respectively.
While those aircraft accounted for 157 of Embraer's total 178 deliveries in 2000, sales have been helped by the availability of the 44–seat ERJ–140, which recently entered service with launch customer American Eagle.
Last year Embraer made particularly strong market share gains on its competitors. After the record 400 firm orders and 340 options secured in 2000, the company also claimed that it had achieved a leadership position or a 49% share of the global 30–60 seat regional jet market.
Profit growth has paralleled the surging regional jet deliveries.
The company became profitable in 1998, after 11 years of net losses. When RJ deliveries really took off in 1999, earnings surged to 509.3m Reals ($204m). Last year's reported net income was 512.7m Reals ($206m), but it included a large income tax provision of 257m Reals (these figures are on the Brazilian corporate accounting basis, which differs slightly from the US GAAP).
In the first half of this year, Embraer's net sales rose by 55% and operating income more than doubled to 1bn Reals ($407m) to account for a spectacular 30% of revenues. Net earnings surged from 210.4m to 557.1m Reals($223m), representing a 16.2% profit margin, though some of the gain was attributed to foreign exchange gains.
Enlightened management
Embraer is known for its good corporate culture, and it aims to create a partnership among shareholders, management and employees. For instance, it pays dividends to shareholders and profit sharing to employees, and those amounts are linked. Last year's dividends amounted to $134m, while profit sharing payments were $37m.
While the management team is regarded as strong, much of the company's early vision and success has been credited to Mauricio Botelho, its president and CEO since September 1995. Among other things, Botelho has stressed the importance of aggressive marketing, enhancing customer service, increasing efficiency and maintaining good labour relations.
As part of a global share offering in July 2000, Embraer obtained a listing on the New York Stock Exchange (NYSE) and has since then seen its ADS price perform strongly. In June this year, US investors got a second opportunity to buy into this company when a group of existing shareholders, including majority–owner Bozano Holdings and BNDES, sold part of their holding in a $750m public offering.
The balance sheet is in good shape, with cash reserves of $1.26bn, total debt of only $567.3m and shareholders' equity of $900m at the end of June. With a firm order backlog of $10.7bn and another $12.8bn worth of options at the end of June, Embraer looks well positioned for the future.
Softening 50-seater sales
Like other aircraft manufacturers, Embraer has reported option deferrals and a barrage of questions from customers about such matters in recent months. However, as at mid–August, there had been no order or option cancellations.
The important US market has held strong, because regional airlines there are much more insulated from the effects of economic slowdown than the major carriers. If anything, Embraer's two major US customers, American Eagle and Continental Express, would gain if their parent companies stepped up efforts to downsize from large jets in response to a continued decline in load factors.
But Embraer has lost important business to Bombardier this year as a result of Canada's retaliatory actions in the Canada- Brazil dispute about aircraft subsidies. Regional jet orders from Northwest and Air Wisconsin, worth $1.7bn and $1.5bn respectively, went to Bombardier, because the Canadian government decided to match the low–cost financing terms that were offered by Brazil's ProEx programme.
However, after alarmingly weak sales in the first six months of 2001 (just 18 firm orders), Embraer looks likely to do much better in the second half of the year. Midwest Express' subsidiary Skyway Airlines, which in April signed an MoU to order 20 ERJ–140s plus 20 options, finally signed the contract in early August. At that time Embraer also reported that three other contracts covering 60–plus firm orders were likely to be finalised by year–end.
The deals still in negotiation include orders from Chautauqua and Trans States Airlines — former TWA feeders that have secured new growth opportunities with American. Chautauqua has exercised options for 28 ERJ–140/145s and added 25 options, while Trans States intends to place a new order for 10 ERJ–140s plus 25 options.
One major setback has been inability to finalise two major orders from China, which were placed in November 2000, have been signed but have not been authorised by the Chinese government. Embraer had hoped to deliver those aircraft this year, but now the order looks likely to delayed further and also downsized.
As a result, Embraer now expects this year's deliveries of the ERJ–145 family to be about 185 aircraft, down from 200 anticipated only a few months ago. The option deferrals may mean that next year's deliveries will be no higher. In light of the changed outlook, the company is not boosting the production rate from the current 16 aircraft per month to 20, as previously intended.
At the end of June, the ERJ–145 family had logged 838 firm orders, of which 434 had been delivered, and 403 options, bringing total sales to a highly respectable 1,241. The ERJ–145 accounted for about two thirds of the firm order total. It has gained at the expense of the ERJ–135, probably reflecting the general trend in favour of larger regional jets.
The ERJ–140 sales are picking up, following first deliveries in July. The firm order total of 139 aircraft at the end of June (all from American Eagle) was almost as high as the 148 orders that the ERJ–135 has secured after two years in service.
Sales of the ERJ–145 have been helped by the availability of the XR version, which extends the aircraft's range from 1,550 to 2,000 nautical miles. First flight was in July and deliveries to launch customer Continental Express, which has ordered 75 plus 100 options, will begin in mid–2002.
As regards the ERJ–135, Embraer is now focusing on marketing its corporate jet version, the Legacy, which is on schedule for first delivery in December. Those sales, which currently total 35 firm and 36 options, have somewhat helped to compensate for the option deferrals by regional airlines. However, while moving into the business market with a proven aircraft is a less risky strategy, short–term prospects do not look very good because of heavy spending cuts by corporations.
Embraer's leadership recently commented that while the company is still busy marketing the ERJ–145 family, most of the potential orders currently on the pipeline in Europe or the US are small. Of course, the one exception is US Airways, which has requested proposals from Embraer, Bombardier and Fairchild Dornier for up to 250 regional jets. However, those plans are still extremely uncertain, because US Airways faces an extremely tough task in persuading its pilots to agree to such large scale regional jet expansion.
Move into large regional jets
Embraer's main focus now is to expand its product line with a new family of 70–108 seat regional jets. The $850m–plus ERJ- 170/190 programme will reach a milestone on October 29, when the ERJ–170 is scheduled to roll out (just 27 months after launch). First deliveries of that model are expected in December 2002 to Crossair, France's Regional Airlines and GE Capital.
The larger ERJ–190, which is expected to enter airline service in July 2004, will be offered in two versions — 98–seat ERJ 190- 100 and 108–seat ERJ 190–200. Embraer is also seriously considering launching an 80- seat model.
This programme is risky, because Embraer faces its strongest competition in that aircraft size category — not just from Bombardier and Fairchild Dornier, but also from British Aerospace, Boeing and Airbus — and is entering the market relatively late. However, Embraer really had no choice, because that is where demand is heading.
While Bombardier has a major advantage in being able to offer much earlier deliveries with its CRJ–700 (in service since January) and CRJ–900 (from 2003), Embraer should be able to successfully break into that segment. In a recent filing, the company suggested that its "global customer base, aircraft performance, low operating costs, product development experience, market acceptance, cabin design and aircraft price" will give it competitive edge.
Many of the airlines are likely to order their larger regional jets from the same manufacturers that built their 50–seaters. For example, nobody had seriously expected Embraer to get Mesa's recent large 70–90 seat order, which went to Bombardier because the aircraft will go to America West Express where Mesa already operates CRJs.
The ERJ 170/190 has already logged a respectable 120 firm orders and 205 options. That does not include a 25–aircraft, $750m firm order that TAM is expected to place before year–end, following an MoU signed in June for up to 100 ERJ 190–200s (with flexibility to convert to other models in the family). In any case, sales should pick up once flight–testing gets under way. According to Embraer executives, the company is working on about five potential 70–108 seat RJ orders that are likely to be decided by early next year.
Investment priorities
Embraer has also been investing heavily to strengthen its presence in new geographical regions, particularly Asia and South Pacific. Among other things, over the past year it has opened a sales and technical office in Beijing.
The company is also looking for new expansion opportunities in its "core competence" areas, including aeronautical engineering, systems integration, logistics and project management and after–sales service.
This year's excess cash will be used for new investments, rather than returning it to shareholders. In January Embraer announced a $1.75bn five–year investment programme, of which $1.25bn will go to product development and the rest for industrial infrastructure and training. Around $150m is being spent on constructing a new manufacturing complex in Brazil, which will include a runway for test flights and the final assembly lines for corporate and defence aircraft.
Top–priority items also include customer service investments. At the Paris Air Show, Embraer and ATR announced "AEROChain", an e–commerce portal focused on improving commercial relations with customers and suppliers. Embraer expects to involve 550 suppliers and 170 potential customers. This US–based joint venture is estimated to require a combined investment of $21m and will be implemented by the second quarter of next year.
Embraer is particularly keen to build its position in the defence market, because military business accounted for only 8% of its total sales last year. There are opportunities since the Brazilian government is expected to invest $3bn to upgrade the country's air force over eight years.
Earlier this year the company announced that it hoped to increase military sales to 30% of the total within five years. However, Embraer executives recently played down that target, suggesting that growth in military revenues will be a more gradual long–term trend.
Canada's recent decision not to appeal a WTO ruling which concluded that Brazil's amended ProEx export financing programme is legal was an important acknowledgement that Brazil has mended its ways. However, the pressure is on Embraer to continue to stick to the WTO rules.
EMBRAER'S ORDER BOOK, MID-2001
EMBRAER'S ORDER BOOK, MID-2001
Customer
Type
Backlog Options
Rio Sul Serv Aereos Regionais
120
2
0
Sub-Total
2
0
Belgian Air Force
135
1
1
British Midland
135
4
0
City Airlines
135
1
0
Conoco Inc.
135
1
0
Continental Express
135
23
0
Executive Jet Management
135
4
0
Flandre Air
135
4
12
Marilia (Unibanco)
135
1
0
Regional Air Lines
135
7
5
South African Airlink
135
28
40
Swift Aviation
135
25
25
Undisclosed
135
7
0
Sub-Total
106
83
American Eagle
140
139
31
Trans States Airlines
140
10
25
Wexford Management
140
28
0
Sub-Total
177
56
Air Moldova
145
2
2
Axon Airlines
145
1
0
Belgian Air Force
145
2
1
Brazilian Government
145
8
0
British Midland
145
2
10
British Regional Airlines
145
4
0
Continental Express
145
135
100
Crossair
145
11
25
Flandre Air
145
2
0
KLM Exel
145
1
2
LOT Polish Airlines
145
4
0
Mesa Air Group
145
20
64
Mexican Air Force
145
2
0
Regional Airlines
145
2
0
Rio Sul Serv Aereos Regionais
145
1
0
Sichuan Airlines
145
1
0
Wexford Management
145
18
45
Sub-Total
216
249
Crossair
170
30
50
Ge Capital Aviation Services
170
50
78
Regional Airlines
170
10
5
Sub-Total
90
133
Crossair
190
30
50
Sub-Total
30
50
Total
621
571
Source: ACAS.
EMBRAER'S BALANCE SHEET (Real millions)
EMBRAER'S BALANCE SHEET (Real millions)
End-1996
1997
1998
1999
2000
Mid-2001
Cash &
equivalents
10.9
139.9
420.4
611.2
2,358.6
2,912.8
Total debt
636.6
512.4
1,092.2
1,269.2
906.9
1,307.6
Shareholders funds
392.1
673.0
707.8
1,059.5
1,761.7
2,072.2