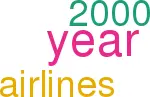 The airline industry is living in interesting times, as the old Chinese curse has it.
There are more and more signs of weakening economies, but the official indicators are not pointing to a recession, i.e. an absolute down–turn in activity The OECD's mid–year Economic Outlook highlights the slow–down in the US economy from real GDP growth of 5.0% in 2000 to 1.9% this year, though a recovery to 3.1% is expected for 2002. The EU is just slightly down this year — GDP growth of 2.6% against 3.1% in 2000 — and next year is put at 2.7%. Japan, however, continues to plod along its L–shaped recession — 1.3% in 2000, 1.2% in 2001, 0.7% in 2002.
The airlines that are suffering disproportionately are those that followed strategies of tight capacity curtailment yield enhancement and focus on business travel. The US Majors' second quarter results were unprecedently bad — an operating loss of $0.8bn against a $2.8bn profit a year ago. BA, according to a widely reported analysis from Merrill Lynch, will be turning to losses for 2001/02.
The reason that the airline downturn is worse than that implied by the economic number probably has a lot to do with the collapse of the new technology sector. Those price–insensitive e–entrepreneurs are no longer travelling anywhere. Beyond that, the financiers have fewer and fewer deals to conclude. And corporations generally are critically reviewing their travel policies.
What strategies can be adopted in such circumstances?
Protection through antitrust–immunised alliances has suddenly become a priority (see pages 4–6).
But the possibilities for traditional mergers are very limited. In the US the DoJ has as expected ruled against United/US Airways on the grounds that this amalgam would create "monopoly rents" (a surplus which might not show up in monopoly profits but which could, for instance, be distributed to aggressive labour unions). In Europe route rights still present an intractable problem to merging Euro–Majors.
Continued expansion is an option for a few carriers as diverse as Ryanair and Air France. They stand to capture more market share from their rivals during this phase of the cycle.
Cost–cutting initiatives are inevitable, as is the union response to them.
Deferrals of deliveries by the airlines and operating leasing companies will increasingly take place.
In terms of new management techniques, CRM holds substantial promise for the business travel–orientated airlines (see pages 15- 18), but is still regarded with some scepticism.