Mesa Air Group: this year's turn-around story September 2000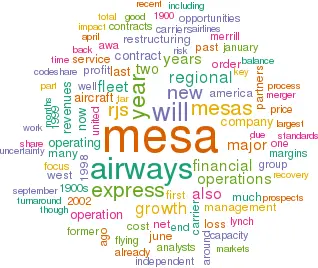 Mesa Air Group, the largest independent regional carrier in the US, has virtually reinvented itself with a new management, route structure and fleet mix since the loss of its United Express feeder contracts in 1997 and 1998. After three years of losses, the company has staged an impressive financial recovery this year. It has restored operational performance and won back the confidence of its code–share partners. Will Mesa's planned aggressive RJ expansion pay off?
The loss of the United Express work three years ago was a devastating blow to Mesa as those services accounted for 45% of its total capacity. It was left saddled with some 90 surplus aircraft and revenues plummeted by 40%. United terminated the code–share relationship mainly because of Mesa's operational problems and below–par service quality, while disagreements about compensation and service levels in smaller markets also played a part.
This led to a sharp contraction and net losses totalling $124m in 1997–1998. Up to then Mesa had had an unbroken profit record going back to 1979, its initial year of operation. In the early 1990s it earned operating margins of 12% and net margins of 7- 7.5%, despite extremely rapid growth through acquisitions and feeder agreements with the major carriers.
By 1999 the company was very much in a recovery mode as a result of successful restructuring efforts, but a net loss of $13.3m was still reported for the latest financial year ended September 30. This was mainly due to a $29m write–off for the planned disposal of 30 surplus Beechcraft/Raytheon 1900s, as well as loss of business due to US Airways' problems.
This year has seen a dramatic turnaround. Mesa reported a $21.1m net profit on revenues of $346.6m for the nine months ended June 30. Strong revenues have more than compensated for a hike in operating costs associated with the introduction of a new aircraft type, the ERJ–145, to the fleet in April.
Mesa is now expected to report an operating profit of around $40m and a net profit of just under $30m for the current financial year ending September 30. It is likely to exceed its goal of an 8% operating margin.
While revenues have now more or less recovered to the mid–1990s level, there is some way to go to restore the former level of profitability. Also, the company has recovered only about one third of its mid–1990s market capitalisation.
After a significant improvement in cash position last year, cash reserves halved from $56.2m a year ago to $28.2m at the end of June because of capital spending on expanding the RJ fleet. However, total liabilities have also fallen, to $301m from $375m two years ago.
In early 1999 Mesa temporarily reverted back to its former acquisition mode when it bought fellow US Airways Express operator CCAIR for around $53m. It was a strategic move as Mesa was building its already extensive US Airways Express operations with the help of the regional jet.
In an (unsuccessful) effort to boost its flagging share price, at the end of last year Mesa launched a programme to repurchase up to 10% of its outstanding shares. So far it has acquired some 1.8m shares at an aggregate cost of about $10m, but the programme has slowed because of the need to fund RJ purchases.
Improved operations
Mesa has tackled its previously dismal on–time performance and flight completion rates so successfully that it has been able to claim industry leadership in those areas. Its completion factor has risen from 92% in the summer of 1998 to almost 98% over the past year. Recent Bombardier studies of CRJ and Dash 8 operators show Mesa consistently on top in that category.
At a recent Merrill Lynch conference, the company's leadership attributed the improvements to two areas in particular. First, over the past 18 months there has been a major technology drive, which has included the installation of new computer systems for crew and flight tracking, weather radar and other key functions. Second, this year has seen a major effort to improve internal communication — a special challenge for a group that is made up of many different airlines serving local markets in different parts of the country and brought together through acquisition.
According to Mesa's top executives, the key has been to get management more involved in the daily operations. The initiatives include weekly "hot–lines" for the presidents of the various airlines, daily "operations call" for senior and middle managers throughout the group and lots of employee get–to gethers (including parties and barbecues where senior management do the cooking).
These strategies were facilitated by a restructured, more independent board and a new top management team. The biggest initial changes were the departure of founder, chairman and CEO Larry Risley and his wife Janie, and the arrival of former Mesa executive VP and WestAir president Jonathan Ornstein as a major new investor, chairman and CEO in 1998. Ornstein has built a strong team consisting of many of his former Continental and Virgin Express colleagues, including Michael Lotz as president and COO.
All of that has had a favourable impact on Mesa's relationships with its two code–share partners — America West in the Southwest and US Airways in the East and Midwest. Those contracts account for 90%-plus of the company's revenues (the balance is generated by Mesa Airlines' independent operations in New Mexico and Colorado).
Mesa is the largest of two US Airways Express RJ operators, having been the first to introduce the regional jet there in January 1998. But US Airways has nine regional partners, all clamouring for growth opportunities, so restoring service standards was critical. A welcome show of confidence came in December 1999 when US Airways agreed to raise the number of RJs in Mesa's contract from 15 to "a minimum of 28" and extend the term from 2003 to 2007.
In April US Airways' pilots agreed to raise the cap on RJs in all Express operations from 35 to 70, and Mesa is now expected to be the main beneficiary of the relaxation of the scope clause. In June the carrier put its first 50–seat ERJ–145 into US Airways Express service at Washington National.
Since RJs currently account for just 20% of US Airways Express' total capacity (compared to 50% or more for the regional operations of most other major carriers), there are considerable growth opportunities for Mesa if it can maintain its service standards. US Airways management envisages 300- 400 RJs in Express operation, though getting pilot approval for those numbers will take time.
The America West contract has always worked relatively well, though there was some uncertainty in the past as to whether the contract would be renewed or expanded. Recently AWA increased the number of RJs (Mesa is its sole RJ operator) from 19 to 22 and extended the contract from 2004 to 2009.
One major benefit of the AWA work is that all of it is on a fee–per–departure basis, which protects Mesa from fuel price volatility and makes its earnings more steady. All the RJ flying for US Airways is also on that basis, while turboprop operation is under prorate agreements. (The benefits of contract versus prorate remuneration were discussed at length in the February 2000 issue of Aviation Strategy, page 17.)
Another potential benefit associated with the America West relationship is that AWA is the only major carrier without a scope clause in its pilot contract limiting the use of RJs. Mesa is in discussions to further expand the agreement, and the talks include proposals to acquire 70 and 90–seat RJs.
Fleet restructuring
Probably the single most important new strategy has been to reduce unprofitable 19- seat Beechcraft 1900 turboprop flying and make a serious effort to focus on the RJs. Over the next two years, the fleet will not grow much in terms of number of units but the composition will change dramatically. In 1998 turboprops accounted for 73% of Mesa's ASMs, but by 2002 that same percentage will be on jets.
Mesa has been the largest independent operator of the Beechcraft 1900, which still accounts for about one third of its capacity. But new government regulation, in particular a transition to FAR Part 121 standards, and increased taxation have made especially the smaller turboprops much costlier to operate. The 1900s, most of which are on the balance sheet and many have been idle since the loss of the United Express work, have been a drain on Mesa's resources.
Consequently, after disposing of eight 1900s last year, Mesa (somewhat belatedly) announced at year–end that it would dispose up to 30 more 1900s. Last month (August) it was in the process of finalising an agreement with Beechcraft/Raytheon to return 20 idle aircraft. According to a Merrill Lynch report, this would remove $55m of debt from Mesa's balance sheet and eliminate around $1.2m in quarterly interest payments.
This will mark the start of a process that will improve the profitability of Mesa's turboprop operation and allow it to focus on the RJs. The 1900 fleet reduction has been accompanied by withdrawal from many unprofitable thin markets, including all 19- seat routes out of Boston and Washington- Dulles, and further such moves are anticipated.
Mesa received its last 50–seat CRJ in December, bringing its RJ fleet to 32 (evenly split between AWA and US Airways). In January it placed a long–awaited firm order for 36 50–seat Embraer ERJ–145s. The first of those aircraft arrived in April, so far seven have been delivered and the remainder are due by late 2002, by which time Mesa will operate 82 RJs. The January order included 64 options, which can be converted to the 37–seat ERJ–135.
The carrier is already considering exercising some of the options and accelerating delivery positions. Also, some analysts believe that by year–end Mesa will have announced another RJ order, this time for 70–seaters for America West operation.
The introduction of the ERJ to the fleet has had a severe negative cost effect — an estimated $1m in training, proving runs and suchlike, much of which was borne in the June quarter. But, with those effects now lessening, Mesa can look forward to operating cost savings offered by the larger, new aircraft and the elimination of more turboprops.
Growth plans and prospects
The focus now is very much on growth. With just the aircraft currently on firm order for delivery in 2000–2002, Mesa's capacity will rise by around 20% annually over the next couple of years. Unlike many other regional carriers, Mesa may actually sustain those rates well beyond 2002 because of the growth potential offered by US Airways' still relatively underdeveloped RJ operation and the possibility to utilise larger RJs at America West Express.
Continued expansion of fee–per–departure flying will provide financial stability, removing risk and ensuring a stable and predictable earnings stream. In the first half of this year such contracts represented 55% of Mesa's revenues, but the share was expected to rise to 60% by the end of September and to at least 70% by the end of 2002.
Mesa already claims to be the lowest cost US regional carrier, with unit costs of 14.5 cents per ASM in the nine months to June 30. Savings from fleet and route restructuring will help it retain that position, while revenue growth will be boosted by RJ expansion. There appear to be be no significant labour issues or key contracts becoming amendable in the near term.
The company expects to be able to maintain operating profit margins in the 8–12% range and "hopefully closer to 10–12%" in the next few years. Merrill Lynch more cautiously suggests that the margins will "stabilise in the high single digits".
While recommending Mesa shares as a "strong buy" based on low price and good growth prospects, analysts regard it as risky investment because of uncertainty in several respects.
A May research note from PaineWebber (before the UAL/US Airways merger announcement) listed four areas in particular — financial functions, US Airways' prospects, franchise risk and the execution of the growth plan.
Over the past year, Mesa has been restructuring its financial department — the last major area that needed tackling after the thorough FAA–imposed corporate restructuring undertaken a couple of years ago. One of the aims has been to introduce proper bookkeeping and reporting practices but, judging by the fact that the current CFO is the third to be appointed over the past year, the process has not been smooth. Also, external auditors, KPMG, were recently dismissed and replaced with Deloitte & Touche. This and the fact that an entirely new financial department is in place obviously create some uncertainty.
Even though Mesa appears to have more or less completed its turnaround, its growth plan seems rather ambitious in light of its recent volatile earnings track record. Analysts say that the timing and extent of the anticipated cost savings are hard to predict.
Mesa would suffer if US Airways stumbles in its recovery efforts — it already had a taste of that in the summer of 1999. And there is always the risk that US Airways will suddenly start favouring its other regional partners in the allocation of new RJ flying opportunities.
The company's share price has remained weak also because of concern over the impact of a possible UAL/US Airways merger. There are fears that the merger would lead to a rationalisation of the two carriers' regional operations. Mesa does not exactly have a good track record with UAL, and their earlier breakup had a devastating financial impact.
However, analysts dismiss such merger–related concerns, in part because they regard a UAL/US Airways combine as unlikely but also because they believe Mesa would fare well under such a scenario. This is because RJs are desirable assets. "Mesa, with its 100 RJ order, is now a very desirable company", proclaimed a January research note from Merrill Lynch.
The RJ commitment will obviously open up other options, should things go wrong with existing partners. Mesa's leadership has indicated that while the focus is on building on the two good existing relationships, the company does not at this stage rule out opportunities to put those jets elsewhere.
MESA'S FLEET PLANS
MESA'S FLEET PLANS
In service
On order
Remarks
Emb 120
4
Emb 145
7
32
Delivery
2000-02,
Beech 1900
69
64 options
Shorts 360
1
CRJ-200
32
DHC-200/300
13
Total
126
32