Regional Jets: their European mission September 2000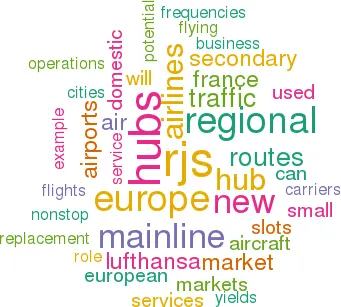 Regional Jets have enjoyed unprecedented commercial success in the US. Indeed, in the next 18 months, these aircraft will produce the majority of US regional airline capacity. A similar rate of growth is expected is the European market, but the type of RJ operations is different.
In the US 96% of RJ operations are into hubs, although the recent grant of new slots to RJ operations at slot–constrained airports (including La Guardia, Washington National and Chicago O' Hare) is encouraging airlines to operate direct flights into these airports from secondary points, by–passing hubs. RJ missions in the US include:
New hub routes
RJs operate new long routes into hubs serving small markets that could not support the operation of a larger jet. These new non–stop services stimulate traffic growth, but typically are insufficient to provoke competitive entry by other airlines, in particular, by low–cost airlines. Carrying predominantly business traffic, strong yields can be generated.
Hinterland poaching
One particular mission has been to deploy RJs into small cities that lie in the immediate hinterland of another carrier's hub. This is proving to be a successful way to poach traffic from the local hub carrier. For example, United added RJ service from its Denver and Chicago hubs to Fargo, previously exclusively linked by Northwest, to its nearby hub of Minneapolis.
Replacing unprofitable mainline flying
Operating smaller aircraft maintains a presence in a market and maintains the revenue from connecting sectors. This allows mainline capacity to be redeployed into more profitable markets. In communities facing a withdrawal of service, replacement by RJ service is more politically acceptable than an outright withdrawal from the route, or replacement by turboprop services.
Additional frequencies in mainline markets
Flying higher frequencies on successful existing routes makes the airline's overall schedule more attractive to business travellers, improving the yields, and hence profitability, of all services.
Replacing turboprops
Improved speed and product perception boost both traffic and yields as business traffic is drawn to the superior product.
Hub overflight
New non–stop services that overfly hubs are used in the US as a defence against other carriers poaching traffic from hinterland cities. For example, Delta is launching non–stop RJ flights to New York in order to defend its mainline market position in Savannah, a city which lies in the catchment area of Delta's Atlanta hub, and is vulnerable to competition from the other carrier's RJs.
European features
Lufthansa is the established leader in RJs in Europe today, but will be challenged by Air France as its new subsidiary Regional Airlines takes delivery of its new Embraers. Air France has the greatest potential to benefit from RJs, but will need to skillfully rationalise its domestic partners. BA's overall regional strategy will depend on its discussions with KLM, but notwithstanding, it has a good opportunity to simplify the structure of its regional partners SAir and its various associates have a considerable fleet of RJs which are being used to build secondary hubs and defend domestic non–hubs.
The differences between the European airline industry and the US can be exaggerated, but nevertheless they do exist.
Airport and airspace congestion is considerably worse in Europe than in the US.
Slot allocation in the US protects RJ access to congested airports, secured through a ring–fenced portfolio of regional slots. In Europe, existing and proposed slot allocation mechanisms contain no such protection
Costs are higher in Europe for ATC, ground handling fees and fuel. At some airports, such as BAA's London airports, regional operators are disadvantaged by flat–rate landing fees, which charge the same amount for a 50–seat RJ as for a full 747.
High–speed mainline train services offer competitive travel options unavailable in the US.
With the notable exception of the UK, many European markets do not experience similar levels of competition to the US domestic market.
Within Europe, geographically remote regions — Eastern Europe, parts of the British Isles and islands in the Mediterranean — constitute potential RJ routes with small passenger volumes, inadequately served by surface transport.
Limited hub feed
RJ missions to major hubs are very limited; BA and Lufthansa slots at London and Frankfurt are too precious to be used by 50–seat aircraft. However , Air France, operating from the relatively unconstrained CDG hub, can afford to utilise RJs in its main hub.
Building secondary hubs
RJs are particularly effective in building up secondary hubs, where slots are freely available. Lufthansa and Air France utilise RJs extensively at Munich and Lyon respectively.
Replacing unprofitable mainline flying
This strategy is less attractive in Europe than in the US. BA has transferred some weak Gatwick routes to 80–100–seat Avro aircraft, operated by its franchisees, Cityflyer and British Regional Airlines (BRAL), but the new RJs are too small for this role.
Additional frequencies in mainline market
This is a viable role for RJs in secondary hubs, where they can fulfil, for example, midday rotations. Lufthansa mixes RJ services at off–peak times on domestic routes also served by mainline aircraft.
Turboprop replacement
This remains a potential role for RJs in Europe, but at the major hubs turboprops have already been mostly squeezed out.
Hub overflight
This plays a far more important role in Europe. RJs are used by airlines to offer point–to point flights from non–hub cities, such as BA from Manchester, Glasgow and Birmingham, Lufthansa from Berlin, Stuttgart and Dusseldorf and Air France from Nice and Bordeaux.
EUROMAJORS' REGIONAL FLEETS
EUROMAJORS' REGIONAL FLEETS
Ownership
Regional
100-seat
Turbo-
British Airways
%
jets
jets
props
Citiflyer
UK
100
BA code - all flights
10
12
Brymon
UK
100
BA code - all flights
5
19
Maersk
UK
0
BA franchise - all flights
10
BRAL
UK
0
BA franchise - all flights
15
2
25
SunAir
Denmark
0
BA franchise - all flights
10
TOTAL
30
12
66
Air France
Brit Air
France
100
AF franchise - all flights
20
5
12
Proteus
France
100
AF franchise - all flights
5
1
20
Flandre Air
France
100
AF franchise - all flights
3
11
Regional
France
100
AF franchise - all flights
19
16
Cityjet
Ireland
100
AF franchise - all flights
6
2
Jersey European
UK
0
Limited AF franchise
2
16
12
Eurowings
Germany
0
Limited AF franchise
10
27
TOTAL
49
38
100
Lufthansa
Cityline
Germany
100
LH code - all flights
37
18
11
Augsburg
Germany
0
Team Lufthansa
16
Contact
Germany
0
Team Lufthansa
11
Cirrus
Germany
0
Team Lufthansa
6
Rheintalflug
Austria
0
Team Lufthansa
1
3
Cimber Air
Denmark
0
Team Lufthansa
2
15
Air Domimiti
Italy
15
LH codeshare - some flights
17
British Mid. Commuter
UK
20*
Limited LH wet-lease
4
8
9
Austrian Airlines
Austria
0
Austrian Airlines Group
6
Lauda
Austria
20
Austrian Airlines Group
8
Tyrolian
Austria
0
Austrian Airlines Group
10
6
18
TOTAL
62
38
106
Swissair/Sabena
Crossair
Switzerland
71
Mix of wet-lease, code share &
6
20
47
Crossair Europe
independent flying
France 40 Crossair
Crossair codeshare
2
Air Liberte
France
49
Under integration into AMP
15
Air Littoral
France
49
Under integration into AMP
19
6
14
DAT
Belgium 100 SN
SN franchise - all flights
32
Schreiner
Netherlands
0
Limited SN franchise
12
TOTAL
25
73
75
KLM
KLM Cityhopper
Netherlands
100
KL code - all flights
14
13
KLMuk
UK
100
KL code on non-Buzz flights
25
14
KLM exel
Netherlands
0
KL franchise - all flights
2
KLM Alps
Switz/Austria
0
KL franchise - all flights
9
Eurowings
Germany
0
KL codeshare - some flights
10
27
TOTAL
2
39
36