E-distribution launches into Orbitz September 2000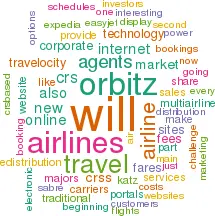 Where is the e–distribution revolution taking the airline industry?
The chart opposite contains the main players in the airline internet game. Starting on the right are the airlines themselves, the market leaders being the low–cost carriers. Southwest currently books more tickets sales on its website than any of the Majors or indeed any of the specialist online travel agents. In Europe, easyJet and Ryanair are way ahead of the opposition in e–distribution; for the first week of August easyJet reported that 80% of its sales were made through the Internet.
The traditional airlines are responding by diversifying their use of the net. For instance, BA seems to be adopting a three–pronged strategy.
Its website, BA.com, focuses on premium traffic, offering personalised sales messages to Executive Club members and providing incentives to book online through additional frequent flyer miles.
Then BA is developing another website designed just for corporate customers. It will be accessed directly by internal travel agents of major corporate clients, and will display specially discounted flights as negotiated on an individual client basis, though customers will also have the opportunity of booking seats on other airlines.
This looks as if it infringes on the traditional business of the travel agents. Not only will they be losing out on transaction fees, as BA continues to press for reductions in commissions, but also they will also their management fees charged to corporate clients will be undermined by this direct customised link between airline and corporate traveller.
Most recently, BA has announced that it will participate in the multi–airline portal being developed by a wide group of European scheduled carriers (BA, Air France, Lufthansa, Alitalia, KLM, Iberia, SAS, Aer Lingus, Austrian, British Midland and Finnair). This is intended to provide passengers with direct mass access to fares, including airlines' lowest branded fares, plus additional products (hotels hire cars, etc.). It will be managed independently of the airlines, and the participants will not share pricing or proprietary information among themselves.
A similar project is underway in Asia led by JAL and ANA ,with Travelocity providing the technology. A joint holding company will be formed which will also include United, Northwest, Air NZ, Ansett, Asiana, Cathay, China Airlines, Malaysia Airlines, Qantas, Royal Brunei and SIA.
In the US there are two main multi–airline portals under development. These are: Hotwire, which is in the early stages of development but which has impressive backers in the form of venture capitalists Pacific–Texas, and Orbitz, about which much more later in this article.
It is interesting to note that these multi–airline portals are all regionally based rather than being built around the global alliance groups. Nor are the portals based on the ownership structure of the CRSs.
The CRS challenge
These CRSs are now facing a formidable challenge. All–powerful in the 80s and 90s, their technology is now beginning to look dated and their markets are no longer guaranteed to expand as air travel grows. To combat the threat from the internet, they are having to invest in new electronic products (on the left of the chart).
Sabre owns 85% of Travelocity, the world's leading online travel agency, which has just take over another important leisure travel site, Preview.com. It is also in the process of concluding the take–over of GetThere.com, the leading specialist corporate travel channel. In addition, Sabre is also reported to be the supplier of CRS services to Hotwire.
Expedia, which is 85% owned by Microsoft, has an alliance with Worldspan. Expedia seems to be moving away from the travel agency model to what its describes as a "merchant model", essentially buying services wholesale and selling them retail.
Websites like Priceline.com, originally backed by Delta, Lastminute.com, E–bookers, etc. all claim to have unique niches in the market and strong supplier relationships. Visits to their sites are certainly escalating, but commercial break–even is still far off in the future, and investors are increasingly disillusioned.
The other two main CRSs — Galileo and Amadeus — have, perhaps surprisingly, not yet linked up with any of the online travel agents or multi–airline portals. They do have their own e–commerce projects, however; Galileo is working on a very ambitious but obscure telecoms product called "Quantitude" while Amadeus has a joint venture with Lotus to supply desk–top travel services.
The portal paradox
Orbitz threatens to revolutionise the world of airline distribution. Founded a couple of months ago, it is financed by five US Majors (American, Continental, Delta, Northwest and United) and has lured Jeff Katz from Swissair, where he was President/Chief Executive, to be its CEO and Chairman.
Orbitz looks in some ways to be a typical under–resourced and speculative internet start–up: at the end of July it employed 15 people and it is not due to launch its services until the autumn. Yet it has succeeded in frightening both the traditional CRSs and the CRS–linked online travel agents who have complained about the antitrust implications of having the US's largest airlines potentially controlling a large part of the internet distribution market. Orbitz, on the contrary, presents itself a major new competitive force, which will break what it describes as the monopoly power of the CRSs.
So what's new about Orbitz? According to Katz, comprehensiveness and objectivity: "[We will] provide absolutely unbiased display of every airline's flights and fares, whether they are investors in Orbitz or not, whether they are associates of Orbitz or not … we want every airline to be fully and equally displayed in Orbitz, and we want Orbitz to treat every airline the same".
This is an interesting strategy which directly attacks a key weakness of a CRS–based website like Travelocity. Ask Travelocity for the cheapest available service, and in many cases you will not find it because Travelocity does not include the schedules of airlines like Southwest or easyJet because they do no provide schedules to Sabre. If Orbitz is going to be genuinely comprehensive, it's going to provide a great marketing boost for the low cost carriers.
Orbitz also claims to be making a quantum leap from CRS–based computerisation onto a new technological plane. Currently when you ask a CRS for airline, schedule and fare options on a US city–pair, it will search 5,000 to 10,000 options in about one second. This sounds pretty impressive but in fact the CRS has pre–screened out 99.99999% of the possible billion or so options before evaluating on price and timing. Orbitz's new technology will allow it to evaluate all billion possibilities within one second. The expectation, or sales message, is that, while the huge majority of extra searches will be fruitless, Orbitz will regularly come up with hidden gems.
The promised technology holds the key to Orbitz's success. It will have to deliver the widest range of schedules, identify the best fares, plus be user–friendly and reliable. Ecustomers now have enough experience to judge the real value of airline websites, and are becoming increasing suspicious of e–marketing hype. Similarly, investors have started to apply realistic valuations to new technology stocks — in the airline–related sector, Travelocity's share price is down 53% since the beginning of the year, Expedia is down by 68% and Priceline by 50%.
Against this background, why have these US Majors invested in a product which, eventually, may benefit the low–cost carriers more than themselves?
There are compelling reasons for Orbitz, according to Katz in his testimony to a US Senate Committee in July, and none of them have to do with altruism on the part of the US Majors.
First, Orbitz represents the means for airlines to attack CRS fees and so further reduce distribution costs. Orbitz, in fact, will use one of the smaller CRSs to make the actual airline bookings and that CRS will charge normal booking fees, but Orbitz will then rebate part of the fee to the airline on which the seat was booked. In effect, it will offset part of what it sees as excessive CRS fees to the airlines, with no discrimination between the type of airline.
The idea is to undermine the CRS pricing structure and hence cut the booking costs to travel agents, both traditional and online types, which in turn should allow airlines to further reduce their commission costs. As Orbitz will derive most of its income from commissions (just like a travel agent), it needs to make its attack on CRSs effective for it to succeed itself. No timescale for profitability has been announced.
A second reason is that the airlines have recognised that their own websites will never meet the needs of all passengers using the internet. They need a mass marketing site to complement focused marketing sites.
The third reason is that airlines feel that the CRS–based online travel agents are beginning to exercise too much control over the airlines. For example, Katz points to the practice of "swinging market share", whereby airlines pay for the internet sites to display proportionately more of their flights. There are dark suspicions that such practices have led to the mysterious non–appearance of rival services and fares on the website.
Consumer power
It should be recognised that e–distribution at the moment only accounts for about 4% of bookings in the US, the most advanced market. Travel agents still dominate with 74% of the business.
How fast the electronic share will increase is anyone's guess, but it will inevitably increase, and at some point in the surprisingly close future most bookings will be made in this way.
The type of electronic market envisaged by Orbitz is going to give customers a new degree of power. They will be able to access sites without the help of agents, to make speedy comparisons, to read reviews, to make informed choices. Sites will be under scrutiny by techie consumer groups who will find airlines' yield management systems an interesting challenge.
US COMMISSIONS (Q2 2000)
US COMMISSIONS (Q2 2000)

| | | |
| --- | --- | --- |
| | % of rev. | Chng from |
| | | 99 (%pts) |
| AMR | 5.4% | -1.1 |
| Delta | 4.0% | -1.5 |
| Continental | 5.5% | -1.0 |
| Northwest | 6.0% | -1.3 |
| USAir | 4.1% | -1.6 |
| UAL | 4.9% | -1.5 |
| Southwest | 2.8% | -0.5 |