KLM and Alitalia: one big ticket September 1999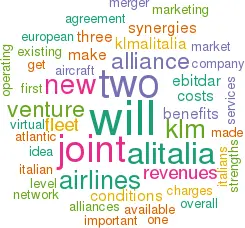 KLM is probably the most strategically innovative of the Euro–majors. Its immunised agreement with Northwest on the Atlantic has proved profitable, although relations between the two airlines have been anything but harmonious at times. But it was the protagonist in the Alcazar project which collapsed in a heap. And now it is putting together the first virtual merger between two Euro–majors.
The KLM/Alitalia alliance — somewhat clumsily named "One ticket to the world" goes further than the other three alliances. As well as the standard marketing aspects like co–ordinated schedules, FFP participation, etc., the two airlines intend to completely integrate management, share profits and make joint investment decisions. The alliance will cover the core business of both airlines: in KLM's case, KLM itself plus KLM cityhopper, representing 85% of group revenues and, in Alitalia's case, Alitalia itself plus Alitalia Team and Alitalia Express, representing 97% of group revenues. In other words, KLM/Alitalia intends to get as close to being a real merger as is possible for European flag–carriers (remembering that Alitalia is not yet fully privatised), just as KLM/Northwest transatlantic cost and revenue sharing is as close to a full merger as is possible in that market. In the near future the Atlantic operations of Northwest and Continental will also have to integrated into the alliance, although Continental has already balked at the idea of profit–sharing.
The overall strategic aim is to create a true partnership. Existing strengths and potentialities are assumed to be equal. KLM's strengths are its current size, its global nature and its hubbing skills; Alitalia's strengths are its home market position and superior growth prospects (presumably because of the new development of hubs in Italy and the current low propensity to fly among Italians).
From a regulatory perspective the KLM/Alitalia alliance posed few problems for the European Commission. Indeed it must be a relief to deal with a proposal that links two geographically and politically diverse entities committed to a pan–European venture — as opposed, for example to the Lufthansa/SAS collusion. Nevertheless, conditions have been imposed on the two routes — Amsterdam–Milan and Amsterdam- Rome — where there is a potential monopoly:
Make 112 weekly slots available to competitors not currently operating from any of the three airports so they could set up a base to operate from one to the other two;
Make available up to 224 slots to new entrants that apply to operate from Amsterdam, Milan or Rome;
Reduce capacity in line with the new entrants' services and offer interlining;
Allow new competitors to participate in their FFPs and ensure that CRS displays are not alliance–biased; and
No over–ride commissions.
The last two conditions are representative of the general anti–trust regulation that the EC wants to place on the whole European industry. The first three conditions are only effective if a new entrant takes up the challenge. Entering main airports like Schiphol or Malpensa is not currently part of Ryanair's strategy; AirOne, the Italian new entrant, usually prefers to co–operate than compete vigorously with Alitalia; but easyJet might find a use for its new 737s at these airports.
Details of the joint venture structure
The basic idea is to create a virtual company that will enable KLM and Alitalia to share the joint result of their passenger and cargo businesses on a 50:50 basis. Profit sharing in this virtual company will be organised at the level of "Adjusted EBITDAR" — Earnings Before Interest, Taxes, Depreciation, Amortisation and Rentals and corporate overheads.
To get to the EBITDAR level the two airlines' net revenues will be pooled and the sales and marketing costs of the joint venture will be deducted as will the charges from the capacity and service providers (i.e. the operating costs sustained by the two airlines in providing aircraft and services to the joint venture). The two airlines will continue to bear their own overheads, fleet depreciation, aircraft rentals, interest charges and taxes.
There are a couple of important conditions attached to the joint venture agreement, designed to incentivise both parties.
First, the charges from the capacity/service providers will be the lower of actual and market costs. Second, labour costs will be capped, with increases in excess of predetermined benchmarks; and third, only individual annualised contributions above €450m will be included in the profit–sharing formula before March 2001, the idea being to get the airline to concentrate on creating new synergies rather than redistributing existing earnings.
An important element of the agreement is a joint fleet policy. The two airlines' existing fleets will be made available to the joint venture at no charge, and proceeds from aircraft disposals will be split 50:50. Eventually an integrated fleet policy will be developed, maybe through the establishment of a joint fleet company. In addition, KLM will make a one–off contribution to Alitalia to acknowledge the Italian investment in the new Milan Malpensa airport.
KLM and Alitalia estimate the pro forma result of the alliance in 1988 would have been a joint EBITDAR of €1.23bn on revenues of €9.11bn with KLM contributing €649m of the EBITDAR (12.7% of revenues) and Alitalia €582m (14.5%).
The two airlines have bravely stated their estimates for the synergies that can be expected over the next three years — a total of €400m at the operating profit level. These will materialise from the following areas:
Commercial synergies of €153m resulting from increased traffic feed to/from code–shared services within Europe and eventually on the Atlantic and other long–hauls, all of which will come under a unified network management structure;
Network optimisation benefits of €57m derived from focusing on higher margin routes and future development of hubs;
Fleet expansion benefits of €30m, presumably from better utilisation and maybe joint purchasing;
Corporate savings of €90m mainly from the integration of the two sales and marketing structures; and
Cargo network rationalisation, which is expected to yield some €70m.
Will it work?
The synergy benefits identified above are probably as much aspirations as reasonable expectations, and similar numbers have been trotted out by other alliances as examples of their brilliant prospects. Some of these synergies have been achieved, other joint ventures have failed miserably, and overall it has proved to be very difficult to quantify the benefits of alliances.
Nevertheless, the KLM/Alitalia alliance is unique in that the two partners have committed to the overall strategic concept, have put in place a legal and economic framework and have hammered out many of the details of the joint venture. Now the implementation of the alliance basically depends on how well Dutch and Italian middle managers can work together. Perhaps not an obvious combination but important progress has already been made — the Italians have agreed not to use their mobiles during meetings and the Dutch have made concessions to the Italians' more civilised dining hours.
SAIR INVESTMENTS IN PAST 24 MONTHS
SAIR INVESTMENTS IN PAST 24 MONTHS
KLM
Pax ('000s)
Cargo ('000s tonnes)
Alitalia
Total
KLM
Alitalia
Total
Domestic
0
13,711
13,711
0
14
14
Intra Europe
8,096
7,351
15,447
58
25
83
N. Africa
140
353
493
5
4
9
Middle East
698
353
1,051
31
5
36
N. Atlantic
2,645
1,125
3,770
130
45
175
Other long-haul
3,410
1,284
4,694
232
52
284
Total
14,989
24,177
39,166
456
145
601
Domestic
0%
100%
100%
0
100%
100%
Intra Europe
52%
48%
100%
70%
30%
100%
N. Africa
28%
72%
100%
56%
44%
100%
Middle East
66%
34%
100%
86%
14%
100%
N. Atlantic
70%
30%
100%
74%
26%
100%
Other long-haul
73%
27%
100%
82%
18%
100%
Total
38%
62%
100%
76%
24%
100%