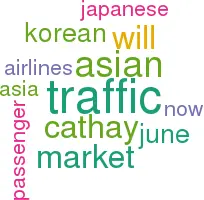 It may still be too early to claim that the Asian aviation industry has hit rock–bottom, but the market is making some significant adjustments.
Cathay Pacific (see Briefing, pages 9–12) is a type of lead indicator for the Asian industry. Its traffic collapsed before the rest of the Asian airlines were hit, but this June Cathay became the first Asian carrier to revert to traditional Asian growth rates — a 15.6% annual increase in RPKs. Before one gets too excited about this, it has to be said that the June 1997 traffic result was a decline of 12% on a year earlier, so Cathay is now scarcely back to June 1996 traffic levels.
The main reason behind the June traffic increase was the grounding of most of PAL's aircraft during the strike there. Besides capturing nearly all of PAL's traffic on Manila–Hong Kong, Cathay also picked up sixth freedom traffic from Europe to Australia and from North America to Southeast Asia. Although PAL is now operational, it is committed to permanent downsizing, and its Australian, European, Canadian and Middle Eastern routes remain suspended.
The bottom chart on the left shows the traffic and capacity trends (smoothed by using Moving Annual Totals) as reported by the AAPA. This shows capacity to be declining at a significantly slower rate than demand, but it is likely that the figures are distorted because the really distressed airlines are not reporting to AAPA. No numbers have come out of PAL, Garuda and MAS for many months now, and it is these carriers that have been forced into the most drastic disposals of equipment. SIA and Cathay will be the long–term beneficiaries.
A rather strange result has emerged from Seoul. Korean reports that it made a Won 58.4bn (US$44m) net profit in the first half of this year, this in a period when its passenger traffic fell by about 23% compared to 1997. The main explanation is that as most foreign airlines have abandoned the Korean market, Korean has been able to push up passenger yields, which are denominated in US dollars, at the same time as benefiting from lower fuel prices. Also cargo export volumes have been very strong, and Korean has been able to operate at a freight load factor of 78%, while its passenger load factor is stuck around 61%.
The intra–Asia market will not get moving again until it get a boost from Japanese travellers (remember that Japan's GNP is bigger than all the other Asian countries, including China and India, together). As the Japanese economy and financial sectors is mired in recession, the medium- term outlook does not look too bright. But there is a strong possibility that the Japanese travel market will be revitalised by the new wave of lower–cost new entrants in that market. The initial impact of Skymark, Pan Asia, Hokkaido International and JEX (JAL's low–cost subsidiary) will be domestic, but eventually it will spread to Japan's international markets.