Traditional charter AIT declines,
LCC AIT rises? October 2017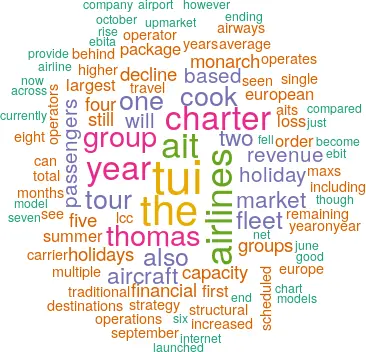 The fundamental decline in the traditional All-Inclusive Tour (AIT, which combines holiday accommodation and charter capacity) is continuing apace — but the big two European tour operators are trying to compensate by offering "differentiated" holidays with higher margins. How are they doing?
Available data clearly shows that the decline in traditional package holidays that began in the early 2000s shows absolutely no sign of halting. As can be seen in the chart, total charter passengers out of the UK yet fell again last year — for the 15th year in a row — and the 2016 total of 15.2m is well under half the 2001 figure of 34.5m charter passengers. And the fall is set to continue in 2017 — in the crucial summer months of July and August, UK charter passengers were a substantial 17.1% down on passengers flown in July and August 2016.
As further evidence, in terms of the split of scheduled versus non-scheduled capacity offered by UK airlines (see chart), non-scheduled ASKs also dropped yet again in 2016, to 10.5% — its lowest ever proportion — and is substantially down on the 37% that non-scheduled ASKs represented in 1989.
Internet power
As we have argued for years (see Aviation Strategy, June 2016, for our last analysis), the structural decline is relentless, thanks to the internet essentially destroying the legacy utility of the AIT by allowing anyone to research, build and book their own holiday packages of accommodation, flights, care hire (etc) from multiple suppliers online very easily.
High-street travel agencies that used to be as ubiquitous in the 1970s and 1980s as charity and mobile phone shops are today, have effectively been disintermediated — although of course there is a dwindling proportion of the population who still frequent these places for one reason or another (mostly an inability to use the internet, or a lack of time).
That remaining AIT-loving population is the fuel that keeps the two remaining behemoths of the European AIT industry — TUI and the Thomas Cook Group — going. Clearly though, with a structural decline in the traditional charter holiday business model, these two companies have been diversifying furiously and trying to build up "differentiated" holiday experiences and services that are harder to replicate online, and which (theoretically) have higher margins than the mass market package holidays of old.
The good news is that — after slow starts — both AIT giants are starting to reap the rewards of this upmarket strategy (which increases average revenue per customer); they also benefit from having multiple source markets (ie not just the declining UK market).
TUI turns the corner
In order to survive structural decline in the AIT market, TUI AG (the Hannover-based travel and shipping conglomerate) and UK-based TUI Travel (itself a merger of TUI AG's travel assets with UK-based tour operator First Choice in 2007) merged in December 2014 to become the world's largest integrated tour operator/tourism business.
The "new" TUI Group's strategy was clear — to become a globally-scaled, integrated vertical business in the AIT market, and move upmarket into more-defendable, higher margin segments (such as long-haul and cruises) with "exclusive content" — whether holiday packages, hotels or cruises
Excluding discontinued operations, in the 2015/16 financial year (ending 30 September), revenue fell 1.9% year-on-year to €17.2bn but EBITA was up 13% to €898m and net profit was up 14.1% to €465m. In the first three-quarters of its 2016/17 financial year — the nine-month period to end June 2017 — the TUI Group's revenue was €11.1bn (7.1% higher year-on-year), the EBITA loss was €52m (compared with a €104m loss in the first nine months of the previous year) and the net loss for continuing operations was €85m (-€271m a year earlier). However, note that northern hemisphere tour operators typically make a loss in all but the summer season. The group gives guidance of a 10% rise in EBITA in the latest financial year (the 12 months ending September 30th 2017).
As can be seen in the table, the critical summer 2017 holiday season has generally been good for TUI, although the large UK source market has been flat year-on-year in terms of passengers. However, average selling prices (ASPs) have increased, which is a confirmation that the more upmarket mix of AITs offered is proving popular with the rump of customers left in this market.
Elsewhere in Europe, increased ASPs have also been accompanied by a rise in the volume of passengers, thereby accelerating the growth in revenue.
Fleet overcomplexity
The TUI Group fleet currently stands at 152 aircraft (see table), and they carry around 13m passengers a year to more than 180 destinations around the world.
TUI Group currently has 56 aircraft on firm order, including 51 737MAXs, with five arriving in the 2017/18 financial year, 18 in FY2019, 15 in FY2020 and 13 in FY2021. The remaining orders are for 787-9s (one arriving in the remainder of FY2017, two in FY2018 and two in FY2020). TUI also has options for a further seven 737MAxs and a single 787-9, all of which are slated for FY2021 delivery if confirmed.
The aircraft operate within six core airlines, the largest of which is Luton-based TUI Airways, which has 62 aircraft including 33 737-800s, 14 757s, 11 787s and four 767s. It formally owns the group's future orders, and the growing 787 fleet is the key driver behind the parent company's expansion of long-haul AIT revenue. At TUI Airways the 787s will also replace 757s, which will be phased out by 2021.
The next largest carrier is TUIfly, based at Hannover airport and which operates four 737-700s and 27 737-800s. Completing the Group airlines are TUI Airlines Belgium (based in Brussels and previously known as Jetairfly until October 2016) with two A320s, six 737-700s, 18 737-800s, one 767, one 787 and four ERJ-190s; TUI Airlines Netherlands (Schiphol) with eight 737-800s, two 767s and three 787s; and TUIfly Nordic (Stockholm) with five 737-800s and a single 767.
The group also includes Orly-based Corsair International, with four A330s, one A340 and three 747s, which operates scheduled and charter routes to destinations in the Africa and the Americas, but which the Group still has not disposed of despite frantic efforts to offload the loss-making carrier.
As ever, even after ignoring Corsair, the five constituent airlines still contain seven different models, so the group's effort to reduce the number of variants is progressing painfully slowly. At the time of the merger in 2014 management also vowed that the multiple airlines would be rebranded under one TUI airline brand, but this process took far longer than ideal, with the largest airline — UK's Thomson Airways — only changing its name to TUI Airways in October this year.
Thomas Cook still behind
The other major European AIT company, Thomas Cook, has also embarked on a major strategic effort to differentiate its products, improve margins and offer (according to Peter Fankhauser, group chief executive) a "modern package and flight offer".
It's fair to say though that Thomas Cook reacted to the structural changes of the AIT market later than the TUI Group, and as a result the group's results are significantly behind those of its key rival.
In its last full financial year — 2015/16 (ending 30 September) — Thomas Cook's revenue fell by 0.3% compared to 2014/15, to £7.8bn, with EBIT down 2.8% to £205m and net profit down by 52.6%, to £9m. In the third quarter of 2016/17 (the three months to end June 2017), the group's revenue increased to £2.3bn (22.8% up year-on-year) while EBIT was £6m, compared with an EBIT loss of £25m in Q3 of the previous year.
But like its rival, Thomas Cook has had a good summer 2017 season (see table), although pressure in the UK market meant that AIT price rises were not possible (which effectively means a price cut, once inflation is taken into account — and the decline of sterling against the Euro has significantly increased costs for the major parts of the AIT product that are bought outside the UK, such as hotel capacity). The picture is better in all other European source markets other than Northern Europe, where a rise in bookings of 5% this summer was behind the UK rate.
Like TUI, the fleet is still overly-complicated at Thomas Cook, with four carriers operating a total fleet of 107 aircraft in six different models.
The marquee brand is Thomas Cook Airlines, based in Manchester and which has a 45-strong fleet that comprises five A320s, 24 A321s, eight A330s, one 737-300, five 757s and two 767s. Based at Frankfurt is Condor, which operates 11 A320s, eight A321s, 10 757s and 16 767s, while the other group airlines are Copenhagen-based Thomas Cook Airlines Scandinavia (eight A321s and four A330s), and Brussels' Thomas Cook Airlines Belgium (five A320s).
LCC AITs
What both TUI and Thomas Cook are struggling to achieve is make their legacy charter airlines become one single-branded, low cost carrier operation that can provide cheap seat capacity for their AIT operations.
That hasn't gone unnoticed by the LCCs, who have benefited significantly from the trend of consumers to assemble their own packages, and it's no surprise that the LCCs are also now launching their own tour operator subsidiaries to complete a pincer movement on the remaining charter tour operators.
easyJet Holiday was launched in 2011 before partnering with TUI's Hotelopia in 2014 to sell package holidays across multiple European markets. Ryanair was late to the game, but in December 2016 launched Ryanair Holidays across Europe in partnership with Spanish tour operator Logitravel and hotel room provider World2Mee.
Elsewhere, Jet2.com is an LCC based at Leeds Bradford airport in the UK that dates back to 1983 and today is owned by the Dart Group, a British aviation services and distribution company. It launched Jet2holidays in 2007 and has now became the UK's third largest tour operator.
It currently operates 74 aircraft — including one A321, one A330, 20 737-300s, 41 737-800s and 11 757s. The fleet has an average age of more than 17 years, and the airline has a further 18 737-800s on outstanding order to replace the 737-300s, which have an average age of more than 25 years.
Jet2.com's aircraft operate to almost 60 destinations across Europe from Leeds Bradford and 10 operating bases, including Alicante, with operations at Birmingham and London Stansted (its first base in southern England) launching in March 2017. Stansted will be the base for Jet2.com's first non-European route, to New York Newark that will start in November and utilise the airline's single A330.
As can be seen in the chart, AITs that use scheduled rather than charter capacity are rapidly growing, and are likely to overtake the dwindling volume of charter package holidays very soon. Whether scheduled AITs will provide enough utility to survive against "self-assembly" by consumers in the long-term remains to be seen, but in the short-term the LCCs will use the model to put even greater pressure on the charter operators.
Monarch decapitated
Meanwhile former UK charter carrier Monarch Airlines has now been put out of its misery and gone bankrupt. Based at London Luton airport and in existence since 1968, it struggled for many years before being acquired by London-based Greybull Capital in October 2014, just hours before its licence with the CAA expired.
Monarch operated a fleet of 10 A320s, 25 A321s and a single 737-800 to more than 40 leisure destinations. In 2014 (just a few days after the change of ownership) Monarch placed an order for 30 737 MAX-8s (plus options for a 15 more aircraft), for delivery from 2018 to 2020; in total Monarch's order book stood at 32 737 MAXs and seven 757s.
The airline's turnaround strategy was based on clearing out older models in its fleet at the time (such as the A330 and the 757) — which it had done — and eventually becoming a 737 MAX 8 specialist. It adopted an LCC model, though still provided significant seat capacity for its own UK outbound tour operation.
However, in 2016 Monarch requested a 12-day Atol licence extension from the UK CAA while it looked for emergency funding. The company survived that crisis, but ran short of cash again at the end of September this year. The administrators hope that the 4% of slots that Monarch represented at Gatwick may have some value. The rest of the industry hopes that its demise will provide potential for better financial returns.
TUI SUMMER 2017 BOOKINGS
Total
4%
3%
8%
Change on summer 2016
Average selling price
Customers
Revenue
UK
7%
Flat
7%
UK including Thomson Cruise
8%
1%
9%
Nordics
9%
5%
14%
Germany
3%
3%
6%
Benelux
2%
4%
7%
Note: As at Sep 24th compared with figures at the same date a year earlier.
THOMAS COOK SUMMER 2017 BOOKINGS
Total
1%
11%
Change on summer 2016
Average selling price
Bookings
UK
Flat
8%
Continental Europe
3%
13%
Northern Europe
4%
5%
Airlines Germany (Condor)
Flat
12%
Note: As at Sep 16th compared with figures at the same date a year earlier.
TUI GROUP FLEET
Total
8
62
(74)
31
31
13
6
151
(74)
Average age
17.1
9.1
9.1
8.6
9.1
10.1
9.4
Corsair
TUI Airways
TUIfly
TUI Airlines Belgium
TUI Airlines Netherlands
TUIfly Nordic
Total
Fleet
(Orders)
Fleet
(Orders)
A320
1
1
A330
4
4
A340
1
1
737-400
737-700
4
6
10
737-800
33
27
18
8
5
91
737 MAX
(70)
(70)
747-400
3
3
757-200
14
14
767-300ER
4
1
2
1
8
787-8
9
1
3
13
787-9
2
(4)
2
(4)
ERJ-190
4
4
THOMAS COOK GROUP FLEET
Thomas Cook Airlines
(UK)
Belgium
Scandinavia
Condor
Total
A320
5
5
11
21
A321
24
8
8
40
A330
8
4
12
737-300
1
1
757-300
5
10
15
767-300
2
16
18
Total
45
5
12
45
107
JET2.COM FLEET
| | In service | Orders |
| --- | --- | --- |
| A321 | 1 | |
| A330 | 1 | |
| 737-300 | 20 | |
| 737-800 | 41 | (18) |
| 757-200 | 11 | |
| Total | 74 | (18) |
MONARCH AIRLINES FLEET
| | In service | Orders |
| --- | --- | --- |
| A320 | 9 | |
| A321 | 25 | |
| 737-800 | 1 | |
| 737 MAX 8 | | 45 |
| Total | 35 | 45 |