Latest thinking on
Brexit options October 2017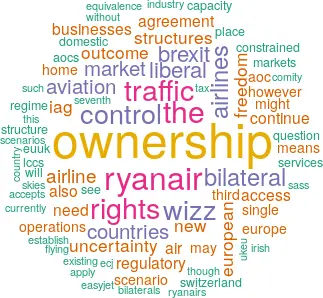 As the UK stutters towards Brexit in March 2019, companies and industry bodies are demanding clarity on the process and the outcome. They are not receiving much from either the UK government nor the EU. The airline sector faces one of the most difficult transitions — from a logical, generally smooth-working Single European market to a regressive situation in which we have to (re)learn the meaning of the more esoteric "Freedoms" and manipulate transnational airline ownership structure to fit in with the new reality.
The optimal outcome would of course be the retain the status quo. But there is only a very slim chance of that happening; though there is the outside possibility of a new referendum on the reality (as opposed to the rhetoric) of leaving the EU, which the latest polls suggest would return a Remain decision.
That may be wishful thinking. In the meantime, Andrew Lobbenberg, airline equity analyst at HSBC, has carried out an insightful examination of the regulatory options. His report Brexit and airlines: Uncertainty, long to reign over, HSBC, October 2017 lays out seven possible scenarios, ranging from a "soft" Brexit through some varieties of middling and hard Brexits to an extreme "hard" Brexit.
The Scenarios
1) UK regains access to EU Single Aviation Market
For the interests of the airline and tourism industries and for EU and UK consumers, the best case outcome is a UK-EU bilateral that recreates the liberal traffic rights that exist today, together with an equivalence of UK and EU airline ownership. This would preserve the traffic rights for all airlines, with the possible exception of domestic operations in third countries. This would also enable existing airline corporate structures to continue.
The challenge is to see how this can be achieved. Norway has this unfettered access to the EU aviation market, but accepts ECJ (European Court of Justice) rulings and the free movement of people. Switzerland has a similar bilateral agreement, without access to domestic markets. Switzerland accepts the authority of the European Commission (DG Comp) on Swiss-EU aviation M&A matters, but not broad ECJ governance. Switzerland also allows free movement of people, though this is not explicitly linked to the aviation agreement.
So it is not clear how such a benign outcome might be achieved given the broader political context and the UK government's sensitivities over ECJ authority and migration controls. Lufthansa and Air France are arguing that, post Brexit, the UK should be only granted full access to the EU aviation market, if it accepts the same rules and obligations as EU countries.
2) EU-UK bilateral, liberal ownership and control provisions, constrained traffic rights
If the EU-UK bilateral aviation agreement falls short of replicating the existing open skies agreement, there are two near liberal scenarios.
In this scenario of liberal ownership and control provisions, we could see a structure that treats UK and EU ownership as equivalents, but which places constraints on traffic rights, allowing unrestricted third and fourth freedom access between the UK and EU member states, but without fifth or seventh freedom traffic rights and without access to domestic.
Such a solution would sustain the ownership structures of those carriers with potentially vulnerable ownership: IAG, Ryanair and Wizz. It would also enable Air France-KLM's investment in Virgin.
However, to sustain traffic rights between the UK and EU markets that are not their home countries, Ryanair and Wizz would need to establish UK AOCs, but there would not be any need to prove UK ownership of the UK subsidiaries. The UK tax rate is notably higher than Irish and Swiss tax rates that currently apply to their respective businesses.
Unionisation is also common-place in the UK airline industry. The existing Ryanair and Wizz operations are not unionised.
SAS's new Irish subsidiary would be unable to operate SAS's Heathrow-Scandinavia flights and it too would need to establish a new UK carrier.
3) EU-UK bilateral with liberal traffic rights, constrained ownership and control
The second near liberal scenario envisions liberal traffic rights, allowing seventh freedom traffic rights to UK and EU airlines, but the loss of equivalence to UK and EU ownership.
Such a solution would see traffic rights maintained for UK and EU airlines, with the exception of domestic services. Ryanair, Wizz and Vueling seventh freedom services would continue, and SAS's new Irish AOC could operate from Heathrow.
However, the ownership structures of IAG, Ryanair and Wizz would be challenged. The present ownership structures would see Ryanair and Wizz uncertain of EU ownership and control, placing at risk their EU AOCs. Buybacks or forced sales of UK-owned shares would be necessary.
Ryanair has floated the option of disenfranchising UK shareholders: conceptually this could secure EU control of Ryanair, but it would not address the ownership constraint. The licensing requirement in the legislation refers to majority EU ownership and control, not EU ownership or control.
For IAG the EU ownership and control of Aer Lingus, Vueling and Iberia would be in question. In this circumstance, IAG may need to demerge into IAG UK (British Airways) and IAG Europe. Air France-KLM's investment into Virgin would be at risk.
4) A basic UK-EU bilateral
The more basic outcome might be a UK-EU bilateral with constrained ownership and control and constrained traffic rights. It might allow for liberalised third and fourth freedom services from the UK to EU member states for national airlines of those countries, but not airlines of third countries. It would not establish equivalence for UK and EU ownership.
Such a scenario would still call into question the traffic rights of Ryanair, Wizz on routes from the UK to points other than their home markets. This scenario would also call into question the ownership structures of IAG, Ryanair and Wizz.
That said, with at least a defined regulatory regime, companies would have some confidence to undertake corporate restructuring to mitigate the constraints. The carriers would probably need to demerge into UK and EU businesses, with ownership structures that illustrate EU ownership and control of the EU businesses. Whether demonstrable UK ownership of BA, Wizz UK and Ryanair UK were needed would depend on UK policy, which might take a liberal stance towards ownership and control. As noted above, the establishment of UK subsidiaries could have tax and industrial relations consequences.
5) National bilaterals
If the EU and UK fail to reach any bilateral agreement, there would be massive uncertainty for the aviation industry. Ryanair's stated view that this would ground air travel between the UK and the EU, but there are too many vested interests that benefit from air transport to and from the UK for this to be a likely outcome.
The regulatory structure might fall back to the legacy bilateral agreements in place before the establishment of the single market. As the UK was the arch proponent for aviation liberalisation, most bilateral agreements were very liberal. Flying would continue, but subject to massive uncertainty, with pan-European operators like Ryanair and Wizz being restricted to services to their home markets of Ireland and Hungary from the UK.
The ownership structures of IAG's EU airlines, as well as Wizz, and Ryanair would be in question. These pan-European businesses could defend traffic rights by demerging into UK and EU businesses. Yet, with a less stable regulatory regime, the risks of establishing UK businesses would be greater, and there may be a greater need to demonstrate genuine UK ownership and control of UK AOC airlines.
6) Comity and reciprocity
The alternative to falling back to legacy bilaterals could be that operations continue on the basis of "comity and reciprocity", the established aeropolitical concept which allows airlines to continue trading with schedules and capacities as they have been, subject to any adjustments agreed mutually by the countries. However, this structure historically applied in the old bilateral regulatory regime. It would be uncharted territory to apply this in a multilateral market.
Compared with operational planning in the deregulated era, such a scenario would place extreme administrative burdens on both airlines and regulators.
7) Empty skies
Ryanair's stated view is that the failure to negotiate an EU-UK agreement would ground air travel between the UK and the EU, and one echoed disturbingly by the UK Chancellor of the Exchequer. However, this (temporary) outcome cannot be excluded with absolute certainty.
Brexit: Quantifying the Zones of Uncertainty
These tables represent Aviation Strategy's attempt to highlight the impact of Brexit on airlines (LCCs only) and market segments (measured in terms of total scheduled seats in 2017).
First some geographical definitions: Home base means country where the airline is legally established; Europe now means EU 27 (minus UK) plus EEA (Norway, Switzerland, Iceland); Others mean countries outside Europe (US, Egypt, Israel, Russia, etc); Europe International means, for example, Ryanair flying Brussels-Athens (so-called 8th Freedom); Europe Intra-country means, for example, easyJet flying Milan-Rome (9th Freedom or Cabotage); and UK still means GB and N. Ireland (though NI may possibly end up as a special EU zone)
Uncertainty comes in various degrees, but is likely that close of half of the LCC business, which has depended on the Single European Market, will face some form of disruption; in the tables the affected segments are marked in red.
It is hoped that operations from the home country bases of the LCCs and the UK, as well as other European countries will revert, under Comity or some another negotiated arrangement, to liberal Bilaterals on Brexit day (and Ryanair's intra-UK flights will continue); but there are no guarantees and, if this doesn't happen, the very worst fears about Brexit will be realised.
UK-Europe operation where the LCC fly between the UK and a third European country is a major area of uncertainty, impacting in particular Ryanair (29% of capacity) and Wizz (23%), as these traffic rights currently depend on the Single Market. Some 45% of easyJet's capacity is between the UK and European — these routes may be secure but again there is no regulatory framework currently in place.
Norwegian's business model partly depends on a smooth transition from US-EU open skies to a new US-EU plus UK regime; only 3% of Norwegian's seat capacity but a much larger proportion of its revenues.
The EU/EAA LCCs do not have to worry about the other intra-European and ex-European operations, but easyJet does. Another 45% of its capacity is within this zone of uncertainty, and 9% is Cabotage, the most vulnerable segment of all.
easyJet has a mitigation strategy in place through the use of multiple AOCs — it has a Swiss AOC (as the result of buying TEA many years ago) has obtained an Austrian AOC to maintain EU status. Ryanair and Wizz are applying for UK AOCs. However, there are then issues of beneficial control in the new AOC countries, and lots of opportunities for the Euro-Majors to frustrate the LCCs' plans.
Michael O'Leary is fully justified in his frustration with Brexit. In fact, he is being quite restrained.
AEROPOLITICAL SCENARIOS
| | | | Concept | Traffic Rights | Ownership and Control | Complications | Implications |
| --- | --- | --- | --- | --- | --- | --- | --- |
| 1 | UK access EU Single Aviation Market | Soft Brexit | UK re-incorporated into EU Single Aviation market, similar to Norway or Switzerland | Unrestricted 3rd, 4th, 5th and 7th freedom rights for UK and EU carriers within EU and UK. Domestic flying (8th/9th freedom) probably excluded. | UK ownership and control granted comparable status to EU ownership and control | How can it be delivered, given ECJ and free movement of labour are major concerns for the UK government | Traffic rights broadly sustained, except for 8th/9th freedom domestic flying. Ownership structures sustained. UK-EU airline split would defend full traffic rights. |
| | | | | | | | |
| 2 | EU-UK Bilateral Agreement,liberal ownership provisions | Mid to Soft Brexit | EU UK bilateral agreement falling short of effective UK re-entry to Single Aviation Market | Unrestricted 3rd/4th freedom between UK and EU member states. No 5th or 7th freedom services Domestic flying (8th/9th freedom) probably excluded | UK ownership and control granted comparable status to EU ownership and control | | Seventh freedom operations not allowed to/from UK. Current Pan European ownership structures sustainable, but to access UK EU routes, Pan European operators would need UK subsidiaries. |
| | | | | | | | |
| 3 | EU-UK Bilateral Agreement,liberal traffic rights | Mid to Soft Brexit | EU UK bilateral agreement falling short of effective UK re-entry to Single Aviation Market | Unrestricted 3rd, 4th, 5th and 7th freedom rights for UK and EU carriers within EU and UK. Domestic flying (8th/9th freedom) probably excluded. | UK ownership does not contribute towards EU ownership | | Traffic rights broadly sustained, except for 8th/9th freedom domestic flying. Pan European ownership structures unsustainable. |
| | | | | | | | |
| 4 | EU-UK Basic BilateralAgreement | Mid Brexit | EU UK bilateral agreement falling short of effective UK re-entry to Single Aviation Market | Unrestricted 3rd/4th freedom between UK and EU member states. No 5th or 7th freedom services Domestic flying (8th/9th freedom) probably excluded | UK ownership does not contribute towards EU ownership | | Seventh freedom operations not allowed to/from UK. Current airline ownership structures unsustainable. Demerger of UK airlines from Pan European groups. |
| | | | | | | | |
| 5 | National Bilaterals | Hard Brexit | No EU UK aviation agreement. Reversion to bilateral structures | 3rd and 4th freedom services only, subject to bilateral negotiations. No 5th or 7th freedom services Domestic flying (8th/9th freedom) probably excluded | UK ownership does not contribute towards EU ownership | Certain EU states cancelled bilaterals so no historic agreements to fall back on | Seventh freedom operations not allowed to/from UK. Current airline ownership structures unsustainable. Possible demerger of UK airlines from Pan European groups. |
| | | | | | | | |
| 6 | Comity and reciprocity | Hard Brexit | No EU UK aviation agreement. Comity and reciprocity | Existing flight operations continue, new routes subject to ad hoc approvals | UK ownership does not contribute towards EU ownership | Concept is established in the bilateral environment. Unclear how functions in multi-lateral environment | Existing route rights sustained, but no clarity for future growth. Current airline ownership structures unsustainable. Uncertainty would severely restrict investment. |
| | | | | | | | |
| 7 | Empty Skies | Very Hard Brexit | Flights grounded | None | UK ownership does not contribute towards EU ownership | A temporary grounding could trigger debate to deliver a more liberal long term outcome | Unlikely to last long |
ESOTERIC "FREEDOMS" OF THE AIR
| | |
| --- | --- |
| Seventh freedom: | The carriage of traffic between two foreign countries as a free standing service |
| | eg Ryanair flies from Frankfurt to Faro |
| | |
| Eighth freedom: | The carriage of traffic on a domestic route within a foreign country as part of a service to or from your country; also known as consecutive cabotage |
| | eg Singapore Airlines carrying traffic between London and Manchester as part of a Singapore-London-Manchester service (hypothetical) |
| | |
| Ninth freedom: | The carriage of local traffic on a domestic route within a foreign country as a standalone service; also known as cabotage |
| | eg easyJet carries traffic from Paris to Toulouse |
| | |
BREXIT AND LCC ZONES OF UNCERTAINTY
| | Ryanair | easyJet | Norwegian | Vueling | Wizz | TOTAL |
| --- | --- | --- | --- | --- | --- | --- |
| Seats millions 2017 est | Ireland (EU) | UK | Norway (EEA) | Spain (EU) | Hungary (EU) | |
| Home base to/from UK | 8.2 | na | 1.1 | 2.0 | 1.0 | 12.3 |
| Europe to/from UK | 40.9 | 39.4 | 3.5 | 1.0 | 7.0 | 91.8 |
| UK Domestic | 1.6 | 9.2 | na | na | na | 10.8 |
| Other to/from UK | 0.4 | 1.5 | 1.2 | na | 0.1 | 3.2 |
| Within Europe International | 62.1 | 28.7 | 24.9 | 30.1 | 20.2 | 166.0 |
| Within Europe Intra-country | 24.0 | 7.8 | 5.3 | 0.8 | 0.3 | 38.2 |
| Other to/from Europe | 3.1 | 1.0 | 2.2 | 1.3 | 2.5 | 10.2 |
| TOTAL | 140.3 | 87.6 | 38.3 | 35.2 | 31.1 | 332.5 |
| UNCERTAIN ZONE | 51.1 | 78.4 | 5.8 | 3.1 | 8.2 | 146.5 |
| | | | | | | |
| | Ryanair | easyJet | Norwegian | Vueling | Wizz | TOTAL |
| | Ireland (EU) | UK | Norway (EEA) | Spain (EU) | Hungary (EU) | |
| Home base to/from UK | 6% | | 3% | 6% | 3% | 4% |
| Europe to/from UK | 29% | 45% | 9% | 3% | 23% | 28% |
| UK Domestic | 1% | 10% | | | | 3% |
| Other to/from UK | 0.3% | 2% | 3% | | 0.4% | 1% |
| Within Europe International | 44% | 33% | 65% | 85% | 65% | 50% |
| Within Europe Intra-country | 17% | 9% | 14% | 2% | 1% | 11% |
| Other to/from Europe | 2% | 1% | 6% | 4% | 8% | 3% |
| TOTAL | 100% | 100% | 100% | 100% | 100% | 100% |
| UNCERTAIN ZONE | 36% | 90% | 15% | 9% | 26% | 44% |
Source: Aviation Strategy