Qatar Airways: Riyal
impact of embargo October 2017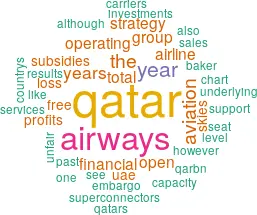 Qatar Airways — the second largest of the Gulf superconnectors — proudly states that it has grown by an annual average compound rate of 28% in the 20 years since its founding, and that it is profitable. It has not stinted on growth in recent years either, having increased total capacity in terms of ASKs by 20% a year in each of the past three financial years. Initial schedule filings suggested that it had planned to grow by more than 10% in the current year. And then in June, Qatar was ostracised by its neighbours.
The airline has not been particularly open about its financial affairs — as the state-owned flag-carrier of Qatar it has been under no obligation to be so. However, it published its first publicly available set of report and accounts for the Qatar Airways Group last year covering its financial year to end March 2016, primarily as an attempt to provide a riposte to the criticisms of unfair subsidies from the US "Partnership for Free and Open Skies". (Previous years figures for the Qatar Airways QCSC bizarrely had been available through the Australian Securities and Investments Commission). Qatar Airways followed this summer with its second public report for the latest financial year to end March 2017.
The headline figures sounded good. The group CEO, HE Akbar al Baker, stated that profits attributable to the owner had increased by 22% to QAR1.97bn ($528m) on the back of a 10% increase in revenues to QAR39bn ($10.3bn) while the number of passengers flown grew by 20% to 32m — although published operating profits had fallen by a third to QAR2bn.
However, the underlying results are anything like as positive. Unit revenues appear to have fallen by 10% in the year while units costs only declined by 6.5%. The group includes various irregular items at the operating level — including some $575m in profits on asset sales (mostly aircraft it has sold and leased-back). In underlying terms the Group appears to have generated an operating loss of $490m compared with a loss of $150m in the previous year and a pretax loss of $46m, down from a profit of $127m.
In total it looks as if the company has managed to lose some $2bn at the underlying operating level in the past six years (see chart).
Qatar Airways's high rate of growth has added to the apparent overcapacity in the region and has no doubt had its impact on both Emirates and Etihad (see Aviation Strategy Sept 2017). Qatar Airways does not publish detailed passenger statistics, nor does Doha airport (which it manages). However, as the chart shows passenger numbers through Qatar have tripled in the past ten years to over 30mppa — and this is for a nation with 360,000 citizens and a total population of around 2.7m (but the highest GDP per head of any country in the world). Qatar Airways accounts for over 70% of the throughput, of which around 85% transfers.
One of the risks for all of the superconnectors is geopolitical, and in June Saudi Arabia, the UAE, Bahrain and Egypt removed all diplomatic ties with Qatar, in the process banning all travel (and use of their airspace to airlines registered in Qatar). Apart from the aggravation that this provides Qatar Airways in extending route timings — particularly on its services to sub-Saharan Africa and South America, adding an uncompetitive extra hour or two flight times, it is a severe blow to to its expansion plans. Qatar Airways gains a significant level of feed to its long haul routes from services to the region now closed off.
Roughly 20% of Qatar Airways' total seat capacity in 2016 (but only 3% of ASKs) was to destinations in the countries that imposed the embargo. In the chart we show the carrier's top routes by seat numbers scheduled. Dubai (both DXB and DWC) is by far the largest accounting for 6% of Qatar's total seat capacity, but Saudi Arabian services overall are the next most important accounting for 3.5%. A rough calculation suggest this could remove at least 10% of Qatar's feed traffic, severely undermining the hub economics at Doha.
Unfair subsidies?
This publication of the 2017 results may have added support to the US majors' arguments.
The Partnership for Free and Open Skies have been even more aggressive in their analysis than we have. Deducting (possibly unfairly) profits from duty free sales, its alcohol distribution monopoly and its hotel operations, the campaign group suggests the airline suffered an operating loss of $703m in the period. It states with the usual emotional rhetoric that "Even with nearly half-a-billion dollars in new subsidies and marked-up alcohol and duty free sales, Qatar Airways remains one of the worst performing global airlines, on par with failing carriers like Air Berlin and Alitalia."
The US majors' campaign to rescind the Open Skies agreements with Qatar and the UAE for "unfair subsidies" has been gathering increasing support in Congress; and the White House with its mercurial incumbent could make a pronouncement either way (and probably through Twitter).
Meanwhile, the EU Commission had been mandated to discuss an Open Skies regime with Qatar (as with the UAE) with discussions apparently starting a year ago. This was before the adoption of the EU's new Aviation Strategy, and Brussel's acceptance that the UK (which has generally been a liberalising force on aviation within EU political circles) will be leaving the bloc. As the next article in the current issue of Aviation Strategy implies, it is possible that the more protectionist attitudes of Air France-KLM and Lufthansa will have more sway in denying greater freedom of access.
Qatar Airways flies the flag
The group's financial results are almost irrelevant. Qatar Airways claims to be (and probably is) an efficiently run airline — al Baker has a strongly focussed, and sometimes arrogant style. But the airline in reality is not subject to strictly commercial disciplines from its owner. It exists as the aviation arm of the state of Qatar, and is an integral part of the country's desire to create an economy parallel and eventually superceding the country's fossil fuel dependency (although Qatar's reserves are likely to long outlast its neighbours in the UAE).
It is also very closely linked with the aims and ambitions of the country's sovereign wealth fund to diversify investment returns for the Emirate. Like Eithad it has made investments in other aviation assets (see Aviation Strategy Sep 2017) but in contrast on the whole has chosen quality vehicles. It is the only one of the superconnectors to have joined a GBA — oneworld — and its investments generally reflect its attachment. It holds a 20% stake in IAG, the parent of British Airways (the Qatari Wealth Fund also holds a 20% stake in Heathrow of which al Baker is a director), and 10% of LATAM. It essayed a 10% investment in American but retired rebuffed. It has also taken a 49% holding in Italian carrier Meridiana (although the rationale for this remains to us obscure).
There is nothing that convinces a government more of the importance of its national airline than the imposition of an embargo. It is likely that the owner's support for the carrier's strategy has been strengthened rather than weakened.
QATAR AIRWAYS FLEET
In service
Orders

Passenger

A319
2
A320
39
(30)
A321
8
(16)
A330
26
A340
4
A350-900
21
(24)
A350-1000
(37)
A380
8
(2)
777-200/300
45
(12)
777X
(60)
787-8
30
787-9
(30)
Total Passenger
183
(181)

Cargo

A330-200F
8
747-8F
1
777-200F
13
(3)
Total Cargo
22
(3)
Total
205
(184)