Southwest begins new
international chapter October 2015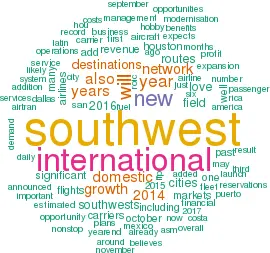 Southwest Airlines, the largest US carrier in terms of domestic passengers, reached another significant milestone on October 15, when it began daily flights to six destinations in Mexico, the Caribbean and Central America out of its brand new international terminal at Houston Hobby.
With a few more destinations from HOU following by year-end and more cities likely in 2016, together with plans to add international service out of Baltimore and Fort Lauderdale-Hollywood (FLL) in 2017, it is clear that Southwest's near-to-medium term growth efforts will focus on the international arena.
However, Southwest also currently expects to moderate its ASM growth to around 5-6% in 2016, compared to this year's 7%, mainly to allow its network to mature after significant expansion in 2014 and this year. Southwest has added something like 90 new routes since April 2014.
While Southwest continues to report stellar profits, has met or exceeded all of its financial targets and continues to have an exceptionally strong balance sheet, the past 12-15 months have been extremely eventful for the carrier.
2014 was a historic year, with three important milestones. First, Southwest became an international operator in July 2014, when it took over the first of AirTran's near-international services. The AirTran-to-Southwest international conversion was completed in November 2014, and in the first half of 2015 Southwest added two new international destinations — San Jose (Costa Rica) and Puerto Vallarta (Mexico).
Second, October 2014 saw the full expiration of the Wright Amendment — an unusual 1979 piece of legislation that had limited nonstop flights from Southwest's home base at Dallas Love Field to Texas and a handful of nearby states. It was the culmination of an eight-year process to relax the restrictions, stipulated by a reform act passed by Congress in 2006.
Southwest was suddenly free to fly to any US destination from Love Field. It jumped at the opportunity. Since October 2014 Southwest has increased the number of cities it serves from Love Field from 16 to 50 and grown its daily departures from 118 to 180. In September its passenger numbers at Love Field were 78% higher than a year earlier.
Last year's third major milestone was the completion of the AirTran integration by year-end 2014, following the May 2011 acquisition and somewhat challenging initial year. It meant the retirement of the AirTran brand.
In addition to those three milestones, Southwest got an opportunity in 2014 to enter and build a substantial presence at Washington Reagan National (DCA), thanks to the American-US Airways slot divestitures.
A year ago, to signal the expanded US footprint and new international capabilities — while retaining the original 1971 purpose of providing "friendly, reliable and low-cost air travel" — Southwest also unveiled a new "Heart" livery, branding and logo.
Recent weeks have been extremely eventful at Southwest. There were the opening ceremonies of the $156m international concourse at Houston Hobby, which was entirely paid for by Southwest, and the launch of the six new international routes on the same day.
A week earlier, Southwest held its annual media day, giving the world's journalists tours of the new facilities and no doubt fielding endless questions about growth plans.
In early October Southwest also launched a new advertising campaign called "Transfarency", which highlights the airline's "low-fare credo and its lack of bag fees, change fees or hidden fees for passengers".
Among the less desirable management diversions, Dallas Love Field has been experiencing gate constraints and congestion issues. In a highly unusual turn of events, Southwest and Delta have been in federal court fighting over Delta's part-time use of one Southwest gate at the airport.
Other than network expansion, big projects on the horizon include a new reservations system in 2016 or 2017, which will facilitate significant passenger service improvements, revenue enhancements and perhaps more codesharing deals. The management is not yet ready to indicate the timing of the switchover.
In addition to funding Houston Hobby, Southwest is making significant investments in airport infrastructure at Los Angeles and FLL. At the latter, Southwest is overseeing $295m of investments to upgrade T1, which it plans to use to launch international expansion in 2017.
Southwest is also investing heavily on the operations side, aimed at improving the reliability of its operations.
Currently, there appear to be no product enhancements in the works. A few years ago, Southwest moved past the "one size fits all" approach, in particular to appeal more to the business customer. It went through a multi-year process to develop the technology necessary to support the new ancillary revenue streams. The result was up-sell products such as "EarlyBird" check-in and "Upgraded Boarding" that continue to be hugely successful.
International plans
Southwest has moved characteristically cautiously to the international arena. The 2014 AirTran-to-Southwest route conversions were the result of three years' efforts by Southwest to upgrade its reservations systems to handle international flights, learn from AirTran's international experience and best practices, and convert aircraft and train employees.
Southwest said at that time that the international transition took so long because the company found itself tackling "by far the largest technology project that we ever had".
The six new international routes introduced from Hobby on October 15 were to four cities in Mexico (Cancun, Mexico City, Puerto Vallarta and Los Cabos), as well as San Jose (Costa Rica) and Belize City. The latter was a new destination, Southwest's 96th city. Liberia (Costa Rica) and Montego Bay (Jamaica) were due to follow on November 1. Southwest will also launch seasonal service from HOU to San Juan (Puerto Rico) and Aruba.
By year-end 2015, Southwest expects its total international network to cover 12 destinations in eight countries, served from 12 US cities. But that will only account for around 2% of the airline's total capacity.
Southwest has not yet announced any international plans for 2016, though the management estimates that 1-2 points of the anticipated system 5-6% ASM growth in 2016 will be international.
Southwest believes that the overall international opportunity is significant.
Some analysts have speculated that international operations could account for 20% of Southwest's ASMs in 5-8 years' time. But Southwest executives have given the impression of having a more modest goal. Or they simply do not know, because it will depend on so many factors, including the extent of domestic growth opportunities.
A recent Bloomberg article quoted a Southwest vice-president saying that non-US destinations were the carrier's only option to expand its network, which implied that Southwest was beginning to reach the limit of its domestic expansion.
Kelly clarified the matter in the Q3 call, drawing a distinction between ASM growth and the addition of new destinations. Domestically, with 85 mainland cities already in the network, Southwest will not be able to add many more dots. But Kelly believes that there is significant opportunity to "connect the dots". He estimated at the media day that Southwest could add 50 more domestic routes to its current 97 routes, but he was vague about the timing: "It may not be in five years, it may not be in 10 years and it may not be in 20 years, but that is our overall opportunity".
Kelly believes that there could be domestic growth opportunities especially in short-haul markets, where demand fell sharply after 9/11 but now appears to be starting to come back. If demand in such markets recovers to pre-2000 levels, there could be many opportunities for Southwest to add frequencies.
Kelly put it as follows: "Over time, I think most of our growth opportunities will skew towards the domestic. But all of the new destinations will be international". The stronger the domestic network, the better the feed to the international services (and vice versa). Being the nation's number one carrier in terms of domestic passengers makes Southwest well positioned to be successful in the international markets.
Southwest's credentials also include its cost advantage, which has narrowed a little in the past decade (as the workforce has aged and as the carrier has entered more expensive and congested primary airports) but is still estimated to be 30-40% over the network carriers.
The Southwest brand is likely to be just as highly regarded internationally as in the domestic market. Southwest offers an attractive product to both the leisure and business traveller.
It has been suggested that even though Southwest is not a major threat to the network carriers, it can win the business traffic in cities where it is the leading airline. As industry consolidation has led to a reduction in the number of hubs, Southwest is now the top airline in many cities, including San Diego, Las Vegas, St. Louis, Nashville, Baltimore, Tampa and Orlando. Having international routes is important to FFP members, many of whom are business travellers, and to Southwest employees.
International operations bring new challenges and risks, including higher costs, more complexity and possibly tougher competition. But other North American LCCs, which began venturing into Mexico and the Caribbean a decade or so ago, have benefited enormously from those operations. JetBlue has said that the routes require minimal investment, become profitable quickly and are recession-resistant because of the VFR traffic.
At Houston, Southwest is now competing internationally with United, which Kelly noted had had a "monopoly" of flights to the south. United of course operates from Houston IAH but will be matching Southwest's fares when necessary. FLL, where Southwest plans to expand from 2017, is a Latin America/Caribbean gateway for both Spirit and JetBlue.
But Southwest thrives on head-to-head competition with other carriers. As always, it has planned things meticulously and is moving cautiously. The initial international expansion from Hobby was mainly to destinations that Southwest already served from other US points. The carrier is reportedly also initially requiring that all international tickets are purchased through its website, which means that it will avoid any currency headwinds.
Southwest will not be able to operate international flights from Dallas Love Field, because the Wright Amendment's international nonstop restrictions continue to apply. But Houston, with its sizable Latin population and large local market, makes an excellent gateway to Latin America. Southwest already operates extensive domestic service out of HOU. Its new international concourse has five gates, with an estimated capacity of 25 daily departures.
Promising financial outlook
Southwest has produced 43 consecutive years of profitability (including 2015). Until recently there was just one issue: the airline was not meeting its financial targets (15% ROIC and the like).
But a seven-year growth suspension (2008-2014) and especially a batch of strategic initiatives announced in 2011 (the AirTran merger, fleet modernisation and upgauging, an all-new "Rapid Rewards" FFP) did the trick. Southwest earned a 19% pretax ROIC in the 12 months ended September 2014 — up from 10.6% a year earlier.
Like other US carriers, Southwest has benefited enormously from the sharp fall in fuel prices this year. In the third quarter of 2015, it earned a record $1bn adjusted operating profit and an ex-item net profit of $623m (20.3% and 12.1% of revenues, respectively). Pretax ROIC in the 12 months ended September was 31.1%.
But it was not just because of fuel. Southwest also benefited from good non-fuel cost controls, a solid overall revenue performance and a significant contribution from Rapid Rewards FFP (which the management has described as a "phenomenal success").
Demand has continued to be strong throughout Southwest's network, as was indicated by the carrier's record 85.4% load factor in the third quarter. Southwest's RASM also held up relatively well, despite a longer average stage length, higher average gauge, a large number of markets under development (18% operated for less than a year) and a softer yield environment.
The new Dallas Love Field markets added in the past year have performed exceptionally well, reflecting pent-up demand for the nonstop services. Almost every route has been a financial success right from the start.
As a result, Southwest has paid a record $484m in profit sharing to employees so far this year. It has also returned to shareholders (via dividends and stock repurchases) as much as $1.4bn of the $1.6bn free cash flow generated in the first nine months of 2015.
Southwest has also repaid $170m in debt and capital leases this year. It benefits from an investment-grade balance sheet, with lease-adjusted leverage only in the low-to-mid 30% range. Credit rating upgrades are likely over the next year.
The fleet modernisation programme remains on track and is estimated to have produced $700m in EBIT this year, even with the fall in fuel prices. Southwest expects to operate a 700-strong fleet at year-end and add roughly 15 aircraft in 2016 (see table for details of the delivery schedule).
This year's total capital spending is around $1.8bn, of which $1.1bn is for aircraft. Next year's capex is projected to be about $2bn, including $1.3-1.4bn for aircraft.
On the negative side, Southwest faces some cost pressures in 2016. Labour costs will increase if the pilots ratify a recently announced tentative agreement (the results are expected November 4). There will be costs associated with the reservations system implementation. But some of the hikes will be offset by ongoing benefits from fleet modernisation and the restoration of aircraft utilisation to historic levels (after a temporary decline during the merger integration).
Southwest's Q3 revenue data and Q4 projections were skewed by huge special revenue benefits from an amended co-branded credit card agreement with Chase. But one analyst calculated that the airline was projecting a 2.4% decline in core passenger RASM in Q4, which was an improvement over Q3's 4% decline.
The fact the Southwest is moderating growth and allowing its network to mature bodes well for favourable unit revenue and profit margin trends in 2016.
Southwest expects the percentage of markets under development to come down from September's 18% to 4-5% a year from now — a typical level for other US airlines. LCCs such as JetBlue and Virgin America have in the past demonstrated how important that particular measure is for an airline's profitability.
SOUTHWEST'S AIRCRAFT DELIVERY SCHEDULE
737NG
737MAX
-700
-800
Options
Extra -700s
-7
-8
Options
Total
2015
19
24
43
2016
31
15
46
2017
15
12
14
14
55
2018
10
12
4
13
39
2019
15
10
25
2020
14
22
36
2021
1
33
18
52
2022
30
19
49
2023
24
23
47
2024
24
23
47
2025
36
36
2026
36
36
2027
36
36
Total
25†
50
24
57
30
170‡
191
547
† Southwest has flexibility to substitute 737-800s for 737-700 firm orders.
‡ Southwest has flexibility to substitute MAX 7s for MAX 8 firm orders beginning in 2019.
As of Sept 30, Southwest had taken delivery of 13 737-800s and 16 737-700s this year.