Leasing survey: More strong growth, looking peaky
– but is the peak approaching? October 2015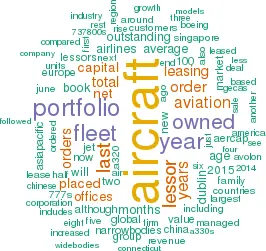 It has been another 12 months of growth for the global jet leasing industry — the fleet of the top lessors has risen 2% in a year and outstanding orders are up by almost 10%.
However, while strong market demand in the leasing industry is being driven by rising passenger growth and lower oil prices, inevitably the next market peak is approaching.
Just as inevitably, though, there is no consensus as to when that might be — speak to various leasing CXOs and their estimates range from 2016 to 2026, and all points in-between. The most common view, however, is that the peak is not imminent. For example Domhnal Slattery, CEO of Avolon, says that "the used aircraft market is firm and vibrant; there just isn't a lot of used, young equipment around, and so the market feels good. Clearly there are places in the world that are a little softer than others, but that's the nature of a global market."
Davy Research also expects the next couple of years to see continuing, solid growth, with the global leasing industry forecast to grow at 10-12% p.a. to 2018, driven by "growth in aircraft deliveries (6-7% of the fleet per annum)" and a continuing rise in leasing's share of the total fleet, which it believes will be "close to 50% by the end of the decade".
Some analysts though are concerned that when the peak (and inevitable downturn) does occur, then recent new entrants to the industry — including the rapidly growing Chinese lessors backed by local banks (with AWAS reportedly the latest acquisition target; see below) — will face problems when it comes to remarketing aircraft since they are not global businesses.
Aengus Kelly, CEO of AerCap, comments: "The banks think it's a spread business — they pile in and realise there's a lot more to it than just being a spread business. And then what historically happens is they run for the hills once they realise that it actually is a big barrier to entry in this business to build a global platform and very difficult and time-consuming thing to do. So I think we'll see the same behaviour here — they'll run for the hills when the going gets tough".
Aviation Strategy's annual survey of the leasing industry (see table) shows that the total fleet for lessors with a portfolio of more than 100 owned or managed aircraft totals 6,534 — compared with a total of 6,347 as of 12 months ago (see Aviation Strategy, October 2014) and 6,287 two years ago.
The Big Two — GECAS and AerCap — together account for 42.9% of the total 100+ lessor fleet, down from the 45.6% figure as of a year ago thanks to a trimming of their fleets as they dispose of older models. Nevertheless, there is still a huge gap between the Big Two and the next tier of lessors, who are now headed by SMBC Aviation Capital with a portfolio of 419 aircraft (and which has overtaken BBAM in the last year).
The gap between the Big Two and the rest of the large lessors in terms of firm orders is less pronounced; GECAS and AerCap account for 36.4% of the total outstanding orders from lessors with 100+ aircraft, compared with 34% as of 12 months ago.
Air Lease Corporation still has the single biggest lessor order book (with 386 aircraft), but that is now only just ahead of AerCap, which added 62 new orders over the last year and bring its total order book to 376. SMBC Aviation Capital was the other lessor to add significant new orders, with an extra 68 over the last year.
This year has seen the first significant move towards developing a major operating lessor in the private jet sector (where less than 1% of the fleet were under operating leases in contrast to over 40% for commercial jets) following Global Jet Capital's purchase of GE's fixed wing corporate aircraft financing portfolio in the Americas, which is worth about $2.5bn in net assets. Global Jet Capital will specialise in large cabin, long range private jet market.
The shareholders in Global Jet Capital are premier rank investors: Blackstone, Franklin Square Carlyle Group and AE Industrial Partners. Other investment groups are currently investigating opportunities in the potentially lucrative private jet leasing sector.
Over the following pages Aviation Strategy profiles the leading lessors — which we define as owning or managing more than 100 commercial jet aircraft — in descending order of portfolio size.
General Electric Capital Aviation Services (GECAS)
GECAS continues to scale back its jet portfolio, with 60 fewer aircraft than a year ago and a total owned and managed fleet of 1,540. That compares with a fleet of 1,840 as of four years ago.
Older aircraft are slowly leaving the fleet, and the average age of the portfolio is continuing to fall — as at the end of June this year, 48.6% of GECAS's owned portfolio by value is five years old or less (compared with 43.8% a year ago and 41% three years previously). As at mid-year 2015, narrowbodies accounted for 74.1% of the total jet portfolio by value (compared with 74.2% as of a year ago), with 20.9% being widebodies (20.4% 12 months ago) and 5.0% cargo variants (5.4%).
GECAS's fleet is placed with 270 customers in 75 countries. The US remains the largest market for GECAS, but yet again its importance has fallen, as it now accounts for 25.4% of the lessor's fleet by value (compared with 29% two years ago and 47% in 2009), followed by Europe with a 24.6% share.
Owned by the huge conglomerate GE, GECAS operates a huge network of 24 offices around the globe, with a head office in Stamford, Connecticut. In the January to June period of 2015 GECAS posted a 2.4% fall in revenue year-on-year, to $2.6bn, with net profit of $668m, 3.9% down on the first half of 2014,
Though GECAS ordered 45 A320neos and 15 A321neos in June 2015, its net order book rose by just 32 aircraft over the last year to stand at 276.
AerCap
With the former ILFC now fully integrated into AerCap after its purchase last year, the Amsterdam-based lessor trimmed its enlarged portfolio by 29 aircraft over the past 12 months, to a fleet of 1,267 aircraft.
1,130 of the total portfolio are owned, and they have an average age of less than eight year and an asset value of $44bn. Almost 70% of the owned fleet is comprised of A320 family aircraft (475 units) and 737NGs (313 aircraft), with the most important other models being A330s (121 aircraft), 777s (71), 767s (44) and 787s (25).
Though older aircraft have been disposed of and AerCap has achieved its goal of reducing the average age of the total portfolio to between five and eight years, it is only just in that range, and so further weeding out of older models will occur over the next 12 months.
Having amalgamated ILFC locations, AerCap also has offices in Dublin, Toulouse, Shannon, Abu Dhabi, Shanghai, Singapore, Miami, Fort Lauderdale, Los Angeles and Seattle. Its staff serve more than 200 customers in approximately 90 countries, with a global client list that ranges from Air Arabia to Yamal Airlines.
In the first half of 2015 AerCap reported a net profit of $665.7m, based on revenue of $2.6bn. As part of its deal with AIG to acquire ILFC, AerCap took on a large debt pile that ILFC was carrying, and over the last year it has managed to trim this by $659m, to stand at $30.7bn as at the end of June 2015. AerCap points out that this is mostly long-term debt, and that in the second quarter of 2015 AerCap also spent $750m repurchasing 15.7m shares amounting to 7% of its total outstanding equity, while in addition raising $3.5bn through a secondary share offering.
AerCap has again expanded its net order book significantly over the last year, growing it from 314 to 376 thanks largely to an order for 100 737 MAX 8s made in June, with deliveries starting in 2019.
AerCap's total outstanding firm orders stands at 219 Airbus aircraft and 157 Boeing models, and over the next four years the rate of new aircraft being delivered will gradually rise, from 46 next year to 66 in 2017, 77 in 2018 and 82 in 2019.
SMBC Aviation Capital
SMBC Aviation Capital, part of the Sumitomo Mitsui Banking Corporation, increased the size of its portfolio yet again, adding 45 aircraft to bring its portfolio of to 419, of which 284 are owned and 135 are managed.
The vast majority of aircraft are narrowbodies, including 187 737-800s, 133 A320s, 46 A319s and 18 A321s, and the average age of the fleet is of five years. The portfolio is leased to customers that include Alaska Airlines and American in North America; Aeroflot, Ryanair and Norwegian in Europe; and JAL and Air China in the Asia/Pacific region.
SMBC Aviation Capital is based in Dublin and has other offices in New York, Seattle, Toulouse, Amsterdam, Tokyo, Hong Kong, Beijing, Shanghai and Singapore.
SMBC has had the largest increase in net orders in any lessor over the last year; in November 2014 it ordered 80 737 MAX 8s, for delivery between 2018 and 2022 — the largest ever order from a lessor for the type — and in June this year it ordered another 10 of the model. This brings its total order book to 211 aircraft.
BBAM
BBAM trimmed its portfolio by more than 10% over the last year, to stand at 408 aircraft. The mixed fleet includes 175 737NGs, 1146 A320 family aircraft, 29 777s and 13 787s, and they are leased to approximately 80 airlines.
That customer list includes China Southern and ANA in the Asia/Pacific region; easyJet and Iberia in Europe; Air Canada and United in the US; and Etihad and Emirates in the Middle East.
BBAM has a substantial global presence — as well as a headquarters in San Francisco, BBAM has offices in New York, Nevada, London, Zurich, Santiago, Singapore, Dublin and Tokyo.
BBAM still has no outstanding orders, again making it the only Top 10 lessor (excluding BCC) not to have any firm orders, and having dropped from third to fourth place in the lessor table in terms of portfolio size over the last 12 months, it is inevitable that it will drop further over the next few years unless it reverses its strategy.
CIT Aerospace
CIT Aerospace is owned by US bank holding company CIT Group and has its headquarters in Dublin and other offices in New York, Fort Lauderdale, Los Angeles, Washington, Toulouse and Singapore.
Following the sale of aircraft, its owned and managed portfolio has eased back by eight units over the last year to 342, of which 272 are owned. That owned fleet has a net value of $9bn and an average age of six years, and the majority are narrowbodies (223 aircraft), with 156 of the owned portfolio being Airbuses and 94 Boeing models.
The owned aircraft are leased to 100 airlines in more than 50 countries, with the Asia/Pacific market being the most important (87 aircraft are placed there), followed by Europe (76), the US and Canada (60), Latin America (35) and Africa and the Middle East (14 aircraft). CIT Aerospace's order book has increased by 15 units to 143 aircraft.
AWAS
AWAS's fleet has risen by another 20 aircraft, to reach 320, although this total will fall once an agreed deal goes through in the next month or two to sell 90 aircraft to Macquarie AirFinance (see Macquarie entry below).
The sale is part of the strategy of AWAS's owners — private equity house Terra Firma and the Canada Pension Plan Investment Board — to cash out while the leasing market is robust; Terra Firma acquired the company nine years ago, before more recently merging it with another lessor, Pegasus. A sale of the lessor now looks imminent; Terra Firma is reportedly negotiating a sale with at least two Chinese suitors — ICBC Leasing and Aviation Industry Corp (a subsidiary of the state-owned aerospace company AVIC). A price close to $5bn is being mooted, though if a deal can't be done with one of the parties it's believed that an IPO might subsequently be considered.
The current portfolio includes a mix of narrowbodies (which account for 84% of the total fleet by number), widebodies and freighters that — prior to the sale of 90 aircraft — are placed with more than 110 airlines in 49 countries, from Lion Air and Ethiopian Airlines to Aeroflot and Vueling. It's interesting to note that the aircraft being sold to Macquarie are very young (with an average age of two years), and as a result the average age of the remaining AWAS fleet will rise to more than six years.
AWAS is headquartered in Dublin and has offices in New York, Miami and Singapore, and over the last 12 months its order book has fallen to just five aircraft.
Aviation Capital Group
Aviation Capital Group (ACG) is owned by US insurance group Pacific Life and is based in Newport Beach, California, with other offices in Beijing, Dublin, Santiago, Seattle, Shanghai and Singapore.
Its fleet of owned or managed aircraft has nudged up by 10 aircraft over the last 12 months, to 260. The mixed portfolio of narrowbodies and widebodies is placed with around 90 customers in 40 countries, and in 2014 ACG saw its lease revenue rise by 8.2% to $796m, with net income increasing 18.4% to $90m. Its outstanding orderbook has dropped by 15 to 105 aircraft.
BOC Aviation
BOC Aviation has increased its portfolio yet again, adding eight units over the last 12 months so that it now owns 236 aircraft while managing another 20. The owned fleet includes 112 A320ceos, 83 737NGs, 16 777s and eight A330s, and has an average age of less than four years.
That portfolio is placed with 61 customers in 30 countries, with almost half the fleet placed with airlines in the Asia/Pacific region, and most of the rest located in Europe and the Americas.
Owned by the Bank of China, BOC Aviation recorded revenue of US$535m for the first six months of 2015, 2.9% up on January-June 2014, and a net profit of $171.5m, 4.9% up year-on-year. BOC Aviation is based in Singapore and other offices in Dublin, London, Seattle and — launched in November 2014 — in Tianjin.
BOC Aviation appears to have halted the expansion of its order book, as it has dropped by 12 aircraft over the last 12 months to 181 today.
Air Lease Corporation
Based in Los Angeles and Dublin, the lessor that was only launched in 2010 by ILFC founder Steven Udvar-Házy is continuing its rapid growth and today owns or manages 247 aircraft — an increase of more than 30% in a year.
It now has a portfolio with a net book value of more than $10bn with an average age of around three and a half years. Its owned fleet of 223 aircraft includes 73 737NGs, 68 A320 family, 26 E175/190s, 16 777s and 21 A330s, and by net book value the largest market remains the Asia/Pacific region, accounting for 42.2%, followed by Europe with 30.8%, the Middle East and Africa (10.1%), Latin America and Mexico (8.8%), and the rest of the world (8.1%).
For the first half of 2015 ALC posted revenue of $583m, 16% up on the same period in 2014, although net profit fell 22.7% to $95.5m thanks to settlement of litigation with AIG/ILFC, in which Air Lease Corporation agreed to pay a $72m to AIG in several stages.
In March ALC ordered 30 A321neos and 25 A330-900s, and its order book stands at 386 — still the largest of any lessor. They are arriving at a rate of between 30 to 40 new aircraft a year until the end of the decade, and will almost certainly ensure that ALC becomes a Top Five lessor sooner rather than later.
Boeing Capital Corporation
Based at Renton, Washington, Boeing Capital Corporation (BCC) provides "last resort" finance for all Boeing products, and although it has been reducing its commercial aircraft exposure, its portfolio (containing fully owned and partially owned aircraft, plus aircraft in which it has an interest) has remained "stable" over the last year, according to Boeing, and is estimated by Aviation Strategy to be around the 230 mark.
According to BCC "a substantial portion of the portfolio is concentrated among certain US commercial airline customers", and much of its aircraft are out-of-production types such as the 717.
In the January-June period of 2015 BCC saw revenue rise 16.9% to $201m, with earnings from operations fell 59.7% to $31m. As at the end of June 2015, the net value of BCC's portfolio's value was $3.3bn, slightly down from the $3.3bn valuation as of a year previously, but that's significantly down on the value of $6.4bn as of six years ago.
ICBC Leasing
ICBC Leasing is owned by the Industrial and Commercial Bank of China and operates out of headquarters in Beijing with other offices in Tianjin, Bangkok and Dublin.
ICBC is being encouraged to grow in line with the Chinese government's plan to develop the country into one of the world's leading "leasing hubs" by 2030 (and hence ICBC's reported bid for AWAS). Accurate data is hard to find, but Aviation Strategy believes ICBC has increased its jet portfolio by 20 to 188 aircraft over the last year.
Half of the portfolio is placed in the Asia/Pacific region (with half of that business in China alone), with approximately 25% each placed in Europe and the Middle East.
The lessor has outstanding orders for 44 Airbus aircraft, and although not included in our table, in March the lessor also ordered 30 ARJ21-700 regional jets from COMAC.
Macquarie AirFinance
Macquarie AirFinance has reversed the recent deline of its portfolio by adding 34 aircraft over the last year, bring its fleet up to 166 owned and four managed units. They are overwhelmingly narrowbodies, with the owned fleet including 90 A320 family aircraft and 66 737NGs, topped up by A330s, 777s and a single 757.
The fleet will rise further once a deal (announced earlier this year) is completed to buy 90 aircraft from AWAS for US$4bn. The aircraft have an average age of two years and are leased to 40 airlines, with an average remaining lease term of 6.5 years. More than 90% of the aircraft be value are A320s and 737-800s, with the rest being A330s.
The current portfolio is placed all around the globe, but the most important market remains Europe with 61 aircraft are on lease (to customers that include, BA, Air France and Vueling), followed by the Asia/Pacific region (53 aircraft) and Latin America (21).
Macquarie AirFinance is owned by Macquarie Group and is based in in Dublin, with other offices in Singapore and San Francisco. The lessor has no aircraft on firm order.
Aircastle
Aircastle's fleet increased by 13 over the last year and now stands at 161 owned aircraft, comprising 111 narrowbodies, 35 widebodies and 15 freighters. They are placed with 52 airlines in 32 countries, and the most important market remains Europe, where 67 aircraft are leased, followed by the Asia/Pacific region with 55 aircraft and the rest in South America (18), North America (15) and the Middle East and Africa (six).
The largest single customer is Iberia, which leases 18 aircraft, although the largest exposure is to LATAM, whose three aircraft account for more than 6% of the lessor's total net book value.
Based in Connecticut and with offices in Dublin and Singapore, Aircastle is continuing with a push to drive down the average age of the portfolio, and it's now standing at just over eight years, compared with an average age of more than 11 years as of five years ago.
In the first half of 2015 Aircastle reported a 1% fall in revenue to $399m (partly due to newer aircraft acquisitions having lower revenue yields, though on longer lease terms), although net profit rose by 60% to $97.7m.
Aircastle has no outstanding orders from Airbus or Boeing, although in June it placed a firm order for 15 E190-E2s and 10 E195-E2 jets, with options for another 25 aircraft. Deliveries of the E190s begin in 2018 and the E195s a year later, with aircraft coming in at the rate of around seven a year.
ORIX Aviation
ORIX Aviation has eased back its owned and managed fleet by 10 to 160 aircraft since last year, but this appears to be a temporary dip as it's on the look-out for further assets. Last year it bid unsuccessfully for AWAS's portfolio, and in July this year agreed to buy 17 aircraft, including A320s and 737s, from GECAS for $750m.
The lessor has a mixed portfolio, although mostly narrowbodies, and these are placed with more than 60 airlines in around 30 countries, including BA, China Southern and Lufthansa.
ORIX is headquartered in Dublin and has offices in Singapore and — now — Dubai, and is owned by the Orix Corporation, a Japanese financial services group. There are no aircraft on outstanding order.
Avolon
Avolon has increased its portfolio yet again, from 133 aircraft as of 12 months ago to 152 today, of which all but nine are owned. The fleet is young — the average age is under three years — and the majority are narrowbodies, including 60 A320 family neos and 61 737-800s, although there are also three 787s and three 777-300ERs.
The fleet increase is due largely to the arrival of new orders; in September last year Avolon ordered six 787-9s, bringing the total order book to 66.
Based in Dublin, Avolon also has offices in Connecticut, Dubai, Shanghai and Singapore, and its portfolio is placed with 56 airlines in 33 countries globally. After undergoing an IPO on the NYSE in December 2014, over the summer Avolon received an offer from China-based Bohai Leasing (owned by Chinese conglomerate HNA Group, which has stakes in 14 airlines in China, including Hainan Airlines) to acquire a 20% stake, which Avolon called "a strategic investment". Acceptance of that last offer was a condition of a sale and leaseback deal signed in July with Hainan Airlines for five 787-9 aircraft, valued at $1.3bn at current lease prices. The aircraft will be leased to Hainan on 12 year terms, with three aircraft being delivered in 2016 and two in 2017.
Subsequent to that Bohai offer two separate acquisition bids — for 100% of its equity — were received from undisclosed companies, though one was believed to have come from another Chinese company — Avic Capital. As a result Bohai decided to up its offer to acquire 100% of the lessor, a deal that Avolon's shareholders (CVC Capital, Cinven, Oak Hill Capital and GIC) accepted in early September. Bohai will pay $2.6bn for Avolon, with the deal expected to close in the first quarter of 2016.
In the first six months of 2015 Avolon posted a 33.7% rise in revenue to $359.6m, with net income up 73.9% to $105m.
CDB Leasing
CDB Leasing appears in our survey this year after adding 20 jets to its fleet and bringing the total portfolio to 110 aircraft, of which 80 are narrowbodies and 30 widebodies. Most of CDB's customers are in the Asia/Pacific region, and particularly within the growing Chinese market.
Based in Shenzhen, 89% of CDB Leasing is owned by the China Development Bank, and the lessor is reportedly planning an IPO on the Hong Kong stock exchange by the end of this year, at a valuation somewhere between US$1bn and US$1.5bn. It has no orders with Boeing or Airbus.
Standard Chartered
London-based banking group Standard Chartered bought the Pembroke Group in 2007, and although the lessor had been operating under its original name since then, its standalone website has now disappeared and is redirected to the "aviation finance" business unit at Standard Charted, under which the Pembroke name doesn't feature.
The Dublin-based lessor's fleet has decreased by a single unit over the last year, to stand at 104 aircraft. The portfolio is dominated by narrowbodies, including 41 A320 family aircraft and 34 737-800s, although the rest of the fleet is varied, including nine 777s, five 787s and four A330s. There are no aircraft on order.
SkyWorks Leasing
SkyWorks Leasing is based in Greenwich, Connecticut and manages a fleet of 100 aircraft (a number that hasn't changed over the last 12 months).
The portfolio is diverse and includes A320 family aircraft, A300s, 737s, 757s, 767s and 777s, and they are placed with airlines that include JAL, Air China and Virgin America. The lessor has no aircraft on order.
MC Aviation Partners
A subsidiary of Japanese conglomerate the Mitsubishi Corporation, MC Aviation Partners (MCAP) and has seen its fleet of owned and managed aircraft remain stable at 100 units over the last year.
It is largely a narrowbody specialist, with 47 737-800s and 43 A320 family aircraft complemented by a handful of 777s, 787s and other types. It has lessened its dependency on Asia/Pacific customers over the last 12 months, coming down from half to 37% of its placed aircraft, with the second largest market being Europe and Africa, within which 25% of aircraft are leased. It has no outstanding orders.
MCAP is headquartered in Tokyo and has other offices in Dublin, Los Angeles and Dublin.
Other lessor orders
Other lessors with outstanding orders include Alafco, majority owned by the Kuwait Finance House, which has 125 aircraft on order. China Aircraft Leasing Company (CALC) has 115 Airbus models on order, while Hong Kong Aviation Capital (HKAC) has orders for70 Airbuses.
Dubai-based lessor International AirFinance Corporation placed a firm order for 30 A320ceos and 20 A330-300s in June this year, and also has two others aircraft on order. New York-based Aerospace International Group has 27 Airbus aircraft on order, and Dublin-based Amedeo has 20 A380s on order.
Swiss lessor AlphaStream Capital Management has outstanding orders for 15 A320 family aircraft while Moscow-based Sberbank Leasing has 11 737-800s on order. Also with 11 outstanding orders each are Intrepid Aviation, based in Connecticut and with other offices in Dublin and Singapore, and new Singaporean lessor Global Aircraft Trading.
MAJOR LESSORS
Orders
Company
Total portfolio
Change†
Boeing
Airbus
Total
Change†
GECAS
1,540
(60)
147
129
276
32
AerCap
1,267
(29)
157
219
376
62
SMBC Aviation Capital
419
45
93
118
211
68
BBAM
408
(42)
CIT
342
(8)
51
92
143
15
AWAS
320
20
5
5
(15)
ACG
260
10
75
30
105
(13)
BOC Aviation
256
8
82
99
181
(12)
Air Lease Corporation
247
58
191
195
386
23
BCC
230
ICBC Leasing
188
20
44
44
(17)
Macquarie AirFinance
170
34
Aircastle
161
13
ORIX Aviation
160
(10)
Avolon
152
19
27
39
66
10
CDB Leasing
110
20
Standard Chartered
104
(1)
SkyWorks Leasing
100
MCAP
100
Total
6,534
97
823
970
1,793
153
Note: This table includes jet lessors with at least 100 owned or managed aircraft; we exclude entities set up solely to manage the leasing activities of a specific airline. † from 12 months ago
OTHER LESSORS WITH ORDERS
| | | | |
| --- | --- | --- | --- |
| | Boeing orders | Airbus orders | Total orders |
| Alafco | 28 | 97 | 125 |
| CALC | | 115 | 115 |
| HKAC | | 70 | 70 |
| International AirFinance Corporation | | 52 | 52 |
| Aerospace International Group | | 27 | 27 |
| Amedeo | | 20 | 20 |
| Alphastream | | 15 | 15 |
| Global Aircraft Trading | | 11 | 11 |
| Intrepid Aviation | 6 | 5 | 11 |
| Sberbank Leasing | 11 | | 11 |
| Total | 45 | 412 | 457 |