European hybrid evaluations October 2012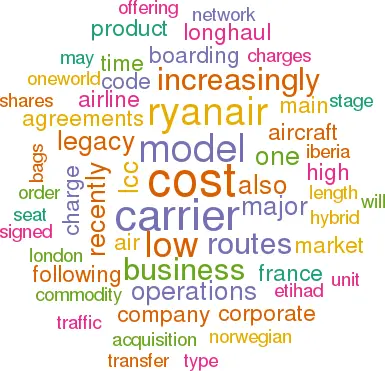 In the following sections we show spider charts for each of the main players allocating factors from the 'Business Model Extremes' table (see page 1) as a departure from the pure KISS principles in order to try to evaluate the hybrid nature of each operation's model. The area shown by the resulting solid octagon represents the stage length adjusted unit costs for each carrier in 2011.
Ryanair
Ryanair has remained adamant in its pursuit of the low cost model and remains in the forefront of developing the model. The prime underlying philosophy is that the airline industry is a commodity business devoted to carrying passengers and bags from A to B for the cheapest possible use of time and money — and that in the long run the lowest cost provider in a commodity market will win. (At an analysts' results meeting recently someone asked about passenger differentiation — i.e. between business, VFR and leisure. The charming O'Leary characteristically stated they didn't know nor care; but then added that the most valuable passengers were probably VFR traffic going to funerals.)
Ryanair does have a big advantage in
Wizzair
Wizz is like Ryanair in keeping to the KISS principle — single aircraft type, secondary and tertiary airports. It seems to have a unit cost only 15% higher than Ryanair's on a stage length adjusted basis.
It also appears to have a high rate of
The company is still privately held and does not publicly publish its financial results: nevertheless in 2011 its Companies House filings show a group operating profit of €5.8m, a paltry 1% margin: and this year's battle with Ryanair in Budapest following the demise of Malev is unlikely to have helped. It has recently taken the LCC joy of charging fees to change customer behaviour to another extreme – every bag, it seems, is subjected to the inflexible size/weight test, resulting in numerous arguments at boarding. The solution: Wizzair from the end of October charges a €10 fee for large carry-on bags.
easyJet
easyJet has increasingly aimed to differentiate from Ryanair primarily by choosing to enter into direct competition with the legacy carriers at more primary airports — thus attacking Air France at both Roissy CDG and Paris Orly; walking into the void at Milan Malpensa on Alitalia's retreat to Rome; building a main UK hub at constrained (but relatively attractive) London Gatwick; and destinations into the main airport at major capital cities.
It has also tried increasingly to develop business oriented routes, and has opened access into global distribution systems to encourage bookings from corporate clients, built sales teams to win corporate accounts, and offers differentiated "flexible" fares. Its latest move has been to test (and soon to roll out system-wide) full plane seating allocation: its preliminary tests on a handful of routes demonstrated to its satisfaction that there were to be no cost disadvantages in terms of aircraft turnaround, aircraft boarding times or access to boarding gates. While it may miss out on charges for speedy boarding, this will be more than compensated for by the increased ability to charge for seat allocation prior to check in; and further reduces the perceived differences in product quality from its major legacy competitors.
airberlin
airberlin is the archetypal hybrid carrier and one of the few charter operators to have made a reasonably successful transition to scheduled operations. A full charter carrier, it started offering seat only sales in the late nineties and expanded into domestic and intra-European scheduled operations in the last decade through the acquisition of dba; and then into long-haul with the ill-timed acquisition of LTU. It has been increasingly moving away from low cost ideals; partly sitting it what has been described as a cosy domestic duopolistic relationship with Lufthansa it has been strongly building corporate relationships and contracts to underpin its "business" offering; along with the baggage of frequent flyer programmes and differentiated ticket tariffs.
It recently joined the oneworld global alliance with a series of code shares among other things feeding British Airways at London Gatwick. It accepted Etihad as a major shareholder and recently signed a series of code share agreements with the Middle East carrier through Abu Dhabi (at the same time as Etihad signed up with Air France). It is one of the few to believe that intra-European transfer hubs can actually work profitably — with major hubs in Palma di Majorca and Berlin (and a failed hub at London Stansted).
norwegian
norwegian appears a special case. It seemingly aims to take over as Scandinavian airline of choice from the three nations' flag carrier SAS; and helped by the Norwegian nation's very high propensity to travel (and the strength of the local economy). It is one of the few to actively promote transfer traffic throughout its network (although it does add a charge for the privilege) and with the future deployment of 787 Dreamliners from next year (it has eight on order) will be starting a major foray onto long-haul routes (it already operates one of the longest European LCC routes from Oslo to Dubai on a 737). It is further departing from single aircraft type operation — having over 200 737s, 737Max and A320s on order. The company emphasises that the next stage for LCC development in their view was long-haul. Norwegian also has a loyalty frequent flier system — closely linked with the associate in-house bank and credit card (mostly because FFPs within Norway were forbidden following SAS's acquisition of Braathens in the early 2000s). Meanwhile the company has recently announced an expansion of bases into Malaga and Las Palmas (primarily targeting Scandinavian travel) — at a time when others are retreating, following the Spanish plans to increase airport charges in real terms.
Vueling
Vueling, the Catalan "flag carrier" is also increasingly adding complexities to its model. Codeshare agreements with parent company Iberia at Madrid may have become less relevant since the establishment of Iberia Express; but Vueling has signed interline agreements with BA and is looking to expand further such agreements. It has its own FFP and links into the Iberia programme.
It increasingly targets business traffic; and has a quasi-business class offering in the first one or two rows on board (no-one sitting the middle seat, free in-flight service). It actively markets intra-line connections through its main base at Barcelona and (like norwegian) offers baggage transfer on "Connecting tickets" but without a nominal charge.
Flybe
Flybe is a regional legacy carrier that has adopted some of the aspects of the low cost pricing and yield management model rather than a low cost carrier per se. Its fleet type and very short sector length automatically generates a relatively high unit cost. It also has significant partnerships with Air France and Finnair with a high degree of inter-line code shares, and (on Flybe Finland operations) as an affiliate of the oneworld alliance.
Aer Lingus
Aer Lingus is the only Legacy network carrier successfully to have moved to the low cost principles — all because of the severe pressure provided by Ryanair in its home market. It still operates long-haul routes and needs the feed; with its own intra-line operations at Dublin, a comprehensive marketing deal with JetBlue in the US, and through code shares (including Etihad, British Airways and KLM) at the other ends of routes. It maintains its own FFP but nevertheless abandoned its membership of oneworld as being far too costly. Of course it is currently under even greater pressure from Ryanair this time on a corporate front as a potential acquiror.
There is a coalescence of the airline product from the other extreme in Europe, mainly involving the legacy network carriers' adopting the one-way low entry non-refundable fares of the LCC model, and an increasing move to unbundling the product (although the majors are yet to charge for hold bags, they have introduced credit card booking fees — in the UK market at least — and some are charging for in-flight refreshment service). In addition, both Lufthansa and Air France are increasingly using their own in-house "low cost" brands to attempt to reduce their mainstream short-haul losses.
Whichever way you look at it the airline industry remains a highly competitive commodity market. These increasing trends to add complexity to the LCC model may help to differentiate the product and improve yields sufficiently to generate stronger margins; but there does not seem to be proof.