Lufthansa: Feeding the powerhouse October 2011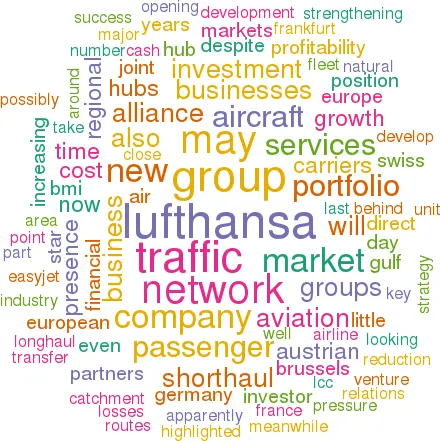 Lufthansa is the only major carrier to have made success of creating a corporate structure as a conglomerate holding company. This approach is not always appreciated by the stock–markets; and Lufthansa seems to get little credit for having created a portfolio of aviation businesses that are individually the largest players in their particular segments of the industry.
At the company's investor day in Zurich last month, the management presented their strategy in depth: at the same time berating the analyst community for not looking in detail at the non passenger airline businesses that make up a third of its total revenues, and for rating the shares so lowly that the group's market capitalisation had fallen to the level it reached in 2001 – when the group very nearly collapsed for lack of cash in the Sept 11 aftermath (and incidentally 2001 was the last time the company held its investor day outside Germany).
However, even despite these complaints, the passenger business remains the most important core part of the group; and the whole investor day series of presentations revolved around the passenger airlines. Nevertheless, little did they realise when they planned their investor day that they would have to preface it with a profit warning (that profits would fall from last year's level): at least, with €5bn in cash and extra credit lines of €2bn, now their financial position is far more secure than a decade ago.
Group Strategy Presentation
New CEO Christophe Franz emphasised the group mission statement; pre–eminent in which were the declarations that Lufthansa is "Europe's airline powerhouse...", and "as the world's leading aviation group ... the global leader in selected aviation services", with a target to "grow profitably and maintain a healthy financial structure". The group has a view (common with many others in the industry) that it needs to grow in line with the market – through organic growth as well as by acquisition – and no doubt believes the standard long range forecasts of 5% RPK growth a year for the industry over the next twenty years. He presented a brief vision of aviation in 2020 that few would dissent from:
Increasing globalisation, emerging markets growing fastest
Gulf carriers putting increasing pressure on yields in key markets
"Zombie" European flag carriers to disappear or shrink
Further convergence between network and LCC models
Technological opportunities of the new generation aircraft changing operating economics and opening new markets
Continued and rising cost pressures (particularly from fuel and taxes) with OEM pressure on the MRO business
Further consolidation and emergence of megacarriers, although restrained by national regulatory obstacles.
As usual the company highlighted its success in generating value to shareholders (ignoring the share price for the moment) having generated some €2.1bn between 2000 and 2010 cash flow in excess of weighted cost of capita , re–emphasising the benefits it saw in the portfolio of businesses and the different cycles of profitability in the separate segments. It also highlighted its active, and what it regards as successful, portfolio management over the past decade (with divestment of stakes in Amadeus, Equant, Globeground, DHL, Tank und Rest, Loyalty, Thomas Cook, and Condor; and acquisition of investments in BMI, Eurowings, SkyChefs, Air Dolomiti, Swiss, Fraport, JetBlue, Austrian and SN Brussels) and gave the strong indication that it would continue the "track record".
Franz highlighted the intention to strengthen the passenger business though a variety of strategies.
Of key importance is the idea of strengthening further the group's presence in its home markets and key European catchment areas to enhance the group's share of long–haul connecting traffic through its hubs. Secondly, it will aim to maintain its market leading position in Europe through organic growth and potential partnerships. It recognises that its short- and long–haul businesses are under pressure from continued incursions of LCCs and Gulf Carriers; but in each business it will either refocus, attack or partner to develop a sustainable long term position.
On the North Atlantic, Lufthansa will focus on extracting benefits from the ATI joint venture with United (which now includes Austrian and SWISS).
In South America (where it is well behind SkyTeam and $1 $2) it aims to increase footprint and presence through adding new destinations to the network and strengthening relations with existing partners (although LATAM has yet to decide fully which alliance to go for), and may perhaps be inveigled into investing in TAP in the possibly forthcoming privatisation.
On African routes (where again it does not have the presence enjoyed by the colonial heirs at Air France and BA) it should be able at some point fully to add SN Brussels' network presence but in the meantime will emphasise relations with Star Alliance partners and develop new destinations.
On the Asian and Middle East routes it is looking to develop a commercial JV with Star Alliance partner ANA (which now has an ATI joint venture with United on the Pacific) and further strengthen relations with other alliance partners in the regions – while (perhaps nebulously) implementing measures to compete against the super–connectors in the Gulf.
In Europe, the aim is to improve profitability of the short–haul network (the company does not give explicit figures but we would think that the losses are substantial); turnaround Austrian and review the involvement in bmi; close down the failed experiment with Lufthansa Italia; and monitor partnership opportunities.
To summarise the group strategy:
Adjust the portfolio – reviewing unprofitable businesses
Improve quality of delivery to customers through product investment and enhanced execution
Sustain the market leadership position – by pursuing market aligned growth and developing commercial joint ventures
Increase focus on profitability by strengthening transformation measures and group synergies
Careful investments in the business, safeguarding the investment grade rating.
Interpretation
Of the three major network groups Lufthansa could be in one of the weaker positions strategically despite its financial strength. Its principal problem is a dependence on network hubs (primarily Frankfurt) with a relatively low natural catchment area for true point to point travel – at least in comparison with its rivals BA and AF at London and Paris. Part of the reason behind this is the historic federated nature of Germany and the absence of centralisation within the country. The Frankfurt hub has worked extremely well, and has been complemented by the development of the Munich hub, investment in Zurich through SWISS, and adding the Vienna hub through Austrian. It also has a stake in SN Brussels with the option to take a majority stake when the Belgian carrier gains profitability.
These five hubs all have similar needs to create transfer traffic and are relatively close together – lying in what could be seen as a defensive aviation equivalent of a Maginot line to isolate its traffic base from its great rival Air France. With each of these acquisitions the group has retained the local brand and identity while creating synergies through common group functions.
This dependence on transfer traffic requires an emphasis on feed into the hubs, and may require market presence in non–hub traffic to ensure the necessary corporate contracts for the profitable long–haul route network. As such, the short–haul and regional services into the hubs are vital; and Lufthansa also operates its "direct" services serving short–haul non–hub traffic within and from Germany – accounting for some 10% of LH's short–haul flying.
Of course, Lufthansa is suffering traffic and yield erosion from LCC attacks. It set up Germanwings to counter–attack in the same market place – but like all network carriers could not put too much investment in to a product which could undermine its mainline operation and cannibalise its core business. As a result this element of its portfolio has been a little left behind the developments of the major LCC players (fine in the domestic context, but under–represented outside Germany) and is currently apparently losing the equivalent of the German passenger tax (around €8) for each passenger carried; it is reputed to be retrenching to its bases in Hamburg and Köln.
Meanwhile the company has been happy to have Air Berlin, even with its financial problems, in what has been described as a "comfortable duopoly" to help keep out incursion from easyJet and Ryanair.
Frankfurt airport itself has been heavily slot constrained for many years; but this autumn with the opening of the fourth runway there is finally the opportunity for new access (and incidentally a new runway will also be opening in Munich in 2015 relieving congestion and allowing growth there). Despite the lack of natural point–to–point demand there may have been the fear that easyJet would move in to attack the German domestic market in the same way it has been approaching that of Italy or France. It has apparently declined to take up slots for the current winter season (but there is always next summer, and despite easyJet's own strategic problems).
Lufthansa's short–haul network is significantly, and maybe inherently, unprofitable. As part of the CLIMB cost savings (or profit enhancement) plans, the company is in the process of increasing aircraft gauge across the fleet. In the regional services it has disposed of all the sub–50 seat aircraft and has cut the regional fleet by 40% in units in doing so – by which it claims to have saved some €200m.
It is rolling out its new short–haul economy class seating, which increases the number of seats on the existing A319/A320 aircraft by around 6% — giving an automatic mathematical 6% reduction in unit costs per seat. On the direct services it claims to have achieved a 13% unit cost reduction through improved staff productivity, fleet commonality, the restructuring of the regional airlines, downsizing stations and a 10% improvement in aircraft productivity: since 2009 direct services, traffic and capacity are up by nearly 40% mostly through increasing aircraft size while there has been an 8% reduction in the number of flights, while yields per passenger have fallen by 4% and direct operating unit costs (ex fuel and taxes) by 40%. It states that it will have halved the losses in the current year, and plans to have a positive contribution by 2013.
Lufthansa was the first of the legacy carriers to try to establish a base in another country in Europe when it established Lufthansa Italia two years ago to move into the vacuum in Milan created by Alitalia's retrenchment to Rome. This has failed; and the company closed the operation at the end of the summer season. The reason may be that they severely underestimated the ability of easyJet to do the same, and successfully; they may also have believed the Italians when told that Milan's Linate would finally close.
On the other perceived threat, meanwhile, there may be little that Lufthansa can actually do about the build–up of the super–connectors in the Gulf and their development of routes out of Europe. Reliant as it is on transfer traffic it may have the most to lose from their development of direct services with large aircraft to regional points in its natural catchment area; and may even suffer from these lower cost competitors (who could overfly the European ETS area) undermining their intercontinental–intercontinental connecting traffic. The concern is not necessarily that they take the premium traffic (who would normally prefer the quickest total journey time) but that they undermine Economy demand.
Meanwhile, the CEO mentioned the group's desire to continue to manage its portfolio of businesses.
It is possibly looking for partnerships in the small IT Services division (number four in the world is not good enough) even though (or possibly because) 60% of turnover is intra–group. In time also the group may look to dispose of the catering division. The original investment in bmi was in theory to create a foothold in the prime European gateway at London's Heathrow; and it may at the time have seemed worth it to shoulder (with SAS) all bmi's losses on the ECA joint venture.
Since taking full control of the loss–making airline, they have tried to turn it round (and in doing so have transferred some of its significant portfolio of LHR slots to itself and other Star Alliance partners). However, realising now that the UK is unlikely for the foreseeable future to allow any expansion in its aviation infrastructure in South East England, and given a realisation that bmi cannot fit into the group's network hub structure (it could never hope to have Star Alliance dominance at Heathrow), it has apparently put the company up for sale.
The investment in SWISS has been a good success; and maybe the group felt they could achieve the same with Austrian and SN Brussels. The turnaround at both is a bit further away now than originally planned.
LUFTHANSA GROUP PORTFOLIO
Revenues (€bn)
External
12 months to
revenue
Operating
Market
Portfolio
Jun 2011
share
margin
People
position
contribution
Passenger
Airline Group
22.2
97%
3.3%
58,700
#1 Global passenger revenue #4 Global ASKs 24% share Europe-Intercontinental
Central part of our business
Lufthansa
15
38,800
SWISS
3.7
7,800
Austrian
2
6,900
bmi
0.9
3,900
Germanwings
0.7
1,300
Cargo
3
99%
10.3%
4,500
#1 Global FTK (ex. Integrators) 20% share ex Germany
Synergies with belly and sourcing
MRO
4.1
58%
6.5%
19,600
#1 Global independent MRO provider 14% global share
Synergies with airline business Joint pressure on OEMs Stabilising op.result
Catering
2.3
76%
3.6%
29,200
#1 Global Caterer 26% global share
Competitive global catering cost
IT Services
0.6
38%
1.5%
2,900
#4 Systems provider 12% global share
Aviation IT and Technology supplier
Group
32.3
89%
3.7%
114,900
#1 Global aviation group by revenue
Source: Lufthansa Note: Excludes SN Brussels