Monarch Airlines: Last of the large independents October 2010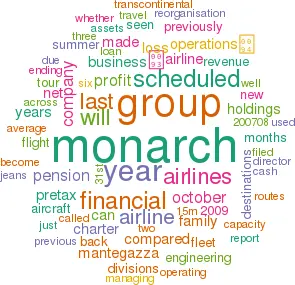 Outside of the TUI Travel and Thomas Cook Group airlines, the largest of the remaining independent charter airlines is the UK's Monarch Airlines — but after reporting its worst–ever set of financial results (which has prompted a major reorganisation across the group), the question has to be asked — is the future of Monarch as an independent company assured?
Based at Luton airport, Monarch dates back to the 1960s and in 2009 its 30–strong fleet carried 6.3 million passengers to more than 100 destinations across Europe, the US, Caribbean, Africa and India at a load factor of 84.2%.
Monarch is a private company owned by the Globus Travel Group, which in turn is controlled by the billionaire Swiss–based Mantegazza family. Until recently the last filed accounts for Monarch Holdings (which owns the airline and related businesses such as the Cosmos tour operator and Avro seat–only operation), were for the year ending October 31st 2008. However, figures filed this summer at Companies House in the UK for the 12–month period ending October 2009, show revenue at Monarch Holdings fell to £790.8m compared with £813.3m in the 2007/08 financial year, while the group made a hefty operating loss of £24.2m, compared with a £8.5m operating profit in 2007/08. At the net level, Monarch Holdings made a loss of £26.8m in the 12 months ending October 31st 2009, compared with a £5m net profit in the previous year.
This is the group's first loss in its history and more worrying was the revelation that as at the end of October last year, cash and cash equivalents had fallen to £11.8m compared with £26.1m as of 12 months earlier, despite a shareholder loan of £15m in the year. Of most concern was that net assets (i.e. all assets minus all liabilities) excluding pension liabilities totalled £58.4m at October 2010, compared with a net asset value of £94.1m a year previously – but when a huge pension liability of £98.1m is taken into account, net assets were negative to the sum of £39.7m.
The impact of airline pension deficits in the UK has been highlighted by the BA situation, but a couple of points should be borne in mind. Pension accounting rules are very conservative – a relatively minor change to the modest rate of return assumption and or the inflation index used in the calculation can turn a deficit into a surplus. Perhaps more importantly, a pension deficit normally will not affect the company's cash flow – UK corporate law only allows company pension contributions to be made out of retained profits, so if the company is unprofitable no payments can be made to the fund.
Revenue at "airline operations" (which include both the charter and scheduled businesses) fell 6.1% year–on–year to the terms of a previous loan of £15m from Transcontinental so that it did not become due in the 2009/10 financial year, as was previously the case.
£517.7m in the last financial year, and a £3.3m profit before tax in 2007/08 turned into a £19.1m pre–tax loss in 2008/09.
As can be seen in the table (above), the "airline operations" provided the majority of group revenue (65%) in the 12 months to October 31st 2009 but contributed a £19m pre–tax loss to the group result. In contrast, the engineering business unit had revenue of just £22m in 2008/09 but reported a £2.5m pre–tax profit, representing a pre–tax margin of 11.5%.
In its brief report filed with the UK's Companies House, Monarch Holdings says that it encountered "exceptionally challenging market conditions" during the year, driven "primarily by a combination of high fuel costs and the inability to pass on these costs to passengers due to a suppressed marketplace". However, the report adds that after the financial year–end the group "drew down on a further shareholder facility of £25m" from an entity called Transcontinental Aviation, controlled by the Mantegazza family, as well as revising the terms of a previous loan of £15m from Transcontinental so that it did not become due in the 2009/10 financial year, as was previously the case.
While it's undoubtedly true that the Mantegazza family can well afford to keep funding Monarch Holdings in troubled times, they will not want that burden indefinitely, particularly as there have been rumours swirling around the City that Monarch had been set for a sale or float. Whatever the long–term plans of the Mantegazza family for Monarch, the company has undergone a period of instability through 2010.
In February it was unexpectedly announced that Peter Brown, the chief executive of Monarch Airlines, was leaving the company with immediate effect after eight years in the position. More significantly, over the summer the group began extensive restructuring, aimed at bringing all its activities into six divisions – the scheduled airline, charter airline, "airline operations", tour operations, engineering and retail. This is designed to allow the group to more easily manage products and services across these divisions — which is an implicit acknowledgement that the various parts of Monarch have operated in silos until now – or what Jeans calls "fairly separate lives". Of course whether customers ever realised – or cared – that Monarch Airlines, Cosmos and Avro are part of the same group is open to doubt, but the reorganisation should mean better operational control and alignment between the divisions.
The group promises there will not be any redundancies under the reorganisation. Currently Monarch employs more than 3,000, with "airline operations" having 1,935 staff, aircraft engineering 409, tour operations 154 and "administrative" 547. Whether the airline operation needs that many staff is open to debate, as the group trimmed its fleet by three aircraft in the last financial year, and as can be seen in the chart (left), capacity and traffic has been down year–on–year at the airline over the last 12 months, with very large reductions to capacity through February, March and April this year.
Monarch has a multitude of types for a fleet that is just 30–strong, with A300s, A320s, A321s, A330s and 757s. They have an average age of 12.9 years, which means that a renewal programme has to be carried out pretty soon. Currently there are six 787s on order, and options for four more aircraft, but delivery has been pushed back from this year to 2013 at the very earliest. When they eventually arrive the 787s will replace the four ageing A300s (with an average age of more than 20 years) and be used for long–haul charters and potentially transatlantic scheduled services.
Within the overall Monarch fleet is a low cost, low fare scheduled business called Monarch Scheduled that dates back to 1986. This operates out of Luton, Gatwick, Manchester (where is it the leading international scheduled airline) and Birmingham to approximately 20 airports in Spain, Gibraltar, Portugal, Cyprus and Turkey, all of which are primarily leisure destinations. It launched eight scheduled routes last year and this May added new scheduled routes to three Turkish destinations. The scheduled service includes a FFP called the Vantage Club as well as optional paid–for frills such as meals, pre–booked seat and extra legroom.
The scheduled business is coming under increasing pressure from the LCCs; for example Ryanair's scouring of Europe for routes to base its aircraft in the last few years has led it to the traditional holiday destinations (such as Malaga and Palma) that used to be the fiefdom of the charter operators — and that is forcing Monarch to look at ancillary revenue as average fares come down.
However, the majority of Monarch's airline business remains in the charter segment, and it's this that is suffering most at the moment. How Monarch will be affected by the decision of the Big Two tour operators (TUI Travel and the Thomas Cook Group) and their associated airlines to cut late summer holiday prices in an effort to shift spare capacity has yet to be seen, but that move may contradict the hope of Tim Jeans back in April when he said that "the race to the bottom has run its course because customers eventually recognise that there are differences in providers … they recognise there is a difference between a Monarch flight and a Ryanair flight, between a Goldtrail flight and a Kuoni flight — and that has a value". That's a long–held wish in the seat–only market, but history has always proved that the lure of the lowest fare always trumps any other factor, and the decision of the Big Two to cut prices will make that ambition even harder.
The future?
"Further optimisation" of the Monarch group is promised, but quite what is left to reorganise is not clear at this moment. The managing directors of each of the new divisions will report into a "group executive committee" headed by a new post of group chief operating officer, who is Richard Mintern, also the managing director of the engineering business. Over the summer there were further reshuffles of management, including the appointment of Simon Tucker as group finance director, Kevin George as the managing director of the "airline operations" division, with Tim Jeans also put in charge of internal marketing (in addition to his day job, which is running Monarch Airlines). And in late September Monarch announced that Conrad Clifford – previously vice president for the UK and Ireland at Emirates and a former CEO of Virgin Nigeria – would become group CEO from December 1st.
Despite this new structure and management the group has declined to forecast it will return to profit this financial year, and all Rawlinson has said is that the group is seeking "steady improvement in financial performance over the next two to three years". Whether that will be sufficient for the Mantegazza family remains to be seen. Combining the last six financial years together, Monarch's airlines have made just £13m of pre–tax profit on £2.7bn of turnover, at a margin of less than 0.5%.
SOUTHWEST AND AIRTRAN AT A GLANCE
SOUTHWEST AND AIRTRAN AT A GLANCE

| | | |
| --- | --- | --- |
| | LUV | AAI |
| Number of passengers (2009) | 101.3m | 24m |
| Nonstop routes (current) | 461 | 177 |
| Cities served (current) | 69 | 69 |
| Active fleet (as of Sept 27) | 547 | 138 |
| FTE employees (as of June 30) | 34,636 | 8,083 |
| 12 months ended June 30, 2010: | | |
| | | |
| Total operating revenues | $11.2bn | $2.5bn |
| Operating income | $843m | $128m |
| ASMs | 96.4bn | 23.9bn |
| RPMs | 75.2bn | 19.3bn |
| Passenger load factor | 78.0% | 80.8% |
| | | |
| Cash & short-term investments | $3.1bn | $445m |
| Cash as % of LTM revenues | 27.7% | 17.8% |
| Cash flow from operations | $1.5bn | $163m |
| Capital spending | $611m | $89m |
| Source: Company reports | | |
| | | |
THE WEST-TO-EAST SHIFT: Seat distribution by region
THE WEST-TO-EAST SHIFT:
Seat distribution by region
Southwest
After AirTran
currently
acquisition
West
39.0%
33.4%
Southwest
17.2%
15.0%
Northwest
3.5%
3.0%
Total West
59.7%
51.4%
Midwest
15.2%
15.6%
Southeast
11.9%
17.9%
East
13.2%
14.8%
Total East
25.1%
32.7%
Int'l /Puerto Rico
0%
0.2%
SOUTHWEST / AIRTRAN'S TOP TEN CITIES BY DAILY DEPARTURE
SOUTHWEST / AIRTRAN'S TOP
TEN CITIES BY DAILY DEPARTURE
Las Vegas
230
Chicago Midway
228
Baltimore / Washington
222
Atlanta
202
Phoenix
180
Denver
148
Houston Hobby
135
Orlando
132
Dallas Love Field
128
Los Angeles
121
SOUTHWEST'S AND AIRTRAN'S FLEETS
SOUTHWEST'S AND AIRTRAN'S FLEETS

| | | | |
| --- | --- | --- | --- |
| | LUV | AAI | Combined |
| | | | |
| 737-300 | 173 | 0 | 173 |
| 737-500 | 25 | 0 | 25 |
| 737-700 | 349 | 52 | 401 |
| 717-200 | 0 | 86 | 86 |
| Active Fleet | 547 | 138 | 685 |
| Average age (June 30) | 10.9 years | 6.5 years | 10.2 years |
| Firm orders (LOI/options) | | | |
| 737-700 | 107 (98/37) | 51 (0) | |