Ryanair in zero-growth mode October 2010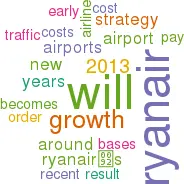 Ryanair, after a decade of phenomenal expansion, will officially go ex–growth from 2013. Passenger growth for FY2010 (to March31st) was 14%, this year it will be 11%, 9% in FY2012, 6% in FY 2013, then two years of zero growth maybe resuming at around 4% thereafter. As CEO Michael O'Leary puts it, the "land grab" is over.
While the fundamental adherence to strict cost disciple will remain, the revenue focus will be on pushing up yields. Ryanair's yield performance, usually declining in recent years, is largely the result of its rapid growth: it has to generate the traffic to fill its additional capacity, at least in the early stages of new route development.
This year yield growth will be in the order of 5–7% and the aim by 2013 is to push the average fare (excluding ancillaries) up from €35 to €45. This should be eminently doable: apart from cutting out ultra–low incentive fares on new routes Ryanair will be focusing on higher yielding markets. Its recent move into primary airports, notably Barcelona El Prat, is according to the airline not the result of any change in its own strategy but a change in the strategy of some primary airports which are desperate to re–establish growth. Unlikely as it sounds, Ryanair will start promoting the quality of its service — it does have a case in that it is Europe's top performer in terms of punctuality, dispatch reliability and mislaid baggage.
The issue for Ryanair then becomes: how to stop its costs rising in a zero–growth world?
Airports represent the key variable in Ryanair's cost structure. Ryanair had achieved amazingly low (or even negative) airport charges in the early part of this decade as the result of signing long term contracts guaranteeing traffic volumes at underutilised airports. Now it has switched to short term contracts and the strategy becomes focused on airport churn. For example, by 2013 the Ryanair network will have reached around 50 airport bases; thereafter no net additions are planned.
Ryanair will switch capacity from its poorer performing bases to its higher yielding bases unless it is compensated by a reduction in charges (and/or an increase in subsidies from, say, the local tourism authority). No one doubts Ryanair's determination to act swiftly and brutally when it is baulked at an airport – the recent closure of the Marseilles base, for instance. But for this strategy to work consistently, airports have to be genuinely starved of alternative growth opportunities; Ryanair is convinced that it is the only airline that can guarantee traffic volumes, others are not so sure – Flybe quickly moved into Belfast City when Ryanair exited because plans for a runway extension stalled.
Ryanair will still need to place a substantial new aircraft order just for replacement. Ryanair's current fleet age is around three years but in order to minimise maintenance costs it adheres to a maximum aircraft age of seven years. Without a growth story, will it be able to achieve the type of bulk discounts that it locked into during the early 2000s, placing megaorders at a time when the manufacturers were desperate? Ryanair points out that the reason for the termination last December of its 737NG negotiations with Boeing was not about price but about warranties. It also makes clear that the re–engined A320 is a genuine alternative.
On personnel costs Ryanair contends that cost pressure will be contained by its pay structure which provides very strong incentives for productivity. Its remuneration package is designed to be competitive, and its effectiveness is measured by crew turn–over and absence days – which Ryanair claims are very low.
However, Ryanair does at least have a major diplomacy challenge. In October it will pay a one–off dividend of €500m to shareholders, and such is its cash generative power, especially with no new capex, another such dividend becomes likely around 2013. Ryanair staff have minimal stock ownership in the airline so they will required to exercise pay restraint at the same time as huge sums are being returned to shareholders, which they will not appreciate.
MONARCH HOLDINGS RESULTS 2008/09
MONARCH HOLDINGS RESULTS 2008/09
Turnover
Pre-tax profit
Margin
Airline operations
517.7
-19.1
-3.7%
Sale of airline seats
103.1
-5.2
-5.1%
Engineering services
21.6
2.5
11.5%
Tour operations
148.3
-12.5
-8.4%
Group adjustments
4.0
N/A
TOTAL (£m)
790.8
-30.4
-3.8%
Note: FY is Nov 1st - Oct 31st.