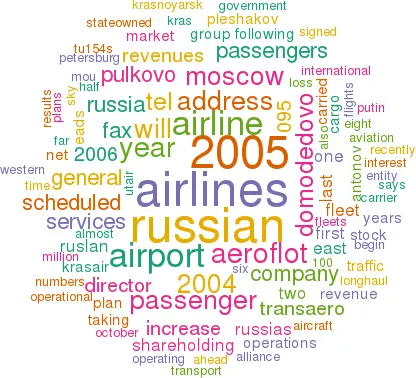 Russian president Vladimir Putin has repeated that Russia's newly formed Unified Aircraft Corporation (UAC) is objectively interested in building closer production ties with EADS through cross–ownership. The government, a 75% stakeholder, has pledged to invest over $13bn in UAC, to help re–establish Russia's position as a major aviation player.
Russian state–controlled Vneshtorgbank last month revealed it had acquired a 5% holding in EADS through its stock market activity, Putin commented "I personally believe that Russia could in time increase its stake up to 10%, maybe more." Such a move would balance a 10% shareholding owned by EADS in one of UAC's constituent firms — NPO Irkut (aircraft manufacturer and Su–37 fighter producer). An enlarged shareholding can only go ahead with the backing of EADS' shareholders and following the conclusion of an appropriate co–production agreement.
Aeroflot Russian Airlines
There was a cool European response to these latest Russian moves, personified by Bavarian state premier Edmund Stoiber's comments spoken after meeting Putin: "I asked him to understand that in some strategic industries there are limits to taking reciprocal stakes." Russia's national airline saw traffic rising from 6.6m passengers in 2004 to 6.7m in 2005. Total 2005 revenue of $2.5bn for Aeroflot was an increase from 2004's $2.2bn. Net results for 2005 and 2004 were $190m and $172m respectively. The airline is targeting a 6.7% increase in passenger traffic and a 12.2% rise in revenue for 2006.
In April 2006, Aeroflot Russian Airlines formally became the tenth member of the SkyTeam alliance, taking two years from the MoU signing for Aeroflot to meet the necessary criteria to join. The third terminal at Sheremetyevo Airport is expected to be completed by the end of 2007. Aeroflot has a 30% share in the Terminal venture, Vneshtorgbank 25% and other part–owners include the airport itself and Russian finance group Sberbank RF.
Aeroflot is now expressing a strong inter- est in the Russian Far East. Air transport is of crucial importance is the Far Eastern regions but local carriers lack the resources to develop their fleets and services. Last year, Aeroflot was angling to acquire a controlling interest in the 100% state–owned airline Dalavia, based at Khabarovsk Airport. This summer, Aeroflot's original interest has expanded into details of a concept to create an airline group, tentatively named Aeroflot- East. Aeroflot's plan envisages a merger of state controlled operators Vladivostok Avia and Dalavia, at least 70% of this entity would be transferred to Aeroflot, which would ensure that it continued to provide intra–regional services.
Aeroflot has postponed taking a decision about the choice of a Western model for its long–haul fleet. Whatever the choices, delivery will be scheduled for 2010 onwards.
However, it is going ahead with its mediumhaul fleet renewal plan. The airline has announced that it will pull nine Il–86s from service (to be sold or leased out), and has taken delivery of the first of seven A321s that were ordered a year ago.
CEO: Mr. Valery Okulov
Address: Leningradsky Avenue 37, Bldg 9. Moscow 125167, Russia
Russian Sky
Tel/ Fax: 095 752 9001, 095 155 6647 In August 2005 Russian Sky Airlines, formerly East Line, the airline division of East Line Group and part of Moscow Domodedovo Airport's operating company, was 100% acquired by businessman Rashid Mursekaev. Mursekaev was linked to financial firm Centr–Capital, a group which has ties with other Russian airlines, such as VIM–Avia.
Passenger numbers fell by more than 70% over the first half of 2006 to fewer than 66,000. In developments last month, it was reported that Russian Sky is to abandon its scheduled passenger operations to focus instead entirely on developing its freight transport activity. All of its passenger flight operations have been transferred to VIMAvia, a Moscow–based, Russian charter airline that is increasing its scheduled passenger operations.
Director General: Mr. Vyacheslav Khabarov
Address: Domodedovo Airport, Moscow Zone 142015, Russia
S7 Airlines (formerly Sibir)
Tel/ Fax: (495) 795 3838, (495) 795 3855 S7 Airlines operates scheduled passenger and cargo flights from its bases at Moscow (Vnukovo airport) and Novosibirsk (Tolmachevo airport), to more than one hundred destinations within Russia and the CIS. S7 has eight routes outside of this area.
In June 2004, Russia's authorities ordered that 25% of Sibir (branded as S7 since 2005) be put on the list of the state–owned assets to be privatised in 2005. This was the fourth consecutive attempt by the Government in the past few years to sell the shareholding and unsuccessful once again.
S7 Airlines now operates 11 737s, eight A310s and six A319s, a fleet of 25 foreign built aircraft as well as nine Il–86s and 23 Tu154s. Further fleet renewal plans envision acquiring 10 A319s and up to five 737- 500s.
The carrier hopes to raise traffic by 19% and transport in excess of 5 million passengers in 2006. It carried 4.2m passengers in 2005 and 3.7m in 2004. The expansion plans are expensive — S7 suffered a net loss for a second consecutive year in 2005 following increased spending on expansion plans. Overall losses totalled $40m on revenues of $694m in 2005, up nearly a third on the previous year. S7 points out that this loss comes at the same time as its "inordinate capital outlays on business development".
CEO: Vladislav F. Filiov
Address: Tolmachevo Airport, Novosibirsk 633115, Russia
Tel/ Fax: 3832 227 572, 3832 599 064
Pulkovo Airlines
In 2005, Pulkovo Airlines carried 2.8m passengers and earns 70% of its revenues on services to Western Europe. Pulkovo and merger partner Rossiya were due to begin operating as a single entity this October. Under articles of incorporation endorsed by the Government, the integrated state–owned company inherits legal rights from Pulkovo Airlines and maintains Rossiya's brand name. The new entity is scheduled to begin operating on 29 October from St Petersburg Pulkovo and Moscow Vnukovo airports.
The combined airline will embark on replacing ageing Tu–154s in its fleets with A320s and 737s. "The plan is to lease another five Western models on the medium- range side," says acting general manager Gennady Boldyrev. Additionally, Boldyrev says the carrier will shortly sign a deal with GECAS to take seven–year operational leases on up to ten Embraer 170s.
Pulkovo was under investigation after one of its Tu–154s crashed in Ukraine in August, killing all 170 people aboard. The airline has just escaped censure from the EC for its safety record. The EC will monitor the implementation of corrective actions promised by Pulkovo.
Acting Director: Mr. Alexander Golovin
Address: 18/4 Pilotov Street, St Petersburg 196210, Russia
Tel/ Fax: 812 122 9422, 812 104 3302
KrasAir
In October 2004, KrasAir and Domodedovo set up a joint management company, the beginnings of the AirUnion alliance. Since then Samara, Omskavia and Sibaviatrans have also joined the alliance. Moscow–based Domodedovo is a specialist in long–haul flights to Russia's Far East and Asia using a 17–strong fleet of Il–62 and Il- 96s. KrasAir provides scheduled services from its home airport Krasnoyarsk throughout the country and charter flights abroad. Revenues for Kras rose from $293m in 2004 to $356m in 2005; passenger numbers have fallen slightly over the same two years from 1.9m to 1.8m passengers
KrasAir has signed an agreement for 30 Russian Regional Jets (manufactured by Sukhoi and recently rebranded as "SuperJet"). Kras has committed itself to taking 15 SuperJets in a 95–seat configuration. At the same time, KrasAir is continuing to work with the lessor Ilyushin Finance Company and the Antonov Design Bureau on finalising a contract for 12 An–148 regional twin–jets plus six options that was signed last year.
General Director: Boris M. Abramovich
Address: Emelianovo Town, Krasnoyarsk, Krasnoyarsk Region 663020, Russia
Domodedovo Airlines
Tel: 3912 555 999, 3912 244 895 Kras Air owns 49.6% of Domodedovo and while the companies retain separate legal entities, they are planning to integrate networks and services. In 2005, Domodedovo recorded revenues of around $212m and a $9.5m net loss.
Director General: Mr. Sergei Yanovoy
Address: Domodedovo Airport, Moscow 142045, Russia
Tel/Fax: 095 323 8991, 095 952 8651
UTAir Aviation
Providing passenger and cargo services mainly in the oil and gas regions, UTAir Aviation is also the largest helicopter operator in Russia. UTAir carried 1.9m passengers in 2005 up around 29% from 2004. UTAir's financial results for the first six months of 2006 reported a revenue increase of almost 44% to about $242.5m compared to $169m in the first half of 2005. Profit from the airline's core operations was $8.4m compared to $1.4m a year ago. In the first half of 2006, the airline carried 1m passengers, 35% more than the same period of 2005.
UTAir is one of only two Russian airlines traded on Russian stock exchanges, (Aeroflot being the other).
General Director: Mr Andrei Martyrosov
Address: Airport of Khanty — Mansiysk, Tyumen Region, West Siberia 628012
Transaero
Tel/ Fax: 34671 94557, 34671 94588 Based at Moscow's Domodedovo airport, with a second operational base at St Petersburg's Pulkovo airport recently opened. Transaero has been buoyed by a 16.5% increase in passenger numbers to 1.6m from 2004 to 2005, a cargo traffic increase of 30% and a bright business outlook. 2005's operational results were the best in Transaero's 15- year history. Net profits rose 50% to almost $6.6m on revenues of $347m, an improvement of 32%. Transaero aims to boost profits in each of the following three years and meet a $42m target on revenue of about $900m in 2008.
The airline recently signed a MoU with Airbus for the purchase of eight A330–200s, and is negotiating an order for 10 A320s. Deliveries are scheduled to begin in 2009. Transaero says the MoU confirms the airline's commitment to the development of long–haul services from Moscow and St Petersburg to domestic cities, as well as destinations in Africa, the Americas and Asia.
Key shareholders in Transaero are tightening their grip on the company in preparation for an IPO. Alexander and Olga Pleshakov, the company chairman and general manager respectively, have initiated a plan to buy an additional 32% of company shares. The Pleshakov couple already collectively own almost 41% of Transaero. Pleshakov's mother Tatyana Anodina, who heads the CIS airworthiness authority ARMAK, holds a 3.25% interest. Earlier this year, a specially–created subsidiary Transaero–Finance purchased a 5.8% stake from an offshore firm registered on the Virgin Islands.
The Pleshakov family intends to gain a majority shareholding ahead of launching a planned IPO for Transaero. The carrier will seek to list on one of the Russian and, possibly, on a foreign stock exchange next year. Russian analysts expect its market value to double to $600 million following the listing while Pleshakov is looking at raising $100 million by offering up to 20% of its stock to the public in 2008.
Director General: Mrs. Olga Pleshakova
Address: 3/4, 2nd Smolensky Pereulok, Moscow 121099, Russia
Volga-Dnepr Airlines
Tel/ Fax: 095 937 8478, 095 937 8463 The Russian outsize freight operator is forging a marketing partnership with Antonov Airlines. To be known as Ruslan International — after the name associated with the An–124 freighter, used by both carriers — the venture will jointly market the capabilities of the two sides' fleets. Volga–Dnepr saw cargo revenues rise from $168m in 2004 to £340m in 2005.
Ruslan International will also allow the airlines to benefit from a joint spares pool, shared loading equipment, and to combine forces to drive forward a planned restart of An–124 production. Volga–Dnepr and Antonov Airlines between them operate some 17 An–124s.
Ownership and shareholding of Ruslan International has yet to be finalised. But it will build on the two sides' Ruslan Salis partnership which last year agreed to provide strategic airlift to NATO using An–124s. Antonov declines to disclose the Ruslan Salis deal value but market experts in Moscow estimate it at up to $650m.
Chairman: Mr. Alexei I. Isaikin
Address: 14 Karbysheva Str., Ulyanovsk 432072, Russia
Tel Fax: 842 2 59 0059, 842 2 20 26 75
ACTIVE RUSSIAN FLEETS
| | | | | | | | | | |
| --- | --- | --- | --- | --- | --- | --- | --- | --- | --- |
| | | | | | | | Domo- | Russian | Volga |
| | Aeroflot | S7 | Pulkovo | Kras Air | UT Air | Transaero | dedovo | Sky | Dnepr |
| 737-3/4/5/700 | | 11 | 5 | 5 | | 7 | | | |
| 747-200B | | | | | | 3 | | | |
| 767-200ER | | | | 3 | | 3 | | | |
| 767-300ER | 10 | | | | | 4 | | | |
| DC10-40 | 4 | | | | | | | | |
| A310 | | 8 | | | | | | | |
| A319/320/321 | 18 (12) | 6 | | | | | | | |
| IL-62 | | | | | | | 4 | | |
| IL-76 TD | | | | 2 | | | | 4 | 6 |
| IL-86 | 7 | 9 | 7 | 4 | | | | | |
| IL-96-300 | 6 (6) | | | | | | 5 | | |
| Tu-134 | 13 | | 10 | | 31 | | | | |
| Tu-154B | | | 6 | 2 | 4 | | | | |
| Tu-154M | 26 | 23 | 18 | 11 | 10 | | 5 | 1 | |
| Tu-204 | | 1 (4) | | 3 | | | | | |
| Tu 214 | | | | 1 | | | | | |
| An-24 | | | | | 17 | | | | |
| An-26 | | | | | 1 | | | | |
| An-124-100 | | | | | | | | | 10 |
| Yak 40 | | | | | 10 | | | | 5 |
| Yak 42 | | | | 2 | | | | | |
| TOTAL | 84 (18) | 58 (4) | 46 | 33 | 73 | 17 | 14 | 5 | 21 |