MAXjet and Eos: Prospects for the all-business class concept October 2005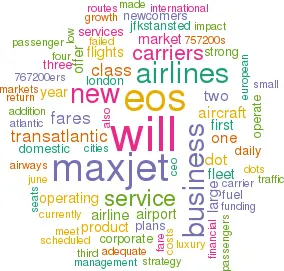 Competition in the lucrative and prestigious New York–London market is set to intensify in the coming weeks, as two new cut–price, all–business class carriers enter the JFK–Stansted route. Purchase, NYbased Eos Airlines is launching daily 757- 200 flights on October 18, while Washington/Dulles–based MAXjet Airlines is making its debut with six–per–week 767- 200ER services on November 1.
Are these newcomers likely to be successful? What impact will they have on the market? To keep things in perspective, Eos and MAXjet will be small niche operators in a huge and already fiercely competitive market. They will face many industry heavyweights, including BA, American, United, Virgin and Continental. Their impact in terms of capacity addition will be minimal — there are already at least 25 flights from New York to London each day (mid–October schedules) and most utilise larger aircraft such as 777s and 747–400s.
Eos and MAXjet will operate to Stansted (the only London area airport where new carrier service is permitted under the UK–US ASA). All but two of the current 25 daily eastbound flights are to Heathrow, which is the airport strongly preferred by business travellers (the other two existing flights are to Gatwick).
The newcomers are counting on Stansted's improved transport connections and image — the airport has a terminal express train connection to the City of London (the financial district). The airport has seen very strong growth in European destinations, but this growth has been driven by Ryanair, and there will be no possibility of interlining agreements. So, in the short term at least, the airport may only attract niche–type transatlantic traffic.
That said, Eos and MAXjet will have impact because they are focusing on where it hurts the large carriers the most: long–haul business traffic. Transatlantic routes, which have always been important for BA (traditionally accounting for some 40% of its revenues), have become critically important for airlines on both sides of the Atlantic as the profitability of US domestic and European short–haul services has eroded due to LCC competition. And because there is heavy leisure fare discounting on routes such as New York–London, the profits are made from business traffic.
US passenger airlines made a US$718.6m operating profit on the transatlantic in 2004, compared to a US$4.4bn aggregate operating loss posted domestically by the nine largest carriers. Not surprisingly, the transatlantic has featured heavily in US carriers' expansion plans — a trend that is intensifying now that capacity is finally being removed from the domestic system. As small niche carriers, Eos and MAXjet will not be able to pull large numbers of "mainstream" business passengers — the vast majority that regard factors such as high frequencies, global networks and FFPs as critical. And frequent travellers in large corporations and banks are tied to corporate travel policies under which preferred network carriers offer substantial discounts.
Nevertheless, given that the segment is one of the last bastions of profitability, the large airlines cannot afford to lose even small numbers of business passengers. Consequently, a strong competitive response is likely in the form of price–matching and product enhancements.
Interestingly (and evidently coincidentally), the newcomers will launch simultaneous assaults on the opposite ends of the transatlantic business passenger segment. Eos will target the high–end business traveller with a product that mixes corporate jet–like privacy with the luxury of a "top–tier international first–class cabin", while MAXjet will target the value–oriented business traveller with a "true business class experience" at one–way fares starting at just US$779.
In other words, Eos is hoping that the strong surge in demand for corporate jet travel seen in recent years, as service standards on commercial fights have slipped, will also materialise in long–haul international business markets. The airline will have just 48 "flatbed" seats in its 757–200s, offering each passenger 21 square feet of personal space. It claims to have developed customised service training on par with the world's finest luxury hotels.
Eos will offer a basic unrestricted return fare of US$6,500 (after a limited–time introductory offer of US$5,000), which compares very favourably with the first and business class return fares of US$12,772 and US$8,682, respectively, that BA currently offers.
MAXjet will have 102 "traditional business class" seats in its 767–200ERs (compared to the typical 200–plus), with 60–inch pitch and no middle seats. It will offer a "high–quality, low–fare business class product" with the usual amenities. The airline said that its fares, from US$1,558 return, would be 50–75% lower than prevailing fares. The low fares will be available "at all times, even for last–minute" and they will be flexible, allowing changes for a fee of US$100 and refunds for US$300.
At those fares, neither of the newcomers should have difficulty filling their aircraft initially. But whether adequate load factors can be sustained in the longer run will obviously depend on the extent to which the established carriers match the fares and the product offerings live up to expectations.
History is not encouraging. Luxury airlines have invariably failed because they could not generate enough revenue from premium–class passengers. They did not have the flexibility offered by a mix of segments. One such example was Kirk Kerkorian's MGM Grand Air, which operated all–premium class service with 727–100s and DC–8s between Las Vegas and New York in 1992–94 and failed after two attempts.
Then again, until very recently virtually all start–up airlines in the US failed, whether premium or LCC. In recent years, there has been a steep learning curve in how to start and run new airlines. And seat configurations can always be changed to accommodate multiple classes, if necessary.
Eos and MAXjet, which were both founded in 2003, look good on paper. They seem to have the key attributes essential for new entrant carrier survival, including adequate funding, strong management teams, large enough markets and reasonable cost and efficiency levels. However, of the two, Eos would seem to have an edge in a number of ways. First, it has stuck to the same strategy since its inception, whereas MAXjet was originally–proposed as a more leisure–oriented carrier. Second, Eos has better financial backing. Third, it has more suitable aircraft for the new fuel environment, whereas MAXjet, among many other changes, is now being forced to rethink its fleet strategy.
Eos Airlines
Eos, originally called "Atlantic Express Airlines", is the brainchild of its CEO David Spurlock, an American with an MBA from Stanford who worked for British Airways in 1997–2001, most recently as director of strategy (for a historical perspective on Spurlock's thinking see Aviation Strategy, March 2000). The management team includes seasoned ex–Continental and ex- US Airways executives.
Eos has received equity commitments totalling US$87m from three top venture capital firms — Golden Gate Capital (the leading investor), Silicon Valley–based Sutter Hill Ventures and Maveron (a firm co–founded by Starbucks' founder Howard Schultz). Some US$72m of it has been collected so far, with US$15m to be made available for growth later. The funds comfortably exceed the US$64.7m required to meet the DoT's fitness criteria (pre–launch expenses plus 25% of year one operating costs). The initial fleet of three 757–200s, all delivered by September, have been taken on operating lease from ILFC.
The backers were attracted evidently because Eos offered something different. Golden Gate Capital's CEO Jesse Rogers described it as an "opportunity to build a great business in a dramatically under–performing industry". Rogers noted in June that "incumbent competitors are coping with severe challenges to their ongoing viability, and service levels have suffered" and that Eos would offer "an experience modelled after leading customer–centric retailers and premium hotels".
Eos applied for markets that are not subject to restrictions on entry imposed by ASAs or slot restraints. It was granted licences to serve the UK (other than Heathrow and Gatwick), as well as the Netherlands and Germany (both open skies regimes). In the first place, the airline hopes to add a second daily JFK–Stansted flight from January 3. The plan is to grow the fleet by about four aircraft a year, to operate 20 757–200s by the fifth year.
The DoT suggested that Eos' proposals were "considerably more ambitious than generally put forward by new applicants" (presumably meaning international carriers, because JetBlue and other domestic start–ups have grown at faster rate). Nevertheless, the application was approved in less than 12 months, though the DoT asked Eos to give it notice 45 days before going over four aircraft. Under a new requirement, all US start–up carriers must submit a detailed progress report to the DoT within 45 days of the first anniversary of fight operations.
MAXjet Airlines
Eos somewhat confusingly aims to be a "low–cost producer of a market–leading North Atlantic product". By low costs it essentially means the general cost advantages enjoyed by new airlines over established operators, through younger work forces, more efficient corporate systems and processes, extensive use of new technology and suchlike. MAXjet Airlines In its original DoT and FAA applications filed in February 2004, MAXjet (formerly SkyLink Airways) planned to operate low fare services from East Coast cities such as Baltimore to European cities such as London and Paris. It had hoped to start full scheduled service in April 2005, meeting summer demand with seven routes and having eight 767s in the fleet by year–end. However, in June this year the airline scaled down its plans significantly, citing higher fuel prices, longer–than–expected FAA certification process and general market conditions. It was also clear that MAXjet was nowhere near raising the US$50m or so in funding needed to meet the DoT's financial fitness criteria.
The airline's revised plans call for a much slower build–up of scheduled service — to save costs and reduce risk — and increased charter flying this winter (to maintain adequate fleet utilisation). Under the revised plans, year one operating expenses have been slashed to one quarter of what they were previously (US$41.6m, down from US$164.5m).
MAXjet has so far raised US$28.8m from individual investors, which slightly exceeds the DoT's requirements for the scaled–down operation. In addition, there are pledges for further funding to meet expansion needs and financing commitments for the first three 767–200ERs. According to DoT filings, Kenneth Woolley, a Salt Lake City–based businessman who was an early investor in JetBlue, owns 55% of MAXjet's outstanding shares.
MAXjet has a solid management team, led by Gary Rogliano as CEO. The company is committed a low–overhead operation and outsourcing wherever possible — there are apparently only 15 people in the head office not affiliated with flight operations (in marketing, finance, etc.). In addition to the six–per–week JFKStansted flights to be introduced on November 1, MAXjet will be launching a weekly JFK–Florida domestic tag. That and the planned charter flying to the Caribbean in the winter will help offset seasonality in the transatlantic market.
In the spring, MAXjet currently expects to add scheduled transatlantic service to Stansted from two more East Coast cities, one of which will be Baltimore/Washington. Those services will be three or four times a week. JFK–Stansted will become a daily service by the end of June 2006 and will subsequently be gradually built up to a twice–daily service. MAXjet has DoT approval to operate also to Aruba, Austria, Belgium, Canada, Chile, Germany, France, Italy and the Netherlands.
After receiving its third 767–200ER in December (all leased from an affiliate of Lehman Brothers), MAXjet does not intend to take any more aircraft until the third quarter of 2006. This is partly because fuel prices have called into question the long–term viability of the 767–200ERs. The airline is currently evaluating A330s and 777s, which would be more suitable for the current fuel environment.
A QUICK COMPARISON
A QUICK COMPARISON

| | | |
| --- | --- | --- |
| | MAXjet | Eos |
| Aircraft Type | 767-200ER | 757-200 |
| Seats | 102 | 48 |
| Seat size | 60in recliner | 78in flatbed |
| Proposed fare | $1,500 - | $5,000 - |
| range | $1,900 | $6,500 |