New search engines post-Orbitz October 2004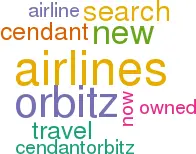 Orbitz, which when it was set up in 1999, threatened to revolutionise booking and ticketing systems on both full service and low cost carriers, has now been absorbed by the travel and property conglomerate, Cendant. On September 29, Cendant Corp. agreed to pay $1.25bn for Orbitz in a deal that is likely to close before the year–end.
Cendant has also taken over the long–term contracts that Orbitz had in place with Worldspan, which was the GDS that Orbitz used, and with airlines regarding direct connections and commission payments.
This appears to consolidate the online travel industry into three: Sabre/Travelocity, Cendant/Orbitz and Expedia.
Cendant's acquisition gives it a counterpart to the Travelocity offering of its chief rival Sabre.
According to Merrill Lynch analyst Mike Linenberg, American Airlines and United Airlines are likely to receive about $185m each for their respective 16.7% stakes, Delta Air Lines is due about $143m for its 12.9%, Northwest is looking to get $139m for its 12.5% share and Continental Airlines is in line for $98m for its 8.8%. The five airlines owned almost 68% of Orbitz. The airlines have already received a payout from their original $215m investment following last year's IPO — however, given today's conditions, these cash sums could be burnt through very quickly.
During 2000–03 the US Department of Justice carried out a major antitrust investigation concerning biased selling of the airline shareholders' tickets via Orbitz. Now there are worries that Cendant/Orbitz will be used to promote sales of hotel rooms in the Howard & John and Ramada chains that are owned by Cendant.
Meanwhile, the search for a neutral, universal online booking system continues.
Alex Zoghlin, one of Orbitz's founders, who resigned as chief technology officer last year), has unfolded a new company that looks to compete against Cendant/Orbitz and their competitors. He, like the airlines should also benefit from Cendant's acquisition — at the time of the IPO he owned 356,000 shares in Orbitz, a stake now worth around $9.8m on paper. Zoghlin's new start–up — G2 SwitchWorks — has letters of intent with a handful of airlines (Northwest, Alaska, Continental, Delta, United and US Airways and perhaps American) to build a new, low cost distribution network. G2 claims, that when launched, its "TrueConnect" model will offer "unbiased shopping capabilities for over 450 airlines".
As for prospective passengers, it seems that choice and ease of functionality are going to become more abundant, as the GDSs' grip on airline ticket sales is diluted.
Kayak.com, a new travel search company launched very recently, headed up by "veterans" of Orbitz, Travelocity and Expedia, is part of a new generation of providers that is more akin to a search technology player such as Google, than a travel agent. Another example of this newest approach to "fare–hunting" is Skyscanner.net, a leading search engine for European budget airline flight prices that is about to go live in the US with a beta version of its site.