European ground handling: new competitive dynamics October 2000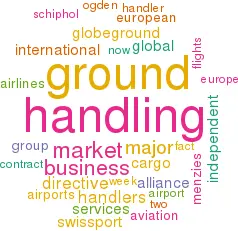 The ground handling business in Europe is changing rapidly, changes triggered by the 1996 EC Directive aimed at liberalising ground handling opportunities at EU airports. What has resulted is a rapid international growth of ground handling brands such as Swissport and Globeground, plus independent Servisair. A spate of corporate activity was capped in July by the purchase of Ogden Aviation by the Menzies Aviation Group (MAG) transforming this relatively minor player into a global operator.
The EC Directive imposed a progressive opening up of the ground handling market. Since January 1999 airports with a throughput of over 3m passengers a years of 75,000 tonnes of freight have had to permit third–party handling. However, the Directive did allow airports to apply for two–year extensions, before the legislation was fully applied, with the result that some important airports, such as Frankfurt Airport, which was the classic target of the legislation in the first place, have been able to delay opening up their markets. From January 2001, the Directive will apply to any airport located in the EU with passenger volumes of over 2m or freight volumes of over 50,000 tonnes.
In the good old days, the ground handling business was very simple: the flag–carriers provided handling services to foreign counterparts almost as a favour, in order that that resources would not have to be reproduced and duplicated.
Over time, the handling function developed as a business opportunity for the incumbent airlines and a source of monopoly profits for some, notably Olympic, Iberia and Aer Lingus. This situation led to some vociferous complaints to the EC and eventually to the Ground Handling Directive.
The explicit aim of the Directive was to increase the number of competing ground handlers. In fact, the evolution of the market is being characterised by a drive for market share and global reach on the part of the ground handlers. Size or rather network is all–important. What is at stake is a large international business based on a whole raft of support services to airlines from executive lounge provision to aircraft cleaning, passenger services to ramp services.
The independent sector has struggled to achieve this global status simply because these specialist companies do not have the type of a ready–made international network that a major international airline possesses. Two of the key leading groups — Swissport and Globeground — are airline–owned subsidiaries.
Value of ground handling
According to Swissport, the ground handling arm of the SAir Group, the value (meaning annual revenues) of the ground handling market geographically is: North America, $7.5bn; Europe, $6.4bn; Africa, $1.2bn; and Latin America, $1bn.
Globeground, the Lufthansa subsidiary, has analysed the world market by competitive characteristics. It estimates that ground handling monopolies account for 30% of the market (mainly in Europe) while the fully liberalised ground handling markets, as at Heathrow or Amsterdam, account for 15%. In between is the 55% of the market that offers some degree of freedom for self- and third–party handling.
This is what interests the major international ground handlers as it represents potential the future business, if only they can convince major airlines to out–source their base and hub operations to independent experts.
Interestingly, ground handling operators have been highly localised despite the fact that the aviation business increasingly demands global solutions from most service suppliers. Until very recently there were only a handful of European ground handlers with operations in more than two countries.
The alliance factor at Schiphol
Independent ground handlers now have to contend with the genuine threat of alliance–based standardised purchasing at major European hubs
Recent developments at Amsterdam Schiphol give an indication of how alliances may shape the future ground handling market. SAir's Qualiflyer Group tendered as an alliance for their handling needs at the airport, and the winner of this contract, for 125 flights a week, was a joint–venture between Swissport and Cargo Services Centre, the Dutch specialist air cargo handler. This was a marriage of convenience utilising the strength of CSC, which accounts for 25% of the cargo handling market at Schiphol and has 75 bases worldwide, and Swissport, the global alliance partner for the Qualiflyer group. Both parties have now signed a marketing agreement to further develop their business relationship on projects worldwide.
Another major tender, covering 210 flights per week, was for the oneworld airlines (BA, Iberia, Cathay Pacific and Finnair). This contract was won by Aviapartners, the Belgium–based independent ground handler. It is interesting to note that oneworld does not have a major European ground–handling partner, since BA withdrew from third party handling work at Heathrow in 1997.
The unanswered question is which handler will win the Star Alliance business (over 100 Lufthansa and SAS flights a week)? The two main handlers without a major alliance contract are Ogden Aviation and Aero Groundservices.
As Aero Groundservices was bought by Globeground in July, it should be the favourite. However, the situation is complicated by the fact that Ogden has now been purchased by Menzies, and in the UK, Menzies and Globeground operate as a ground handling joint–venture and have merged their cargo businesses to form Menzies World Cargo.