Reasons to be bullish about Boeing October 2000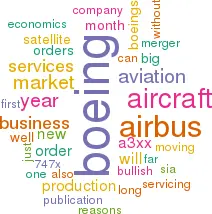 Not all that long ago Boeing chairman Phil Condit was warning his senior managers that with the share price languishing in the low 30s, the company was a takeover target. Its net asset value was lower than its market capitalisation. No longer. Boeing's stock is up around $60, higher than its previous peak just before completion of the merger with McDonnell Douglas.
The merger seems to have gone quite well, with Boeing's management able to discern new opportunities from the combination. The bringing together of the defence aerospace business of McDonnell Douglas, coupled with the space business of North American Rockwell plus the arrival of Hughes satellite business produces a group that can offer a wide range of products and services. The whole may be greater than the sum of the parts.
But this is not really what is driving the stock up in the short term. Boeing's factories are full and order intake is healthy. Boeing has managed to avoid the problems that afflicted it in 1998 when production lines became overloaded. The company eventually had to pay out nearly $3bn in extra payments to cover delays and expensive reworking of aircraft finished without some parts which the supply chain could not provide. Everything is much calmer this time, even though production rates on all main models are being ramped up.
747 production is going up to 2.5 aircraft a month, after long periods when it was barely one. Boeing has received nine orders so far this year and hopes for another 20 before the end of the year. Production of the 777 is going up from four to five a month, as a result of 36 orders so far this year. Boeing is raising the production rate of 737s to 28 a month from 24 — almost as fast as Airbus is constructing A320s.
Overall, by mid–September Boeing had landed 386 firms orders so far this year compared with 262 for Airbus. Thus, the order intake was looking more favourable than it was last year when Airbus claimed some 55% of the market.
The big cloud on the horizon remains the A3XX. This year Airbus had announced 22 firm orders (provided it proceeded with an industrial launch of the aircraft, by early September). The big prize being sought by Airbus, however, was Singapore Airlines.
SIA triumph for Airbus and the Seattle spin
SIA (plus Virgin Atlantic) first expressed interest in acquiring A3XXs back in March, then both airlines went rather quiet. Behind the scenes Boeing waged a mighty campaign to keep SIA with the 747 by offering cut–price deals on the re–vamped 747X to stave off an Airbus order.
Then SIA on September 29 announced an order for up to 25 A3XXs, without also ordering some 747Xs, as widely expected. This will ensure that the A3XX is launched with a healthier order book than any other big airliner in recent history, according to John Leahy, marketing director of Airbus.
EADS, which depends on Airbus for half its sales and profits, will receive a major boost. But it is not necessarily terrible news for Boeing in the short term, and should have minimal impact on Boeing's share price.
Seattle will spin the announcement by saying that it was not prepared to sell 747Xs at a loss just to block the arrival of the A3XX. For intercontinental airlines this is a dream scenario: they have the new A3XX which could be an exciting business–grower for early customers; meanwhile they have a revamped, improved 747X (which is bound to be launched before long) available at less cost. They now have the means to prevent either Boeing and Airbus from exploiting a monopoly position.
Beyond such issues, Boeing has other October 2000 Aviation Strategy is published 12 times a year by Aviation Economics on the first of each month Editor: Keith McMullan Associate Editor: Heini Nuutinen Subscription enquiries: Keith McMullan Tel: +44 (0) 20 7490 5215 Copyright: Aviation Economics All rights reserved Aviation Economics Registered No: 2967706 (England) Registered Office: James House, LG 22/24 Corsham St London N1 6DR VAT No: 701780947 ISSN 1463–9254 The opinions expressed in this publication do not necessarily reflect the opinions of the editors, publisher or contributors. Every effort is made to ensure that the information contained in this publication is accurate, but no legal responsibility is accepted for any errors or omissions. The contents of this publication, either in whole or in part, may not be copied, stored or reproduced in any format, printed or electronic, without the written consent of the publisher. Reasons to be bullish about Boeing reasons to be bullish. Not only is the civil aircraft market proving more resilient than had been foreseen, but also the industry is settling into a more stable pricing pattern (A3XX and 747X aside) that might be expected of a duopoly.
Also, the US defence aerospace market is showing signs of recovering — appropriations are set to rise for the first time in eight years. Boeing will probably win most of the mega–contracts for the joint strike aircraft, even if the Pentagon has dropped its former "winner–take–all" deal, in favour of a share–out of work from the lead contractor to the runner–up. So the expectation is that Boeing will walk away with the big deal, but pass on much of the work of Lockheed Martin, as well as to its consortium partners in the bid.
The move into services
Moreover, Boeing is hoping to grow its earnings by moving steadily into the aviation services business, where it thinks its post merger strengths are invincible. The strategy is to take the knowledge of airliners and civil aircraft from the Boeing Commercial arm, marry it to the satellite expertise of Hughes satellite business, and come up with services such as Connexion by Boeing, which aims to deliver satellite TV and wideband communication to airliners. EADS is moving into the same market, but Boeing is convinced that it is well ahead.
Beyond that, there is the more humble business of servicing aircraft. Just as Lufthansa sees itself increasingly as an aviation services company which owns an airline, Boeing sees itself as a provider of aviation services as well as aircraft.
It is, for instance, quite comfortable competing with its customers in providing aircraft servicing and back–up. Phil Condit's view is that the margins are too good to ignore and that Boeing can provide a competitive product because it knows the market intimately (its aircraft comprise two thirds of the market).
Add to basic aircraft servicing and support new products such as GPS satellite–based air traffic control and one gets a picture of where the new service–oriented Boeing is headed. It is likely to join consortia bidding for air traffic control privatisations as they occur in Europe, beginning with Britain.
As the battle with Airbus settles down into a more stable, and duller phase (Airbus can no longer be shot down) so Boeing is moving on to a new way of generating profits growth to replace the top–end monopoly it knew it had to lose one day.