Airport privatisation: competition for management projects intensifies October 1999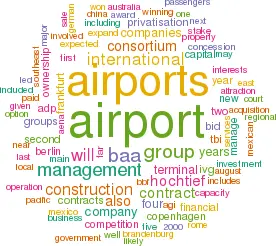 In the last 12 months, there has been a lull in the frantic drive towards airport privatisation. Nevertheless, several smaller airports have passed into private hands and competition for management projects between the main airport groups has intensified.
Airports such as Frankfurt, Schiphol, Manchester and Copenhagen, and airport groups such as BAA, ADP, Aer Rianta and ADR are keen to acquire other airports for two main reasons. First, it lessens their exposure to any downturns in their own national economies. Second, with the exception of ADP, the immediate prospects for all the major airports are constrained by either terminal or runway capacity.
Where new airport infrastructure is required in the shape of terminals, runways and/or hotels, the attraction for a construction group such as Hochtief are obvious. For TBI, once a property developer but recently an airport purchaser, the attraction has been a faithful and enthusiastic stock–market that has warmly embraced and supported its expansion into the airport sector. The stock–markets' love affair with airports also explains the keenness of other companies to enter the airport fray.
Airports are generally perceived as having:
Strong industry growth prospects;
Limited competition because of high barriers to entry;
Favourable regulatory regimes in order to encourage capital expenditure;
Significant operational gearing; and
For those airports that have been in public ownership, significant upside in terms of productivity and the expansion of commercial and property activities.
Governments wishing to privatise have four main options:
Flotation via a public offering e.g. BAA and Copenhagen;
Sale to a strategic investor e.g. Mexico;
Sale to a financial investor e.g. the original Rome airport transaction; or
Operating contracts and long–term leases e.g. Australia.
The most suitable option usually depends on whether the government or local authority wishes to retain a substantial ownership, the wishes of the airport management, and the financial robustness of the airport.
While the number of potential purchasers of airports continues to grow, supply remains thin. This has led, inevitably, to sharp rises in the prices paid for privatising airports.
Investment bankers used to employ a rule of thumb that airports should be valued at six times EBITDA (earnings before interest, tax, depreciation and amortisation), but now the going rate is nearly twice this figure. For example, Copenhagen is reported to have paid eleven times EBITDA for the Southeast group of Mexican airports.
The Mexican deals
Mexico picked Copenhagen Airports to run the nine airports of the Southeast Group in December 1998, while Spain's Aeropuertos Espanoles y Navegación Aerea (AENA) won the second (Pacific) group in August. The multinational consortium led by local construction group Tribasa and including Copenhagen Airports, construction company Cintra, and GTM of France, paid $116.5m for a 15% stake and a 15–year contract (with an underlying 50–year concession), with a further 5% option. Capital investment over the next five years is expected to amount to $120m. The Southeast Group includes Mexico's second- busiest airport at Cancun with an annual throughput of 6m passengers.
AENA, partnered with Mexican company Angeles, and Dragados and Union Fenosa of Spain, paid $261.6m for the 12 airports in the Pacific group, its first international success. The contract is otherwise identical to that of the Southeast Group.
Preparation work is nearing completion on the North–Central Group, which comprises 13 airports, with privatisation likely to be completed early in 2000. Mexico City comes next. Having been second–best in the bids for both Mexican groups privatised so far (as well as several others elsewhere), Aéroports de Paris (ADP) has gone one better in winning the privatisation of Angkasa Pura II, the Indonesian airports company responsible for five airports in Indonesia, including Jakarta's Soekarno- Hatta International.
In the UK the list of airport owners includes well known groups such as TBI, as well as property companies such as Peel Holdings (Liverpool), bus companies such as National Express (East Midlands and Bournemouth) and FirstBus (Bristol), and construction groups such as Wiggins (Manston).
UK developments: TBI and BAA
One UK company quietly set about moving into the airport business. The acquisition of Belfast International and Cardiff International, Skavsta near Stockholm and Orlando Sanford International in the US in the last four years was hardly noticed. But the sale of its $300m property interests last June, followed by the acquisition of US airport operator Airport Group International (AGI), has moved TBI into the premier league among airport management companies, completing its transformation into a fully–fledged airport group.
TBI beat strong opposition for AGI, which is believed to have included Hochtief and BAA. Having so far concentrated on smaller regional airports which, says TBI's CEO Keith Brooks, have yielded excellent returns, it will be interesting to see if the stronger group will now start to scrap for the big prizes that will come up in the near future, such as Sydney and Mexico City.
The $143m purchase of AGI, which was approved by shareholders in September, has given TBI interests in 29 airports in Australia, the UK, and North and South America. Among these are equity interests in London Luton Airport; Perth, Darwin, Alice Springs and Hobart, all in Australia; and in Cochabamba, La Paz and Santa Cruz de la Sierra in Bolivia.
Management contracts are held in another six, while a number of other services, such as ground handling and refuelling, are provided in 14 more airports in the United States. Earlier this year, AGI was selected as the preferred bidder for San José Airport in Costa Rica. TBI's most recent success has been in winning the management, operation and development contract for the domestic terminal at Orlando.
BAA has not been able to expand as rapidly as it would wish, as its shareholders want to see purchases made only at prices that are earnings–enhancing. BAA, despite an aggressive campaign to acquire non–UK airports, has so far added only a 15.1% stake in the APAC consortium which owns 50 year leases for Melbourne and Launceston airports and 70% of the operating company for Naples airport, to its stable of seven UK airports.
BAA has had therefore to change its strategy accordingly. Its preference remains to both manage and own (alongside financial partners) large international airports. However BAA will also take on management contracts where its strength in retailing allows it potentially to extract more value from a concession to manage a terminal rather than might be the case with direct ownership but with a high entry price. This policy also allows it to participate in ventures in countries where it might be reluctant to have a financial exposure through share ownership such as in Africa and the Far East, or where only management contracts are on offer rather than ownership.
Thus BAA has continued to expand its portfolio, signing a strategic alliance with Airports of Mauritius (AML) to manage the island's Sir Seewoosagur Ramgoolam International Airport and its duty free shops. The management contract is for five years, with an option for a further five years.
More significantly, BAA has got a foot in the door in China, which is looking to private finance and foreign management expertise for its major airports. A joint venture between BAA Pacific (49%) and the China Airport Construction Corporation — known as Allied Airport Management — won a licence in May for the introduction of commercial management into airports with an annual throughput of at least 2m passengers. BAA will be seeking contracts of between 10 and 15 years and hopes to secure two airports by the end of 2000, with a possible four more to follow. China has 16 qualifying airports, and is building a major new facility at Guangzhou.
BAA is believed to be interested in the privatisation of Portugal's Aeroportos e Navegacao Aérea (ANA EP), plans for which have been delayed until at least next year, one of the sticking points being what to do with Lisbon. The construction of a second airport for the capital is still on the cards, but there is as yet no agreement on where to build such an airport, while some within government prefer to expand the present airport to meet expected growth.
If the new airport is finally given the green light, BAA will face competition from two other consortia that are ready to bid for the financing, design, construction and operation of the proposed airport. Amsterdam, Aéroports de Paris (ADP) and Frankfurt Airport (FAG) will be involved.
The same companies are also likely to bid when a 51% stake will be offered in Aeroporti di Roma (ADR), which operates the two Rome airports of Leonardo da Vinci and Ciampino.
The 51% stake is expected to be valued at no less than US$1.1bn. The bidders for the two Rome airports exemplify the diversity of companies that are interested in the airport sector. The following four groups are expected to be shortlisted;
BAA with partners Banco di Roma and CIR (manufacturing group owned by the De Benedetti family);
Hermes (luxury brands), Pirelli (tyres) and Benetton (fashion retailer);
Gemina (financial holding company), McDonalds (fast food), Falck (an Italian energy and metal company, Impregilo (construction), and Italpetroli (oil); and
Germany: the Hochtief/IVG battle
ABN Amro and Banca Popolare di Milano, Schiphol and Frankfurt airports. Germany has been in the news, but for all the wrong reasons. German construction giant Hochtief's aim of building airport management into the second pillar of its Dm6bn ($534m) business received a severe setback in August, when a Brandenburg regional court ruled that its winning bid for Berlin Brandenburg Flughafen Holding (BBF) was null and void.
Earlier this year, it had all looked so promising when, in a tight head–to–head battle with another German consortium led by Bonn–based industrial group IVG and also including Vienna Airport, Hochtief had emerged the winner. The consortium, which included Hochtief, Frankfurt Airport (FAG) and ABB Airport Technologies, offered to pay Dm635m ($350m) for the shares of BBF. It also committed to an investment of DM6bn ($3.3bn) to develop the former East German Schönefeld Airport into a single international airport for Germany's new capital.
The first phase alone would have involved an expenditure of Dm4.85bn ($2.6bn) to increase the airport's capacity to 20m passengers by 2007. A second phase would have added a satellite terminal to bring passenger capacity to 30m by 2025. The deal also included the acquisition and operation of Berlin's other airports at Tegel and Tempelhof, both of which were due to be closed — Tempelhof in 2002 and Tegel in 2007 — although the latter needs to be expanded to 11m passenger capacity in the interim period.
When the European Commission concluded that the involvement of Hochtief in Düsseldorf and Frankfurt Airport in Berlin would not affect competition in Germany and the EU, work on the new Berlin Brandenburg International Airport seemed set fair for a start in 2003.
But IVG did not accept defeat lying down. It challenged the decision to award the contract to Hochtief and complained to the State of Brandenburg's contract supervisory committee that the Hochtief bid did not concur with technical requirements. But, more crucially, IVG pointed the finger at three people which, as well as being involved in reaching the decision to award the contract to Hochtief, at the same time were said to have held senior positions with members of the consortium. When the committee dismissed these objections, IVG took the matter to a higher authority and the regional court had no choice but to act the way it did. IVG has said it will match the Hochtief offer when both bid again, but the likely outcome is anyone's guess. As to the delay in the schedule, BBF says the planning application will be pushed through in December, with construction starting in 2003.
In the euphoria after the award, Hochtief's CEO Peter Keitel had been quick to point out that the Berlin airports would already bring in profits in 2000, and that serious consideration was being given to expand its airport portfolio by three or four more in the near future.
While he refused to name which airports are being targeted, it should be noted that the federal government wants to relinquish holdings in other airports, including Frankfurt, Hamburg, Cologne/Bonn and Munich. What effect the court ruling in Berlin may have on its chances, even if it wins the re–run with IVG, is difficult to predict, but the EC may be less inclined to look favourably at further Hochtief airport acquisitions in Germany.
YVRAS breakthrough
Finally, Vancouver Airport Services (YVRAS) has this year established itself as a player in the airport privatisation market, winning contracts in the Dominican Republic, Chile and Uruguay. As part of a consortium that also includes US services company Ogden Corporation, Italian construction group Impregilo SpA, and Operadora de Aeropuertos del Caribe (OPASA), formed by Dominican business interests, Vancouver will invest $400m in four airports, in return for a 20–year concession.
The four airports to be privatised are Las Americas, serving the capital Santo Domingo, and the facilities at Puerto Plata, Samana and Barahona. More than half of the investment will be made in the first two years. The main attraction was the republic's growing popularity as a tourist destination, which has seen traffic surge over recent years.
In Chile, YVRAS is part of the SCL Terminal Aéreo de Santiago consortium, which has won a 15–year concession to manage the terminal and upgrade Arturo Marino Benitez International Airport in Santiago. Some $220m are to be spent by May 2001. Other members of the consortium are local companies Agunsa and Sabco, and Spanish contractor Dragados–FCC.
The contract in Uruguay involves a 25–year contract to manage and develop Montevideo's Carrasco International Airport, beating ADP and AENA, the other operators qualified to bid. The consortium, which also includes Neutral SA, Tribasa and Akodike Supergas, is committed to invest up to $180m on terminal and airside investments. This latest contract, signed in August, brings YVRAS's involvement to 14 airports in seven countries.
INTERNATIONAL AIRPORT PROJECTS
INTERNATIONAL AIRPORT PROJECTS
Argentina
x
x
x
x
x
Australia
Bolivia
x
Chile
x
Dominican Rep.
x
x
x
Germany
Greece
x
Indonesia x
x
x
x
Italy
x
Mexico
x
South Africa
x
x
Sweden
x
x
x
UK
x
x
US
x
x
x
Uruguay
x