Vietnam Airlines, VietJet and the world's fastest growing economy November 2017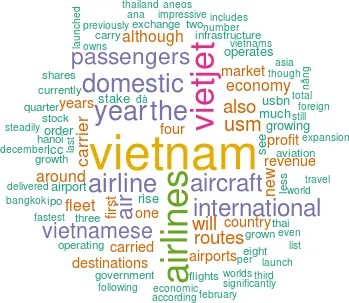 The Vietnamese economy is expanding fast, thanks to the communist regime's active fostering of a mixed economy in a country with a population of more than 91m. Vietnam Airlines and Vietjet Air are also growing rapidly and are engaged in a classic flag-carrier/LCC competition.
The growth of Vietnam's economy is impressive. Though starting from a very low base following years of economic stagnation following the disastrous Vietnam War of the 1950s-1970s, after joining the WTO in 2007 and implementing the so-called " Đổi Mới " market economy reforms of the mid-1980s, its GDP has grown at a CAGR of 11.9% from 1985 to 2016 (according to World Bank data). More recently, GDP per capita has grown at a CAGR of 5.3% during 2000 to 2015 — one of the highest rates in the ASEAN region.
Even more impressive, according to a report "The World in 2050", released by PricewaterhouseCoopers in February this year, Vietnam will be the world's fastest-growing economy over the 2016-2050 period, with an average annual growth rate of 5.2%. If that forecast turns out to be correct, Vietnam will be the world's 20th largest economy in 2050.
Despite that economic expansion, air travel is relatively underdeveloped in Vietnam — though it has grown significantly in the last few years. Geographically, Vietnam is a long and thin country with rough terrain (level land covering less than 20% of the country) and its road infrastructure is undeveloped — naturally making car/bus/train transportation challenging for many people.
Traditionally, air fares were not affordable to a wide population base, as for a very long time Vietnam Airlines was the only carrier in the country and air fares were basically controlled by them. However, the emergence of Vietjet Air reduced air fares while providing much faster and more convenient travel than other modes of transportation, and this has significantly stimulated domestic market demand.
Though no foreign airline can operate in the country, in 2016 28m passengers were carried domestically — 30% up on the previous year. And international passengers totalled 24.2m in 2016, some 27% up on 2015. All this makes Vietnam one of the fastest growing aviation markets in the world, and the fastest growing in south east Asia.
The Vietnamese government is furiously trying to keep up with this growth, as infrastructure is already overstretched — particularly at Tân Sơn Nhất airport in Ho Chi Minh City (HCMC) — resulting in delays in take-offs and landings. Vietnam Airlines says airport delays cost it US$8.3m in 2016 alone. Some Vietnamese airports have plans to temporarily cut capacity by as much as 30% in order to allow urgent repairs and upgrade to certain facilities.
Altogether the government is currently investing more than US$10bn in developing airport infrastructure, with a plan to open four more airports in the country by 2020, bringing the total number of airports to 26. The country's Civil Aviation Administration estimates that the total number of passengers will rise to 122m a year by 2020 and 322m by 2030.
Vietnam Airlines
Hanoi-based Vietnam Airlines dates back to 1956 and was a state-owned enterprise until 2015, when it became a "joint stock company" under Vietnamese regulations. In July 2016 Japan's ANA bought an 8.8% stake for US$109m, with the two airlines also entering into a partnership that includes codesharing on domestic and international routes, the linkage of FFPs, shared ground infrastructure and — perhaps most importantly — ANA contributing aviation knowledge and expertise to the Vietnamese carrier.
In 2016 the airline carried 20.6m passengers and saw revenue rise 6.3% year-on-year to ₫70.6tn (US$3.2bn), with an underlying operating profit up by 41% to ₫4.14tn (US$192m). Net profits were ₫2.11tn (US$95m), more three times higher than the net profit a year previously.
Vietnam Airlines listed on the Hanoi stock exchange in January 2017 (although the state still owns 86.2%, with ANA retaining its 8.8% stake), and in the first nine months of 2017 Vietnam Airlines recorded revenue of ₫65.1tn (US$2.9bn) — 20% up on the first three-quarters of 2016 — and made a pre-tax profit of ₫2.32tn (US$102m). It carried more than 16m passengers in January to September, up 5% year-on-year, and is on target to carry around 21.9m passengers this year.
Today the country's flag carrier employs 6,800 staff and its main hubs are at Nội Bài and Tân Sơn Nhất. It's very much a full-service airline, recently opening new business lounges at both those airports, although it is also launching a new super-economy product on domestic flights in the last quarter of 2017.
It currently operates to 49 destinations (20 domestic and 29 international) with a fleet of 84 aircraft — 57 A321s, eight A330s, eight A350-900s and 11 787-9s. It received the last of an order for 787-9s in May this year (the first arrived in 2015), as part of the ongoing transition to a more efficient, modern fleet with lower unit costs. The 787s supply the core of long-haul services to destinations such as London, Frankfurt, Sydney and Melbourne.
Traditionally Vietnam Airlines dominated both domestic and international markets in Vietnam, but is its supremacy on the former will soon be overturned by Vietjet, and so a key focus of its ambitious target to carry around 25m passengers in 2018 will be through expanding international flights, most particularly into south-east and north-east Asia
Vietnam Airlines also wants to launch routes to the US by the end of 2018, and it has started the necessary regulatory and safety processes with both the Vietnam and US authorities. The targeted destination is Los Angeles or San Francisco, which would be served by A350s or 787-9s that would need to stop en-route at either Tokyo or Osaka.
For future international expansion the airline has six A350-900s on order direct from the manufacturer, but Vietnam Airlines now prefers sale and leaseback finance for new aircraft, rather than outright purchase, and has lined up a number of deals that include 18 A321neos (12 being leased from Air Lease Corporation and six from ACG, and being delivered in 2018 and 2019), and eight 787-10s (to be leased form Air Lease Corporation, and delivered in 2019-2021)
The carrier has been a member of SkyTeam since 2010 and has more than 20 codeshares or partnerships; the latest was signed in October with Air France, which extends an existing codeshare into a joint venture on routes between Europe and Vietnam.
Vietnam Airlines also owns 49% of Cambodia's flag carrier — Cambodia Angkor Air — which was set up with the Cambodian government in 2009. The airline operates to 20 domestic and international destinations with a fleet of two A320s, one A321 and three ATR 72-500s.
It also owns 70% of HCMC-based LCC Jetstar Pacific Airlines, a stake it bought in 2012 following a convoluted history that dates back to the launch of a cargo carrier called Pacific Airlines in 1991 (see Aviation Strategy, February 2016).
Jetstar Pacific operates 19 A320-200s to more than 20 domestic and international destinations, and has four A320ceos on order as part of a plan by Vietnam Airlines and 30% shareholder Qantas to steadily grow the LCC over the next decade. Vietnam Airlines has also transferred some domestic routes to the LCC, and it will be interesting to see how much more of this it does as the threat from its main rival — Vietjet — intensifies.
Vietjet Air
Vietjet Air became Vietnam's first private airline when it launched in December 2011, although this was four years after it was granted an AOC, thanks to a whole host of regulatory/political problems. The airline was founded by Nguyễn Thị Phương Thảo (she is the current CEO), who studied finance and economics in Soviet Russia in the 1980, but even she must have been surprised when the communist government in Vietnam introduced a favourable tax regime for start-ups, which has helped Vietjet significantly.
Benefitting from Vietnam's rapid economic growth, the LCC has grown steadily, and today it operates to 23 domestic and 17 international destinations with a fleet of 43 Airbus aircraft.
Vietjet employs more than 2,500 and is headquartered in Hanoi, whose Nội Bài airport is a hub alongside four other Vietnamese airports — Đà Nẵng, Cam Ranh (in Nha Trang), Cát Bi (in Hải Phòng) and Tân Sơn Nhất. Internationally it operates to Thailand (Bangkok), South Korea (Seoul and Busan), China (Tianjin, Ningbo, Chengdu, Wuhan, Wuxi and Hangzhou), Hong Kong, Taiwan (Taipei, Shalu, Tainan and Kaohsiung), Cambodia (Siem Reap), Singapore, Malaysia (Kuala Lumpur), Macau and Myanmar (Yangon). Most of these are scheduled destinations, but some are run on a charter basis.
Vietjet defines its market as the 50% of the global population that lives within a 2,500-mile radius of Vietnam, but Thao insists that her airline is not competing with Vietnam Airlines; rather "we create our own customers", with around 30% of its passengers being working class/low income Vietnamese who had never flown previously. The airline has built business by strong Vietnamese brand awareness and through close partnerships with local travel agencies.
Low operating costs enabled the carrier to take less than two years from launch to become profitable, and in 2016 Vietjet carried 14.1m passengers, 51% up on 2015, and saw published revenues grow by 38.6% to ₫27.5tn (US$1.2bn), with net profit more than doubling, to ₫2.5tn (US$112m) — although this includes revenues and profits from the sale of aircraft (see chart). This financial performance enabled Vietjet to carry out a successful IPO on the Ho Chi Minh stock exchange in February this year.
Before the IPO Vietjet successfully placed 44.8m shares with institutional investors in December 2016, and the actual float listed its 300m shares at ₫90,000 (US$4) each, giving a market cap of US$1.2bn — although less than a week after its debut the shares had risen so much it overtook the market cap of Vietnam Airlines.
At the IPO the airline also raised around US$170m through issuing 44.7m new shares, 15% new equity, which is being used to finance aircraft purchase and leases, and for investment in IT.
Thảo is still the largest single shareholder (with a 9.4% direct stake and 23.2% owned by Hướng Dương Sunny Investment Co, which she controls, and around another 30% owned through other entities), but a plethora of international investors subscribed to the float, including GIC (the Singaporean state wealth fund, which has a 5.5% stake), Wellington and Morgan Stanley. Foreign ownership is capped at 49%, and total foreign entities currently own around 26%-30% of the equity.
The carrier had wanted to list first in Singapore or Hong Kong, but local laws require companies to list first on a domestic exchange. However, it still harbours ambition to list internationally, and potentially even go onto the New York stock exchange.
Vietjet has continued to prosper since the IPO. It became a member of IATA in August this year and in the third quarter of calendar 2017, Vietjet saw a 34.4% rise in revenue to ₫6.14tn (US$270m), based on a 25% rise in passengers carried, to 4.4m. ASKs rose 32.1% in the third quarter, and load factor was an impressive 89.7%. Operating profit grew 21.2% in July-September 2017, to ₫1.05tn (US$46m), with profit before tax rising by 35.1%, to ₫1.05tn (US$46m).
Ancillary revenue increased to 23% of all revenue in the third quarter of 2017 (from 20.3% in Q3 2016), with ancillary revenue per passenger growing from US$12.1 a year ago to US$14.6 in Q3 2017.
Fleet expansion
The fleet currently comprises 25 A320-200s and 18 A321-200s, with an average age of three and a half years — which the airline points out is younger than most (if not all) of its major LCC rivals.
But there are no less than 192 aircraft on firm order, comprising 42 A320neos, 19 A321-200s, 31 A321neos and 100 737 Max-200s. 100 Airbus aircraft were ordered in 2013, 100 Boeing aircraft in May 2016, 20 A321s in September 2016 and 77 A320 family aircraft in December 2016 — all of which will be delivered by 2023. The fleet will therefore rise steadily over the next few years, reaching 89 aircraft by the end of 2020 (see chart) and underpinning a huge increase in passengers carried (see chart).
VietJet estimates it has a domestic market share of around between 41% to 43%, just one or two per cent behind Vietnam Airlines, although these positions are likely to be reversed within the next few months. The domestic network includes several high frequency "arterial routes", as the airline calls them, such as 26 flights a day between HCMC and Hanoi, 15 between HCMC and Đà Nẵng, and 14 between Hanoi and Đà Nẵng. At the same time the airline has developed new routes connecting its hubs to secondary Vietnamese cities, such as Pleiku, Huế, Tuy Hòa and Buôn Ma Thuột.
In August this year (during the Vietnamese low-season) Vietjet wet-leased four aircraft to Pakistan International Airlines, where they operate on domestic routes.
But VietJet's strategic priority this year is to extends its international network to north east Asia from its Vietnamese hub airports. In October it launched an interline partnership with Qatar Airways, and one with Japan Airlines in July.
Vietjet also launched an operation in Thailand — Thai Vietjet — in 2015, with three A320s and 300 employees stationed at Suvarnabhumi airport in Bangkok, and a fourth aircraft due to be added before the end of the year.
Until November this year it operated only four domestic routes after the Thai CAA banned most Thai carriers from operating internationally due to safety concerns from ICAO — although the airline has just been recertified for international flights, enabling it to restart the one route it previously operated, between Bangkok and Hai Phong.
Another eight to 10 aircraft will be transferred from Vietnam every year — starting in 2018 — and potentially to include A321 models.
According to Nguyễn Thị Thúy Bình, CEO of Thai Vietjet, the aim is to carry 1m passengers this year, rising to 2m in 2018 as the operation increases connections between Thailand and Vietnam, and builds routes to Asean countries (with the priority being Philippines, Indonesia and Myanmar) and China.
VIETNAM AIRLINES FLEET
Vietnam Airlines
Jetstar Pacific
In service
On Order
Options/LOI
In service
On Order
787
11
8
A320
17
4
A321
57
18
A330
5
A350
8
6
12
Total
81
32
12
17
4
VIETJET FLEET
In service
VietJet
Thai VietJet
On order
737 Max 8
100
A320
21
3
42
A321
16
49
Total
37
3
191