South Korean LCCs:
Challenging relationships November 2016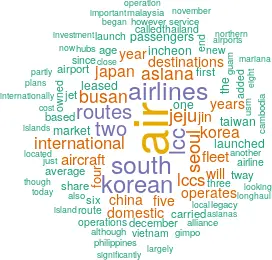 The LCC market has grown rapidly in South Korea over the last few years, and today no fewer than six low cost airlines compete against the legacy carriers of Korean Air and Asiana Airlines (although three of these LCCs are controlled by those two airlines).
With a population of 51.5m located in the centre of East Asia, South Korea was essentially a monopoly for Korean Air until the late 1980s, when Asiana Airlines was launched, and it wasn't until 2006 that the first LCC appeared.
Since then, however, LCC services have expanded significantly — for example, on South Korea to Japan routes (which is the most important country pair in Asia by passengers carried, excluding routes to/from China), South Korean LCCs have expanded their share from nothing as of 2008 to approximately 24% as of 2015.That's still behind the market share of Korean Air (c35%), but close to Asiana Airlines (c26%) and well ahead of the combined share of Japanese airlines (which is just 14%).
According to the South Korean ministry of land, infrastructure and transport (KADA), the country's LCCs accounted for a 15% share of the international market as at the end of September 2016 — compared with 11% as of September 2015 — and KADA forecasts that the LCC's market share will rise to 30% over the next five years.
However, South Korean LCCs can be split into two types: Air Busan, Air Seoul and Jin Air, which are backed by South Korean's two legacy carriers; and three independent LCCs — Eastar Jet, Jeju Air and T'way Airlines — which are more exposed, both strategically and financially.
That's significant in a market where short- and medium-haul routes (particularly to Japan and China) are close to saturation; in 2015 alone the five LCCs (the sixth began operations in 2016) launched routes to 40 new international destinations. As a result, some of South Korea's LCCs are now looking at long-haul routes — though that will necessitate the abandoning of the typical single aircraft LCC model.
Jeju Air
Jeju Air became the first LCC in South Korea after launching in 2006 out of Jeju City on Jeju, an island off the southern coast of South Korea, in the Korea Strait. Just under 82% of its equity is owned by the Aekyung Group — a South Korean conglomerate (what's called a chaebol in Korean) — with the Jeju regional government owning 5%.
From hubs at Jeju and Incheon, Jeju Air operates a network of six domestic destinations and 25 internationally, with its most important markets being China (eight destinations, with Sanya on Hainan Island added in November this year) and Japan (six), followed by two in Thailand, Vietnam and the Philippines, with one each in Taiwan, Cambodia, the Northern Mariana Islands, Guam and Malaysia.
The airline carried 7m passengers in 2015 and currently uses a fleet of 25 737-800s, almost all of which are leased and which have an average age of more than 11 years. The airline plans to increase its fleet to 26 by the end of 2016, with another four to five aircraft being added each year until it reaches the 40 aircraft mark by the end of 2019. Four leased aircraft will join the fleet in 2017, although it is believed to be planning the placement of an order for 737-800s direct from Boeing sometime over the next year or two.
Jeju Air became one of the eight founding members of the Value Alliance — an alliance for Asia/Pacific-based LCCs — in May this year. Set up as a rival to U-FLY, the Value Alliance also includes Tigerair, Scoot and Nok, and enables passengers to book flights on any other partner's routes through the websites of each member.
Jeju Air is considering long-haul routes, with Ken Choi — its president and chief executive — saying that it is also looking at the potential for joint ventures: "Bangkok is a very good market and Thailand is relatively flexible in allowing the establishment of a new carrier."
Jeju Air is the only LCC to be quoted — it listed on the Korean Stock Exchange in November 2015, and was the first South Korean airline to list since Asiana Airlines in December 1999. On debut Jeju Air immediately rose from its IPO price of ₩30,000 to more than ₩48,000, but ever since it has been on a gradual but steady downwards path (see chart above), with the price standing at under ₩30,000 as at the middle of November. The listing was made only after Jeju Air was unable to close a deal for an investment by Singapore Airlines, with negotiations apparently carrying on for five months before collapsing.
In the first-half of 2016 Jeju Air recorded revenue of ₩335.3bn (US$284m) — 17% higher than January-June 2015 — although operating profit fell 47% year-on-year to ₩16.2bn (US$14m), thanks partly to higher maintenance costs on its ageing aircraft.
Air Busan
Based at Gimhae International airport in the Gyeongsang province in the south-east of the country, Busan International Airlines was established in 2007 before changing its name to Air Busan the following year, when it began operations. Air Busan operates a fleet of 10 A321-100s and six A320-200s, all of which are leased and which have an average age of 13 years. It carried around 5m passengers in 2015.
Asiana Airlines owns 46% of the LCC, with the city of Busan and as many as 13 local companies holding the remainder of the equity. Air Busan operates to four domestic destinations and 17 abroad, with six in China, four in Japan, two in Taiwan and one each in Guam, the Philippines, Cambodia, Vietnam and Mongolia. A seventh Chinese destination will be added in December this year with the commencement of a service between Seoul and Sanya on Hainan island.
Although not majority-owned by Asiana Airlines, Air Busan has taken over some routes that were previously operated by the legacy carrier, though there tends to be an overlap of operation before Asiana withdraws from a route that Air Busan has entered.
Jin Air
Jin Air was founded by Korean Air in 2008 as a domestic LCC to compete against the country's high-speed rail service, called KTX, and which was launched in 2004.
Jin Air added its first international routes in 2009 and has concentrated on expanding its international network ever since. Today it operates to five domestic destinations and 21 internationally, comprising five in China, four in Japan, two in the Philippines, Thailand and Vietnam, and one each in Guam, Laos, Malaysia, the Northern Mariana Islands, Taiwan and the US (Honolulu). In December two new routes are launching, from Seoul to Cairns and to Kitakyushu in southern Japan.
Jin Air operates these routes from two hubs — Gimpo International (located 17km west of Seoul) and Incheon International (located 47km west of the capital). Incheon is now the largest airport in South Korea and opened in 2001 to partly replace Gimpo, which now largely serves domestic routes and secondary airports in China, Japan and Taiwan.
Jin Air carried 5.3m passengers in 2015 (almost 50% up on 2014), of which 2.0m were domestic and 3.3m international. Its fleet comprises 18 737-800s and four 777-200ERs — the latter being used on longer routes; Jin Air was the first South Korean LCC to launch a long-haul route — between Incheon to Honolulu — in December 2015. The majority of the fleet is leased, and the average age is just over 11 years.
The LCC is formally owned by the Hanjin Group, a South Korean chaebol that also took control of Korean Air in 1969. Interestingly, where Jin Air has launched a service on a route that Korean Air already has an established operation, more often than not Korean Air has tended not to cease its service or even reduce its capacity significantly (in contrast to the strategy of Asiana Airlines and Air Busan).
In 2015 Jin Air earned revenue of ₩461bn (US$400m) — 76% higher than 2014 — and posted a ₩29.7bn operating profit, 73% up compared with 2014.
Eastar Jet
Owned by the Korea Investment Corporation (KIC) — the sovereign wealth fund of South Korea — Easter Jet launched operations in 2009 and is based in Seoul, with hubs at Gimpo and Incheon airports. It operates between five domestic destinations and 17 internationally, including five in China, four in Japan, two in each of Thailand and Taiwan, and the rest in Vietnam, Taiwan, Malaysia and Cambodia.
Eastar Jet has been codesharing with another LCC — T'way Airlines — on the Seoul-Taipei route since 2013, but in July this year it joined the U-FLY alliance of LCCs, which largely comprises airlines owned by China's HNA Group but which has been looking for new, independent members (with Easter Jet being the first of these).
Easter Jet carried 3.4m passengers in 2015 and operates a 100% leased fleet of 17 aircraft, comprising 14 737-800s and three 737-700s, which combined have an average age of more than 12 years. It plans to add another two aircraft to its fleet by the end of 2017.
T'way Airlines
T'way Airlines is based at Gimpo International in Seoul and was launched in 2010 by the South Korean private equity company Shinbo Investment Corporation (which owns a 95% share) after it acquired the AOC of an effectively defunct regional airline called Hansung Airlines. Under an LCC model, T'way Airlines began operations with a couple of 737-800s operating on domestic routes.
Today it operates 15 737-800s to six domestic and 22 international destinations, including eight in China, seven in Japan, two in Vietnam, two in Taiwan and one each in Guam, Laos and Thailand. This December the LCC will launch two new routes — between Daegu in the east of South Korea and Cebu in the Philippines, and between Seoul and Saipan in the Northern Mariana Islands,
The fleet is entirely leased and has an average age of 10 years, and T'way Airlines carried 3.6m passengers in 2015.
Air Seoul
Asiana Airlines launched an LCC subsidiary in July this year, called Air Seoul. Based at Incheon airport, Air Seoul currently has just three leased aircraft — A321-200s — with an average age of four years. They operate from Incheon to 10 international destinations, seven of which are in Japan and one each in Cambodia, China (Macau) and Malaysia. Two more aircraft will be added to the fleet by the end of 2017.
Asiana's second LCC has been in the planning stage for at least two years, with the rationale being that Asiana needed a low cost operation at one of its main hubs in Seoul in order to better challenge Korean Air and the other LCCs based there (and an LCC that was 100% owned by its parent — unlike Air Busan).
In its most important market, Japan, Air Seoul largely operates to secondary airports, which Asiana has previously struggled to break-even on given its legacy airline cost structure.
However Air Seoul's launch was delayed partly due to concern by Air Busan's other shareholders (as Asiana only holds a minority stake), but more significantly by concerns from South Korean regulators following the 2013 crash of an Asiana aircraft at San Francisco airport, resulting in three deaths, and another (non-fatal) incident at Hiroshima airport in April 2015. Eventually however, Air Seoul received an AOC, allowing operations to start this year.
Unlike Air Busan, the 100% controlled Air Seoul is taking over completely some of Asiana's existing routes, though how many of Asiana's route to more than 90 destinations will eventually move over to its LCC offshoot remains to be seen.
There are also plans to launch a seventh LCC in South Korea, provisionally to be called Nambu Air. It will be based at Busan airport and reportedly is to be funded 10% by the local Gyeongsang government and rest from five local companies, who between them will provide start-up capital of around US$87m. No other details are available as yet, other than a tentative launch date of December 2017.