Asian growth/profitability
dichotomy November 2015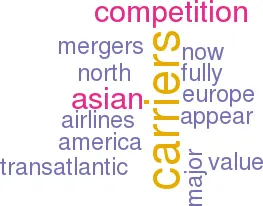 Asia-Pacific continues to be one of the fastest growing aviation regions of the world, with Airbus, for example, expecting the region's share of global traffic (RPKs) to increase from 29% today to 36% by 2034, by which time it will have eclipsed both Europe (21% in 2034 from 25% now) and North America (25% to 17%).
However, Asia Pacific carriers are facing a dichotomy. As Andrew Herdman, secretary general of AAPA (Association of Asia Pacific Airlines) highlighted at this month's AGM in Indonesia, while the region is outpacing Europe and North America in capacity and traffic growth, profitability has plunged from nearly $10bn in 2010 to around $1bn in 2014 (though a marked improvement is expected for 2015). By contrast in North America, where airlines overall practically ceased expanding, profitability has soared, from $4bn in 2010 to a forecast $16bn this year.
Asia-Pacific was the last of the major aviation blocs to deregulate — ASEAN open skies only came fully into force this year — so it is at a comparatively early stage of intense competition, characterised by over-capacity and the entry of LCCs, both independent and subsidiaries. It took the US three decades following deregulation to find the formula for producing investment grade RoI, the eventual result of domestic mergers and transatlantic virtual mergers. In the process, unfortunately, the US carriers have increasingly alienated the travelling public and now risk a pro-consumer regulatory reaction, while Asian carriers remain determined to maintain reasonably good service standards.
Stockmarkets have rewarded the US Big 3 by bidding up their share prices from the insipid levels of a few years ago to record valuations. In terms of both stockmarket capitalisation and enterprise value (stockmarket value plus long-term debt), Delta, American, United plus Southwest now dominate the global valuation picture; their equity value is over twice that of the top five Chinese carriers combined — a reflection of how the markets reward stability over growth for network carriers.
The table illustrates firstly that the world's top ten airport pairs (on an O&D basis) are all in the Asia-Pacific region and, secondly, that there is a very high degree of competition, predominantly direct competition. Up to 11 jet airlines of different types — legacy, LCC, fifth freedom carrier — are operating on these routes while in the US or Europe two would be the norm, one in the case of most the transatlantic hub-to-hub services.
These market conditions represent such a degree of competition that some form of rationalisation would appear to be inevitable. Andrew Herdman talked of the major carriers streamlining long-haul operations and evolving multi-brand strategies while the LCCs would be more measured in their expansion and would experiment with codeshares, connectivity and customer service. Overall, he observed that there would appear to be a convergence between the LCC and network models.
As the political framework does not exist to enable European-style multinational mergers, regional alliances have to be of the more traditional codeshare variety. Nor is there scope for the fully integrated JVs of the transatlantic type between European and Asian carriers. Nevertheless SIA, for example, has entered into a revenue-sharing agreement with Lufthansa, in part a response to Emirates' successful alliance with Singapore-based JetStar Asia.
The Asian carriers have been much more effective than their US or European counterparts in establishing low cost subsidiaries. ANA's Vanilla and Peach appear to be expanding dynamically without — so far — generating friction with the parent airline. SIA is embarking on a major rationalisation — buying out the 44% it doesn't own in Tigerair in order to fully integrate its low cost operation with its longer-haul subsidiary Scoot.
WORLD'S TOP TEN AIR ROUTES 2014
| | | |
| --- | --- | --- |
| | Pax m | No of scheduled airlines |
| Hong Kong–Taipei | 5.1 | 5 |
| Jakarta–Singapore | 3.5 | 9 |
| Hong Kong–Singapore | 2.8 | 6 |
| Hong Kong–Shanghai | 2.7 | 5 |
| Hong Kong–Seoul | 2.5 | 11 |
| Kuala Lumpur–Singapore | 2.4 | 8 |
| Bangkok–Hong Kong | 2.4 | 8 |
| Bangkok–Singapore | 2.3 | 6 |
| Hong-Kong–Beijing | 2.0 | 5 |
| Tokyo Narita–Taipei | 2.0 | 10 |