Southwest Airlines: Returning to growth mode, keeping investors happy November 2014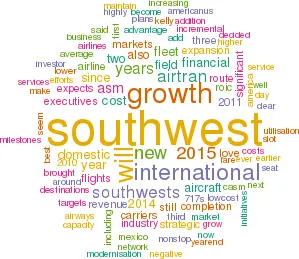 At its annual investor day on November 10, Southwest Airlines accomplished quite a feat: announcing plans for 6% ASM growth in 2015, while convincing the financial community that it would still be able to grow earnings, achieve 15%-plus RoIC and maintain its industry-leading shareholder reward programmes.
As a bonus, the 6% ASM growth will not add significantly to industry capacity, because half of it merely replaces other airlines' flying (American-US Airways slot divestitures and AirTran route conversions).
Southwest has been in a "no growth" mode since 2007, when it encountered financial challenges and saw its profit margins weaken. In the three years up to and including 2010, its ASMs fell by 1.2%. The acquisition of AirTran boosted Southwest's size by 30% between 2010 and 2012, but the past two years have again seen minimal ASM growth: 1.7% in 2013 and "less than 1%" in 2014.
This growth hiatus — and the associated willingness to match legacy carriers' fare increases — has brought about enormous benefits for Southwest and for the US airline industry.
It enabled Southwest to adjust its business model to the high oil-price environment, redefine its strategy, update its systems (which had been designed for an earlier era) and return to strong profitability. Notably, Southwest moved past the "one size fits all" approach, in particular to appeal more to the business customer. It added numerous new ancillary revenue streams. It took advantage of competitors' unbundling by adopting and heavily advertising a "Bags Fly Free" policy. It went through a multi-year process to develop the technology necessary to support the new activities.
At the industry level, Southwest's growth hiatus played a key role in bringing about a healthy domestic revenue environment. As America's leading LCC and largest domestic airline, Southwest controls pricing in the domestic market. No fare increase can stick unless Southwest matches it.
But it was clear all along that Southwest would begin growing again. It always said it would, once it has attained its financial targets. As an LCC it has growth in its DNA.
Southwest characteristically moves cautiously and is a very fiscally responsible company that takes financial targets and shareholder returns seriously, so there are no real concerns about its growth plans. But growth could make Southwest less inclined to participate in industry fare increases, which would be an industry negative in the longer term.
But it is nice that Southwest has found a way to allay near-term concerns. First, the 6% ASM growth is "low risk", because it will be achieved through increased aircraft utilisation and seat density. Second, much of the growth focuses on longer-haul markets, and the anticipated 3% increase in average stage length will help in the carrier's unit cost reduction efforts. Third, the new routes are generally in higher-fare markets, which will have a favourable impact on Southwest's unit revenues.
Historic year
This is a good time for Southwest to step up growth, because 2014 has witnessed three important milestones: launch of international service, the full repeal of the Wright Amendment, and the completion of the bulk of the AirTran integration.
Southwest became an international carrier on July 1, when it took over services operated by AirTran to Aruba, Jamaica, the Bahamas and two points in Mexico (Los Cabos and Cancun). The addition of Punta Cana (Dominican Republic) and Mexico City this month (November) completed the AirTran-to-Southwest international conversion.
It was a culmination of three years' efforts by Southwest to upgrade its reservations systems to handle international flights (it opted for Amadeus), learn from AirTran's international experience and best practices, and convert aircraft and train employees. The international transition took so long because Southwest found itself tackling "by far the largest technology project that we ever had".
This year's main highlight, however, was the full expiration on October 13 of the unusual 1979 piece of legislation known as the Wright Amendment, which limited non-stop flights from Southwest's home base at Dallas Love Field to destinations within Texas and four contiguous states plus, since 2005, Missouri. It was the culmination of an eight-year process to relax the restrictions, stipulated by a reform act passed by Congress in 2006.
Southwest is now free to fly to any US destination from Love Field. It jumped at the opportunity, introducing new nonstop flights to some 17 destinations from there in October-November. The flights are performing "extraordinarily well", with load factors exceeding 90%.
Love Field is closer to the downtown area than DFW. Since the recent completion of a major modernisation and expansion project, it has one of the best passenger terminals in the US and is still very cost-effective. It is slot/gate-constrained, meaning that there will not be significant competitor inroads. Virgin America is now at Love Field (having been permitted to acquire the two gates American had to give up), but otherwise it is all a huge long-term positive for Southwest and a big negative for American at DFW.
The third major milestone of 2014 for Southwest is the virtual completion of the AirTran integration, following the May 2011 acquisition and somewhat challenging initial year. According to Southwest executives, around 75% of the aircraft and crews will have transitioned from AirTran to Southwest by year-end. This would seem to pave the way for the retirement of the AirTran brand in early 2015.
In addition to those three milestones, Southwest was lucky to get an opportunity earlier this year to enter and build a substantial presence at Washington Reagan National (DCA), thanks to the American-US Airways slot divestitures. CEO Gary Kelly noted at the investor day that in an ordinary year that alone would have been a big deal.
To commemorate a special year and signal the expanded US footprint and new international capabilities (while the original 1971 purpose of providing "friendly, reliable and low-cost air travel" remains intact), Southwest recently unveiled a new "Heart" livery, branding and logo. It is being rolled out "in a cost-neutral manner", during the normal maintenance cycle or out of the discretionary marketing budget.
Delivering on 2011 initiatives
The strategic initiatives that Southwest embarked on in 2011 have delivered significant value. The AirTran acquisition has brought in $2.6bn in revenue and produced $400m in annual net synergies. It has been a significant contributor to RoIC and has helped lift Southwest's stock to a lifetime high.
Thanks to AirTran, Southwest gained access to Atlanta, DCA, near-international markets and more LGA slots. In total, AirTran brought in 21 new cities (including seven international), expanding Southwest's network from 72 to 93 cities. CEO Gary Kelly said that it "essentially accelerated the completion of our route system for the 48 states into a two or three-year time period".
AirTran has brought in 52 737-700s (as of year-end 2014) and 88 717s. Southwest quickly decided that it did not want to keep the 717s and it secured a deal to sublease those aircraft to Delta over a 30-month period starting in the second half of 2013. Southwest expects to have delivered 52 717s to Delta by year-end, at which point the type will be retired from Southwest service.
Southwest estimates that its fleet modernisation and upgauging programmes will contribute $500m to EBIT in 2014 and $700m in 2015. The fleet decisions have come in waves. In 2010 Southwest decided to accelerate the retirement of its 737 Classics in favour of more fuel-efficient 737NGs. In December 2011 it placed a launch order for 150 737MAXs for delivery from 2017; the $19bn deal also included 58 additional 737NGs. Then Southwest decided to dispose of the 717s and to retrofit its entire 737-700 fleet with an extra row of seats. Deliveries of the larger 737-800 began in the spring of 2012.
In other words, Southwest is sticking to a single fleet type, is modernising its fleet quite aggressively, and its average seat capacity is increasing substantially. It all adds up to significant cost savings, as well as revenue benefits.
Another major strategic initiative, the all-new "Rapid Rewards" FFP, has generated $600m incremental revenue since it was launched in March 2011. The management described it as a "phenomenal success".
The strategic initiatives that have facilitated international service (including a new reservation system) are expected to lead to "hundreds of millions" of incremental revenue.
Financial targets achieved
Southwest has an impeccable financial record, with 42 consecutive years of profitability under its belt (including 2014), but until very recently it was not meeting its financial targets. But the strategic initiatives seem to have done the trick. Southwest earned a 19% pretax RoIC in the 12 months ended September 2014 — up from 10.6% a year earlier and well ahead of the airline's 15% target. It also far exceeded Southwest's 7-8% weighted average cost of capital. On an after-tax basis, the RoIC was 12%.
Southwest also achieved a promising 13.5% operating margin in the third quarter, despite the route conversions still taking place. For 2014, Southwest is now poised to report its first annual double-digit operating margin since 2006.
Notably, the strategic milestones and financial momentum have helped lift Southwest's share price, which had stagnated for almost a decade. The shares have more than doubled this year, vastly outperforming the Amex Arca Airline Index (XAL), which has risen by 33%.
Despite the tougher years, Southwest has retained a strong balance sheet. It had an ample $3.7bn in cash as of September 30, plus a fully available $1bn credit line. Its lease-adjusted leverage is only 35%. It is the only US airline with investment-grade credit ratings from all three main agencies.
Southwest has also led the industry in returning capital to shareholders. Since 2011 it has returned $2.2bn, or over 50% of its free cash flow, in the form of dividends and stock repurchases. Southwest expects to return "at least 50%" of its 2015 FCF to shareholders.
Based on the current outlook, and even without the benefit of lower fuel costs, Southwest expects to grow its earnings and margins in 2015. It expects to match this year's pretax RoIC in the 20% range.
The executives mentioned four primary objectives for 2015: take advantage of "high-quality growth opportunities"; continue the revenue momentum; strive to be a low-cost leader; and maintain a superior financial position.
One negative development in recent years has been that Southwest has lost some of its cost advantage. However, according to the investor day presentation, on a stage-length adjusted basis Southwest's all-in CASM is still about 30% lower than the network carriers' and 8% lower than that of the US low-cost carriers as a group. Only the two ULCCs (Allegiant and Spirit) have lower adjusted CASM than Southwest.
That is still impressive, given Southwest's mature cost structure and industry-leading wages. Southwest has highly efficient operations, low distribution costs and great cost controls, and it is highly motivated to maintain its competitive advantage. The executives made it clear that Southwest will work hard to become the low-cost leader again.
The completion of the AirTran integration will offer an opportunity to improve aircraft utilisation in 2015, because this year AirTran aircraft have been underutilised due to the conversion process. Of course, continued fleet modernisation, upgauging and increasing average stage length will significantly help in the unit cost reduction efforts.
Southwest expects its ex-fuel CASM to decline by 1-2% in 2015. But that does not include incremental labour costs from new contracts. The carrier is currently in negotiations with most of its unions. JP Morgan analysts have modelled $275m of incremental labour costs for next year, which would mean ex-fuel CASM increasing by 1.3%.
Growth plans
Southwest's near-term domestic growth efforts focus on Dallas Love Field. The executives described the initial ramp-up in October-November as the most aggressive expansion in the carrier's history. After the addition of two more cities in January, Southwest will be operating to 17 new nonstop long-haul destinations from its home base.
Dallas Love Field will account for around half of the 6% ASM growth projected for 2015. Because of significant pent-up demand and higher yields in those markets, the services are expected to become profitable quickly.
Growth in some of the nation's best business markets resulting from the American-US Airways slot acquisitions will account for a third of the ASM increase. The new slots will boost Southwest's operations to 33 daily roundtrips at LGA and 44 at DCA, making it the market share leader in the greater Washington area.
The rest of next year's ASM growth will come from international expansion. Following this year's Caribbean and Mexico services, Southwest plans to add its first route to Central America (also the first route that is not ex-AirTran) in March 2015: Baltimore-San Jose (Costa Rica). Southwest has also applied to serve Puerto Vallarta (Mexico) from June, and it may add two more international destinations later in the year.
Southwest is very late with the Caribbean/Mexico expansion. Other North American LCCs began venturing to those areas a decade or so ago and have benefited enormously from that strategy. JetBlue has said that the routes require minimal investment, become profitable quickly and are recession-resistant because of the VFR traffic. Having such routes is also important to FFP members and employees. The strong Southwest brand is likely to be just as highly regarded internationally as in the domestic market.
But Southwest intends to move at its characteristic measured pace. The executives talk about growing in the international markets "very modestly and gradually", to "make sure that we understand what we're doing before we get ahead of ourselves". It will obviously all be low-frequency operations.
Southwest's current planning assumption is that, for the next several years after 2015, its domestic growth rate would still be higher than its international growth rate. Domestic ASM growth would be in the low-single digits, with international growth adding to it slightly.
Southwest's fleet growth, which has been flat since around 2010, will continue to be essentially flat through the end of 2015. This means that the 6% ASM growth in 2015 will be produced at a minimal cost — through higher aircraft utilisation and increased seat gauge.
Southwest will not be able to operate international flights from Dallas Love Field, because the Wright Amendment's international nonstop restrictions continue to apply. It is not clear at this stage if those restrictions could ever be lifted.
But Southwest is building an international terminal at Houston Hobby (HOU), which is expected to open in the fourth quarter of 2015. The airline already operates extensive domestic service out of HOU and plans to use it as a launching pad for new international expansion. The new terminal will have five gates, with an estimated capacity of 25 daily departures, though Southwest is talking about "just a handful of flights initially". Houston, with its sizable Latin population and large local market, will make an excellent gateway to Latin America for Southwest.
Even as they are moving cautiously, Southwest's executives seem enthusiastic about the near-international growth opportunities. Kelly said that the most difficult thing was how to prioritise them. On a map showing the 737's or the 737MAX's range from North America, Kelly sees about 50 potential dots that Southwest could add, to grow it network to almost 150 cities.
At this point the chances of Southwest venturing to the transatlantic market in any foreseeable time horizon seem practically zero. Southwest is more determined than ever to stick to a single fleet type.
By Heini Nuutinen
hnuutinen@nyct.net
Southwest: Aircraft delivery schedule
737NG†
737Max‡
Orders
Options
Extra
Orders
Options
700s
800s
700s
MAX 7s
MAX 8s
MAX 7s
Total
2014
33
22
55✶
2015
19
14
-
33
2016
31
10
4
45
2017
15
12
14
41
2018
10
12
13
35
2019
15
10
25
2020
14
22
36
2021
1
33
18
52
2022
30
19
49
2023
24
23
47
2024
24
23
47
2025
36
36
2026
36
36
2027
36
36
Total
56
52
34
40
30
170
191
573
Notes: † Southwest has flexibility to substitute 737-800s for 737-700 firm orders. ‡ Southwest has flexibility to substitute MAX 7s for MAX 8 firm orders beginning in 2019. ✶As of Sept 30, Southwest had taken delivery of 25 737-800s and 11 737-700s this year.