Norwegian Air Shuttle: long-haul gamble November 2013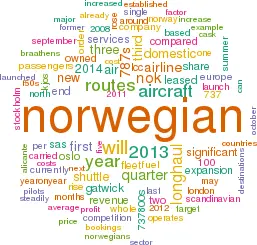 After placing Europe's largest ever single aircraft order in 2012, Norwegian Air Shuttle has firmly established itself as Europe's third-largest LCC. But is Norwegian taking a huge risk by launching long-haul routes this year as it chases ambitious long-haul expansion around the globe?
Norwegian Air Shuttle was launched in 1993 by former employees of Fornebu-based Busy Bee, which operated Fokker F50s on domestic Norwegian routes on behalf of Braathens until it went bankrupt in 1992. Norwegian took over a small number of F50s and continued to operate the routes for Braathens, but after SAS bought Braathens in 2001 the contract with Norwegian was terminated, and the airline relaunched itself as a LCC in April 2002.
Based at Oslo Airport, Norwegian steadily developed its fleet away from reliance on F50s, but it wasn't until the early 2000s that expansion truly kicked in, with a listing on the Oslo stock exchange in 2003, a first profit being recorded in 2005 and Swedish LCC FlyNordic being bought from Finnair in 2007.
The airline has benefitted by the relative strength of Scandinavian economies compared with the rest of Europe over the recent recessionary years. in the first three quarters of 2013 Norwegian saw revenue rise by 21% year-on-year to NOK 11.8bn (€1.5bn), based on a 16% rise in passengers carried to 15.5m; RPKs rose by 29%, slightly behind a 30% increase in ASKs, with load factor falling marginally from 79% to 78.5%. In the 1Q-3Q 2013 period EBIT reached NOK 1.2bn/€151m (compared with NOK 455m in 1Q-3Q 2012), and the net profit totalled NOK 516m (€67m), 19% up year-on-year.
LCC model
Norwegian runs a classic LCC business model: a single class (in short-haul at least); internet bookings accounting for 80% of all bookings in the first three-quarters of 2013; and with ancillary revenue (mostly from baggage and allocated seating fees) contributing 11% of all revenue in the third quarter of 2013 (equivalent to NOK 90 - €11.8 - per scheduled passenger) – though this is still short of a targeted proportion of 15%.
Norwegian currently operates more than 400 scheduled routes to 124 destinations in 38 countries. Revenue from international traffic accounted for 78% of all revenue in the third quarter, and this rose 21% compared with the same quarter in 2012 – whereas domestic revenue was almost flat year-on-year. That's largely the result of a clear focus in international expansion at the airline, with new bases, destinations and markets being added over the last 12 months, and partly because Norwegian has already built up a dominant position in the domestic Norwegian market.
Whereas in 2002 SAS was essentially the only option for routes within Norway, by 2011 (the last year for which data is available) Norwegian Air Shuttle carried 45% of domestic passengers to/from Oslo in 2011, ahead of SAS. However, there is an interesting sub-plot to domestic competition in Norway. Norwegian Air Shuttle only agreed to launch domestic Norwegian services from 2002 if the government prohibited frequent flier programmes on those routes, which Norwegian argued would prevent former SAS customers from flying with a new rival. The Norwegian government therefore banned SAS from offering its FFP on domestic flights – but earlier this year SAS launched a challenge to this ruling by offering its EuroBonus frequent-flier program to domestic Norwegian flyers, arguing that robust competition between SAS, Norwegian Air Shuttle and others meant that the prohibition of FFPs was no longer necessary. Norwegian Air Shuttle responded by saying SAS's move "looks like a blatant violation of the law", but after an investigation by the Norwegian Competition Authority the ban on domestic FFPs was formally lifted in May.
Norwegian has been steadily strengthening its market share at the three major Nordic airports – in the third quarter of 2013 its market share (in terms of all passengers carried) at Oslo was 39% (compared with a 29% in Q3 2008), at Stockholm 23% (10% in Q3 2008) and at Copenhagen 17% (2% in Q3 2008). Added to this are increasingly significant shares at other airports - outside the Nordic countries Norwegian operates bases at London Gatwick, Malaga, Alicante and Las Palmas and, since October this year, at Tenerife. A fifth Spanish base will open at Madrid Barajas in the summer of 2014, with two 737-800s stationed there to service six new routes, and which will entail the hiring of 100 pilots and cabin crew locally.
At the three established Spanish bases – Alicante, Las Palmas and Alicante – Norwegian had a 6% share in Q3 2013 (compared with 2% in Q3 2008) while at London Gatwick it had a 6% share in the third quarter of 2013 (after only launching a base there in the spring of 2013). At Gatwick passengers carried by Norwegian grew by 243,000 in the third quarter of 2013, accounting for almost 90% of total passenger growth at the airport in the July to September period. Unsurprisingly, Norwegian is a key advocate of the construction of a second runway at Gatwick.
Fleet growth
Norwegian currently operates a fleet of 80 aircraft (with an average age of 4.6 months) – 10 737-300s, 68 737-800s and two 787-8s, with an additional two A340-300s wet leased from Portuguese leasing company HiFly.
The airline gave notice of its extraordinary ambitions in January 2012 when it placed an order for 222 aircraft, comprising 22 737-800s, 100 737 MAX8s and 100 A320neos. Currently there are 264 aircraft on firm order – the 100 A320neos (being delivered from 2016 onwards), the 100 737 MAX8s (arriving from 2017), 61 737-800s and three 787s.
The current fleet plan sees 84 aircraft by the end of this year, rising to 95 at end 2014 and 102 in 2015. By the 2015 year end the fleet will comprise five owned 737-300s; 89 737-800s (of which 51 will be owned, 13 sold and leased-back, and 25 leased); and eight 787s (three owned and five leased).
Of the 737 fleet, the -800s are most usually allocated to longer routes to North Africa, the Canary Islands and North Africa, and on shorter, high-density routes in Europe. The 737 MAX is an interesting choice for Norwegian: it is more fuel efficient than the 737-800 (of which, for example, Ryanair ordered 175 in June), so Norwegian is in effect betting that the price of fuel will remain high so that the airline can fully exploit the better economics of the MAX.
Norwegian is well aware that it may face stiffer competition in the future from its fellow LCCs. Earlier this year Ryanair stated it was specifically targeting northern Europe for network expansion and indeed this winter launched routes between Stockholm, Oslo and Karlstad to the Canary Islands.
Long-haul ambitions
On long-haul, the first two (leased) aircraft from a total of eight incoming 787s (five to be leased from ILFC and three owned) have already arrived at Norwegian (the first aircraft came in June), with one more (the first of the owned aircraft, coming direct from Boeing) due before the end of the year, four in 2014 and the last one in 2015.
Those 787s are eagerly anticipated by Norwegian as a delay in their delivery forced the airline to lease A340s-300s for the first long-haul routes, which began in May this year from Oslo and Stockholm to New York City and Bangkok. Routes from Oslo, Stockholm and Copenhagen to Fort Lauderdale will launch in November 2013, and a whole raft of services from the Nordics will launch through 2014 as the 787s arrive, including to the new destinations of Oakland, Los Angeles and Orlando from the spring of 2014. Long-haul services to North America will also begin from London Gatwick in the summer of next year.
However, it's clear that the leased A340s are making the initial long-haul routes substantially loss-making for Norwegian, with Bjørn Kjos, the CEO of Norwegian (and a former Norwegian air force pilot) admitting that "before the 787 we could not add up the figures to get a low enough cost and sufficient margin against legacy carriers".
Indeed, results in the third quarter of this year were affected significantly by the need to wet-lease those replacement aircraft, which cost NOK 101m (€12.7m) in those three months and thus was a major cause of a 31% fall in Norwegian's net profit to NOK 436m (€54.9m)in the third quarter, despite a 15% rise in revenue. Incidentally the other factor affecting the 3rd quarter results was warm summer weather in northern Europe, which hit holidays to the Mediterranean region.
Put another way, according to Norwegian the leased aircraft have a 50% higher fuel consumption per seat than the 787, and as the 787s arrive they will save Norwegian NOK 80m (€10.1m) per aircraft per year (compared with a leased A340). Ironically Norwegian had to ground both of its first two 787s briefly in September and October to sort out some technical "glitches", which have afflicted 787s, but management considers this to be a minor setback only.
The incoming 787s are configured with 32 seats in Premium Economy and 259 in Economy and are a major factor in the significant 40% increase in capacity planned for 2014, along with larger 737s and increased sector lengths on short-haul. Average sector length for Norwegian as a whole is currently 1,260km, which is a significant rise on the average 1,048km length it had for the whole of 2012.
For long-haul the strategy is a three phase plan – the first is expansion of Scandinavia to North America services, to be followed by the addition of services from London Gatwick next summer. Those Gatwick flights will be very competitively priced against - for example - BA, says Norwegian, with the prime target being holidaymakers and not business passengers (with the Gatwick –JFK services being a three times a week service only). The third phase will be an expansion of Europe to Asia routes, once traffic rights are secured, with Kjos hinting that China and India are the prime target markets for Norwegian. To support those long-haul ambitions Norwegian is highly likely to order the higher capacity 787-9 in the medium-term, it is believed, and that order may even be placed as early as next year.
Strategic stretch?
The obvious strategic question is just how an LCC that operates in the traditional Scandinavian environment of high costs, taxes and strong unions can expand successfully into a significant long-haul presence.
On the Scandinavian cost structure, initially Norwegian has been careful not to question "structural norms", but more recently Kjos has been challenging some of these, such as by threatening to hire more foreigners and basing aircraft out of the country unless labour regulations are changed. Much of Norwegian's back office infrastructure is already based in east European countries; for example its IT department is run out of Ukraine.
As can be seen in the chart, unit costs have been falling slowly but steadily as the scale of Norwegian increases, and the target is for a CASK of NOK 0.42 (€ 0.05)for the whole of 2013. In the third quarter CASK excluding fuel fell 7% year-on-year, and significant efforts are being made to reduce non-fuel costs even further. These include self check-ins/bag drops, automated group bookings and streamlined operating systems across the airline.
The overall CASK target for 2014 is NOK 0.38 (based on current fuel and currency forecasts for the year), and a key driver of that year-on-year fall will be increased sector lengths and larger aircraft. As well as the 787s Norwegian will benefit from changes to its 737 fleet - through the whole of 2013 14 new 737-800s will be delivered, which have 38 more seats than the 737-300 model that is gradually being phased out of the fleet.
Norwegian currently employs around 3,000 people in Norway, Sweden, Denmark, Finland, Estonia, UK, Spain and Thailand, and a new agreement between the airline and the Norwegian Pilot Union (NPU) was agreed in November this year. The deal was significant as this October Norwegian started to set up a new company structure to allow faster growth internationally.
With Norwegian Air Shuttle ASA as a parent company two fully owned subsidiaries will be established, each with their own AOC - one based in Norway and one in the EU. Scandinavian pilots are being transferred to the Norwegian company (and keep their existing salaries and other benefits), while the EU company will control traffic rights as needed, with non-Scandinavian pilots being employed by that subsidiary.
Interestingly Norwegian is registering its 787s in Ireland to get around the Norwegian law that requires all Norwegian aircraft to operate with a solely Norwegian crew, and it has been reported that Norwegian is in negotiations to move its operational headquarters for all long-haul services to Ireland.
Financially, the airline is robust. Cash and cash equivalents rose a hefty 33% over the last 12 months to reach NOK 2.3bn (€0.3bn) as at the end of September 2013, although long-term debt rose by 16% in the year to September 30 2013, to reach NOK 4.5bn (€0.6bn) - the majority of that increase coming from increased aircraft financing.
At the end of the 3rd quarter 2013 the largest single shareholder in the airline was HBK Invest (which is controlled by CEO Bjørn Kjos), with 27%, followed by Folketrygdfondet (which manages the Norwegian government's pension fund), with 9.5%. After that, no single shareholder had more than 4.1% of the airline. Finnair sold a 4.7% stake in Norwegian (acquired in 2007 as part of the sale of FlyNordic to Norwegian) for around €53m in April this year.
Shareholders saw a rollercoaster rise in the share price from the IPO through to the end of 2011 (see chart), but since then the shares had been on a steady upwards path until May of this year, after which (and coinciding with the launch of long-haul routes) they have been on a steady decline. The share price through 2014 will be a key indicator of just how successfully the market judges Norwegian's attempts to become the first European LCC to build up a significant long-haul operation have been.