IAG Group: The contrast between BA and Iberia November 2012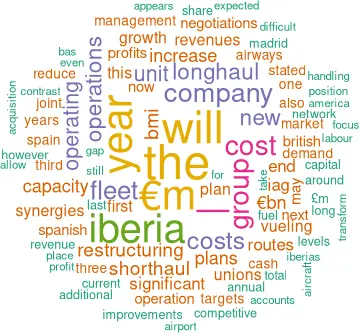 The annual capital markets day from International Consolidated Airline Group (IAG) at the beginning of November portrayed the usual mixture of positives, negatives, aspirations, plans, acquisitions and inevitable restructuring details. The most notable element was that performance at British Airways was relatively good — albeit offset in the current year by the increase in fuel prices — but that the problems in Spain and at Iberia were severely undermining the group's outlook.
The event took place on the same day as the announcement of the group's third quarter results. In the three months to end September 2012, the group saw revenues up by 13% on the back of a 5% increase in capacity and traffic, and a 9% increase in unit revenues. The increase in unit revenues appears high but was specifically affected by the weakness of the Euro against Sterling and the US Dollar in the period. In fact the quarter suffered severely from the London Summer Olympics, which had the expected impact of diluting traffic mix, reducing yield and demand. For the group, operating profits came in at €270m before exceptional items against €363m in the prior year period — diluted by some €30m losses on the British Midland operations acquired earlier in the year. Unit costs grew by over 10%, while non-fuel unit costs were up by 8% year on year. On a "like-for-like" basis, unit revenues fell by 0.3% year-on-year, unit costs grew by 0.8% (and ex-fuel unit costs were up by 0.2%). British Airways apparently registered all the profits; Iberia in contrast merely broke even in the main summer season.
For the nine months to end September, group revenue grew by 11% to €13.6bn with bmi accounting for 3% of the increase and exchange rate movements for 5.5%. Capacity was up by 3% (impacted by the strikes at Iberia in the early part of the year) and unit revenues grew by 9% (or 3% at constant exchange rates). Operating costs grew by 15% (with a 24% hike in fuel costs) and operating profits came in at a mere €17m, down from €451m in the previous year.
For the remainder of the year, there appears to be some optimism that the dilution that arose around the Olympics on BA's operations has disappeared and that yield and unit revenue growth is resuming. However alongside the continued weakness in Iberia's core operations and the impact of hurricane Sandy, the group expects to make a significant fourth quarter loss and gave guidance for a full year operating loss of €120m (after bmi trading losses and exceptional items, but not allowing for labour disruption in Madrid).
Vueling integration
At the same time the group announced a bid for the 54% free float in Vueling it does not already own. The management were eager to point out that Vueling will be managed as a separate operating company within the IAG umbrella reporting to the IAG CEO Willie Walsh — and that there would be no attempt to integrate with IB Express. It will only cost €113m in cash, will be funded from internal resources, and is expected to be completed in the second quarter of 2013, subject to regulatory and stock market approval. There should be no competition issues: following the merger between Iberia's Clickair and Vueling the local authorities have treated Vueling as part of the Iberia group.
Vueling will bring a profitable operation (even in the current year with the extreme Spanish economic slowdown), a fleet of 55 A320s, a strong position as Catalonia's effective flag carrier with 30% of operations at Barcelona's El Prat airport (which it operates as a hub, Barcelona being the fourth largest real O&D airport in Europe), and strong growth potential. It also operates bases at Amsterdam and Rome Fiumicino. As a hybrid LCC, there may even be some further potential group synergies e.g. through intensified code shares; it has had a reasonable track record of cooperation with other network carriers.
Synergies and financial targets
At IAG's inaugural capital markets day last year the management presented its strategic target of achieving €0.52 earnings per share and a 12% return on capital employed in 2015. This effectively equated to a level of operating profits in that year of €1.5bn and a near 10% margin: a strategic plan redolent of a combination of BA's pre-merger plans and Iberia's love of five-year targets. The target, it was then explained, was based on expected 2011 operating profits of around €500m. The additional €1bn was made up of €150m organic growth, the creation of €450m in group-wide synergies (roughly half from revenues and half from costs) combined with €400m in underlying profit improvements at the two carriers.
The targets presented this year were little different: the same €0.52 earnings per share and 12% return on capital by 2015. The operating profit target had been raised slightly to €1.6bn, mainly from the additional accretive benefits flowing from the acquisition of bmi. However, the baseline of profitability has slipped significantly from the sizable problems and challenges in 2012: most notably the significant increase in fuel costs, the exceedingly weak Spanish economic environment and the additional trading losses from bmi in the first year of acquisition. Combined these have created an additional gap to fill of €625m.
One of the first responses is that the group has raised its estimate of total group synergies to €560m by 2015 and a net profit and loss impact of €525m in that year. Monitoring the performance of planned synergies defies analysis through published accounts; we have to take the company's word for the statement that it had already achieved a net annual benefit of €74m in 2011 and €235m in 2012. This gives them remaining synergies of some €280m.
Secondly the group has reduced its expectation of organic growth by half a percentage point — pointing to a 2% annual growth in capacity, which it is assumed will add €100m to operating profits rather than the original idea of €150m.
Consequently to achieve the targets IAG will now need to find profit improvements of some €1.2bn (up from the €400m postulated last year). It has outlined three main elements:
Transform London: generate improvements of around €600m from
bmi transformation (i.e. using the bmi slot portfolio efficiently to recover lost short-haul connections and introduce new (and reintroduce old) long-haul routes
create returns and synergies from the joint businesses on the Atlantic with AA (and on Asian routes with JL)
improve asset turn
short-haul strategy
cost discipline
New fleet savings: to create benefits of around €250m
The new BA long-haul fleet with A380s and the long awaited 787s will allow accelerated disposal of the 747 and 767 fleet, with new 777s for delayed 787s
new leased twin engine A330s to replace the expensive four engined A340s, with an accelerated disposal of A340s
Transform Spain: to create benefits of around €450m
Fleet plans
Need to attend to labour cost competitiveness and realign to the "new normal". The introduction of IB Express is a first step but does not go far enough. Significant restructuring is deemed required.
New low cost platform. Although other LCCs have been exiting the Spanish market, there is little protection should the local economy recover.
Potential acquisition of Vueling
Last year the group had planned to increase its fleet from 344 units to 372 by 2015. With the problems in Spain and in a first stab at restructuring Iberia operations, the group now looks to reduce its fleet from 380 units (including 25 A320s from bmi) down to 358 by 2015 (see table, page 4). There are some tweaks in the BA long-haul fleet — with delays in the 787 deliveries they now only expect to take delivery of 12 of that aircraft type in the next three years (down from 16) but have upped the interim deliveries of 777s to nine in the period, and at the same time look to accelerate disposals of older 747s. The major difference however is in the Iberia fleet plans. The current idea is to reduce the long-haul fleet to 29 A330/A340s from the current 33 (still taking delivery of 8 A330s from next year) rather than growing the fleet to 40 units. In addition, the company will be disposing of some 34 short-haul A320s — or a third of the fleet. The result of the changes has been to reduce total group capex between 2012 and 2015 to €6.2bn from €6.6bn (and heavily weighted to 2013 and 2014).
Transform Spain
Iberia probably had been hiding a little under the success of the Spanish economy in the run up to the 2008 financial crisis; but the disastrous impact of the recession there has highlighted the need for a complete restructuring — the company has been burning cash in the last three years, with cash balances down to €1.5bn at the end of September. The company's CEO Rafael Sánchez-Lozano presented the transformation plan the group is initiating — sadly unable to give too many details as the negotiations with the powerful unions had only just started.
Sánchez-Lozano stated the key objectives of the restructuring as:
To stop Iberia haemorrhaging cash by mid 2013. This will involve negotiations with employee groups being concluded as quickly as possible – if they have not reached agreement by the end of January next year, they will accelerate the downsizing of Iberia, to safeguard the company's viability
To give Iberia a competitive cost base for long-term growth: the IAG Group return on capital of 12% would imply a turnaround in profitability of at least €600m from 2012 levels at the proposed scale of Iberia – this is the minimum required to allow them to grow the business profitably in the long term.
The transformation will be funded entirely through Iberia's own resources.
Last year they recognised that they had challenges that needed addressing.
In the high fuel cost environment the A340s were uncompetitive on costs and the Iberia long-haul brand was "tired", not having been updated for thirty years. The first new (leased) A330 is due to enter service in January next year; and plans are still in place for a rebranding.
The Madrid hub suffered from inefficiencies that affected punctuality, service levels and quality. Improvements in the last year have improved punctuality significantly.
The short-haul operation was not competitive against low cost carriers: the introduction of Iberia Express (despite union opposition and even with only 14 aircraft) has possibly improved the position.
However, the company has lost over €850m at the operating level since the beginning of 2008. Cash balances have fallen from €2.27bn to €1.05bn at the end of September. Cash outflow from operations accounted for only €155m of the €1.2bn decline in cash balances; but early retirement payments totalled €455m, fleet investments €394m and debt repayments €335m. And the Spanish economy is now expected to enter a severe double dip recession.
One of the major strengths of Iberia has always been seen as its position as a major gateway to South America. It is the third largest metropolitan area in the EU (behind London and Paris) with a population of just over 7 million; Madrid Barajas is the fourth largest airport in Europe; Madrid is present on six of the top ten O&D routes on the South Atlantic – to Caracas, Buenos Aires, Lima, Mexico, Quito and Sao Paolo. In the table (see page 5) we reproduce IAG's numbers showing the real O&D traffic between Europe and Latin America. This shows that local demand between Spain and South America accounts for 28% of the total demand and in some markets Spain accounts for over 40% of total demand (and 56% to Colombia). In contrast, Brazil alone accounts for 43% of the market between Europe and South America (for which Spanish demand accounts for only 14%) — and Iberia consequently has a relatively poor access into the strongest LatAm market.
The presence of high real O&D demand should make the basis for a strong connecting hub operation: and this indeed has been the focus since the expansion of Barajas with its third and fourth runways and the erection of Terminal 4. However it appears that the group management have only just discovered that the operation, in withdrawing from non-hub flying and concentrating on short-haul into Madrid, had been pursuing short/medium-haul connecting traffic, leading to significant short-haul losses.
The key components of the restructuring plan are:
Focus on the core network
Network redesign.
Suspend non-strategic, loss-making, routes and frequencies.
Close the gap in cost, fleet and product.
Keep effective feed for the long-haul network.
Taking a leaf out of BA's own restructuring a decade ago, Iberia will focus on long-haul premium markets and exit low margin flying that is based more on lower yielding leisure demand. It plans to realign its long-haul schedule to concentrate on routes that can support daily or double-daily rotations — among other things to optimise crew and other operating costs. It will concentrate on the short- and medium-haul routes that can provide relevant volumes and yields to its long-haul operations and/or those with reasonable margins. It will also selectively reduce frequencies on individual routes to drive profitability — always a little difficult to do without reducing the attractiveness of the product in the market place.
In 2013 it therefore plans a significant cut in operations. It is disposing of five of the long-haul A340s and 20 of the short-haul A320s. Total capacity in available seat kilometre terms is expected to decline by 15% year on year. It will be cutting the bottom 13 routes that are apparently currently losing €100m annually.
Renewal of commercial plan.
Narrow the unit revenue gap to competition with a commercial action plan providing a customer proposition that will ensure competitiveness.
The company was less clear on the proposals to fulfil this element of the plan. However, it is also likely to be taking benefit from BA's own experience in this area in introducing new sources of ancillary revenues — such as changes to the baggage policies, encouraging upgrades and up-selling, trying to encourage continuing channel shift in distribution. In the medium term it still recognises that it needs a re-branding at some point; this may in the short run be helped by new seating and cabin configurations on the introduction of the A330s next year.
Short/medium-haul restructuring.
Transform the short- and medium-haul operation, reducing the unit cost gap to low cost competition, delivering an efficient short- and medium-haul operation.
In a patent broadside to the unions the company stated that it "will reduce salaries" and improve productivity in the short/medium-haul mainline operations by getting similar salary and productivity levels for pilots and cabin crew as low cost carrier benchmarks. Iberia Express (which started in March amidst considerable union dissatisfaction and currently has 14 aircraft in operation) has apparently shown an excellent track record in unit costs, operational performance and customer satisfaction and, says Iberia, will continue to be central to its plans. It is aiming to extend the IB Express product to the rest of the mainline short-haul operations.
Comprehensive Labour restructuring.
Negotiate salary adjustments and productivity improvements to close the gap in labour cost and achieve a competitive and flexible cost structure.
The aim is to reduce salaries and increase productivity throughout the company. This will involve significant negotiations with the main unions in order to remove barriers in collective labour agreements, which in their words "prevent us from achieving a competitive cost base". Along with the steep reduction in capacity the company will be looking to make some 4,500 positions redundant — over a fifth of the workforce. For those that remain, the company is targeting salary reductions of 25%-30% and removal of automatic annual increments.
Restructure non-core businesses
Secure competitive maintenance and handling costs for the airline
End non-profitable third party activities
It is interesting that the Iberia MRO business is now being referred to as non-core. It had been one of the areas that the company had pursued for some time in order to reduce its own maintenance costs by increasing third party sales; which have grown from 30% of total divisional revenue to over 50%. It had also been touted as an area that could provide good group-wide synergies (since BA had itself disposed of its airframe and engine maintenance there had been the opportunity to "insource"). It currently runs four divisions covering line maintenance, heavy maintenance, components and engines (where it had some significant core competences, including RB211-535 and CF34 overhaul and repair licenses, and CFM56 parts repair license). The company was not being specific about its plans.
More clearly the company stated that it would discontinue all handling services outside Madrid — unless they can deliver acceptable profit margins (of between 10% and 20%). It currently has 21 licences to run third party handling at 36 airports in Spain — due to expire at the end of next year. For IAG, airport handling brought in revenues of €290m in 2011; and it is likely that only a handful of the Spanish licenses could be profitable.
Implementation
Implementing the restructuring plan is unlikely to be easy. There will be significant redundancy costs; and the difficult negotiations with the unions will include an attempt to discuss a satisfactory lay-off scheme (in IAG's view) — bringing maximum payouts down to the legal maximum of one year's salary. There will also be some costs inherent in the early retirement of some of the fleet and delays in future deliveries.
The company has started the negotiations and has bluntly stated that this is a "fight for survival". It has given an ultimatum to the unions to complete negotiations (presumably satisfactorily) by the end of January in order to be able to put the adjustments in place for the 2013 Summer season; failing this, the company will implement further capacity reductions in order "to preserve he viability of Iberia".
The first reactions from the unions has, unsurprisingly, been negative. Three main unions (CCOO, UGT and SEPLA) issued a joint press release insisting that the management should take some of the blame, rejecting the plan for capacity reductions or the separation and disposal of MRO and ground handling, demanding that Vueling (if acquired) be integrated within Iberia rather than at the IAG level. It also included interesting demands that "[Iberia] maintains a proportionate level of growth in line with our partner airline in the merger and in the JBA" and that "no worker in Iberia, either ground staff, cabin crew or a pilot will lose their job whilst Iberia and its associate airlines maintain or increase their own capacity and operations". Obviously this is a long way from the company's position.
While the plan is being pushed forward by CEO Rafael Sánchez-Lozano, and the company states that it will be accomplished using Iberia's own resources, the hand and experience of Willie Walsh is apparent. He after all successfully pushed through swingeing bits of union bashing at Aer Lingus and BA; and is not one to give in.
Transform London
The story at British Airways in contrast is encouraging. This year the strong increase in fuel costs is having a serious effect — but the airline should still end the year with a reasonable level of operating profits of around £250m.
The British Airways' management highlighted the strategic aims as transforming the profitability of BA through:
partnerships
new fleet
revenue innovation
cost discipline
short-haul standalone profitability
once-in-a-lifetime opportunity from bmi
balancing customer and commercial focus with cost discipline
determination to provide a return on capital that the brand franchise deserves.
The acquisition of bmi from Lufthansa may be described as transformational. In one go it has allowed BA to recover a significant slug of slots at the constrained Heathrow, to put it above 50% share of operations, allow it to reinstate some of the short-haul feed it has had to abandon in favour of long-haul, and allow it room to introduce new (and sometimes reintroduce old) long-haul services.
The company states that integration is virtually complete while trading losses at the bmi operations have been halved from the prior year proforma £200m (it expects breakeven mid-2013). In the current winter season it has allowed BA to add 20 routes to the Heathrow network, extra capacity on eight existing routes and timing improvements across the network; although it is unfortunately back into the position of operating from three terminals at the base airport and is unlikely to be able to consolidate all operations into Terminals 3 and 5 until 2014. BA appears comfortable that the bmi slots will add an effective £100m to operating profits by 2015.
Partnerships
BA also gave a few comments on the development of the ATI joint venture on the Atlantic with American and Iberia — what it terms the North Atlantic Joint Business. After two years of operation it has seen an 11% growth in capacity, basically as a catch up for the pre-ATI constraints, with a revenue increase of 23% (and unit revenues up by 10%), share of premium traffic up by 1.6 percentage points, share of non-premium up by 1 point and premium load factors increased by 4 points to 77%. The number of corporate deals with transatlantic code share has been ramped up significantly from 150 at the beginning of 2011 to over 700 now; while the proportion of JB passengers on BA's own metal has risen from 5% to over 20% in the period. Of course because of the wonders of joint venture accounting the results are not easily discernible in the published figures, but the company is seeing this as a major focus in its aims to reach the group financial targets for 2015.
Little meanwhile was said on the development of the joint venture with JAL (which was only launched in October) save that within a month 10% of passengers on its services were booked on the JL code of which 95% had been booked in Japan — a notoriously difficult distribution market for non-Japanese companies. In contrast Walsh appeared unconcerned that long term partner Qantas had withdrawn from the Kangaroo route joint venture and switched allegiance to Emirates.
The management emphasised that its short-haul operations were a clear priority, even stating (perhaps vainly hoping) that short-haul needs to be profitable in its own right, as well as feed long-haul. They stated that they now have a good competitive cost base at Gatwick "at LCC levels" and that the bmi acquisition will bring further synergies at Heathrow.
One major benefit coming through to BA will be the long awaited long-haul fleet replacement programme. Next year the company will take the first of its A380s and 787s — and plans to take on 27 new long-haul aircraft in the next three years. This will allow the retirement of older 747s and 767s (with some interim 777s helping for the additional delays in the 787). The new aircraft, it states, will create fuel savings of £150m a year in 2015 (at $110/bbl). The company still has a lot of flexibility (especially regarding retirements) but at the moment is assuming annual capacity growth of 2-3% per annum to 2015. This will be biased towards North America, Asia and partner hubs.
On the cost side the management stated a clear aim to hold non-fuel unit costs at 2012 levels, i.e. impose a cost discipline to offset inflation. This would equate to annual cost cuts of £200m at current inflation levels. Part of this is already in place with the establishment of the mixed fleet crew complement — which by 2015 should provide £80m incre
Conclusions?
The merger between British Airways and Iberia was long in the making (the first moves being more than a decade ago); and during the intense negotiations in 2008 and 2009 there would have been few who would have thought that the economic environment would change so disastrously over the following few years. At the time of the merger agreement, the relative value of BA was reduced by the 20% decline in the value of Sterling and the overhang of their pension liabilities. It is entirely possible at this year end that IAG will have to write down the implicit goodwill on the investment in Iberia as an impairment loss, which former British Airways' shareholders may consider an additional insult.
IAG established itself as a vehicle for airline consolidation that could easily absorb new acquisitions. The first of these is relatively small — Vueling — but gives access to an interesting sector of the market. The group meanwhile has walked away from TAP after showing initial interest and at the moment it is difficult to see where there may be realistic further targets.
It must be difficult indeed in merger discussions, when both sides agree to the strategic necessity, to stand away and consider the negative scenarios; but here we now have a significantly negative scenario. British Airways itself seems very much on normal track, but the restructuring of Iberia looks as if it is going to be a tough fight; and a view that the Spanish unions' stance might be softened by the similarly significant restructuring planned at SAS (where it appears most of the unions have agreed to the plans) may be optimistic. If union negotiations fail, is it a far flung thought that Iberia may be allowed to go bust?
Going on Willie Walsh's past performance in similar circumstances there is the possibility that the idea will work. It may nevertheless be a painful uphill struggle to achieve the needed €600m turnaround at Iberia to reach the group's stated targets for 2015.
IAG'S FLEET AND FLEET PLANS
IAG'S FLEET AND FLEET PLANS
Outstanding options/
Further
(last year's
Deliveries
orders post
purchase
Aircraft
2012
2015
2015 plans)
2012-15
2015
rights
IB
A330/340
33
29
40
8
8
BA
747
52
43
45
767
14
7
1
777
52
58
54
9
787
12
16
12
12
28
A380
9
9
9
3
7
A318
2
2
2
Total long-haul
153
160
167
38
15
43
IB
A320 family
77
52
76
9
8
BA
A320 family
110
120
95
10
Other
40
26
34
Total short-haul
227
198
205
19
8
Total fleet
380
358
372
57
23
43
Source: IAG