AirAsia X: Evolution of the long-haul LCC model November 2011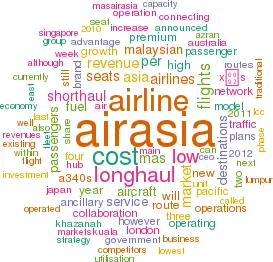 AirAsia X is the only long–haul LCC currently flying the European–Asia Pacific corridor. Established four years ago, it carried 1.9 million passengers last year throughout its network and recorded a net profit of $26m on the back of $414m revenue. It anticipates a revenue increase of more than 50% for 2011.
The airline is an associate of Asia's biggest short–haul low cost group, AirAsia. In July 2010 AirAsia X emerged as a standalone airline after a restructuring, which separated it from AirAsia's short–haul business operations. AirAsia has 16% share in the airline; AeroVentures, an investment vehicle owned by Tony Fernandes, Robert Milton of Air Canada and other entrepreneurs has 52%; the Virgin Group has a 10% interest via Corvina Holding; Orix Corp of Japan and Manara Ltd have 11% each.
This restructuring means AirAsia X has separate management, marketing operation, flight crew and premises, but continues to have use of the AirAsia brand and website via a 30–year brand licence agreement.
The idea is to create a symbiotic relationship whereby both feed traffic across the short–haul and long–haul networks and share approach in promotions and marketing. In August 2011 AirAsia and MAS, Malaysia's national carrier, announced a partnership called the 'Comprehensive Collaboration Framework', whereby a share swap deal was agreed between Tune Air, the owner of AirAsia, and Khazanah Nasional, the government backed investment arm owner of MAS. Tune Air Sdn Bhd bought a 20.5% equity interest in MAS, while Khazanah received 10% of AirAsia. Additionally, Khazanah was offered a 10% stake of AirAsia X, which is still undergoing negotiations.
Through this collaboration it is hoped that each of the Malaysian airlines will carve a distinct market, focusing on taking on external competitors instead of challenging each other – MAS is to cater to the premium short/long–haul market, AirAsia the short–haul, low cost market while AirAsia X concentrates on the long–haul, low cost market.
Although the process has begun, the AirAsia X IPO listing is not expected until 2012 as the airline is awaiting the finalisation of the proposed Khazanah purchase.
The airline, however, is not desperate to complete the IPO in the immediate future as it has more than US$100m cash, and financing for next year's delivery of two A330–200s is almost in place. Timing, as always, is key, to the success of the IPO and market conditions are clouded by global economic uncertainty.
Fleet/Route network
The airline has a fleet of 11 widebody aircraft operating to 16 destinations mostly in the medium–haul sectors of Asia Pacific- Australia region. Two A340s are deployed on long–haul sectors to London and Paris. Referencing its London route, AirAsia X's CEO Azran Osman Rani has admitted that, though the load factor averages in the high 70% — low 80%, the high fuel price environment makes the use of A340s "not economically sustainable". The airline intends to phase out its A340s, and in February 2011 it ordered three A330–200s, in an extended range version capable of flying Kuala Lumpur to Europe non–stop. The A330s are scheduled to be delivered in 2012, replacing the A340s and increasing the frequencies of the London and Paris routes.
The focus on serving more European destinations as well ultra long–haul operations to the US will only come once the A350s, of which 10 have been ordered, come into service from 2016.
Getting route approvals from the Malaysian government to its choice of destinations (some competing head–to–head with MAS) used to be the main obstacle to AirAsia X's growth plans. However, this seems to have been resolved now that the Malaysian government has committed to a more transparent aviation policy coupled with the MAS/AirAsia collaboration. In the summer AirAsia X was granted approval by the Malaysian government to fly to Istanbul, Beijing, Shanghai, Osaka and Jeddah – all potential high growth markets for the low cost model.
The airline is on track to achieve double digit growth this year — it recorded 43% passenger growth in the last three quarters (see chart on right), but it still has spare capacity within the existing fleet for further growth in 2012, which could allow the introduction of one or two further destinations (it has already announced a four–weekly Osaka service starting at the end of November). It plans to push up its aircraft utilisation to 17.5 hours a day.
For the medium term, the airline is focusing more on the Asia Pacific region, looking to expand into the high growth areas of China, Japan, Korea and Australia.
Provided the MAS/AirAsia collaboration and demarcation works smoothly, AirAsia X should benefit: MAS will probably opt to concentrate on relatively few premium–heavy routes while AirAsia X would have a wide range of long–haul leisure destinations to choose from.
However, as it stands, one of its priority destinations, Sydney, has still not been awarded by the Malaysian authority after three years of protracted negotiations.
Currently MAS monopolises the Kuala Lumpur–Sydney route with 14 flights a week. In contrast, Singapore has 49 flights per week operated by three airlines, Bangkok has 34 flights per week operated by four carriers and the Philippines has 10 flights per week operated by two airlines.
While it is still early days for MAS/AirAsia collaboration, the softening relationship between these airlines may finally result in AirAsia X getting approval from the Malaysian authority for the Sydney route.
The rate of expansion in the following 12–18 months will be dictated by how they are prepared to source new airplanes (hence more debt) over and above their existing plans for deliveries of 17 A330–300s from 2013 onwards. AirAsia X may lease in, or it could deploy the displaced A340s on shorter, denser routes, with high latent demand for low cost service, such as Jeddah. At present, the airline is targeting a fleet of 30 aircraft in five years' time, although CEO Azran concedes this is a conservative figure.
Thinking outside the hub
In July 2011, AirAsia announced a partnership with ANA to set up AirAsia Japan based at Tokyo. AirAsia Japan plans to expand in the huge domestic market before developing international services around the Asia Pacific region.
Already, CEO Azran has signalled his intention for long–haul AirAsia X operations alongside the short–haul joint–venture operating at the Japanese hub — with flights across the Pacific in prospect. While it is still premature to discuss this possibility in detail, the experience of AirAsia's short–haul, multi–hub airline strategy within Southeast Asia points towards this evolution, and a wider net of hubs which could eventually span the Far East, Australia and even the Middle East. However, to be able to replicate the multi–hub strategies of the short–haul AirAsia counterpart, the longhaul operation has to perfect its own operating model.
Managing costs
In 2010, AirAsia X reported a unit cost of USc 2.9/ASK (an increase of 0.2 cents from 2009 due to fuel), probably the lowest unit cost in the industry. The airline managed to reduce its non–fuel unit cost from USc 1.9/ASK in 2008 to 1.6cents/ASK in 2010.
Its cost strategy includes maximising utilisation at 17–18 hours a day by 24–hour scheduling, limiting aircraft parking at destination airports and staggering their schedules. It also has fewer crew per passenger relative to traditional airlines.
The airline does not believe fuel hedging can create a sustainable competitive advantage.
AirAsia X's aim is to be the world's most efficient fuel consuming airline, thus providing significant structural advantage against their competitors irrespective of the cost of fuel.
The organisation's culture is aligned towards achieving this lowest fuel consumption rate strategy. Apart from using the brand new A330, fuel efficiency is achieved through operational discipline — managing aircraft weight, flight planning, maintenance and engine care, and optimal landing and taxiing techniques. Last year its A330–300 consumed 2.18 litres per seat per 100km, which it claims to be the lowest per seat consumption for widebody aircraft.
Driving ancilliaries
AirAsia X sees driving improvements in ancillary revenue as a natural hedge to the decline in yields as it pursues price–sensitive traffic volumes. The airline is targeting to grow its ancillary revenue share to 28% of total revenues, which would be a 4% increase from last year.
In a survey by Amadeus on ancillary revenues of 47 airlines worldwide, AirAsia X came top with ancillary revenue per passenger of €30 (see chart, page 9). It derived the majority of these revenues from checked baggage, on board food and drinks, merchandising, seat assignments and travel insurance. There are also potential ancillary revenue from Inflight Entertainment (IFE).
Connecting innovations
To facilitate its growing self–connecting traffic, AirAsia X introduced the Fly–Thru service. The Fly–thru service bundles the two separate flights into single Passenger Name Record (PNR), allowing the transfer of bags and passengers between aircraft at KLIA without clearing customs/immigration.
This service could encourage more connecting traffic from AirAsia/Air Asia X's Indian and Chinese network as these nationalities would no longer need to apply for a Malaysian visa to connect to AirAsiaX's long–haul destinations.
This seemingly unassuming step of transferring passengers across long/short–haul flights at hub airports, which is at the core of the network airlines' operational model, has evolved within AirAsia X's operation.
Instead of being a cost centre, it has been turned into a profit centre. The airline charges RM60 (US$19) for a connection between AirAsia X–AirAsia X flights or RM30 between AirAsia X–AirAsia flights. This should attract more long–haul transfer traffic on the UK–Australia market as well as stimulating LCC penetration in markets like Japan–South East Asia.
AirAsia X does not allow the connecting service to undermine its aircraft utilisation. Passengers who miss connecting flights are put on the next available flights for free, although staying true to its low cost ethos, there is no overnight compensation if the next flight requires an overnight stay. At the moment 11% of its bookings opt for this feature.
Premium seats only contribute 5% of revenue at present. However, on average three to four rows of economy seats are hardly utilised throughout the year, so the airline sees an upside in them replaced by premium, lie–flat seats (with no added frills) that could achieve 50–60% occupation.
The value proposition of the lie–flat seat is that it costs a fraction of the price of a business seats on a traditional airline, giving AirAsia X a proper brand differentiation that attracts customers not usually associated with low cost airlines.
The new A330–200 replacing the A340s on London/Paris routes, while having 45 less economy seats, will have four more premium seats, 22 against 18. For the airline, the one–time investment for the premium seats with no increase in direct operating cost compared to normal economy seats makes economic sense.
The airline is not afraid of introducing complexity in its business model as long as it can generate revenue out of it or it can do it at a much lower cost compared to its competitors. Passenger feed to/from the short–haul operations of AirAsia and the push for higher paying premium passengers is vital in expanding the customer base and improving margins. And the AirAsia brand has launched its own version of a frequent flyer programme called BIG.
Some 20–30% of its passengers are connecting.
On its longest route, Kuala Lumpur to London, this proportion can be as high as 50%. On this route 25% of passengers are UK nationals, 30% Malaysians, 15% other Europeans, 9% Australians and the balance from other Southeast Asian countries. In October, the airline shifted its London airport from Stansted to Gatwick, with the expectation of achieving better yields out of Gatwick. It found that the UK's APD tax in effect negated the cost advantage of operating from Stansted.
Currently the airline as well as the rest of the AirAsia Group operates from Kuala Lumpur Airport Low Cost Terminal. MAHB, KLIA's operator has set a target completion date of October 2012 for a new terminal, which will also be primarily dedicated to low–cost operations, with an initial capacity of 30mppa, growing to 45mppa, doubling the existing main terminal's capacity of 20mppa, which has MAS as its main tenant.
The new terminal could provide the airline with further advantages in streamlining and optimising its low cost hub operations.
Scoot competition
In neighbouring Singapore, it was announced that Singapore Airlines are going to start a long–haul no frills, low fare subsidiary called Scoot in the middle of next year, which would be run and managed independently from its parent. The airline plans to start with four 777s increasing to 14 by 2016. Among the long–haul markets targeted are Australia and Asia in the initial phase before expanding further to Europe and possibly Africa.
SIA's announcement of this venture shows that the long–haul, low cost model is here to stay and is undergoing an evolutionary phase that cannot be ignored by traditional network carriers. AirAsia X sees the SIA decision as bolstering its own credibility.
At the same time, the SIA challenge and Jetstar's growing long–haul operation could result in a new impetus for expansion at Air Asia X to consolidate its advantage as first–mover in the market.
AIRASIA X'S FLEET
AIRASIA X'S FLEET
In Service
On Order
b
A340-300
2
A330-300
9
17
A330-200
3
A350-900
10