THY: Europe's largest full-service airline by 2020? November 2010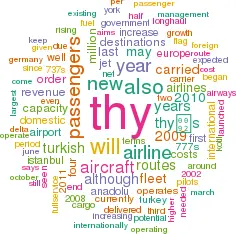 THY Turkish Airlines ignored what it called the "year of crisis" in 2009 and expanded furiously, reflecting the dynamism of the Turkish economy (the China of Europe, as it has been dubbed with 6.6% GDP growth this year). Already the fourth largest AEA airline in Europe in terms of passengers carried, THY aims to increase capacity by around 15- 20% each year in order to double passengers carried by 2015 and then become larger than Lufthansa by 2020. Is this a realistic target for Turkey's flag carrier?
THY's turnaround started back in 2002 after the state began to sell a 50.9% stake, abolished a tax on flights and encouraged the aviation sector in general to modernise itself. Since then the aviation industry has transformed itself in Turkey — a country with a population of 73 million — with domestic passenger numbers rising from under 10 million in 2002 to more than 41 million in 2009. This has mirrored a turnaround in the Turkish economy, which has seen gross national income per capita triple between 2002 and 2009, a rate of growth not seen anywhere else in Europe.
Against this background Temel Kotil, who joined THY in 2003 and became CEO in April 2005, put together a new strategy for the airline dependent on developing Istanbul airport into a hub for European passengers going on to destinations both eastwards in Asia and southwards. Essentially THY is aiming to take advantage of Istanbul's geographical position in the middle of what it calls the "Europe–Asia corridor" — Turkey is a three–hour flight from 50 different countries. This puts THY and Istanbul in competition with Dubai and other Middle Eastern hubs, using narrowbody against widebody aircraft – higher seat costs but also probably higher unit revenues.
THY's transfer passengers have almost quadrupled (to 4.5 million) in the last four years, but the airline believes there is still plenty of room for further improvement, and aims to increase transfer passengers from the current one–third of international passengers carried to more than 50% in the medium–term.
Altogether, Istanbul–based THY has seen its passenger traffic grow at a CAGR of more than 14% since 2002, and it currently operates to 166 destinations (127 international and 39 domestic). It confidently expects to overtake British Airways and become the third largest full–service European airline in terms of passengers carried by the end of 2010.
THY's stated ambition is to overtake the number one full–service airline (Lufthansa) in the next 10 years, which certainly means further aggressive expansion both in terms of destinations and fleet, even though the airline has only just completed an extensive fleet overhaul that has seen the average age fall to 6.5 years as of June 2010, with the oldest models now being A310 freighters (with an average age of 22 years), the 737–400s (18.4 years) and the A340s (13.7 years).
The mainline fleet currently stands at 126 (see table, below) but the group fleet (which includes Anadolu Jet) will rise from 148 at present to 184 in 2011, 205 in 2012 and 217 in 2003, in pursuit of increasing passengers carried from the 25.1 million carried last year to 56 million in 2015.
Long-haul focus
That's an aggressive schedule, but the aircraft are lined up, with no fewer than 62 on firm order. On short–haul, in January this year THY ordered six A319s and 14 A321s for delivery in 2011–12, as well as obtaining options for 10 unspecified A320–family aircraft, for 2013 delivery. The 20 firm orders will largely replace leased aircraft, but will also have the added advantage that they will have the same seat configuration – whereas the current leased A320s and 737s have a mix of configurations. Earlier this year THY also ordered 10 737–800s and 10 737–900ERs, to be delivered over 2011–14. THY has doubled its long–haul capacity over the last two years but 22 further aircraft are coming, and the first of 12 777–300ERs on order arrived in October this year. The aircraft were ordered in 2009 and ideally THY needed them last summer in order to launch new routes to the US, but this wasn't possible. THY currently serves New York JFK, Chicago O'Hare and Toronto in North America, and increasing that network is seen as a priority. Plans to launch a non–stop service to Los Angeles in March 2010 had to be postponed until December and then March 2011 due to the inability to secure new 777s from Boeing, but from March the LA route will operate four times a week.
However, prior to the LA launch, a route to Washington Dulles commenced earlier this month, again non–stop from Istanbul using new 777s. This service goes on to Atlanta, which initially appears brave (or strange!) as this is the main hub for Delta Air Lines of the SkyTeam alliance. But the only non–stop competition THY faces on its routes to North America is from/to New York — from Delta, and THY is aggressively counter–attacking Delta in the expectation that Delta's passengers will prefer to fly direct to Istanbul rather than connect via New York. THY also began code–sharing with US Airways in September, complementing its existing code–share with United; THY has been a member of the Star alliance since 2008, but does not have antitrust immunity.
THY has been leasing four 777s from India's Jet Airways, but they are being returned as the new aircraft arrive. The new 777s are arriving at the rate of one a month and being introduced on the new routes to the US as well on services to Tokyo, Hong Kong and New York, on which THY is also introducing a premium economy class called "Comfort Class" onto its 777s.
In October THY received the first of 10 A330–300s on order, with four due to be delivered by the end of the year and the rest through 2011. They are being used to increase frequencies on existing routes to Asia as well as on new routes, which will include Ho Chi Minh City in Vietnam and Dhaka in Bangladesh, the former of which will start in December this year, from Istanbul via Bangkok. Routes to Guangzhou and Manila are also being launched.
THY also has outstanding orders for an A330–200 and an A330–200 freighter. Cargo accounts for around 8% of THY's revenue, and as well as freight capacity in passenger aircraft the airline has four A310–300 freighters that operate between 22 destinations. THY's cargo business will also be boosted by the arrival of the 777s, whose increased belly cargo capacity has helped THY's cargo revenue rise by 62% in the first half of 2010 compared with the same period in 2009. A further boost will come from two new A330–200Fs, the first of which has just been delivered to THY as a "test aircraft" (the model only became certified by Airbus in April this year). The other aircraft will be delivered in late 2011 and they will be used on cargo routes to Asia/Pacific, most specifically China.
But the 777 and A330 aircraft may not be sufficient for these and other new longhaul destinations, so THY will also order very large capacity aircraft, with talks ongoing with Boeing and Airbus about the 747–8 and A380, aiming at a year–end decision. THY had been expected to order five or six aircraft, but the order may be as large as ten aircraft, and for delivery by 2013–14, given the spare production slots made available by cancellations from other airlines. THY is also expected to make an order for either A350s or 787s in the not–so–distant future, and the airline hints that as many as 20 may be needed.
Even without these potential new aircraft types the long–haul fleet will almost double once the 777 and A330s are delivered by the end of 2011, and a clear focus for THY going forward is increasing longhaul traffic. The number of international passengers carried by THY surpassed domestic passengers in 2008, and in 2009 the airline carried 11.7m domestically and 13.4m internationally. Converted into revenue however, the disparity between domestic and international is much larger; in 2009 THY earned €636m revenue from domestic passengers and €2.3bn from international passengers.
In the first half of 2010 THY had a 60% share of the international market to–from Turkey (with foreign airlines taking 31% and other Turkish carriers 9%), while in the domestic market it had a 64% share.
Those figures exclude Antalya–based SunExpress, a charter airline set up in 1989 as a 50:50 joint venture with Lufthansa. It specialises in flights between Turkey and Germany and operates a fleet of 27, comprising 24 737s and three 757s, although the 757s are being returned to lessors through the rest of the year. SunExpress employs 1,400 and made a €51m net loss in the first half of 2010 on revenue of €185m.
THY also owns Anadolu Jet, which was launched two years ago as THY's LCC. Based at Ankara Esenborga airport, Anadolu Jet operates 22 A320s and 737s to more than 40 destinations, most of which are domestic. However, from this August Anadolu Jet began operating all THY's flights from the second airport in Istanbul, called — Sabiha Gokcen — both domestic and internationally (including London Stansted, Amsterdam, Copenhagen and Moscow Sheremetyevo). THY had previously operated routes out of Sabiha with its own aircraft, but states that it is switching to Anadolu Jet operations as passengers would "have the chance of flying with much more economic prices".
THY also states that part of its competitive advantage is that it has lower (mainstream) costs than virtually all other full service airlines in Europe, so that, as Kotil explains it, THY can offer a "five–star services but at cheaper rates compared to low–cost Western or five–star Eastern competitors". Unit costs have been coming down steadily over the last few years, although 2008 was a blip due to fuel price increases, and CASK was also under pressure in the first half of 2010, again due to fuel costs, when it rose to 5.9 Euro Cents per ASK even despite the results of a major "Fuel Saving Programme" that was launched in April 2008.
How long THY can keep costs down as it keeps expanding will be a critical test for the airline. A potential strike was averted narrowly in May this year before management settled a dispute with union Hava–Is, after which a new collective agreement was signed that will cover the period up to May 2012. Greater cost pressure may come from finding pilots to operate the expanding fleet. There are apparently no unemployed pilots in Turkey, and the usual outlet of retiring military pilots is no longer sufficient to keep up with THY's demand for hires. Rising numbers of foreign pilots are having to be hired, although their salaries are higher than those paid to Turkish pilots.
Altogether THY had 15,934 employees as at June 2010, but although the workforce has risen, productivity as measured by passengers per employee has increased from 1,271 in 2005 to 1,644 in 2009. Fleet utilisation has also been increasing steadily too, thanks to more sophisticated scheduling and "a better fleet composition".
As shown in the graphs (see page 15), THY has seen steady growth in revenue and operating profits over the last few years, although net profit did dip in 2009 as even THY couldn't avoid the global recession. Nevertheless, its 2009 net margin of 7.9% is better than almost all its major full–service rivals, as with the odd exception (such as to London) THY managed to retain its fare structure over the last 18 months (rather than slashing prices, as rivals did), since its load factor held up well.
In the first–half of 2009 THY reported a 28% rise in revenue to €1.9bn, although operating profit fell by a third, to €55m, thanks to rising fuel expenditure (with fuel costs up 74% year–on–year). The Icelandic volcano crisis also cost THY an estimated €6.5m. But net profits for the six month period totalled €138m, up substantially on the €48m net profit it made in the first–half of 2009.
Passengers carried rose 19.3% to 13.4 million in the January–June 2010 period, with RPKs rising by 26.8%, significantly ahead of a 19.9% increase in capacity, resulting in load factor leaping 4.1 percentage points to 72.1%. For the full year THY is looking to carry more than 31 million passengers.
Time to acquire?
Financially, THY is fairly strong. As at June 30th this year its long–term debt stood at €1.5bn, a figure that has remained stable for the last couple of years, while at the same date THY had €328m of cash and cash equivalents. Overall, given its finances and its operational performance Kotil says the airline "is in heaven", and the airline is looking very closely at "three or four investment opportunities" in Europe, with an acquisition expected to be announced by the end of the year or early in 2011.
In July THY said it wanted to buy LOT Polish Airlines, although the deal was being held up by the restructuring of Poland's flag carrier. LOT is 68% owned by the Polish government and could offer THY a Warsaw hub, and THY's focus definitely appears to be to the north, with Kotil saying that "there is space for consolidation in eastern Europe, and we do not want to miss this opportunity".
In December 2008 THY agreed a deal to buy 49% of B&H Airlines, the flag carrier of Bosnia–Herzegovina based at Sarajevo airport. B&H operates four aircraft and had revenue of just €5m in the first–half of 2010. That deal has led to speculation that THY may invest in Serbia's flag carrier, Jat Airways, particularly after the Turkish prime minister visited Serbia over the summer and said that the two airlines needed to have a "close relationship" and that "a THY–Jat merger is the right decision". The Serbian government is actively searching for a strategic partner for Jat and will imminently start a second privatisation process for the airline.
Another airline that THY has been linked with in terms of an investment is Croatian Airlines, which is currently 95% owned by the Croatian state, while Russia may also be on THY's acquisition radar. THY currently operates to ten destinations in Russia and carried 600,000 passengers to/from the country last year, and in October this year Anadolu Jet started an Ankara–Moscow route. It has been reported that THY is interested in a strategic partnership with Aeroflot, although THY denied reports in the Turkish press of a joint start–up using a fleet of Sukhoi Superjet 100s.
THY is also being associated with a potential new airline in Iran, although more likely is a commercial agreement between THY and IranAir to include cross–selling and code–sharing. More definite still is a potential aircraft component manufacturing venture by THY in collaboration with Turkish Aerospace Industries.
Of course it will not all be quite so "heavenly" for THY for ever. Sustained growth will inevitably increase cost pressure, although naturally management says it constantly endeavours to keep costs low (which may indicate a greater role for Anadolu Jet in the future). At some point THY may also encounter the "LCC problem" of finding enough profitable new routes to put its new capacity onto, although management says that as well as new routes it also aims to increase frequency on most of its existing network, given the high load factors that many routes are encountering.
And THY's recent financial results have been magnified by the weak Turkish Lira, which boosts THY foreign currency revenue and reduces its costs. But this can't last forever, and indeed the Lira has been strengthening this year.
Also, THY will have to respond to expansion by rival airlines. The main threat may come from Pegasus Airlines, which was launched in 1990 by Aer Lingus and local Turkish partners but was bought by ESAS Holding in 2005 (which also owns a 16.5% stake in Air Berlin). The Istanbul–based airline operates both domestically and internationally to leisure and city destinations across Europe (including the UK, Germany, Russia and Greece), as well as to Iran. It has a fleet of 27 737s and has outstanding orders for another 26 737s, and began a partnership with Air Berlin in 2009 that will pose a threat to THY's routes, which currently cover nine destinations in Germany.
In relative terms those challenges are containable, particularly when THY still has the backing of the Turkish government, which retains 49.1% after the series of public offerings. That support shouldn't be underestimated, from the state's drive to sign bilaterals to the easing of visa restrictions with other countries to the ambition of joining the European Union (although that faces severe political impediments, from the influence of the military in Turkey to the occupation of northern Cyprus).
Crucially, the Turkish government is also planning a third airport at Istanbul, which would be able to handle around 60 million passengers a year. That capacity is needed urgently as the main airport, Ataturk, will run out of spare capacity in the next three or four years. A formal decision by the government on the third airport is expected by the end of 2010, and a positive decision will greatly aid THY in its longer–term plan to increase transit passengers as a proportion of international passengers carried up to two–thirds.
The general optimism about THY is being reflected in its share price, which has surged from under TL1 two years ago to around TL6 at present (see graph, above).
THY MAINLINE FLEET
THY MAINLINE FLEET

| | | | |
| --- | --- | --- | --- |
| | Fleet | Orders | Options |
| A310 | 4 | | |
| A319 | 4 | 6 | 10 |
| A320 | 25 | | |
| A321 | 21 | 14 | |
| A330 | 10 | 11 | |
| A340 | 9 | | |
| 737-400 | 2 | | |
| 737-700 | 4 | | |
| 737-800 | 42 | 10 | 15 |
| 737-900ER | | 10 | |
| 777-300ER | 5 | 11 | |
| Total | 126 | 62 | 25 |