easyJet - the best placed LCC to weather the downturn? November 2008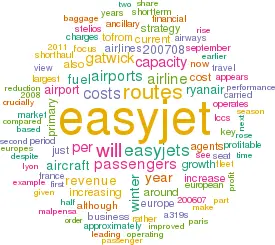 EasyJet has just reported operating profit of £91m and net profit of £83m for the year ending September 30, and although these figures are 47% and 45% down respectively on 2006/07, the results confirm that Europe's second–largest LCC is weathering the recession relatively well.
After two profit warnings earlier this year, for the 2007/08 financial year easyJet recorded a 32% rise in revenue (compared with 2006/07) to £2.4bn, of which £2bn came from passenger revenue (up 22.7%) and £367m was ancillary revenue (including checked–in baggage), which more than doubled. Total revenue per seat rose 12.6% in 2007/08 to £45.51, while passengers carried rose 17.3% to 43.7m. Load factor improved by 0.4 percentage points during the 12 month period, to 84.1%
Short-term focus
These figures are a major achievement given the macro background and the fact that fuel costs have obviously killed easyJet's ambition of 12 months ago to increase profits by 20% this financial year. While Ryanair is struggling though the current tough period (see Aviation Strategy, July/August 2008), easyJet appears to be benefiting relatively from the key strategic differences between the two LCCs (such as easyJet's focus on primary airports; its targeting of both business and leisure passengers; and its more positive attitude to travel agents). In the short–term though, easyJet's relative financial strength is being underpinned by a further culling of costs, what it calls a "tactical reduction" in overall growth (while continuing to expand in core markets) and improvements to ancillary revenue wherever possible.
easyJet's cost per seat (excluding fuel) fell by 7.5% in 2006/07 compared with 2004/05 (see table), and earlier this year the airline announced a new cost saving programme aimed at mitigating the current increase in fuel costs, with a target of a £90m reduction in annual costs over the next three years.
Fleet rationalisation is an important part of this programme, and the airline wants to cut £40m from annual costs by 2011 by increasing the pace of 737–700 withdrawal, selling a number of older A319s and disposing of seven A321s acquired as a result of the GB Airways acquisition in January.
EASYJET'S FLEET
| | Fleet | On order | Options |
| --- | --- | --- | --- |
| A319 | 110 | 80 | 88 |
| A320 | 9 | 25 | |
| A321 | 7 | | |
| 737-700 | 28 | | |
| Total | 154 | 105 | 88 |
The remaining 28 737–700s will be phased out earlier than planned, and with further disposals over the next three years this means that the fleet will increase from the current total of 154 (see table) to approximately 200 by September 2011, despite around 80 deliveries in this period. In 2011 the fleet will consist of 175 A319s and 25 A320s.
This summer easyJet switched 25 of its existing orders for A319s into larger A320s (its first such order for the model), reducing its outstanding orders for A319s to 80 (with options for another 88 aircraft). The A320s will be used on the longer range routes operated by GB Airways such as to the Canary Islands and Sharm el–Sheikh, and the larger capacity will reduce unit costs on these routes. But this also hints at the long term problem that easyJet (and Ryanair) faces — finding enough short–haul routes in Europe that are profitable, on which to place all its aircraft that are on order. Of course both airlines insist there is a substantial number of routes in Europe that they have yet to enter, but almost inevitably the search for profitable routes will encourage both airlines to look at longer sectors, even if that reduces the number of daily rotations.
Fleet rationalisation comes on top of the efficiencies that the current fleet already provides. Its average age is just over 3.5 years, and average utilisation per aircraft is just under 12 hours per day (although this reduces to nine hours per day in the current winter season), based on turnaround times of 30 minutes.
The integration of GB Airways into easyJet in March should also deliver £20m of cost savings per year, while in other areas some £20m in annual cost savings will come from better fuel consumption through improved route planning and reducing takeoff weights (including the reduction of the amount of on board drinking water).
Around £30m will be saved from improved crew productivity and rostering, while in September easyJet announced that it was cutting up to 10% of all its positions (655 in total) at its head office in Luton airport. Salaries of senior management have also been frozen. easyJet's current workforce stands at around 6,600 (including 1,700 pilots and 4,000 cabin crew); as can be seen in the graph, after stalling over the period 2005–07, productivity improved again in 2007/08.
But it's not all good news on the cost front. easyJet says costs (excluding fuel) in the second half of the FY were "been under pressure from increased airport charges, not least at Gatwick". The UK CAA is allowing BAA to increase charges at Gatwick by more than 20% in 2008 and by 31% plus the RPI by 2013, and this infuriates easyJet given that no major infrastructure improvements are planned at the airport. In May easyJet applied for a judicial review on what it describes as "an obscene increase in passenger fees", which has now been approved by the UK High Court.
easyJet's view on the impending sale of Gatwick by BAA is that this in itself will not necessarily be beneficial, as the airport is still a "local monopoly", and so what it wants is effective regulation at Gatwick (and other UK airports).
In general, easyJet appears to be becoming more aggressive in its ongoing battle to keep costs down at the primary airports it operates into, and it is edging closer to Ryanair's more combative stance. For example, the 88% rise in charges at Stansted from April 2007 (to £12.57 per passenger) has led directly to easyJet withdrawing capacity from the airport. And in August easyJet complained to the Dutch competition authority about the increase in charges at Amsterdam Schiphol, which the airline claims now make it the most expensive airport in Europe.
And, of course, keeping all other costs down will only partly offset the rising costs of fuel that easyJet has experienced in most of the 2007/08 FY. Every $10 increase per tonne of oil is estimated to hit easyJet's bottom line by £2.5m over a year, and although easyJet has offset around half the cost of the fuel price rise in 2007/08 (the airline's fuel costs rose by £283m in the FY) through various measures such as cost savings and better revenue performance, the airline still took a hefty hit to the bottom line thanks to fuel. As of mid–November, 66% of easyJet's fuel needs for the 2008/09 financial year had been hedged at £1,146 per tonne, while 66% of anticipated 2008/09 US$ requirements had been hedged at $1.96/£.
Network focus
And despite all this cost–saving effort, it should be realised that easyJet's costs on a per ASK basis are approximately 60- 70% higher than those of Ryanair — half of which easyJet attributes solely to its tactic of operating into mostly primary airports. But this is an inherent part of easyJet's strategy, and the higher costs are acceptable to easyJet given the benefits these primary airports give in attracting business passengers, which provide stronger yields.While Ryanair has criticised easyJet's focus on primary rather than secondary airports, this strategy may be more recession–proof, with underlying demand to/from these primary airports holding up better than to some of the more exotic secondary airports that Ryanair operates to. Indeed, in the short–term margin protection on the key "business routes" appears to be more of a priority for easyJet than revenue expansion over the winter season. This winter easyJet is broadly keeping capacity flat year–on–year, but within this there is a substantial shift of services and routes to more profitable winter sectors, such as France, Italy and routes to/from Gatwick.
Over the winter season growth will focus on Paris CDG (with capacity up 28%), Milan Malpensa (+91%) and Madrid (+17%). Overall, mainland Europe will see capacity rise by 19% over the winter season. In the UK, while capacity to/from Gatwick will increase by 19% in the winter, in Stansted it is falling by 23% and in the rest of the UK it will reduce by 14%.
But this is not just a trend for this winter, but rather part of a longer–term strategy to lessen dependence on the UK market in favour of continental Europe. While easyJet operates approximately 400 routes to more than 100 airports in 26 countries, just under 50% of its passengers originate outside of the UK, and approximately one–third of all passengers "do not touch the UK", according to easyJet. easyJet is keen to build on its estimated market share of 2% on mainland Europe, and in the third quarter of the 2007/08 FY, for example, while passengers carried rose 16% to 11.5m, UK originating passengers increased by 9% and non–UK originating passengers by 25%.
According to Andy Harrison, easyJet's chief executive: "European short–haul is fundamentally a growth industry, albeit with occasional short–term corrections." And this growth comes not just from increasing numbers of people flying cheap short–haul routes for the first time, but — crucially — also from easyJet stealing demand from passengers that previously flew with Europe's legacy airlines.
easyJet calculates that the top 50 airports in Europe account for 88% of all intra- European capacity, and that the airline operates to/from 37 of these 50 airports (the largest airports that easyJet does not operate to are — unsurprisingly — Heathrow and Frankfurt). easyJet is steadily increasing frequency on key European routes, with emphasis on more departures in peak times for business travellers. It now claims to be Europe's leading airline in terms of presence on the busiest 100 routes, being present on 38 of these (compared with 29 for BA, 26 for Air France/KLM and 26 for Ryanair). Crucially, 36 of these 38 routes connect primary airports, whereas easyJet claims only eight out of 26 Ryanair routes connect two primary airports. This shift to European routes can be seen in easyJet's sector length (see graph), which in 2007/08 compared with 2006/07 jumped from 978km to 1,073km (up 10%).
The largest growth in passenger numbers recently has been in Italy, Spain and France, and in terms of passengers carried easyJet is already the leading airline at Gatwick, Luton, Milan and Geneva, and the second largest at Paris.
In France, so far this year easyJet has opened bases at Paris CDG and Lyon; nine aircraft will be based in the former by the end of 2008, operating 20 routes, while in April Lyon became easyJet's 20th base. Lyon is the third largest city in France and easyJet is investing hundreds of millions of pounds over the next few years as the basis of a major push into the French market. In 2007 easyJet carried 6m passengers to/from France, and the airline wants to double that figure by 2011.
At Paris CDG and Orly (where nine aircraft are based between them) easyJet is now the second largest airline with around 6% share of all passengers, yet it still manages a 30 minute turnaround time through a variety of measures such as a seven minute preparation time for the aircraft by cabin crew and contractual obligations on ground handlers, whereby they are penalised if they are responsible for any departure delay.
At Madrid easyJet is aiming to take advantages of the problems at Spanair, Clickair and Vueling. It has six aircraft at Barajas, and passengers to/from Spain account for 25% of all the airline's passengers. However, easyJet's performance at Madrid is coming under pressure, with increasing capacity from competitors, even despite their current difficulties.
This winter easyJet is also expanding out of Milan Malpensa, increasing aircraft stationed there from 13 to 15, adding five new routes and increasing employees based there to 500. easyJet is now the leading airline at the airport with around 20% of capacity and with a forecast 3.5m passengers carried to/from the airport in the 2007/08 FY (40%+ up on the previous year). It is now easyJet's largest base in continental Europe just two and half years after it was opened, and easyJet is eager to fill the gap created by Alitalia's strategic withdrawal from Malpensa as a hub. easyJet executives also claim that yields are rising strongly out of Malpensa. easyJet would also like to develop a domestic and international network out of Rome Fiumicino, again taking advantage of the strategic disarray at Alitalia.
In the UK easyJet, like Ryanair, is cutting back capacity significantly out of London Stansted; in its case by around 12%. easyJet is obviously concentrating its London catchment area effort on Gatwick, and the GB Airways deal has turned easyJet into the leading short–haul airline at Gatwick (GB had 29 slot pairs at the airport), with around a 35% share of all capacity, and with its 25 aircraft there expected to carry 8.3m passengers in the next 12 month period. BA's gradual withdrawal from short–haul out of Gatwick (even despite the launch of a dozen routes in the summer to European holiday destinations) means that in 2008 easyJet will offer more capacity than BA out of the airport. easyJet operates out of both North and South terminals at Gatwick, but in the medium–term the airline is looking to consolidate into one terminal (North).
Winter routes are being launched from London Gatwick to Istanbul, Lyon, Basle, Helsinki and Salzburg. After Gatwick, the best performing UK bases are believed to be Scotland and Newcastle, while Belfast "continues to be challenging" thanks to increasing capacity to/from the airport.
Although easyJet operates approximately 360 routes from 19 bases, around 10% of all routes is discarded every year by easyJet as it reacts to changing market conditions and routes that become less — or negatively — profitable. For example, in October easyJet closed its base Dortmund, where it had operated 11 routes and stationed three aircraft. The move was due primarily to concerns about restricted operating hours that easyJet says made it difficult to achieve the aircraft utilisation it requires to be profitable.
Ancillary push
And there are some temporary route suspensions over the winter — for example Madrid–Oviedo and Geneva–Oviedo, with that capacity being redirected to other routes in the Spanish market.In September easyJet stated that the weakness of the Euro and lower expenditure by consumers meant that the market was volatile going forward, and that overall revenue per seat growth this winter would reduce to "a low single digit percentage" over the previous winter, which would offset strong revenue per seat growth in the summer. That's why ancillary revenue is crucial to easyJet going forward; it actually doubled in 2007/08, thanks partly to easyJet's charge for checked–in baggage, which was introduced in late 2007, and an upgraded "speedy boarding" service.
Intriguingly, Stelios Haji–Ioannou — the founder of easyJet — has started legal action against the airline in the UK saying that it is damaging his "easy" brand by having too many ancillary businesses. A brand licence between the airline and Stelios's easyGroup stipulates that no more than 25% of easyJet' revenue can come from non–core (i.e. non air travel) business. The dispute centres on the definition of what is core, and easyJet contends that baggage charges and "speedy boarding" are core revenues. As Aviation Strategy went to press Stelios was also involved in a public row with the easyJet board, with Stelios wanting a more "cautious" strategy at the airline, with orders scaled back and the company paying dividends for the first time. It's an unwelcome distraction for management, but with Stelios increasing his stake in easyJet to 26% (through consolidating family holdings) it's one that cannot be ignored.
While boosting ancillary revenue is a key part of most LCCs' strategies, one key difference between Ryanair and easyJet is that the latter appears much keener to maintain good relationships with travel agents. While Ryanair no longer allows travel agents to make bookings through "screen scrapers", easyJet is taking a more conciliatory attitude by encouraging agents to make bookings on Global Distribution Systems (GDSs) directly linked with the easyJet Application Programming Interface.
Well set for the future?
After consulting with agents, easyJet has just reduced its point of sales fee to agents booking via GDSs to £3.30 per seat, down from variable pricing that had previously cost agents up to £5 per seat booked. easyJet hopes this fee reduction and what it calls "collaborative rather than confrontational" relations with agents will encourage greater business from corporate travel agencies, allied to easyJet's strategy of flying to primary rather than secondary airports. Although 2009 will be a very tough year for all airlines, easyJet argues it is well positioned and it's hard not to agree with that assessment, whether from a short–term financial performance perspective, or — more crucially — in terms of its strategy, though Stelios takes a different view.
The short–term focus for easyJet will remain on more intra–European and domestic European routes, defending its position at Gatwick, increasing ancillary sales and keeping up the pressure on costs. In the medium–term easyJet is unlikely to make any more acquisitions, preferring instead to digest GB Airways and grow organically as its order book of 105 aircraft is delivered. Harrison says that complexity of operations equals higher costs, and asks "what would we want to buy?"
Crucially, easyJet did not dip into a loss in 2007/08 FY, although its target of 15% RoE is out of the question for the moment. RoE had grown from 7.1% in 2004/05 to 13.6% in 2006/07, but fell back to 7.6% in 2007/08. But given the current climate, that is a very creditable performance. And easyJet is strong financially — it has low gearing and as of the end of September had long–term debt of £570m. At the same date cash and cash equivalents stood at £632m, and in addition the proceeds of the sale of 12 A319s and A321s (some $400m) will flow into the 2008/09 FY.
In common with other airlines, easyJet's share price had been on a steady downward path earlier this year, although in late September RBS's analyst Andrew Lobbenberg raised its view of easyJet (and Ryanair) from a hold to a buy, on the basis that falling fuel costs will be more beneficial to LCCs than network carriers (as fuel is a greater proportion of costs at LCCs, and that LCCs will be more able to maintain baggage charges than network carriers, who may now be suffering from a drop off in long–haul premium business). Of all Europe's LCCs, easyJet appears the best placed, not only to survive the current recession, but to be profitable throughout this period as well.
The question raised by Stelios is how much of the profit should be paid out in dividends rather than invested in growth. From a stock–market perspective, Andrew Lobbenberg comments that "calling for dividends fails, in our view, to recognise the key drivers that draw investors to airlines: first aviation is and in our view remains a structural growth industry, second, airlines are deep cyclical trading stocks which double and halve with alarming regularity. Investing in them for a couple of percent yield rather misses the point."
EASYJET'S COST AND REVENUE BREAKDOWN
EASYJET'S COST AND REVENUE BREAKDOWN

| | | | | |
| --- | --- | --- | --- | --- |
| £ per seat | 04/05 | 05/06 | 06/07 | 07/08 |
| Maintenance | 3.44 | 2.82 | 2.21 | 2.84 |
| Ownership | 3.56 | 3.84 | 2.40 | 2.67 |
| Navigation | 3.13 | 3.12 | 3.19 | 3.77 |
| Overheads | 4.26 | 4.11 | 3.77 | 3.40 |
| Crew | 3.92 | 4.12 | 4.59 | 5.07 |
| Airports/handling | 10.39 | 10.35 | 10.39 | 11.74 |
| Costs per seat ex. Fuel | 28.70 | 28.36 | 26.55 | 29.49 |
| Fuel | 7.50 | 9.98 | 9.57 | 13.65 |
| Total costs per seat | 36.20 | 38.34 | 36.12 | 43.14 |
| Pax revenue | 36.15 | 38.28 | 36.57 | 38.44 |
| Ancillary revenue | 2.51 | 3.38 | 3.85 | 7.07 |
| Total revenue per seat | 38.66 | 41.66 | 40.42 | 45.51 |
EASYJET'S REVENUES
EASYJET'S REVENUES

| | | | |
| --- | --- | --- | --- |
| | Fleet | On order | Options |
| A319 | 110 | 80 | 88 |
| A320 | 9 | 25 | |
| A321 | 7 | | |
| 737-700 | 28 | | |
| Total | 155 | 105 | 88 |