LAN Airlines: Discovered by the money managers November 2006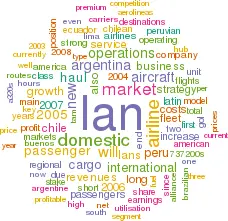 Chile's LAN Airlines, one of Latin America's largest carriers, has seen its ADR price appreciate by more than 60% since July, as the company has been discovered in a big way by money managers in the US. Many emerging- market analysts have selected LAN as one of their top picks, touting it as a "fundamentally attractive business" as well as an attractively valued stock, while the large investment banks that already covered the airline have been raising their ratings and price targets. For once, LAN has upstaged the rapidly growing and hugely profitable Brazilian carriers Gol and TAM, which have been negatively affected by investor concerns about likely overcapacity in the Brazilian market in 2007.
There is buzz about LAN, in the first place, because of its impressive third–quarter profits and excellent 2007 earnings growth prospects, helped by lower fuel prices and Chile's and Latin America's strong economic growth. The enthusiasm also reflects LAN's healthy balance sheet, low cost levels, high efficiency and excellent service reputation, as well as a host of strengths derived from its unique business model.
Investors have noted that, in addition to remaining profitable through Chile's late 1990s recession and the post–September 2001 industry crisis, LAN took advantage of the slump to bolster its long–term strategic position. It did it by expanding internationally and by setting up airline subsidiaries in several South American countries.
But LAN has not yet succeeded in making its latest airline venture, LAN Argentina, profitable, and it faces growing competition from LCCs throughout Latin America. Having already lost domestic market share to low–cost upstarts, the airline increasingly finds itself in head–to–head competition with Gol and TAM in key regional markets. Gol recently launched service to LAN's main Santiago hub and will start flying to LAN's regional hub at Lima (Peru) before year–end, while TAM is boosting its Chile frequencies in January.
Consequently, LAN is again taking action to safeguard its long–term strategic position. First, it is testing a redesigned, LCC–style domestic and regional business model that seeks to boost efficiency and improve profit margins in short haul operations. Second, LAN is implementing a two–year, US$100m long haul business class upgrade, launched in April 2006, to retain its leading shares of high–yield passengers in long haul markets. Third, LAN is doubling its overall ASK growth to 23–25% in 2007 as it implements the largest fleet expansion in its history.
Strong financial position
LAN's ability to adapt has been the hallmark of its success, but will these strategies work in competition with the new breed of aggressive LCCs? Will LAN establish more airline subsidiaries? Will it, as is currently being speculated, make an offer for Varig? LAN is in a strong position to boost growth and capital spending. Founded in 1929 and privatised in 1989, the company has been consistently profitable since its current majority shareholders assumed control in 1994. However, earnings fell sharply in 1998 and remained weak in 1999–2002 — initially because of the Asian crisis and economic recession in Chile, and subsequently due to the Argentine crisis and post–September 11 effects.
The five–year slump was unfortunate in that it happened immediately after the company's US IPO in November 1997, which reduced the original shareholders' stake to about 75% and made LAN the first South American airline to be listed on a US stock exchange (NYSE; the company also trades on the Santiago and Valparaiso stock exchanges). The share price collapsed in 1998 and remained below the US$14 IPO price for more than five years.
But LAN staged a strong recovery in 2003- 2004 as economic conditions improved in most of Latin America. Net profit almost tripled in 2003 and again doubled in 2004 to US$163.6m or 7.8% of revenues. The 8.2% operating margin that year was the highest the company had ever achieved. As a result, investor interest reawakened, and LAN's ADR price surged from US$4 in late 2002 to US$30 by year–end 2004, subsequently remaining in the US$30–40 range until last summer.
Although last year's profits were lower — operating margin was 5.6% and the net profit US$146.6m or 5.8% of revenues — the results were excellent in light of the high level of fuel prices. LAN reported extremely robust earnings for the quarter ended September 30, taking the investment community by surprise. Operating income increased seven–fold to US$70.5m — a 9.3% margin — and net profit almost doubled to US$51.5m, as revenues surged by 23%. It was a result of 15–17% increases in yield and unit revenues, of which roughly a third came from fuel surcharges, more than offsetting a 12% hike in fuel prices. In the first nine months of 2006, LAN earned a net profit of US$147.7m on revenues of US$2.2bn.
With extra help from lower fuel prices, LAN is now expected to grow its 2006 net earnings by 31% to US$193m or US$3 per ADR. The current consensus forecast for 2007 is a profit of US$246m or US$3.85 per ADR, which would represent a 27% increase. Operating margin could soon exceed 10%.
LAN does not offer the extraordinary earnings momentum and growth that the Brazilian carriers have been exhibiting, even though in 2007 its earnings growth may actually be better than Gol's and TAM's. But it is considered less risky because its revenues are diversified across several economies and because it has a lesser degree of foreign currency mismatch between revenues and costs.
Unique business model
The company has a relatively strong balance sheet, with total assets of US$2.1bn, long–term liabilities of US$955m and shareholders' equity of US$503m at the end of 2005. Cash position, including committed credit lines, amounted to US$248m, or 10% of 2005 revenues, at the end of September. LAN is one of the few airlines in the world to benefit from investment grade credit ratings. Based on a strategy set in place in 1994, LAN has developed an distinct business model that combines passengers and cargo, provides a comprehensive network in South America, uses airline subsidiaries to maximise coverage of the region, focuses on alliances in long haul markets, offers a "world class travel experience", and benefits from high efficiency and low unit costs.
Combining passengers and cargo
LAN is the only Latin American carrier that uses cargo as more than a complement to its passenger service; it treats passengers and cargo as two equally important business units. In 2005 cargo accounted for 37% of LAN's total revenues, compared to about 23–25% for SIA and Cathay and less than 6% for most US and European carriers.
Having fully integrated passenger and cargo businesses gives LAN a significant competitive advantage. It has helped maximise aircraft utilisation and given flexibility to adjust to market conditions. On many occasions in the past, the cargo market remained strong when passenger demand weakened, and LAN was able to maintain stable earnings by switching capacity and even aircraft orders from the passenger to the cargo business. (Incidentally, the opposite has been the case this year: while passenger demand has been strong, the cargo business has declined due to weaker exports, and LAN has had to adjust by making more northbound flights multi–stop and terminating ACMI leases on freighters.)
In contrast to Gol and TAM, LAN is essentially a long haul international carrier, earning 96% of its cargo revenues and 71% of its passenger revenues from international routes in 2005. Domestic operations in Chile, Peru and Argentina accounted for the remaining 19%, 8% and 2% of passenger revenues, respectively.
International operations, as well as operations in Peru and Argentina through subsidiaries, have been the key driver of LAN's growth and profitability in the past decade, because the Chilean domestic market is relatively small — just 2.9m passengers annually — and stagnated until very recently. LAN began diversifying into profitable international markets in the late 1990s and accelerated the process in the early part of this decade. The benefits of the strategy are clear: in the third quarter of 2006, LAN's traffic grew by 10.2%, as a 1.8% decline in domestic traffic was amply offset by 12% growth in international traffic (which accounted for 89% of total passengers).
LAN benefited greatly from Chile's early liberal aviation policies, including open skies ASAs with countries such as Peru and the US well before the rest of the region jumped on the liberalisation bandwagon.
Multi-hub/multi-airline strategy
LAN secured a firm footing in the Latin American cargo market in the 1990s by acquiring Chilean cargo carriers FastAir and Ladeco. This was followed by the acquisition of 100% or majority stakes in Mexican cargo carrier MasAir and Miami–based Florida West, as well as a minority stake in Brazilian cargo airline Absa, in 2000–2001. All of those airlines have extensive Latin American and some US and global operations. Synergies are derived, for example, through the interchange of 767- 300ER freighters.
The multi–airline strategy in the passenger segment dates back to 1999, when LAN saw an opportunity to establish a Peru–based airline as a joint venture with Peruvian partners. Other passenger airline ventures followed in Ecuador in 2003, the Dominican Republic 2003 and Argentina in June 2005. Since March 2004, these airlines have been organised under "LAN Alliance", which currently includes LAN Airlines, LAN Express (a fully integrated feeder operation in Chile), LAN Peru, LAN Argentina and LAN Ecuador (LAN Dominicana was not viable and it ceased operations in May 2004).
The LAN Alliance members benefit from a common brand, including a common logo and paint scheme and same standards of service, offering a "united spirit of reliability and charm". They are all highly efficient.
The multi–airline strategy has enabled LAN to operate a comprehensive network and multiple hubs in South America (Santiago, Buenos Aires, Lima and Guayaquil), resulting in strong market shares in key countries. At the end of 2005, LAN had 66% of the Peruvian domestic RPKs and 14% of the Argentine market, even though it had been present in the latter for only six months.
The strategy has also positioned LAN better in the faster–growing international markets and facilitated more frequent service to key cities outside the region. To supplement LAN Airlines' long haul operations from Chile, LAN Peru, LAN Ecuador and LAN Argentina all now serve Miami, while LAN Peru and LAN Ecuador also fly to New York and LAN Ecuador even operates to Madrid. The company says that the strategy "enhances our value proposition by offering customers more destinations and routing alternatives".
Peru and Ecuador are both promising international growth markets, expanding by 17.6% and 12%, respectively, in 2005, compared to 9.8% growth for the Chilean international market. At year–end 2005, LAN had 50%, 29% and 21% shares of the Chilean, Peruvian and Ecuadorian international markets respectively.
There are also important synergies and economies of scale. The strategy has helped LAN maximise aircraft utilisation, increase load factors, leverage complementary seasonal patterns and optimise marketing efforts.
The LAN Alliance serves 56 destinations worldwide — 15 in Chile, 11 in Peru, nine in Argentina, two in Ecuador, 10 in other Latin American and Caribbean countries, three in the US, two in Europe (Frankfurt and Madrid) and four in the South Pacific. In addition, the company has global reach through the oneworld alliance — LAN Airlines, LAN Express and LAN Peru have been members since 2000, and LAN Argentina and LAN Ecuador are due to join as associate members in 2007.
LAN has also been very active in forging code–share alliances. Since its 1997 agreement with American, which secured antitrust immunity in the US in 1999, the airline has signed code–share deals with Alaska, Iberia, Qantas, BA, Aeromexico, Mexicana, TAM Mercosur, Korean and JAL (the latter only covers FFP cooperation).
Low costs and superior efficiency
LAN is one of Latin America's most efficient operators, with unit costs well below the industry average and those of the US legacies. Its costs per ATK are similar to those of Asian carriers such as Korean and Thai.
The airline benefits from exceptionally high aircraft utilisation in long haul operations — 15 hours daily for passenger aircraft and 16 hours for freighters in 2005. LAN also benefits from good employee relations and long–term labour contracts that allow high levels of productivity. There are as many as 25 different unions in the LAN Alliance, but only three of those contracts become amendable before mid–2009.
LAN has always regarded cost cutting as a continuous process — a way of thinking that the US legacies have adopted only recently. The past five years' achievements have included a favourable post–September 11 pilot agreement, significant aircraft lease rate reductions (2003), revised maintenance contracts (2005) and continued distribution cost reductions.
Much of LAN's success has to be credited to a strong management team, which consists of professionals of many nationalities and is led by Enrique Cueto as CEO. Cueto, who headed Fast Air for 12 years before his family acquired a controlling stake in LAN in 1994, has won numerous "most admired CEO" type awards.
Focus on the premium segment
LAN has traditionally focused on the premium passenger segment in long haul international operations — a strategy that has enabled it to earn higher margins and protected against cyclical fluctuations. Since the mid–1990s the airline has consistently ranked high in passenger surveys.
Being able to boast "the best business class in Latin America" has meant almost constant product upgrades. The main current project involves merging first and business classes on 767–300s into an upgraded "premium business class", which LAN calls "the market of the future in the Americas"; first class is being retained on the A340s that operate to Europe and Australasia.
Going LCC-style on short haul
The concept is based on what LAN believes passengers value the most on long haul flights: the ability to rest. The new premium class offers flat–bed seats, dividing panels, 74–inch distance between seats, down comforters and new individual in–flight entertainment systems. The product was introduced in April 2006 on routes to North America and will be on all 767–300s by the end of 2007. LAN has launched a pilot programme to test a new business model for its short haul operations, including domestic operations in Chile, Argentina and Peru and narrowbody regional operations, which together account for about 25% of the company's consolidated ASKs. The new model, which aims to improve efficiency and profit margins, is expected to be fully implemented by the end of 2007.
One of the key objectives is to increase narrowbody aircraft utilisation to about 12 hours per day. This is to be achieved through increased point–to–point operations, overnight flights and faster turnarounds. LAN is also phasing out its 737–200 fleet during 2007 in favour of focusing on a single aircraft type, the A320–family. In other words, LAN is copying the key aspects of the JetBlue/Gol–style short haul business model.
The aim is to reduce short haul ex–fuel unit costs by 30% between 2006 and 2008, representing a US$150m saving in total operating costs. The airline expects its costs per ASK (CASK) in Chile domestic operations to fall from around US$5.65 in 2006 to US$3.99 in 2008. LAN noted in a recent investor presentation that the 2008 Chile CASK target would be below Gol's and TAM's first–half 2006 unit costs of US$4.40 and US$5.20, respectively.
Of the US$1.66 CASK reduction in the two–year period, almost half would come from sales and distribution costs. The aim is to increase Internet penetration to 60% of total sales (33% in 2005), and the airline is cutting base commissions on economy class tickets from 6% to 1%. The remainder of the savings would come from maintenance costs (16% reduction due to single fleet type), on–board costs (50% reduction due to lighter food service), overhead costs (30% reduction through simplification of back–office and support functions) and automation (self–check in at airports to increase to 70% of passengers).
The plan includes reducing and simplifying fares, which LAN hopes will boost short haul demand by 40% over the next two years. The airline expects its yield to fall by 15–16% but unit revenues to remain flat due to load factor improvements.
LAN has been testing overnight flights in two major markets in southern Chile and has started offering low fares on several domestic routes this autumn. The initial results have been positive. October traffic statistics showed that LAN's Chilean domestic passenger traffic rose by 8.6%, but since capacity was up by 17.4%, the load factor fell by 5.4 points 67.3%.
The LAN Airlines/LAN Express combination is the leading domestic airline in Chile, but its market share fell from 83.7% in 2004 to 76% in 2005. The main competitors are Sky Airline (18% market share) and Aerolineas de Sur, an affiliate of Aerolineas Argentinas that began operations in December 2004 and captured 5.5% of the domestic market in 2005. Although there are currently no foreign airlines in the Chilean domestic market, Chile permits it on a reciprocal basis; in any case, there are no regulatory barriers to foreigners creating Chilean airline subsidiaries.
LAN's aim in Chile is to operate high–frequency service to the main destinations and to maintain its leadership position. Its current network covers 15 cities, compared to Sky's 11 and Aerolineas' six. Both Sky and Aerolineas operate 737–200s.
The new short haul strategy indicates that, like Gol in Brazil, LAN is now prepared to go after the extreme leisure segment — people taking super–low cost overnight flights — in order to retain market share and boost profitability. Of course, LAN's primary focus will continue to be on the premium passenger segment in long haul markets.
Accelerating growth
LAN expects to double its passenger capacity (ASK) growth from the 10–12% level seen in 2005 and 2006 to 23–25% in 2007. By contrast, cargo ATK growth will slow from this year's 7–9% to 3–5% in 2007.
Aircraft additions will account for only 55% of the 2007 ASK growth; the rest will be achieved through higher aircraft utilisation and adding back seats to aircraft. The all–A320 family regional fleet is projected to have an average daily utilisation of 11.5 hours, compared to 6.6 hours on the 737–200s. The number of seats on the A320s will be increased from 156 to 168 in single class and from 136 to 156 in two–class configuration, while the 767- 300 seating will increase from 214 to 219.
LAN will be introducing 44 new passenger aircraft and three new freighters between mid- 2006 and the end of 2008. Most of those aircraft (A320s) were ordered in 2005, though the airline is still taking 767s from an older order for 12 aircraft. After retirements, the net addition in the two–year period will be 22 aircraft, most of it in 2008. The total fleet will grow from 77 aircraft at the end of June 2006 to 99 aircraft at the end of 2008.
On the short haul front, LAN is taking 32 new A320–family aircraft by the end of 2008, to increase that fleet to 54. The eight A319s delivered in the third quarter went to LAN Peru's domestic operations; the remainder (mostly A318s) will be used to replace 737s on Chilean and Argentine domestic routes and to expand regional service. The 24 737–200s in the fleet in mid–2006 will have been retired by the end of 2007.
On the long haul front, LAN is adding nine more 767–300ER passenger aircraft, to bring that fleet to 27. The airline has long favoured that type especially for its capacity to carry both passengers and cargo. LAN is also receiving the last three of seven A340–300s ordered in 1999. The type is ideal for ultra long flights over the Pacific, such as Santiago–Auckland, and is also used on Chile–Europe routes.
LAN's capital needs in the next couple of years will be substantial, especially in light of plans to increase the percentage of owned aircraft from 50% to 75%. Aircraft capital spending is estimated to amount to US$591m in 2007 and US$772m in 2008. However, debt financing has already been arranged to cover 85% of the fleet spending needs in those years.
Consolidation in Peru
LAN has operated domestic flights in Peru and served the Lima–Miami route since LANPeru's creation in 1999 (with LAN holding a 49% stake), but it has not always been smooth sailing. In late 2000 and early 2001 LAN had to suspend those operations for a few months due to a legal dispute with one of its Peruvian partners, and in 2004 it had to suspend operations for 14 hours following an injunction issued by a Peruvian judge at the request of a former competitor.
In 2004 LAN Peru had a good growth opportunity following the disappearance of a major competitor, AeroContinente. The airline added four domestic destinations and five A320s, after previously utilising two 737–200s. The strategically located Lima hub was officially inaugurated as the main regional hub for the LAN Alliance — a strategy that LAN has described as an "unqualified success".
LAN has grown the Lima hub by adding non–stop or one–stop regional international service to Santiago, Buenos Aires, Guayaquil, Quito, Bogota, Caracas, Mexico City and Sao Paulo. Plans call for service to La Paz (Mexico) and increasing frequencies on existing routes.
Argentinian growth opportunities
Domestically, LAN Peru's strategy is to provide frequent and convenient service to Peru's main destinations while gradually expanding into new markets. Currently 11 cities are served. LAN Peru is in the process of replacing its nine–strong A320 fleet with A319s, which are more efficient for the Peruvian market. Competition is growing — it currently includes Tans, Star Peru, AeroCondor, Taca Peru and this year's new hopeful Wayra Peru — but LAN expects its Peruvian domestic market share to stabilise at 65–70%.LAN realised its longstanding ambition of operating in Argentina in April 2005, when it acquired a 49% stake in Aero 2000, a prospective new airline that had already secured an operating certificate. LAN agreed to absorb all workers from state–owned company LAFSA, which had been created to house the former employees of defunct airlines Lapa and Dinar and which had partnered with Southern Winds, which went bankrupt in March 2005. Aero 2000 was renamed LAN Argentina, and the new airline began operations in June 2005 with two of LAN's 737–200s.
In its first year LAN Argentina focused on the domestic market, and it now serves eight domestic destinations from Buenos Aires. In August 2006 the airline went international with a Buenos Aires–Miami service, which is now daily. Twice–daily Buenos Aires–Sao Paulo flights will follow in early December. As of November 7, the fleet included three A320s, four 737–200s and two 767–300ERs.
LAN was attracted to Argentina because it is a large, under–served market. It is the second most important domestic air travel market in South America (after Brazil), with 5m–plus domestic passengers and a similar volume of international passengers annually, in total worth about US$1.9bn in annual revenues.
But while the Argentine domestic market has enormous potential, it has been held back by government regulations to keep prices down. With domestic fares at uneconomic levels, LAN Argentina has not expanded as rapidly as planned, so it lacks economies of scale. The airline is not achieving its target of breaking even in 2006; despite 70%-plus load factors, it posted a US$9m operating loss for the third quarter, which was similar to the previous quarter's loss.
However, the outlook is positive because in August the Argentine government approved a 20% increase in domestic fares. This will have a beneficial impact on financial results, and LAN Argentina is now confident of breaking even in 2007.
LAN Argentina is also benefiting from fleet renewal. Replacing the 737–200s with new A320s will increase efficiency, reduce unit costs and enhance the product. Also, the airline has completed its labour negotiations, signing new contracts with its pilots, mechanics and flight attendants. Also on the positive side, restrictions on foreign ownership have been eliminated in Argentina. As a result, LAN has bought out much of the stake held by its local partners (two prominent businessmen), increasing its ownership of LAN Argentina to 80%.
LAN's aim is to become Argentina's main airline. That position is currently held by Aerolineas Argentinas which, together with its affiliate Austral, has about 80% of the domestic market, but LAN Argentina is poised to grow at a much faster rate. Earlier this year, LAN Argentina received the right to add up to 25 new domestic and international destinations. The airline has not yet disclosed its plans, but an investor presentation in September mentioned "potential" international routes linking Buenos Aires with New York, Los Angeles, Mexico City, Punta Cana (the Dominican Republic) and Madrid.
Where next?
While much of LAN's current effort focuses on strengthening the Lima hub and growing the Argentine operation, the company is obviously keeping a close eye on potential opportunities elsewhere in Latin America.
LAN's leadership has stated in recent months that there are no immediate plans to move into Mexico or Venezuela. It seems likely that, like Gol, LAN has for the time being lost interest in the Mexican passenger market, which has become overcrowded with LCCs.
But Brazil may be a different matter. LAN has long been interested in that market. It has a foothold there through its minority stake in cargo carrier Absa and is known to have been monitoring Varig's situation very closely. In recent weeks there has been speculation in Chile that LAN might make an offer to buy Varig, which is struggling to make a comeback after a year in bankruptcy, the grounding of most of its fleet in June and seeing its once–dominant domestic market share whittle down to 3% in July. New owner Volo do Brasil, which took over in July, has managed to slightly increase the market share (5.4% in October), but Varig's future remains uncertain because the Brazilian authorities are in the process of redistributing its routes and the company may still face heavy liabilities for unpaid wages of laid–off employees.
The fact that LAN is finding itself in increased direct competition with Gol and TAM, the main beneficiaries of Varig's shrinkage which can tap into the huge Brazilian domestic market for feed to their international services, must add to the incentive to get better established in Brazil.
LAN has not confirmed or denied any offers for Varig, but a more likely scenario is that it will wait for a clear opportunity to present itself, such as Varig ceasing operations. In such a scenario, LAN could in theory launch a new airline with Varig's operating certificate and ex- Varig employees.
LAN'S UNIT COSTS AND REVENUES
| | | |
| --- | --- | --- |
| | Costs per ATK | Revenues per ATK |
| | (US cents) | (US cents) |
| 1998 | 32.65 | 33.71 |
| 1999 | 29.48 | 30.27 |
| 2000 | 31.39 | 32.57 |
| 2001 | 31.32 | 31.68 |
| 2002 | 30.35 | 30.93 |
| 2003 | 31.76 | 33.50 |
| 2004 | 34.67 | 37.45 |
| 2005 | 38.83 | 40.80 |
LAN'S 2006-2008 FLEET PLAN
| | | | | | |
| --- | --- | --- | --- | --- | --- |
| | | Additions/ | Additions/ | Additions/ | |
| | Fleet as of | retirements | retirements | retirements | Fleet at |
| | mid-2006 | in 2H06 | in 2007 | in 2008 | YE 2008 |
| Passenger aircraft: | | | | | |
| 737-200 | 24 | -11 | -13 | 0 | 0 |
| A318/A319/A320 | 22 | 8 | 12 | 12 | 54 |
| 767-300ER | 18 | 3 | 3 | 3 | 27 |
| A340-300 | 4 | 0 | 1 | 2 | 7 |
| Total pax fleet | 68 | 0 | 3 | 17 | 88 |
| Cargo aircraft: | | | | | |
| 737-200F | 1 | 0 | -1 | 0 | 0 |
| 767-300F | 8 | 1 | 0 | 2 | 11 |
| Total cargo fleet | 9 | 1 | -1 | 2 | 11 |
| TOTAL FLEET | 77 | 1 | 2 | 19 | 99 |