TAM: poised for international growth November 2005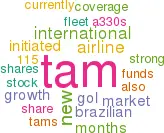 After LAN and Gol, which will be the next Latin American airline to rise to international prominence? TAM, Brazil's largest domestic airline, which has started earning strong profits, is poised to grow internationally and is planning to list its shares on the New York Stock Exchange (NYSE) in 2006.
In recent months at least two major international banks have initiated coverage of TAM, which is currently listed on the Bovespa (Sao Paulo stock exchange). UBS, which was an underwriter on TAM's R$548m (US$249m) Brazilian equity offering in June, initiated coverage of the company in August, saying that it offers a "compelling combination of near–term earnings momentum and long–term earnings growth".
Calyon Securities' US airline analyst Ray Neidl initiated coverage of TAM in late October as part of his Brazilian expansion (which also included Gol and Embraer). He described TAM as a "formidable player in the high–growth market in Brazil", noting that the stock is attractive on both value and growth basis.
Neidl initiated TAM with a share price target based on a relatively low P/E multiple of 8.5 times his 2006 EPS estimate, compared to LAN's 15.9 and Gol's 11. However, since then he has twice raised the price target after TAM surpassed the earlier targets; the latest P/E multiple is 11.5, compared to Gol's 13.
TAM is, first of all, a great turnaround story. Originally founded by Rolim Amaro, who died in a helicopter crash in 2001, the company attracted fresh capital from private equity funds in the late 1990s and spent several years restructuring its fleet and operations. The result was a modern, efficient low–cost carrier with a strong management and a growing fleet of A320s and A330s.
Profitability was restored in 2003. Alongside Gol, TAM was then able to fill the vacuum left by VASP and Transbrasil's demise and Varig's bankruptcy and shrinkage. This has meant substantial market share gains. In the first nine months of 2005, TAM had 43.2% of the domestic market, up 7.7 points on the previous year.
The market share gains have facilitated strong revenue and profit growth. TAM has achieved double–digit operating margins since 2004. In the third quarter, it earned a net profit of R$93.3m (US$42.4m) on revenues of R$1.54bn (US$700m), which were up by 24%. Operating margin was 14.7%. Capacity rose by 35% and the load factor by 5.6 points to 74.1%.
TAM continues to benefit from cost savings and efficiency improvements resulting from restructuring. In the third quarter, unit costs declined by 11.5%, helped by an increase in average daily aircraft utilisation from 9.25 to 12.1 hours.
Like other Brazilian carriers, TAM is able to increase its fares to compensate for higher fuel prices. This is a major advantage over airlines in other regions, making TAM a perfect "defensive play" for international investors in the current fuel environment.
Varig's struggles have meant new long–haul international expansion opportunities for TAM. However, outside Latin America, the airline is only interested in serving certain key business markets in the US and Europe. In recent months, it has launched new routes to Miami, Paris and New York (November 10). It has also applied to serve London. TAM anticipates that the key longhaul business markets will enable it to maintain a 10% yield premium over Gol, its main competitor.
TAM's year–end fleet is expected to include 80 aircraft — seven A330s, 53 A320/319s and 20 Fokker 100s. There are around 20 A320s on order, plus 20 options, for delivery over the next five years. TAM has also agreed to take eight A350–900s, plus seven options, to replace its current A330s from 2012. The airline is currently evaluating the A318 and the E190 for Fokker 100 replacement and expects to decide on that by year–end. TAM's balance sheet — its weakest point — continues to improve. At the end of September, cash reserves amounted to R$703m (US$320m), up from R$550m three months earlier but still only 11.5% of 2005 revenues. Lease–adjusted debt–to–capital ratio was 87%, down from 92%. The aim is to reduce leverage to 75–85%, either through debt repayment or the issue of new shares.
Brazil's Rolim family has a 58.86% stake in TAM while five investment funds currently hold 19.54%, leaving a 21.6% free float. According to Brazilian newspapers, the investment funds are looking to sell their shares as part of a new offering.