Regional rationalisation in Europe November 2003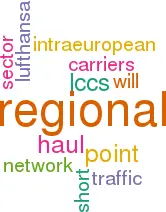 While LCCs are establishing themselves as the dominant model in the intra–European 150–seat sector, the regional sector remains a disparate collection of carriers. None (with the possible exception of Flybe) has yet to marry low–cost operating techniques with the full service business–orientated regional product.
And most of the main carriers in this sector are closely tied through ownership to their Euro–major parents. One of the fundamental questions now is: can regional carriers (or a regional jet operation) be used to neutralise or reverse the LCCs' impact? As the LCCs capture more and more of the point–to–point traffic to/from the Euro–majors' hub cities, this poses a further threat to their network economics. The short haul connecting segment of a long haul trip usually produces lower yield than a short haul point to- point trip. So in traditional network accounting terms, the point to- point passengers subsidise the connecting passengers.
When the LCCs arrive, volumes and yield on the Euro–majors' intra–European point–to–point traffic flows come under attack (even though the LCC may well serve a different airport), and flight profitability usually deteriorates.
BA's response has been to focus on Heathrow, de–hub Gatwick and quite severely reduce intra–European capacity. It has also, with some degree of success, converted a segment within each of its short haul flights to a low–cost model. This leaves CitiExpress, an amalgam of Brymon, BRAL and Manx, with a somewhat undefined role, operating from Gatwick, Birmingham and other regional UK points. It is undergoing its own Future Size & Shape rationalising exercise, but appears to be without a key strategic role in BA. Might it be more logical for CitiExpress to be sold off?
By contrast, Lufthansa is positioning itself towards a more comprehensive regional strategy. It has just restructured its five main regionals — CityLine (which is by some way Europe's largest RJ operator with 63 units, compared to ExpressJet in the US with 210), Eurowings, Air Dolomiti in Italy, plus Augsburg and Contact Air — under the brand name Lufthansa Regional.
The idea is to build up a denser network of feeder flights to/from the Frankfurt and Munich hubs. Lufthansa itself will set its feed requirements, and the five airlines will coordinate, under the auspices of a steering committee, schedules and aircraft allocation to deliver the traffic.
The question remains: will this administrative solution to regional feed actually bring down unit costs? Or is it an inherently loss–making protective measure against further LCC incursion into the German domestic market?