US Majors: Woeful third quarter results November 2002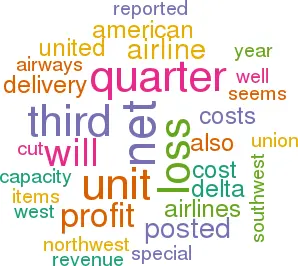 For the most of US Majors the third quarter was a painful experience with record losses being posted, bringing the year–to date net loss to close to $7bn. As the graphs opposite show, their unit cost and unit revenue lines are refusing to converge, with a couple of notable exceptions — Southwest and Alaska.
American
American reported a net loss of $475m, $924m after special items. The airline has made some progress in curtailing unit costs but appears to be very weak on the revenue side, largely because of its high exposure to business–fare travel, as well as the depressed Atlantic and South American markets.
It faces the problem that further cost cutting exercises could probably impact customer service and further damage its premium product. On the other hand, it will be compelled to make major cost savings in order to match United if that carrier manages to push through its union reforms. AMR Corp. may consider selling off non–core assets such as American Eagle.
The airline is parking a further 42 of its aircraft and deferring 34 Boeing orders. American is planning to take delivery of 11 aircraft in 2003 and then nothing until 2006.
Delta
The airline's loss for the third quarter was $212m, $326 after special items. Delta claims that its policy of using its regional partners in low–density markets is working well. It plans to announce a new strategy in November which will centre on expansion of its low–cost carrier subsidiary, Delta Express.
Delta has also deferred the delivery of 29 Boeings and is going to decommission 15 MD–11s over the next year. Delta has announced that it will soon be laying off another 8,000 employees.
Northwest Airlines
Northwest posted an operating profit of $8m for the third quarter, and a net loss of $46m — a relatively good performance. The airline partly attributes the result to the flexibility it has in allocating capacity, which in turn is related to the fact that its fleet is fully paid for.
Northwest has announced that it will be able to take all the A319s and A320s, about 75 in all, scheduled for delivery up to 2006. However, the airline seems to be suggesting that it is entitled to a renegotiation of the unit prices in the light of the Airbus deal with easyJet.
Continental
With an operating profit of $46m and a net loss of $37m, Continental Airlines was also relatively well placed. Like Northwest, its code–sharing alliance partner, Continental posted a profit for both July and August and seems to be continuing to cut costs while not sacrificing its revenue advantage.
United
United posted a record third quarter net loss of $503m, $889m after special items. Some perspicacious observers are beginning to draw comparisons with Swissair — United has identifiable cost problems but an apparent unwillingness among management and the unions to face up to them and a belief that its vast network franchise is somehow invulnerable.
The board has brought in an industry outsider Glenn Tilton as CEO, with a massive upfront bonus, but with a brief that seems to include avoiding too much confrontation with the vested interests at the company.
ALPA, the pilots union and the most important of United's five main unions, has now to decide whether it will endorse a $2.2bn cut in wages over the next five recommended by the union membership. If it doesn't the airline will most probably end up in Chapter 11; even if it does, the concession may be too little, too late.
America West
America West posted a net loss of $31m, having received $60m from the ATSB in the third quarter. It has managed to cut its unit costs by 10%, but to return to profit, it will have to generate some recovery in unit revenues.
Southwest
Southwest as usual produced a net profit — $50m. It was also one of only two airlines to increase capacity — ASMs were up 8% on a year ago, unit costs were down 2% but unit revenues also fell, by 5%.
Southwest has now decided to accelerate its delivery schedule of 737–700s to 23 units this year and 17 in 2003. It is expanding operations at Baltimore, directly attacking US Airways.
US Airways
Covered in this month's Briefing section (pages 16–19), US Airways reported a net loss of $335m for the third quarter.
Alaska
Alaska is becoming the model for a revitalised US Airways. It reported a $10.3m net profit for the quarter, and is winning market share from United on the west coast.
Capacity was up 11% in the third quarter.