Iberia: the mañana privatisation November 2000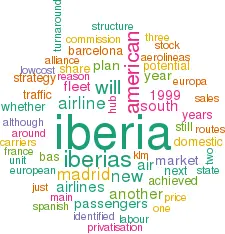 It looks as if the full privatisation of Iberia, through the sale of the remaining 54% held by SEPI, the state holding company, may be postponed again. It was tentatively slated for November. This time the reason is that Iberia plans to take over its main domestic rival, Air Europa. The previous three postponements were variously attributed to Iberia's disappointing 1999 results and the generally negative reception of privatised companies by the Madrid stock exchange.
Currently, the proposed valuation of the airline is around Ps360bn ($1.8bn), 34% down on the price originally agreed in December 1999 by BA and American for 10% of the company and by five Spanish financial institutions for another 30%. However, American and BA's purchase price will be adjusted to that achieved under the final privatisation. The Spanish government has announced that it intends to keep a golden share, a proposal that probably contravenes EC competition regulations.
Iberia has in fact put together a comprehensive turn–around strategy, and has evolved into a much more efficient airline than the one that had to return to Commission in 1995, asking for permission for another round of state aid — another $1bn on top of $1bn injected in 1992. The Commission did not buy Iberia's argument that it had faced a unique set of exceptional circumstances (including curiously peseta devaluation, a development that actually had improved the airline's finances) and identified that the main reason for the airline's parlous state was the disastrous investments in Aerolineas Argentinas and Viasa.
It was fortunate for Iberia that the Commission limited the amount of government funds available and insisted on a realistic plan that would address the airline's fundamental problems and curtail the South American adventure. New commercially–orientated management, under CEO Xabier de Irala, whose background included GE and ABB, were brought in, though really changing the corporate culture of a state–owned, southern European entity is an extremely difficult task, which has not yet been achieved.
Key elements of Iberia's strategy include the following.
Fleet renewal
As the table opposite shows, Iberia still has a preponderance of elderly narrowbodies in its fleets, many of which are Chapter 2 and probably cannot be hush–kitted to meet new EC noise standards. Fleet planning had a low priority during the South American expansion era and as a consequence the fleet not only urgently needed renewal but also had become completely disparate. It now consists of five different types of narrowbodies and four types of widebodies.
The plan is to retire all the DC–9s, 727s and DC–10s over the next three years. The narrowbody fleet will be focused on the A320 family, with another 36 units due for delivery in the next three years, and on the 757–200, an aircraft that has proved very effective for Iberia on its denser routes, offering almost widebody unit costs. The widebody fleet will be based on the A340 plus the 747s. Increased aircraft utilisation has been factored into the plan — the aim is to get the fleet's daily utilisation up from 7.9 to 8.9 hours.
Corporate structure
Iberia is planning to implement a new corporate structure based on Single Business Units (SBUs) for the core airline, the maintenance unit, cargo services, etc..This is the standard model for ex–state–owned airlines. Whether it works or not depends on whether the new structure results in greater transparency and a new focus on profitability or whether it just duplicates administration.
Union relations
In the early years of turn–around plan (1996–98) Iberia appeared to have made a break–through in its labour relations. By holding pilot salary increases to the rate of inflation and boosting productivity, and by introducing a secondary scale for new cabin crew employees, Iberia managed to reduce its unit labour costs to close to the European average.
In 1999, the pilots reverted to strike action in order to recover what they saw as lost pay differentials. The disruption caused by the strike was identified as the major reason for the sharp downturn in Iberia's profits in 1999 — operating profit fell by 82% to Ps12.2bn ($62m) while net profit was down by 56% to Ps32.1bn ($163m).
Although SELPA, the pilots' union, has representation on Iberia's board, this is, course, no guarantee of labour harmony. A further test will come next year as Iberia implements a plan to reduce the workforce by 1,000 employees.
Domestic consolidation
With about 23m passengers a year, Spain is the second largest domestic market in Europe (after France) and Iberia enjoys about a 70% share, up from around 60% in the early 90s. That share is due to increase by another 12 percentage points if Iberia's plans to take over Palma–based Air Europa come to fruition.
A price of around $400m (or the equivalent in Iberia stock) has been mooted for Air Europa which operates a fleet of 20 737s and two 767ERs. Air Europa's own strategy was to become the junior partner in the KLM/Alitalia alliance, with KLM taking an equity stake. That strategy fell apart when the two Euro–majors divorced.
Although the Spanish regulatory authorities appear nonchalant about the proposed take–over, the EC would surely object. The take–over would leave Spanair, half owned by SAS, as the only effective domestic competitor with just 12% of the market. Still, Iberia might be able to get away with the consolidation by arguing precedents (Air France taking over its regional airlines; Lufthansa buying EuroWings) and accepting some route or frequency withdrawals.
Low-cost threat
Iberia does face a threat from the northern European low–cost carriers, although the impact on Iberia has so far been muted as these airlines have either won traffic from the charter carriers (which dominate overall international flows to/from Spain) or have generated new demand. Nevertheless, Go has achieved a dominant market position on routes from London to the secondary points of Bilbao, Malaga and Alicante. EasyJet's operations to Barcelona and Madrid are performing well, and Barcelona has been identified as a possible hub to complement Geneva and Amsterdam, as the airline builds its continental network.
It is unclear how Iberia would respond to a concerted attack from the low–cost carriers. The airline does not have an subsidiary that it could convert into a separate low–cost operation. Aviaco, the former domestic airline and Viva, a charter/scheduled affiliate, have in recent years been consolidated into the parent.
Hub dominance
Iberia controls about 65% of the passengers at Madrid and Barcelona combined, which is almost the same size as Rome and Milan. Its market share is 65% compared to 52% for Alitalia at its two main hubs and just 53% for KLM at Schiphol.
Madrid Barajas, with a throughput of about 28m passengers a year is, like Paris CDG, an airport with high expansion potential. A third runway was opened last year and a fourth is planned for 2003. However, ATC delays at Madrid remain unacceptably high.
Electronic sales
Iberia aims to achieve substantial marketing and distribution cost savings through extensive use of electronic sales. The target is that by 2003 half of its customers will be flying on e–tickets and nearly a third will be booking via the internet.
This sounds optimistic but the internet as a sales medium has gained a surprisingly wide acceptance in the Mediterranean countries, possibly as a result of passengers being traumatised by the effort needed to buy a ticket through an airline shop or a captive travel agent.
Alliances
Iberia is in oneworld with the alliance supposedly cemented by BA's and American's equity. Unfortunately, oneworld is a shaky edifice at present.
One of the core concepts behind Iberia's participation in oneworld was that Madrid would act as the alliance's gateway hub for Europe–South American traffic. Whether this is working in practice is questionable: according the AEA statistics, Iberia's South American passenger volume increased by 7.2% to 491,000 in 1999, but during this period BA's own South American passengers grew by 18.8% to 367,000. Iberia's performance on the South Atlantic was below the market growth rate of 11.1%, and it achieved a load factor of only 69.8%
So, quite logically, Iberia is playing the alliance game. On the one hand, it has suggested that it might be interested in buying 10% of BA's stock (how this reconciles with Iberia's stated aim of achieving a RoI of 16.6% is unclear).
On the other hand, Iberia has also entered into a code–sharing agreement with Air France on all Franco–Spanish routes except Paris–Madrid and Paris Barcelona, an agreement that will be extended to some long–haul operation next year.
The prospect of Iberia abandoning oneworld for SkyTeam is real. And then there is KLM in the background still looking for a partner with a large passenger base.
South American potential
Iberia's great potential lies in its South American links and the development of Madrid as the undisputed connecting hub for this traffic. But this potential has not yet been realised.
The danger is that Iberia will again be tempted into managerial involvement with Aerolineas Argentinas (Iberia still owns about 8% of the Argentine flag carrier and SEPI another 40%) in order to rationalise capacity and boost traffic. Iberia has to concentrate on completing its own turn–around and avoid being distracted by the impossible Aerolineas.
IBERIA'S FLEET PLANS
IBERIA'S FLEET PLANS
No. in fleet
Average age
On order
Remarks
727-200
25
26
24
Chapter 2
747-200
8
20
1
Chapter 2
757-200
24
4
2
Delivery 2000
767-300
2
7
A300
6
20
A319
3
1
A320
41
5
22
Delivery 2000-03
A321
2
1
14
Delivery 2000-03
A340
12
2
3
Delivery 2001
DC-10-30
6
22
2
Chapter 2
DC-9-30
25
29
13
Chapter 2
MD-80
37
9
Total
191
13
41
IBERIA's TRAFFIC TRENDS (000 pax)
| | | | |
| --- | --- | --- | --- |
| | 1998 | 1999 | Change |
| Intra-Europe | 6191 | 6277 | 1.4% |
| N. Atlantic | 669 | 873 | 30.5% |
| Mid Atlantic | 836 | 993 | 18.8% |
| S. Atlantic | 458 | 491 | 7.2% |
| Others | 399 | 355 | -11.0% |
| Total international | 8553 | 8989 | 5.1% |
| Domestic | 13198 | 12887 | -2.4% |
| Total traffic | 21751 | 21876 | 0.6% |
| Source: AEA | | | |