E-distribution = zero sum game? November 2000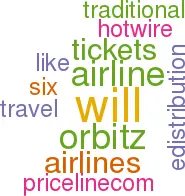 For low cost carriers the advantages of selling through the internet are clear — it is the cheapest, most effective way to promote and distribute their own tickets. For the more traditional airlines investing in multi–airline sites, the questions are more complicated:
Which revenue model should be used to make money out of the portals and websites?
Can they avoid undermining the fare structure created by their yield management systems?
How much fare and inventory data do they have to reveal to competitors who are also partners in the e–venture?
How many portals is it wise to participate in?
But the fundamental issue is whether an airline with the right electronic product will be able to extract monopoly profits. The parallel is with Sabre's technical and market lead in the CRS field in the mid 80s, which made it more valuable than its parent, American Airlines. Or is it all a zero sum game, with all airlines finding e–distribution to be a cheaper and more efficient process than traditional sales channels, and passing all or most of the benefits on to the passenger through the forces of competition?
Shareholders in Priceline.com suspect the latter may be the case. The stock–market value of this dotcom, which specialises in auctions of airline tickets and other things, has plummeted from a ludicrous $14bn post–IPO to practically zilch. Revenues failed to grow fast enough, profits were as far off as ever, and confidence in the concept collapsed. Priceline.com is an extreme example, but other e–distribution ventures, like Travelocity, the Sabre–based online travel agency and the traditional CRSs, Galileo and Amadeus, have also seen their values evaporating rapidly.
The Priceline.com collapse has left its original airline shareholder, Delta, with 5.5m warrants exercisable at $57. But don't feel sorry for Delta — it had already managed to sell off most of its investment for $670m.
The latest hot website is Hotwire.com, backed by six of the US Majors. It looks like an electronic version of the old–fashioned [cont. page 2] bucket shop. Customers, US customers only at present, enter their required travel dates and destination, and Hotwire comes back with offer, but it doesn't reveal the exact timings nor the carrier until the ticket is paid for. Hotwire is, in effect, a mechanism for airlines to clear their expiring seat inventories, without allowing their competitors to see how much spare capacity they have available.
Then there is Orbitz which promises something grander — a truly neutral, inclusive air travel site. Financed by six US Majors (almost the same six as at Hotwire), it now has some 25 airline partners, but its launch has been postponed from late this year to mid–2001.
Orbitz's selling points are:
It will be able to sell the whole range of airline tickets more cheaply because is going to force the CRSs to reduce their fees on ticket transactions;
It will provide a one–stop facility for passengers wishing to buy online:
It will include all schedules including those of the low cost carriers who currently don't appear on sites like Travelocity or Expedia; and
It will have super technology capable of phenomenally fast and wide searches.
By taking on the risk of full inclusion and nondiscrimination (that's its repeated claim) Orbitz is gambling that it will become the generic mode for internet booking. Passengers will learn to "orbitz" their tickets (as one fedexes parcels).
If that happens, then Orbitz could have the same profit potential as the Sabre CRS used to. Alternatively, in 18 months time, a lifetime in cyberspace, the headlines might read "Obits for Orbitz".