Aer Lingus: Flying Celtic Tiger November 1999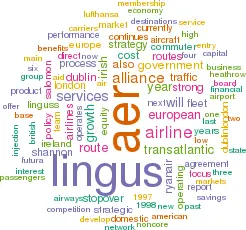 At the start of the 1990s the Irish government (which owns 95% of the shares with the employees holding the other 5%) had to rescue Aer Lingus the airline with a state aid injection of I£175m ($270m). Today Aer Lingus has shed its non–core subsidiaries, is on the point of joining the oneworld strategic alliance, and is profitable in a competitive environment. It serves as a blueprint on how to survive as a medium cost airline with a small domestic base.
There have been four elements to the airline's recovery:
The capital injection from the government;
A focus on achieving productivity gains and cost savings;
The development of a route network and fleet strategy that allows the airline to offer a full service product, and
The designation of Dublin as a transatlantic gateway.
As part of the state aid process Aer Lingus was obliged to develop a new commercial strategy. It would have been impractical as well as politically unacceptable for Aer Lingus to try and re–position itself as a low–cost airline. Therefore, the strategy adopted called for Aer Lingus to create a differentiated and high quality product that would allow it to justify premium pricing. The strategy calls for a young fleet (the Aer Lingus mainline fleet averages just under six years), an above industry average level of punctuality, and training of staff to consistently deliver a high quality product.
The airline has successfully emphasised its customer–focus through its "Programme for a Better Airline" , which has set minimum performance standards for punctuality, queuing, baggage delivery, airport facilities and the in–flight product.
Aer Lingus Commuter, which operates mainly on UK provincial and domestic routes, provides Aer Lingus with an airline whose costs reflect the low yields generated on these routes, enabling it to compete effectively with low cost airlines such as Ryanair. Aer Lingus Commuter currently operates a fleet of four Fokker 50s and nine BAe 146 aircraft. The change–over of the main fleet to Airbus aircraft may mean that the Commuter division eventually inherits the 737–500s.
Sale of non-core subsidiaries
The European Commission attached various conditions to the three tranches of state aid it approved for Aer Lingus, the most high profile of these being the requirement to sell the Copthorne Hotel group. Since then the company has continued to dispose of non–core activities including its shareholding in Airmotive Ireland to Lufthansa Technik, and Shannon Repair Services to UPS.
The EC also demanded action over the losses stemming from TEAM Aer Lingus, the maintenance arm of the company. TEAM was finally sold at the end of 1998 to FLS Aerospace Holdings. The re–named TEAM FLS has a 10–year agreement with Aer Lingus to conduct maintenance for the airline.
Route network
Aer Lingus has four main markets:
Dublin–London, Ireland to UK provincial cities, continental Europe routes and transatlantic services. Some of its domestic routes receive government subsidies under the Essential Air Services programme.
Dublin–London, the densest city–pair in Europe, has two distinct sub–markets. Dublin–Heathrow is business–orientated because of flight frequency, convenience to central London and connecting opportunities. Aer Lingus and British Midland are the only competitors on this route, British Airways having pulled out shortly after the Irish–UK services were liberalised in the 1980s.
In 1998, London traffic growth was 9%, and Aer Lingus reported particularly strong growth in the business class cabin. It has recently replaced 737–400s with larger A321s on this route.
Dublin–Stansted (and in the past Dublin- London Luton) has been a route dominated by the low–cost airlines, particularly by Ryanair. In 1997 Aer Lingus recommenced service to Stansted in direct competition with Ryanair. The justification for this decision included Stansted's growing importance, the willingness of business passengers to use the airport for its links into the City of London, and the inability of Aer Lingus to obtain more slots at Heathrow. By using Aer Lingus Commuter, it has been able to develop the route and compete effectively with Ryanair.
Such is the strength of the Irish economy and the Dublin–London market, Aer Lingus will be operating to a third London airport from October 31st this year, flying BAe 146s to London City.
Aer Lingus Commuter also operates to seven other destinations in the UK (as well as the Irish domestic services). Aer Lingus is keen to promote Dublin as a hub, and these services contribute to the long–haul feed for the transatlantic routes.
Ireland-continental Europe
Despite Ryanair's expansion, or perhaps because of it, Aer Lingus itself continues to show strong growth on continental European routes where traffic rose by 14% last year. Aer Lingus focus is on attracting business traffic, and working with European partners such as KLM, Sabena and Finnair to develop its route network.
To understand Aer Lingus' transatlantic strategy requires an appreciation of the Shannon stopover policy. The very strong political lobby on the west coast of Ireland continues to argue that without direct transatlantic services the mainstay of the region's economy, tourism, would suffer catastrophically. Until recently, any airline serving Ireland from North America had to land in Shannon before continuing to Dublin and return in the same manner. Understandably, many Dublin–bound or -based passengers preferred to use Heathrow.
The Shannon stopover policy was one contributory factor to the airline's poor financial performance at the end of the 1980s. But the near bankruptcy of the airline at the start of the 1990s forced a modification of the stopover policy: Aer Lingus and other transatlantic airlines are now allowed to fly directly to/from Dublin but they are still obliged to provide an equivalent number of Shannon stopover flights.
While this restrictive policy has carried a cost for Aer Lingus, it has also discouraged in the past US carriers from operating scheduled passenger services in direct competition to Aer Lingus. This situation has now changed as a result of Continental's entry into the Dublin/Shannon–New York Newark market using 757s, and Delta's entry this summer into the same market but from JFK.
The partial relaxation of the stopover requirement and the introduction of the A330 aircraft to replace 747s has turned around the transatlantic services. Aer Lingus currently serves New York (JFK and Newark), Boston and Chicago. Service to Los Angeles was started in May and so far is running way beyond expectations.
Based in Palma, Futura is an independently managed charter airline operating a fleet of 12 737–400s with six -800s on order. The airline operates principally from Palma in the summer and Tenerife in the winter, and last year added a third base at Malaga. Futura provides capacity to tour operators to mostly northern European markets but it has no tour operator parent and so relies solely on price and availability to sell seats.
According to Aer Lingus, It has been profitable since its inception in 1990.
The alliance process
Aer Lingus is one of the last of the medium- size European flag–carriers (the other is Olympic) to join a global alliance. Up to now the airline has relied on a series of tactical alliance partners in Europe and the US chosen on a route by route basis. However, because of the increasingly exclusive nature of global alliances this has become an unsustainable strategy for Aer Lingus.
The alliance decision–making process started in March 1997 when the Irish government instructed the Board of Aer Lingus to "explore the possibilities of entering into a major strategic alliance, with or without the transfer of equity, and to submit proposals".
The Board appointed NatWest Markets to assist in the process and, delayed by the TEAM sale process, the report to the government entitled "Strength through alliance" was submitted in April 1999.
The government appointed early this year its own advisors, Salomon Smith Barney, to review the alliance process and to ratify the recommendations of the Aer Lingus board. Six proposals were considered, three of which included an equity element from American Airlines/British Airways, TWA and Swissair, and three which did not include an offer to purchase equity from Air France, Lufthansa and Delta.
Alliance choice: oneworld
Aer Lingus is currently negotiating its strategic alliance agreements with both BA and American and these airlines will sponsor Aer Lingus's entry into oneworld. Their proposal offered the most attractive cost and revenues benefits to Aer Lingus. British Airways route network to destinations such as Australia was more closely aligned to the origin and destinations of traffic carried by Aer Lingus than the networks of Swissair, Lufthansa or Air France. American provided the best fit of the US carriers to the Aer Lingus gateways, and crucially was the only airline to offer a substantial presence at Chicago.
The main boost to revenue from joining the oneworld alliance is likely to be on Aer Lingus' transatlantic routes. One danger that has been recognised is the potential diversion of traffic over Heathrow from Aer Lingus's European services. According to the Salomon report, "mechanisms have been identified to minimise" such a diversion.
The AA/BA proposal was also attractive because of for the size and reach of the respective frequent flier programmes, the focus on generating cost savings and the recognition of the importance of technology transfer.
Financial performance
Five years ago the prospect that both Aer Lingus and Ryanair would both be making strong operating profits would have seemed highly unlikely. Yet, although Ryanair has pursued an annual 25% growth policy (primarily out of Dublin), Aer Lingus has found a strategy that has allowed it to flourish in the harshest of competitive environments.
The latest set of financial results for the calendar year ending 31st December 1998 show a profit before interest, tax and exceptional items of I£52.4m ($79m), up 13.7% on 1997. The improvement arose from a 10% increase in passengers, and a 12.4% rise in turnover. At the year–end, Aer Lingus's net cash position had risen 40% to I£70m.
The Salomon report has also highlighted the need for Aer Lingus to raise new equity, although it fails to recommend whether this should be achieved through a sale of shares to AA/BA, an IPO or indeed a combination of the two. The Irish government has stated that it will not provide any further equity.
Salomon argues that Aer Lingus requires a minimum injection of capital of I£150m ($227m) in the next 12–18 months, and that further capital will be needed in the next 2–3 years if Aer Lingus is to successfully weather an industry downturn.
Salomon base their findings on comparing Aer Lingus's financials against a peer group of other European scheduled airlines. The report argues that Aer Lingus currently has a higher reliance on aircraft operating leases (50%) versus a peer group average of only 30%, a low level of interest cover and a higher reliance on debt related finance instruments than its peers.
The future
The Shannon stopover remains an anachronism in today's liberalised aviation environment. Ireland remains alongside a decreasingly small number of European countries, including the UK, not having an "open skies" agreement with the US. If Aer Lingus is to be able to gain the full benefits of membership of a strategic alliance with a US carrier then a "open skies" agreement will have to be signed to gain access to anti–trust immunity. In the meantime, 1999 will be the first year that the carrier has direct competition from two US carriers on the Atlantic.
Sensibly, Bernie Cahill, Aer Lingus's non executive chairman does not see the securing of membership of a strategic alliance as "a panacea for unresolved issues or to camouflage inefficiencies". Thus airline continues to place a strong focus on cost control.
A target of I£50m of savings over the next five years which will represent a reduction in unit costs of some 5% p.a.
A decision on privatisation is expected to be taken by the Irish government early next year. For this to occur Aer Lingus will need to put in another strong financial performance in the current year. Indications are that this will be achieved, with the Irish economy continuing to be a strong driver of growth.
The "Celtic tiger", has in the past few years posted growth levels that are among the highest in Europe. In 1998 GDP growth hit 8%, and the current year forecast is for growth of 7%. Membership of "Euroland" has resulted in falling interest rates, and with taxes also falling, disposable incomes have risen sharply. The weakness of the Euro against Sterling and the US Dollar has boosted Ireland's appeal as a tourist destination and encouraged VFR traffic. Much improved cross–border relations with the UK following the Good Friday peace agreement has also boosted traffic volumes.
Ryanair continues on be a very formidable competitor, but it has stimulated the overall Irish travel market, which has brought benefits to Aer Lingus. And Ryanair's European growth plans are no longer centred on Dublin but on Stansted.
AER LINGUS FLEET PLANS
AER LINGUS FLEET PLANS
Current
fleet
Orders
Av age
(years)
Remarks
Aer Lingus
737-400
6
9.1
737-500
7
8.1
A320
6
Delivery 2000-02
A321
5
1
0.9
Delivery 1999
A330
6
1
4.3
Delivery 2000
MD-11
1
On short-term lease 7.2
Aer Lingus Commuter
BAe 146
9
10.3
Fokker F50
4
9.6
Futura
737-400
12
737-800
6
TOTAL
50
14
8.9
TRAFFIC SUMMARY - 1998
TRAFFIC SUMMARY - 1998

| | | |
| --- | --- | --- |
| | Pax | Growth |
| | (m) | |
| Transatlantic | 0.8 | +9% |
| Ireland-London | 2.0 | +9% |
| Ireland-UK Provincial | 1.1 | +14% |
| Ireland-continental Europe | 1.1 | +14% |
| TOTAL | 5.0 | +11% |
AER LINGUS FINANCIAL RATIOS
AER LINGUS FINANCIAL RATIOS
1999
2000
estimates
estimates
Peer grp Aer Lingus
Peer grp Aer Lingus
Net debt/equity
127.4%
181.9%
117.0%
163.9%
Equity/total capital
47.4%
35.5%
49.8%
37.9%
Equity/EBITDA
2.6x
1.6x
2.5x
1.7x
EBITDA/
(interest+rentals)
4.0x
2.3x
4.4x
2.3x