Canada: restructuring plan lost in financial battle November 1999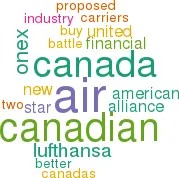 Last year Air Canada and Canadian between them lost US$100m ($10m for Air Canada, $90m for Canadian). But in the past United and Lufthansa, on the one hand, and American, on the other, have made claims of mutual alliance revenue benefits from their Canadian partnerships of $200m and $100m respectively, and are now waging a financial battle for control of the Canadian industry.
As at the end of October the situation was as follows. Onex, an investment company backed by American, was offering to buy 100% of Air Canada for US$1.6bn, up from its initial $1.2bn bid, then merge it with Canadian and call it New Air Canada. American also said that it would eventually be willing to sell out its 15% stake in the merged carrier.
Air Canada's defence funds were being provided by Lufthansa and United plus the Canadian Imperial Bank of Commerce, which between them were providing about $600m, $540 to buy back Air Canada shares and $60m to buy the equity of Canadian and assume the carrier's debt of over $1bn. Under this deal, Lufthansa and United would have about 10% of the equity of Air Canada.
Air Canada and Canadian would remain separate entities with distinct brands while American and Sabre would be repatriated. Intriguingly, Delta was proposed as a replacement for oneworld. Surplus aircraft liberated by the rationalisation of the two carriers' networks would be allocated to a new low- cost subsidiary in the west (presumably to try fend off competition from WestJet). In addition, a poison pill, which may or may not be legal, has been inserted.
If Onex succeeds in winning control of Air Canada, it will have to pay Lufthansa and United a penalty fee of at least $165m for to compensate them for breaking the just–signed financial agreements between Air Canada and its Star partners. Another $50m would be claimed by Lufthansa and Star to compensate for the non–appearance of new feed from Canadian.
The competing bidders do agree on is the need to rationalise the two carriers, a strategy that became feasible when the Canadian government agreed in August to suspend some antitrust laws so that restructuring of the Canadian industry could be discussed. But, in the event the financial battle seems to have subsumed any form of strategic planning.
In Onex's bid document, for example, there are only passing references to rationalisation:
Onex reckons that unit revenues would increase because of better load factors so pushing up joint revenues by about 10%, while moving to larger aircraft could reduce operating costs by 16%.
Onex states hopefully that the proposed merger will improve Air Canada's and Canadian's joint operating cashflow margin of about 15% to that of the better US Majors, between 20 and 23%. However, Onex appears to have completely ignored the cost of merging in making its projections for New Air Canada.
As for Air Canada, it evidently doesn't want to risk absorbing Canadian's balance sheet, and so the proposed structure for the industry is still disjointed. The split alliance strategy between Star and Delta is confusing (and where does Air France fit in?)
Finally, because of the frenetic pace of events leading to a vote by Air Canada's shareholders on November 8th, the fundamental question of which alliance would best serve a rationalised Air Canada/Canadian airline has scarcely been addressed. Onex did compile a table of alliance market shares on Canadian routes (irritatingly omitting numbers for the two Canadian airlines), but its argument boils down to the assertion that oneworld would be better than Star because it has a larger presence in most of the markets.
ALLIANCE SHARES TO/FROM CANADA (%)
ALLIANCE SHARES TO/FROM CANADA (%)

| | | |
| --- | --- | --- |
| | oneworld | Star |
| US | 11.5 | 9.0 |
| Europe | 15.8 | 9.1 |
| Asia | 13.4 | 9.1 |
| Caribbean | 13.4 | 0.4 |
| Central America | 17.1 | 2.7 |
| Middle East | 17.1 | 10.2 |
| South America | 30.3 | 8.8 |
| Australasia | 27.8 | 30.6 |