The unpredictable dynamics of alliance competition November 1999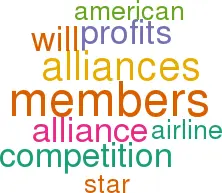 In the future airline competition will be competition between alliances" — this vision of the evolution of the airline industry from Jurgen Weber CEO of Lufthansa is now widely accepted. But its implication of rational global competition between integrated networks is far from today's reality.
Recent proxy battles between the alliances — see pages 2 and 3 — reveal the unpredictable dynamics of alliances and the tensions between the members.
The concept of cross–equity links had been abandoned in forming the mew global alliances (except where it was considered necessary to support a privatisation as with Thai next year). Now in the case of Air Canada, the senior members of Star find themselves having to invest funds to stave off a hostile bid from American and others.
Star is expanding well beyond its original plan of 10 members, with Austrian, ANA, SIA, Mexicana, BMA and a Chinese airline all in the process of joining. Oneworld is adding Iberia, Aer Lingus and Lan Chile in quick succession. As such it is very difficult to maintain any semblance of equality between the participants.
This table summarises the recent profitability of the alliance members and gives a clear indication of their relative power. Within Star United, Lufthansa and SIA account for 82% of profits. Oneworld is dominated by American, 65% of profits by itself, and this dominance will increase this year as BA's and Iberia's profits are expected to fall.
Most of the alliance members make marginal profits in terms of the overall groupings, and a fair number are in some form of financial distress. Will the big players increasingly find themselves supporting the weaker members for strategic reasons?
Another danger is that as the alliances grow, the decision–making processes become unwieldy, and the more powerful players decide to make their own arrangements. American, for example, will soon be announcing an extension of its code–sharing agreement with Swissair/Sabena, outside oneworld and in potential conflict with partners in its main alliance.
1998 NET PROFIT OF ALLIANCE MEMBERS
1998 NET PROFIT OF ALLIANCE MEMBERS
($ million)
ONEWORLD
STAR
Canadian
-89.9
-4.5%
ANA
-54.1
-2.1%
Cathay Pacific
-70
-3.5%
Varig
-21.9
-0.9%
Aerolineas
-65.8
-3.3%
Air Canada
-10.5
-0.4%
Lan Chile
31
1.5%
Austrian
15.1
0.6%
Finnair
64.9
3.2%
British Midland
16
0.6%
Aer Lingus
76.4
3.8%
Ansett
20
0.8%
Qantas
190
9.4%
ANZ
75.8
3.0%
Iberia
235.2
11.7%
Thai
80
3.1%
British AW
332
16.5%
SAS
335.7
13.1%
American
1314
65.1%
SIA
525.7
20.5%
TOTAL
2017.8
100.0%
Lufthansa
764.7
29.8%
United
822
32.0%
TOTAL
2568.5
100.0%