Pawns in the Asian alliance game November 1998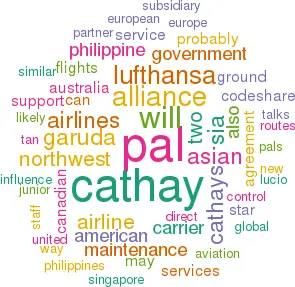 Against all the odds Philippine Airlines is still alive (see Aviation Strategy, October 1998), reprieved by a union agreement for a 10–year wage freeze and strike moratorium in return for three board seats and a 20% ESOP. Although the airline remains in an extremely delicate state, various airlines are interested in investing because PAL has developed into a strategically–positioned pawn in the global alliance game.
Cathay, SIA and Northwest are the candidates for a stake of up to 40% in PAL, while Lufthansa has also expressed interest. The influence of these potential investors is strong: in mid–October they dissuaded PAL from fully restarting its international network until they had had a chance to examine the economics of the domestic operations, which resumed on October 7th after a 13 day shut–down.
Cathay is, by some way, the front–runner and appears willing to take on challenges of running PAL and, in particular, the unions. It should be noted that 35% of the ground staff union, PALEA, voted against the final rescue package, still under the delusion that the government would re–nationalise the carrier. Opposition to the new deal was most forceful at Manila airport where 42% voted no. As part of its turnaround plan many of the Manila–based staff in maintenance, catering and ground handling will be spun off into associated companies, so eventually PAL will have a sizeable majority of staff who are agreeable to the ESOP package. But there is very likely to be more labour problems over the next three to six months.
Politically, Cathay would appear to be very well placed to conclude a deal with Lucio Tan, chairman and majority owner of the airline, and President Estrada of the Philippines. During the strike Cathay leased five aircraft to a subsidiary company of the Philippine National Bank (which with other government entities owns 20% of PAL) and provided full crew and all ground support at cost.
So Cathay is owed a big favour by the Philippine government. At the very least the Philippine Civil Aviation Board will not attempt to redress the major capacity imbalance on Manila–Hong Kong. More likely the government will actively support Cathay's bid for PAL, and as President Estrada is at beginning of a six–year term, that support will not suddenly disappear with a change in government.
Cathay can also exploit its Chinese connections in its dealings with Lucio Tan, who is originally from the Xiamen region in the mainland, where Cathay's maintenance joint–venture is based. In addition, David Turnbull, Cathay's CEO, spent two years as country manager in the Philippines.
Cathay: co-equal or junior brand?
Cathay has stated that it will only invest if there is significant debt restructuring and if it is assured of management control. But why should Cathay, traditionally very cautious about alliances and investments, be considering getting involved with a perpetually loss–making airline with serious labour difficulties in a regulatory environment where domestic fares are artificially repressed?
Part of the answer may lie in Cathay's need to define its role in the oneworld alliance.
Cathay joined oneworld in a poor condition, with its share price reflecting the discounted value of its fleet instead of its position as the premier Chinese airline (see Briefing, Aviation Strategy September 1998). Cathay is evidently oneworld's key partner in Asia, but can it expect to be regarded as the co–equal of American and BA in the alliance? The other two oneworld airlines — Canadian and Qantas — are in reality junior brands, each partly owned by the two major partners.
Dragonair could be considered as Cathay's junior brand in the alliance, but Cathay would gain much more power by tying in those southeast Asian carriers that are not in Star and/or Singapore Airlines' growing sphere of influence.
By controlling PAL Cathay should enhance its importance in oneworld. PAL already has a code–share with Canadian and American is likely to sign another agreement soon — the Canadian operation could be rationalised into joint service over Chep Lak Kok. Qantas, having dropped its own services to western Japan, Taiwan and Korea, could block space on Cathay and/or PAL services to these points. Cathay/BA/Qantas can now set up the fastest one–stop service between Australia and Europe over Chep Lak Kok, and a similar Cathay/BA/PAL service could be added, with Cathay operating PAL's former European routes.
Singapore: the Asian mega-carrier
SIA has underlined the importance of its role in a global alliance by, so far, staying outside Star but signing direct agreements with Lufthansa, SAS and, imminently, United while tying in Ansett and Air New Zealand into its own grouping.
It is in the process of purchasing about 25% of China Airlines, which will probably result in the Taipei–based carrier shifting its transpacific code–sharing partner from American to United. The longer–term value of China Airlines to SIA and Star would be greatly enhanced if direct flights between Taiwan and the PRC were to be allowed; there are some signs from the liberalisation of the shipping agreement between the two countries that some form of direct flights may be possible in the not too distant future.
Then, if SIA were also to gain control of PAL, it would consolidate its position as the dominant carrier in the Indonesian/Philippine archipelago. However, this could cause some social and political problems — the airline of a city state of 3.4m people would dominate two neighbouring countries with a joint population of 286m.
SIA's alliance links are probably not quite as synergistic with PAL as those that could be achieved through oneworld. SIA plus Lufthansa could take over PAL's European services, and Australia could be rationalised through Ansett and Air New Zealand. But, whereas PAL has existing code–shares with American and Canadian, United no longer serves the Philippines, having dropped Manila in March.
Lufthansa itself has been in talks with PAL since mid–1997, but these talks have concentrated on maintenance and ground handling. Also, Singapore Technologies is very interested in building up a low–cost maintenance base in the Philippines. But HAECO, Cathay's maintenance subsidiary, has very similar plans.
If PAL ends up in the Cathay/oneworld camp, what happens to Garuda? Lufthansa is heavily involved in the carrier's turnaround plan and financial restructuring through its subsidiary, Lufthansa Consulting. Assuming that the Indonesian flag–carrier can be rescued, the Lufthansa connection should prove very useful for Garuda as it is an indirect way into the Changi hub and SIA's support base.
Garuda may be obliged to drop its European operations, leaving Lufthansa and SIA to fly these routes. Similarly, the logical way of rationalising services to the US and East Asian points that do not warrant daily service from Jakarta or Bali would be for Garuda to code–share on SIA flights over Changi. Garuda could maintain flights over Bali to Australia and Japan.
Garuda would in effect become a regional carrier, with no long–haul routes to Europe or North America, while PAL's future would be similar, with long–haul routes limited to expatriate traffic to/from the US West coast and the Middle East. Asiana will probably also follow the same model, becoming a northeast Asian regional within the context of one of the global alliances.
Wings in Asia
With Cathay and Singapore striving to maximise their control of the Asian market, both for themselves and for their respective alliances, the Wings alliance looks as if it is being left out in the cold. In effect, Northwest is the key 'Asian' airline in this alliance. Cathay's code–share agreement with Philippine Airlines and Singapore's link–up with ANA will put pressure on Northwest at its Tokyo hub, while KLM appears to be losing its historical influence in Garuda to Lufthansa/Singapore. MAS, KLM's main Asian code–share partner, is sinking further into financial chaos.
In these circumstances Northwest may make a final strong bid to wrest PAL away from Cathay. Talks have been taking place between Lucio Tan and Gary Wilson, chairman of Northwest for some time, and the two apparently get on very well. Northwest and KLM could offer good synergies with PAL to the US and Europe, though not to Australia. The other outside chance is that KLM/Northwest will participate in Thai's proposed part–privatisation and extricate that carrier from Star — but BA and American probably have the same idea.